Boots are made for walking, and that's just what you'll do in lug sole boots. The right pair can see you through every season and add a slight masculine twist to your outfit.
We're all familiar with the Chelsea boot and the equestrian style, but the lug sole boots are relatively new to mainstream fashion trends.
They've broken out of the world of streetwear and into everyday style. These chunky sole boots have become one of the biggest trends in fashion, uniting everyone from fashion editors to celebrities and influencers.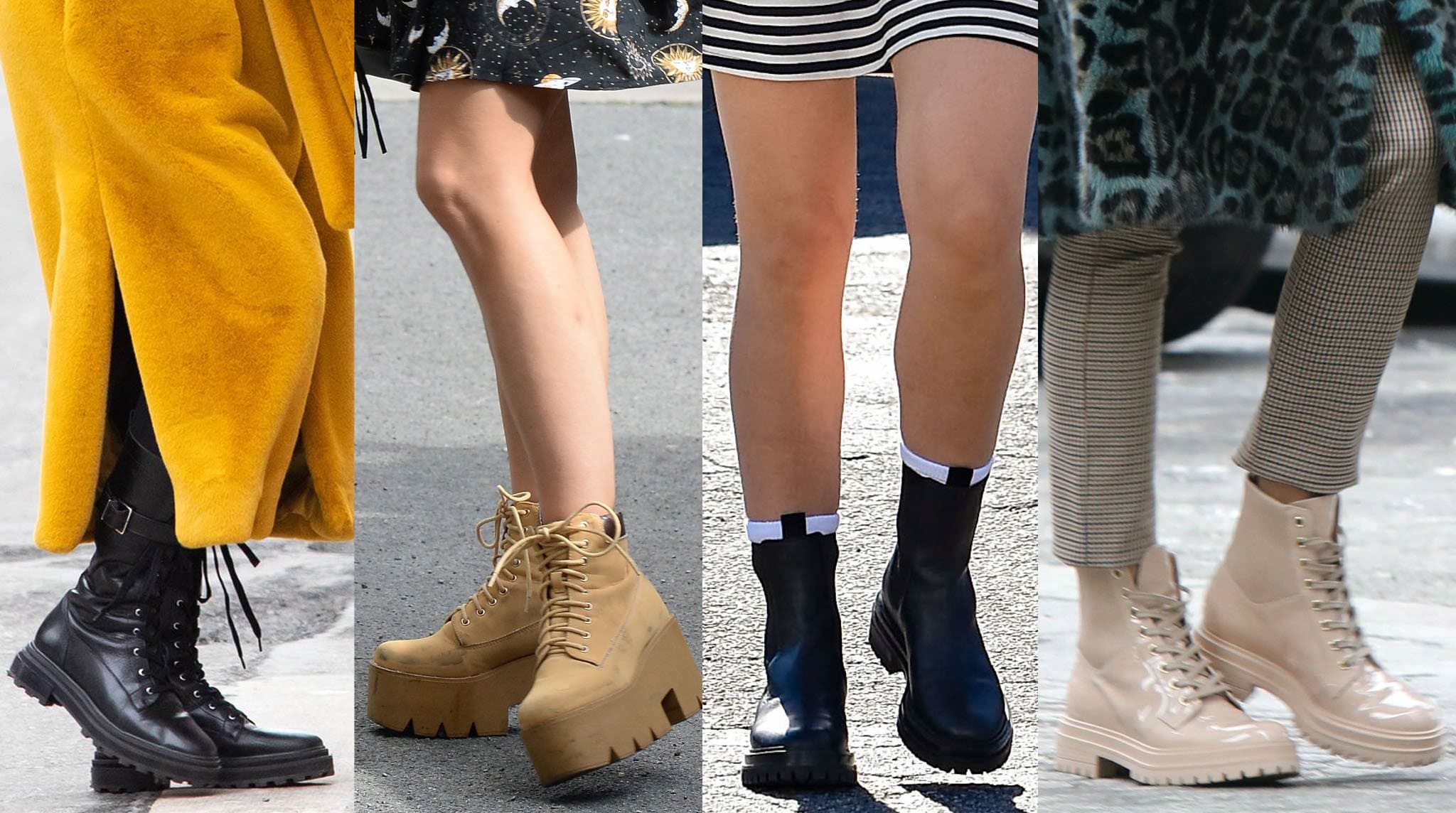 Celebrities effortlessly flaunt their style by donning the trendy and chunky lug sole boots (Credit: Steve Searle / Instar / WENN)
We're rounding up everything you need to know about the lug sole boots, the most popular styles, and where to buy a pair.
Tracing the Origins: How Lug Sole Boots Went from Mountains to Mainstream
While we might think the lug sole boots are a relatively new style, they date back to the 1930s.
The concept came from an Italian mountaineer who wanted to create hiking boots after several friends died during an expedition in the Alps.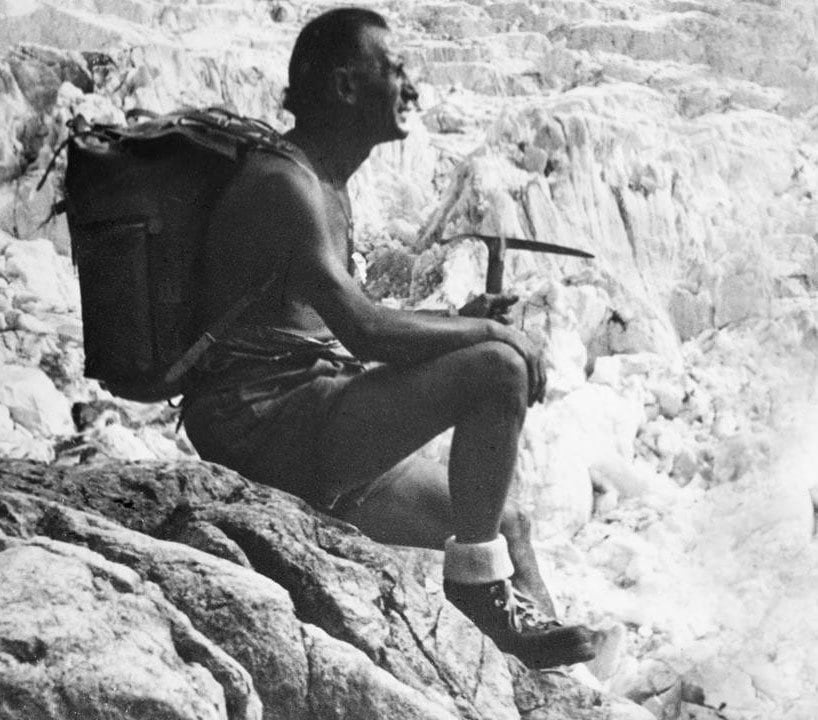 The world's inaugural rubber lug sole was the brainchild of Italian mountaineer Vitale Bramani (Credit: Vibram)
Featuring a distinctive rubber sole, these boots stand out for their exceptional grip on icy surfaces. Rooted in utilitarian functionality, they are designed with ease of wear in mind, effortlessly sliding onto your feet to meet your practical needs.
Lug sole shoes experienced a resurgence in the face of the pandemic as we all searched for comfortable footwear. At the time, was anyone wearing heels? The lug sole boots have a platform sole, giving you height without compromising on comfort.
If you open your Instagram feed, you'll see influencers and celebrities rocking them. Everyone from Bella Hadid to Olivia Palermo owns a pair.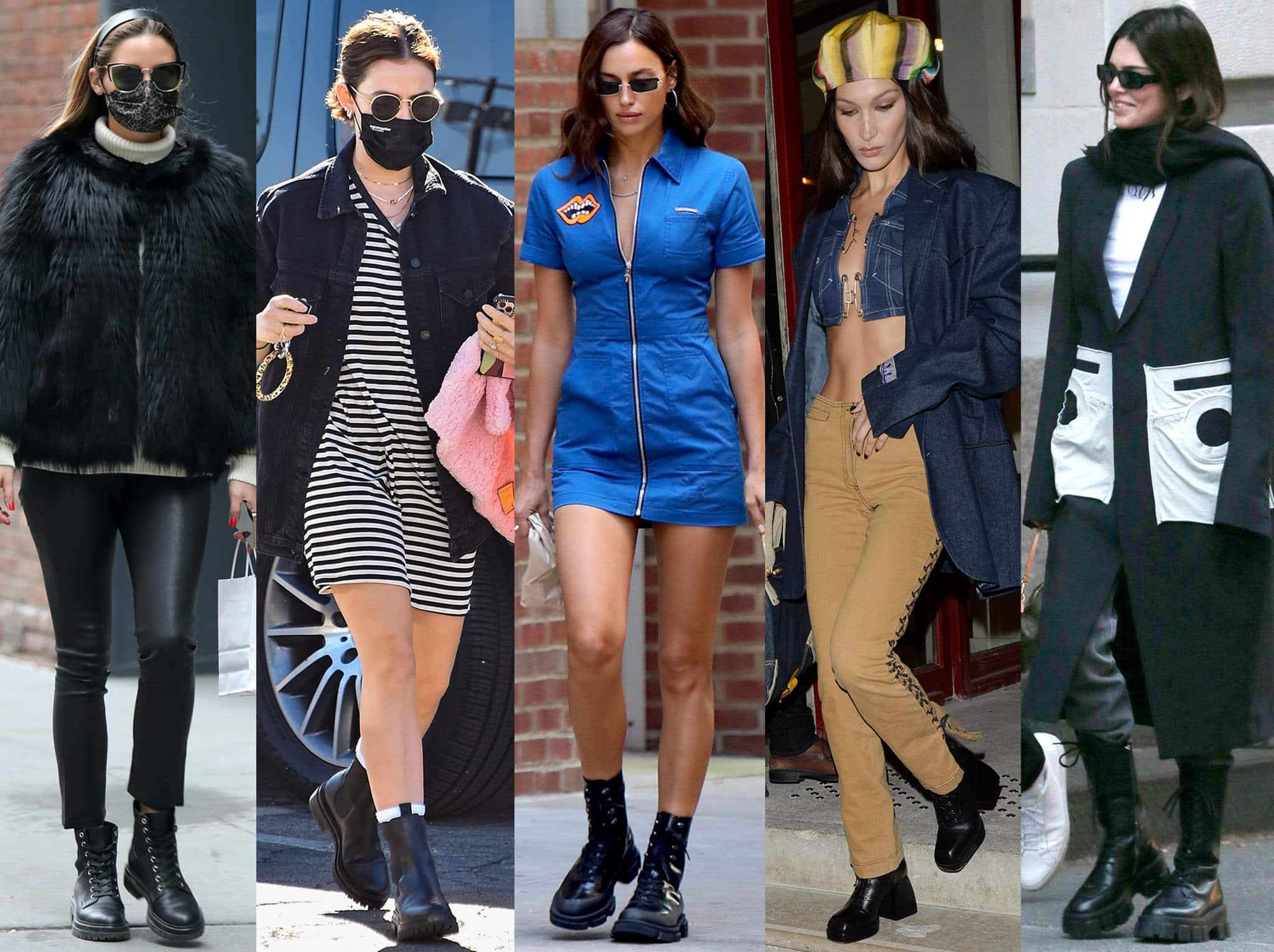 Celebrities Olivia Palermo, Lucy Hale, Irina Shayk, Bella Hadid, and Kendall Jenner are embracing the lug sole boot trend (Credit: Steve Searle / Instar / WENN)
They're a bold choice without being overbearing, with a minimalism that works with any outfit. Whether you're someone who lives in jeans or if you prefer dresses, you'll get your cost per wear out of a pair of lug sole boots.
Lug sole boots are as practical as sneakers and allow you to walk through the snow or freshly cut grass easily. They're slip-proof and designed to keep your feet comfortable all day long.
We think these boots are the next 'it' style of footwear that you can expect to see everywhere in the next few seasons.
Since the Fall/Winter 2019 collections launched, more brands have jumped on the bandwagon. They've followed the lead of Bottega Veneta and Prada by releasing their own take on the lug sole boots.
Lug Sole Boots: The Season's Essential Footwear for Fashion and Comfort
In contrast to conventional boots, lug sole boots offer various style options to cater to your preferences. What defines a shoe as part of the 'lug sole boots' category is its substantial, platform sole and user-friendly pull-on design.
As the name suggests, all these shoes need is a 'lug sole' to qualify. Beyond that, anything goes!
The Gianvito Rossi lug-sole Chelsea boots feature a smooth calf leather upper with side goring and chunky lugged rubber soles
Chelsea boots are the most popular silhouette, with military boots coming as a close second. You'll find this trend in boot height, any color under the rainbow, and by all your favorite brands.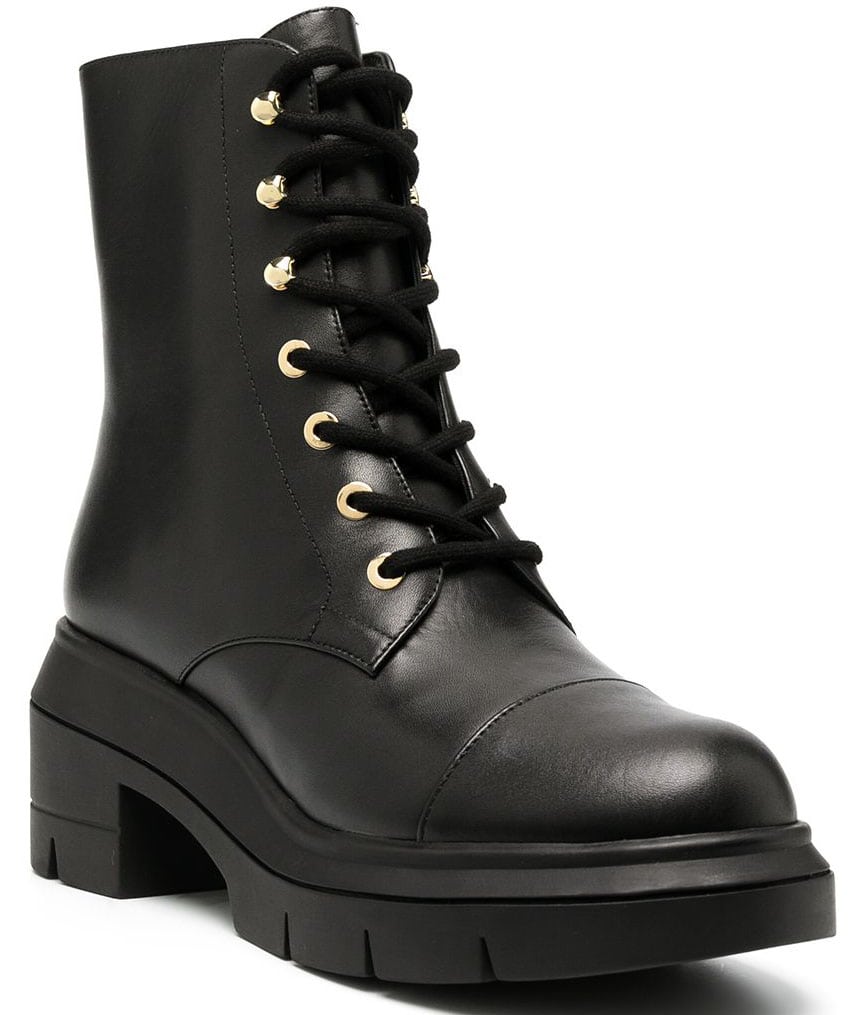 Tough but chic, Stuart Weitzman's Nisha military boots have a paneled design with round toes and block heels
Lug sole boots are one trend that everyone can experiment with, as the styles are diverse enough to incorporate almost every fashion aesthetic.
If you've ever owned a pair of boots, rest assured that a perfect lug sole boot is waiting for you. Don't be misled into assuming that all lug sole boots are of shorter length; their variety knows no bounds.
If you're a fan of knee-high boots, you'll be sure to find a lug sole boot to match your style.
Dirty Laundry's Vandal is both tough and sexy, thanks to its knee-high combat boot silhouette
Most of the options you'll see on the market are booties, embracing the flexibility of the trend to make it wearable for every day.
Shop the Latest Lug Sole Boot Trends from Top Designers
We see this style of shoes everywhere, from the (virtual) runway to our Instagram feeds. Get ahead of the trend and add a pair to your closet. We're rounding up some of the most popular brands for lug sole boots to help you start your search.
Doc Martens is one footwear brand that's long advocated lug sole boots. It's their signature silhouette. There are dozens of styles to choose from with Doc Marten, with something to offer every fan of combat boots.
Their Devon Heart leather platform boots are a feminine twist on the trend, incorporating heart buckles into the shoes.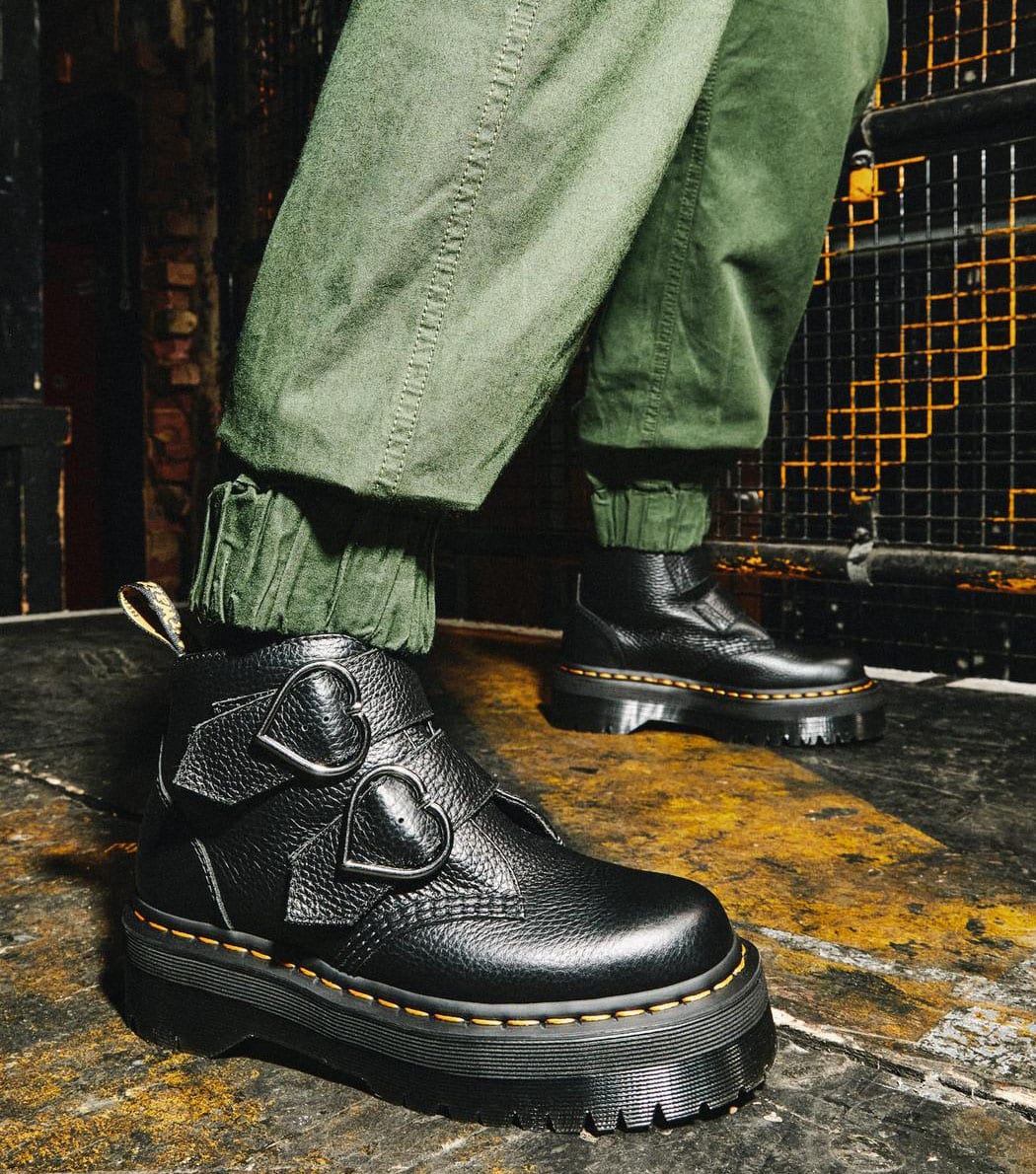 Heart-shaped buckles add a feminine twist to the classic milled nappa silhouette with 1.5-inch Quad soles
One luxury brand embracing the trend is Prada, whose brushed leather and technical fabric booties are a best-seller.
These shoes are two trends in one, incorporating the nylon removable pouch, synonymous with Prada's accessory range. You'll want to match these lug sole boots with the brand's Reissue 2000 bag.
The Prada brushed leather and technical fabric boots are characterized by the removable pouch and have oversized light rubber sawtooth soles
Another Italian fashion house to consider is Bottega Veneta, renowned for setting the pace in footwear fashion. Their lug boots are a mid-calf length with elasticated side panels for extra comfort.
Like all things Bottega, these shoes are minimalistic, with a sleek silhouette and finish, making them one of the most versatile styles you can add to your closet.
Practical and versatile, the Bottega Veneta lug boots feature a sleek and minimalist mid-calf silhouette with elasticated side panels and thick lug soles
Do you want a pair that is slightly out of the box? You can try Bottega's 'BV Puddle Boots'. It comes in various colors, including kiwi yellow and lollipop pink.
Their seamless look makes these boots a must-have for any follower of streetwear fashion.
Turn heads in the Bottega Veneta BV Puddle ankle boots, featuring a seamless rubber construction with chunky soles
Are you not in the mood to drop several hundred dollars on a pair of lug sole boots? We've got you covered!
When it comes to staying fashionable without straining your budget or sacrificing quality, Everlane stands as our top choice. The brand's rain boots, available in a shorter style at Everlane, are ideal companions for uncertain winter weather conditions.
Never let the rain steal your thunder in these affordable but stylish Everlane Rain boots
If you see a pair of lug sole boots that catch your eye, they are an instant 'add to cart.' These shoes might be a trend, but they have a classic silhouette, making them an ideal investment in your wardrobe.
Keep them at the front of your closet, and reach for them when you want to make a statement.