Long-serving Omega ambassadors Cindy Crawford and Kaia Gerber set the fashion bar high for mother-daughter twinning at Planet Omega's Fashion Panel and Cocktail Reception at New York City's Chelsea Factory Tuesday.
Wearing all-black ensembles, the duo made an undeniably stunning twinning appearance while showcasing their unique take on monochromatic red-carpet dressing.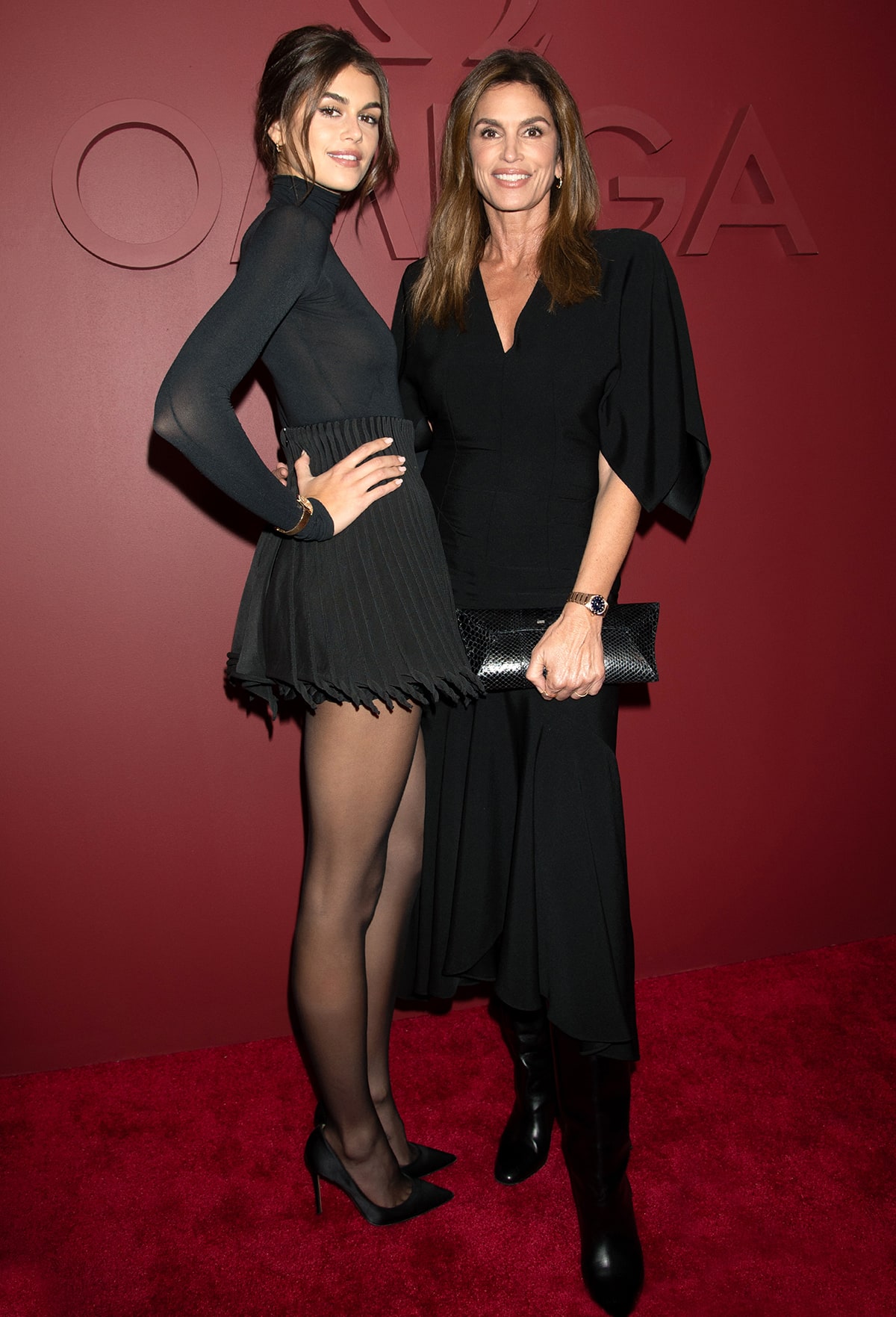 Kaia Gerber and mom Cindy Crawford at Planet Omega's Fashion Panel and Cocktail Reception held at Chelsea Factory in New York City on November 14, 2023 (Credit: Janet Mayer / startraksphoto)
Gerber, who takes sartorial cues from her supermodel mother, adopted this season's balletcore aesthetic in a youthful two-piece outfit by Alaia.
She highlighted her enviably slim figure in the $1,520 Second Skin bodysuit, knitted in a matt fine gage elastic nylon yarn with a high neck and long sleeves.
Evoking her mom's penchant for LBDs in the 1990s, Austin Butler's girlfriend paired her form-fitting top with the $2,940 high-waisted jersey miniskirt from the same brand. It was knitted in a cotton-coated yarn and sheer crepe silk and featured accordion pleats that provided a natural twist at the hem.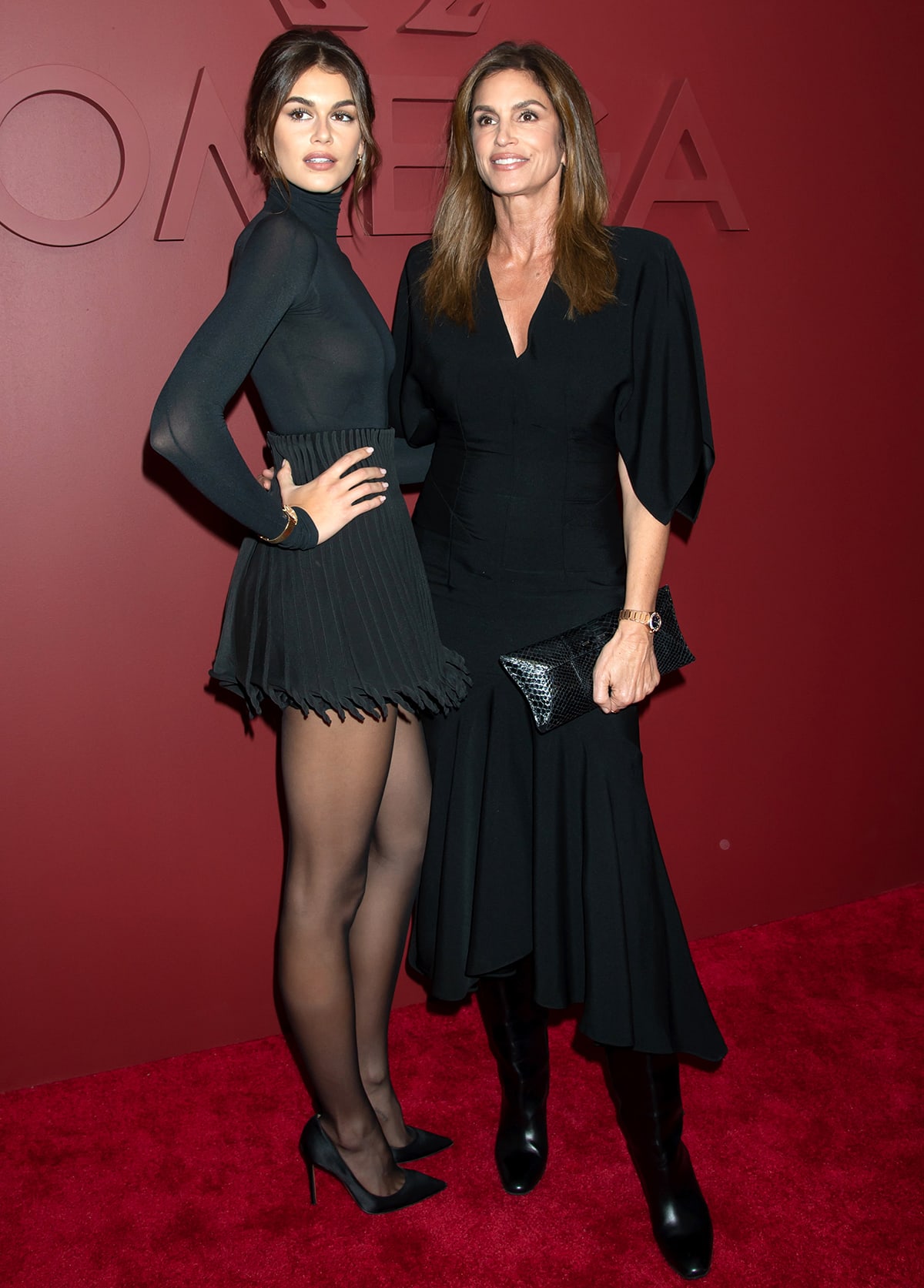 Kaia Gerber embraces balletcore in a black Alaia bodysuit and a pleated jersey miniskirt with black tights and pointy pumps (Credit: Janet Mayer / Startraksphoto)
Staying true to the all-black color scheme of her ensemble, Kaia kept her lean legs under wraps in the $55 black satin opaque tights by Wolford before slipping her feet into the Gianvito Rossi "Gianvito" pumps.
This classic pump silhouette, retailing for $795, is handmade in Italy from black suede and features sleek 4.5-inch stiletto heels and pointy toes.
Jacob Elordi's ex fashioned her brown tresses in an elegant modish updo, leaving a few loose strands to frame her small face. She then highlighted her beautiful features with a neutral makeup palette, using mascara, brown eyeshadow, and blush nude lip color.
Kaia Gerber wears a modish updo and highlights her features with mascara, brown eyeshadow, and blush nude lipstick (Credit: Janet Mayer / Startraksphoto)
Cindy Crawford, meanwhile, embraced quiet luxury in a more understated silhouette. She looked sophisticated in a black draped midi dress with a low-cut v-neckline, flouncy mid-length sleeves, and a cinched waist, accentuating her model physique.
The third richest model in the world accessorized with a rectangular black snakeskin clutch and black leather riding boots to finish off her head-to-toe monochrome look.
Both Kaia and Cindy were seen sporting Omega watches for the occasion.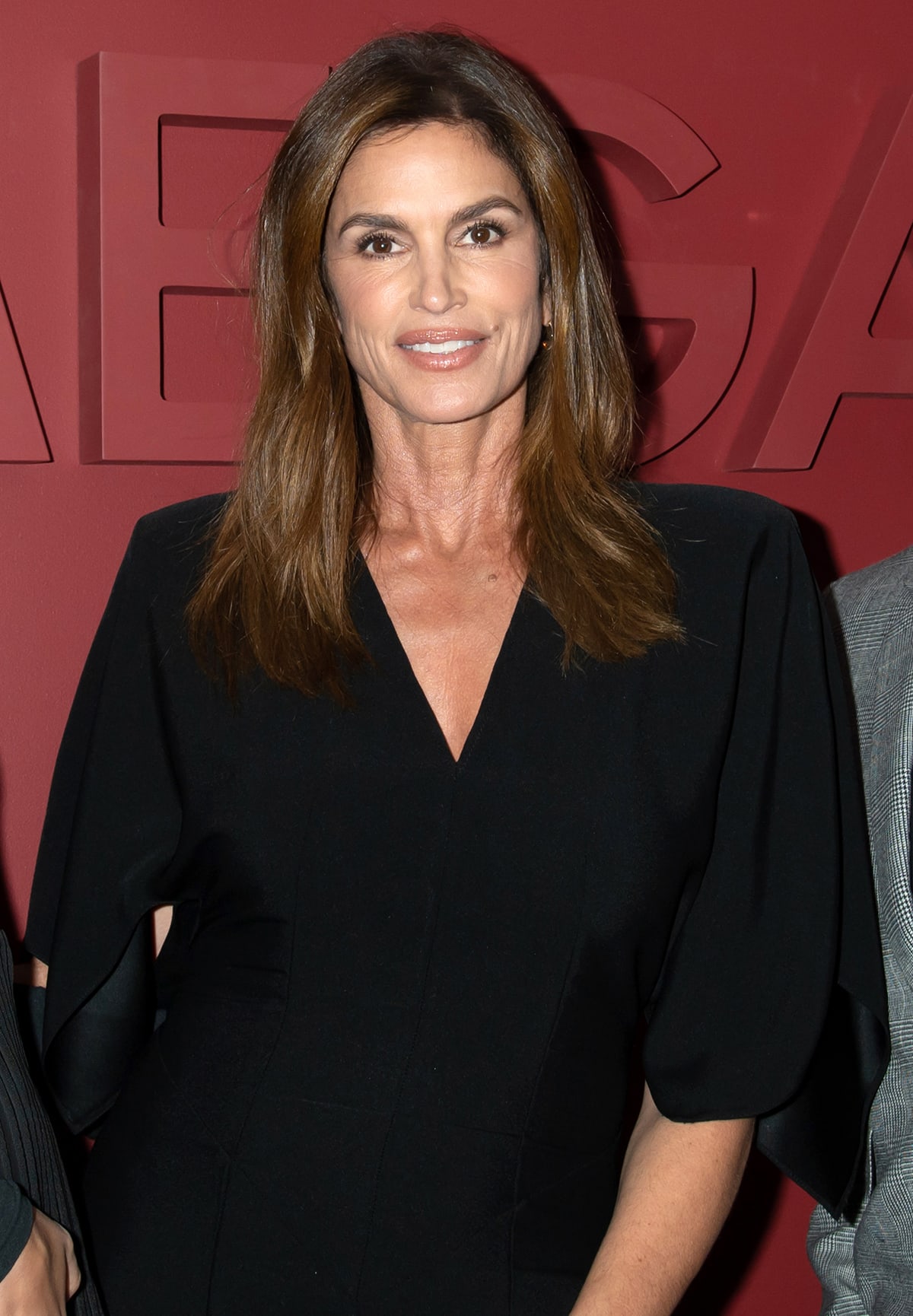 Cindy Crawford opts for quiet elegance in a black draped midi dress with flouncy mid-length sleeves (Credit: Janet Mayer / Startraksphoto)
Representing two generations of Omega ambassadors, Cindy, the brand's longest-serving ambassador, joined the Omega family in 1995, while her daughter Kaia was named ambassador in 2017.
"I've worked with Omega for almost 30 years. And I think Omega really understands that the way women wear watches is different from the way in which men wear watches. For women, it's jewelry! And for men, it's more about status. I wear a watch every day, even though I never look at it for time, layered with other chain bracelets… it's a way to accessorize that feels super easy," Crawford told Harper's Bazaar at the Omega event.
Gerber added, "I have never lived at a time when a watch was a necessity, so I think I have a very different relationship with them. For me, they feel super timeless and classic, in the way that people don't read physical copies of books or listen to records on record players. There's something really special about the sentiment of a watch, especially now because you don't really need them anymore."
Longtime Omega ambassadors Kaia Gerber and Cindy Crawford each sporting a gold Omega watch (Credit: Janet Mayer / Startraksphoto)
When asked what it's like to be an ambassador along with her daughter, Cindy told S/ Magazine, "I think the thing that I've appreciated the most, especially with the Omega relationship with Kaia, is the opportunity for both of us to see each other and who we are in our professional life and I think that's really rare for mothers and daughters."
"Obviously, so many mothers and daughters are close, and I love being close with Kaia but it's also fun for me to see how she conducts herself in a work situation. We both get to further develop our relationship outside of the traditional mother-daughter relationship."