Kim Kardashian may be one of the biggest reality TV stars on the planet, but at the 2023 Time100 Summit, she quipped that she's willing to give it up to become a full-time attorney.
The 42-year-old billionaire was invited to speak with CNN's This Morning anchor Poppy Harlow at the Time100 Summit, and she stepped out in the most Kim Kardashian way possible.
Kim Kardashian making an entrance in a Rick Owens transparent pantsuit at the Time100 Summit held at Jazz at Lincoln Center in New York City on April 25, 2023 (Credit: Roger Wong / INSTARimages)
She made an entrance in a transparent ivory pantsuit from Rick Owens, which consisted of the Lido transparent leather blazer and a pair of Spring/Summer 2023 see-through bootcut pants.
The blazer was left unbuttoned to reveal a tiny bandeau that showed off her cleavage and abs.
Her hair was styled in a wavy topknot with soft tendrils framing her face. As for her accessories, Kim Kardashian wore diamond stud earrings and a custom chain necklace with a "Kim" pendant. She strutted in matching ivory pointy-toe pumps to give her a stylish boost.
SKIMS Named as One of Time Magazine's 100 Most Influential Companies
Kim Kardashian was the last speaker at the Jazz at Lincoln Center event. Time magazine named her shapewear brand SKIMS as one of the 100 most influential companies of 2022.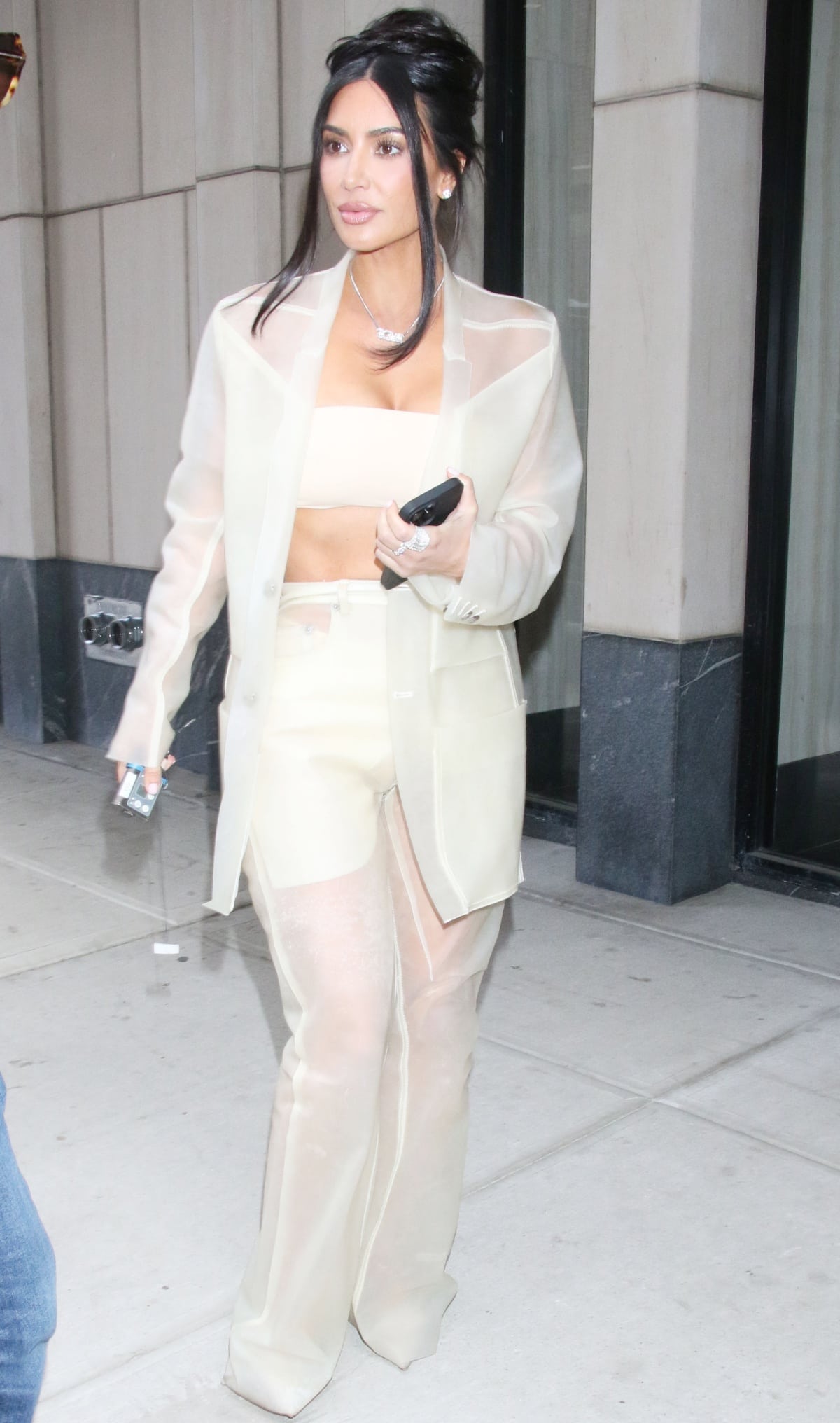 Kim Kardashian turns heads in a daring transparent pantsuit from Rick Owens, adding her own twist to business attire with a stylish bandeau top (Credit: Roger Wong / INSTARimages)
According to the magazine, SKIMS "is now reinventing intimate apparel with an eye toward body-type inclusivity," as evidenced by its size range (from XXS all the way through XXXXXL). The pieces are also affordable and have a range of shades inclusive to all skin tones.
Back then, the Instagram celebrity shared that she used to dye her own shapewear with teabags in a sink. Now, it has evolved into a $3.2 billion brand that transformed her into a business mogul.
"For me, I was just looking for a solution to the fact that I love to wear shapewear and there wasn't a color tone that fit my skin tone, let alone most of my friends."
View this post on Instagram
Kardashian also talked about expanding beyond SKIMS by co-founding a private equity firm called SKYY Partners.
"The businesses that I have now have a complete and equal respect and trust in each other to run and do our thing. If you trust each other like that, it absolutely can be magic."
The entrepreneur also discussed having the luxury of choosing the people with whom she wants to work and surround herself. "If you're at a place and you take your time, you realize you absolutely do not want to be in business with people that you don't want to spend holidays with and that you don't like."
As she told Poppy Harlow, "It sounds really simple, but I didn't have that opportunity for so much of my career of choosing who I want to be in business with or what deals I did or having the opportunity to get to know them."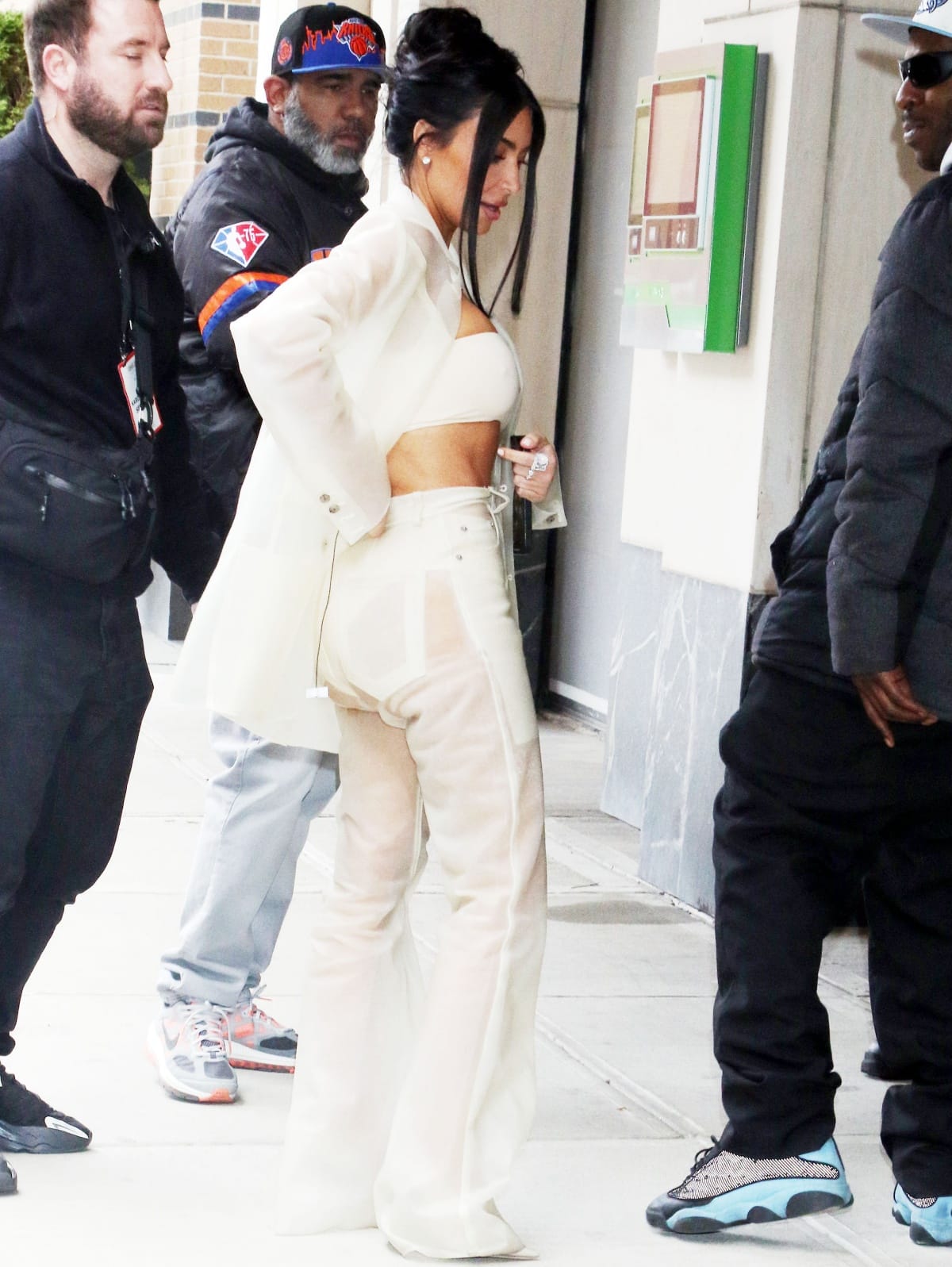 Kim Kardashian making her way to the Time100 Summit in New York City (Credit: Roger Wong / INSTARimages)
Kim Kardashian's Passion for the Law
Aside from the business side of her career, she also shared her passion for the law. You may remember that she passed the baby bar in 2021 and shared that she plans to take the official bar exam in February 2025.
"I joke with my mom – who's my manager – I say, 'Kim K is retiring, and I'm just going to be an attorney. So you can go help my siblings so you can still have a job,'" she said during her talk."
She added, "I would be just as happy being an attorney full-time and doing that. The journey just really opened up my eyes to so much. It gets overwhelming because there's so much to be done… I would totally spend more time doing that – cameras, no cameras."
Kim Kardashian posing for photographs as she exits the Time100 Summit at Jazz at Lincoln Center in New York City on April 25, 2023 (Credit: Janet Mayer / Startraksphoto)
WSJ's Brand Innovator of 2021 shared that one of the factors that drove her to pursue law was her late father, Robert Kardashian, who was a famous attorney. "I know that he would probably get such a kick out of this because he wouldn't have expected it at all."
Choosing Herself and Her Own Happiness
At the summit, she also talked about how motherhood has changed her perspective on life and how she wanted to help people. She also decided to finally choose herself and make her own decisions in business and her personal life.
"I chose to put myself first for once and just choose my happiness," Kim Kardashian said. "And I felt like I was putting so many other people and their happiness in front of my own. And it just dawned on me like, 'Why am I so concerned to make everyone else happy and not myself?'"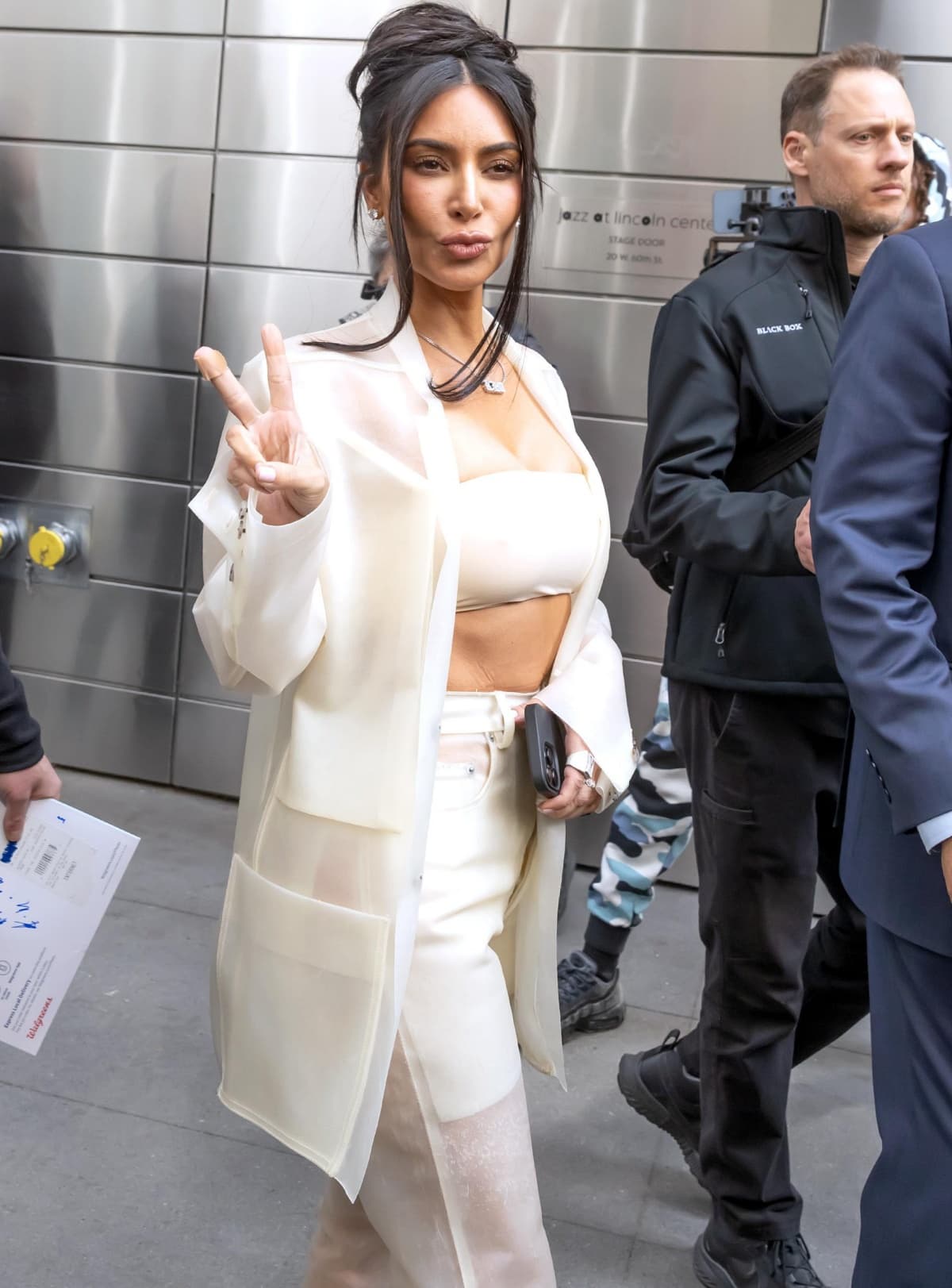 Kim Kardashian flashing a peace sign as she exits the Time100 Summit (Credit: Janet Mayer / Startraksphoto)
"And when you just choose to do that, it doesn't mean that you disregard everyone else and their feelings," Kardashian added. "I have so many family members, so many kids, there's just a lot of people around that I like to make happy."
She continued, "And when you choose to do that, it just kind of re-shifts… or it re-shifted my perspective and allowed me to just focus on me, my babies, my business and what really makes me happy."
Watch Kim Kardashian's full talk at the 2023 Time100 Summit below: