Kim Kardashian West has achieved a lot in her career from being a hit name in reality TV to several product lines like Skims and sponsored deals. Then, she surprised all of us when she announced she was going to study to become a lawyer.
She took the non-traditional route and is studying without attending law school. In doing so, she must work alongside lawyers and pass the baby bar, a non-traditional law school exam, over a several-year period.
Kim Kardashian in a figure-hugging black Balenciaga outfit to show her support for Kanye West at his album launch party in Atlanta on August 5, 2021 (Credit: MEGA / WENN)
Everything was going well until unfortunately, she recently didn't pass the baby bar law exam. Let's dive into why…
Kim's motivation for becoming a lawyer
Kim grew up in a family with her father Robert Kardashian, as the famed lawyer who represented former football running back O. J. Simpson. She saw the incredible work he did throughout his career as an attorney and was greatly inspired by him.
She's always had an interest in law which grew even more once she had children of her own. Kim has stated that she wants to become a lawyer to do everything possible to protect her children.
During an interview with CR Fashion Book in February, Kim stated "Now, I feel like I have a duty to myself and to my children more than the public and I want to be a good role model for my kids. I'm raising four black kids in this society and our system is so discriminatory against black and brown people. I want to do as much as I can to make their lives easier. I never knew much about the system until I started to dig in, and once I learned and saw how many things were wrong, I really couldn't stop."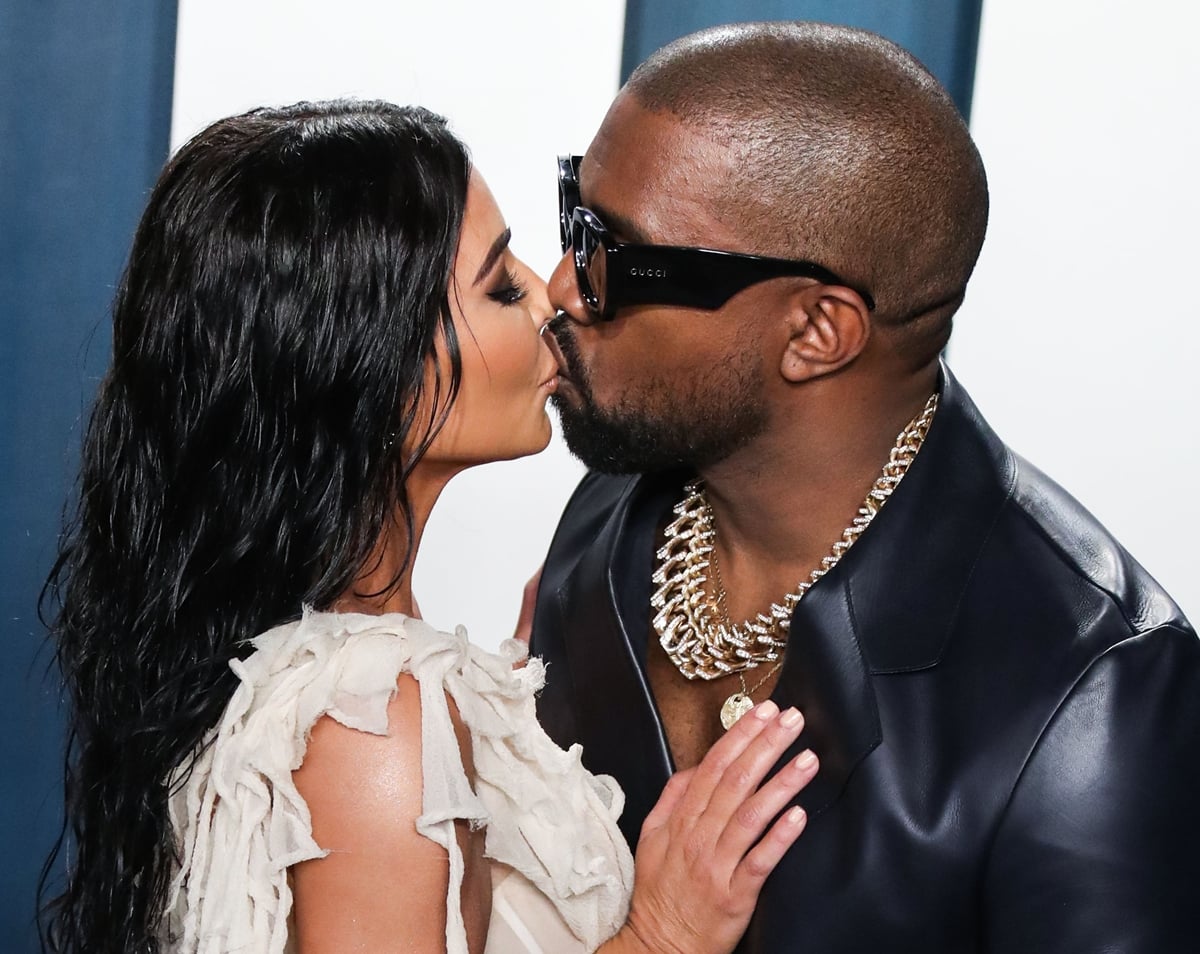 Kim Kardashian West and Kanye West kissing at the 2020 Vanity Fair Oscar Party (Credit: Avalon / WENN)
Over the last several years Kim has been working hard in the prison reform field.
She has successfully been able to obtain early releases for several inmates who are either non-violent offenders or were wrongly convicted for crimes. This continues to drive her passion to become a lawyer.
Where and how Kim finds time to study
Given the busy life Kim Kardashian West runs, finding time to study can prove to be quite challenging from time to time.
On her former reality show, Keeping Up with the Kardashians, she mentioned she was studying for 10-12 hours per day in preparation for the baby bar exam.
On top of that, she must have 18 hours of supervised law work per week to meet the criteria to become a lawyer through the non-traditional route. No small feat for someone who runs an empire and has four small children at home.
Kim Kardashian in a min-green animal-print dress from the Versace Archives at the 2019 E! People's Choice Awards (Credit: WENN / Avalon)
Jessica Jackson and Erin Haney are the two powerhouse female lawyers working with Kim to obtain her law degree.
Kim and her mentor lawyers travel back and forth to study and work together to meet the 18 required hours per week.
Kim has also stated "my weekends are spent away from my kids while I read and study. I work all day, put my kids to bed and spend my nights studying."
How can Kim become a lawyer without a college degree?
But let's take a step back…Kim does not have a college degree so you may be wondering how it's possible for her to become a lawyer.
Depending on the state you're in, certain states allow an alternative path to becoming a lawyer. This path is known as "reading the law."
Kim Kardashian revealed in June 2021 that she failed the 'baby bar' for the second time (Credit: WENN / Avalon)
You do this by practicing the skill under a mentor lawyer's or a judge's supervision. This practice has been around since long before college law degrees existed and California, Kim's state of residence, allows it.
The baby bar
Part of the requirement for Kim becoming a lawyer involves passing the baby bar. This is another name for the First-Year Law Students' Examination (FYLSE). The baby bar is administered by the State Bar of California a few times per year.
This exam was created specifically for those studying law the non-traditional route at unaccredited law schools or the Law Office Study Program, like Kim. So, regular law school students obtaining a law degree from a standard university do not have to take the baby bar.
The exam is referred to as the baby bar because it's designed to train and safeguard law students who are early in their education vs the state bar exam for traditional law degree students. It has both essay style and multiple-choice questions just like the regular bar exam does.
Kim Kardashian is trying to become a lawyer without going to law school (Credit: Avalon / WENN)
It covers topics in contracts, criminal law, and torts. The baby bar has a general focus of law instead of California-specific law. Oftentimes people state that it is harder than the actual bar exam.
How long is the baby bar exam that Kim took and what is there to know about pass rates?
Kim took the baby bar twice and each time had to sit for an entire day and take the seven-hour exam. It contains four-hour-long essay sections that are weighted equally and multiple-choice questions.
To pass the baby bar a student must have a 560 or higher (70%). If students don't pass the baby bar the first time, like Kim, they have two additional attempts to receive full law school credit for the courses they've taken.
Kim has failed it twice so far, so she must pass it the third time to receive the credit, if not, she will not receive credit for her study and work time so far.
Kim Kardashian is learning through an apprenticeship to become a lawyer (Credit: FayesVision / WENN)
Unfortunately, the baby bar does not have a high pass rate, with the rate being at 20%. Knowing this, it's not surprising Kim didn't pass twice so far even with all the studying she did, not to mention, she had COVID-19 the second time she took it.
Kim's reaction to failing
Not surprisingly, Kim revealed how bummed she was after not passing the baby bar a second time on an episode of her reality show, Keeping up with the Kardashian's.
As previously mentioned, she did however have COVID-19, along with two of her children, during the time of the exam. She revealed she scored pretty close to what she did on the first exam, except a little lower this time around.
"I feel bummed, like totally bummed," she said in the episode. "It is what it is, I know I just have to not stress about it, there's so many other f—— things, stressful things, going on, I just have to do better in the future."
Kim Kardashian can become a lawyer in California because the state does not require a law degree as a prerequisite for taking the bar exam (Credit: WENN / Avalon)
Kim then beat herself up over it to her sister Khloe and Khloe reminded her how much she had going on in her life at the time on a personal and professional level. On top of dealing with COVID-19, her relationship with her then-husband Kanye was suffering.
Since failing a second time Kim has told her fans that while the baby bar situation has been extremely difficult, she will in fact take it again. She plans on continuing to study and hopes the third time is a charm. "Unfortunately, I haven't passed yet, but I'm not giving up," she shared on Instagram. "I'm preparing to take it again soon."
So, what's next for Kim?
While maintaining all her business ventures, on top of everything else life has thrown Kim Kardashian West, she revealed that she took the baby bar again this past July (2021). She indicated she would find out the results soon to see if she passed the third attempt after failing it two times before.
Kim said she is planning on opening her own firm if she passed the baby bar. She plans to hire some of the people she's freed from incarceration who were wrongly convicted to give them another chance at life.
Talk about full circle! We can only hope she passes this third time and we're sending all the positive vibes her way. It's certainly no small undertaking. Way to go, Kim!
In March 2014, everyone was talking about Kim Kardashian and Kanye West looking ready for their wedding on the cover of Vogue magazine's April 2014 issue.
Kim Kardashian and Kanye West appear on the cover of the April issue of Vogue (Credit: Vogue)

To be honest, we were actually quite happy for Kim Kardashian. She had long wanted to be on the cover of Vogue. Of course, hooking up with Kanye made a huge impact on her life. Together, they're a power couple. Together, they could make things happen.
"This is such a dream come true!!! Thank you @VogueMagazine for this cover! O M GGGGGG!!! I can't even breathe! 🙌🙏 " the reality star tweeted, including a link to the cover.
Speaking of Kim, the reality star had been rocking a lot of white-washed frocks. First, she gave us this look followed by this look and a few days later she opted for something similar.
While out and about in Los Angeles, Kim slipped into a very sexy pale pink dress that was cut super low on the neck and extra high on the skirt.
View this post on Instagram

Sticking with tradition, Kim styled the Natalia Alaverdian dress with a pair of nude heels.
Joe Francis longtime BFF wore a pair of studded heels from Alaia's Spring 2013 collection, which is one of her favorite pairs of shoes.
Kim was first spotted wearing these heels in May of 2013, right after they were released. She wore the pair earlier the same month as well, proving that they're one of her favorite pairs of shoes.
Kim Kardashian takes a selfie of her latest outfit on March 13, 2014 (Credit: Kim Kardashian's Instagram)
Here's a closer look at Kim's sandals for you. These nude suede heels are embellished with very distinct button-like details and subtle studs on the straps for added glam and edge.
Azzedine Alaia Suede Circle Sandals
Unfortunately, these sandals are already sold out. If you want to grab a pair, you can try your luck by visiting outlet shoe stores.
Because this design is so unique, we've been struggling to find a knock-off. If you happen to find one, feel free to share! In the meantime, we found some equally awesome nude-colored statement heels at Shopbop for you to snag.
Rachel Zoe 'Monica' Sandals, $325
Schutz 'Eirininn' Cutout Sandals, $220