They had us at bedazzled toe shoes. Clover Canyon's Autumn/Winter 2013 presentation at the Mercedes-Benz New York Fashion Week was a rich collection inspired by Russian culture.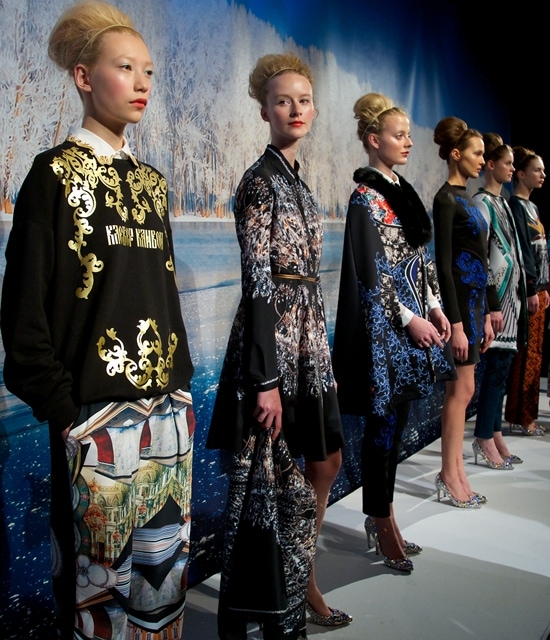 The "Winter Palace" by Rozae Nichols for Clover Canyon (Autumn/Winter 2013), Mercedes-Benz New York Fashion Week
Entitled "Winter Palace," the collection was designed by Los Angeles-based Rozae Nichols and featured riveting, kaleidoscopic prints and, our favorite, glittering shoes.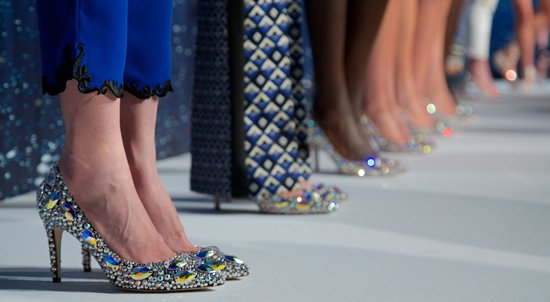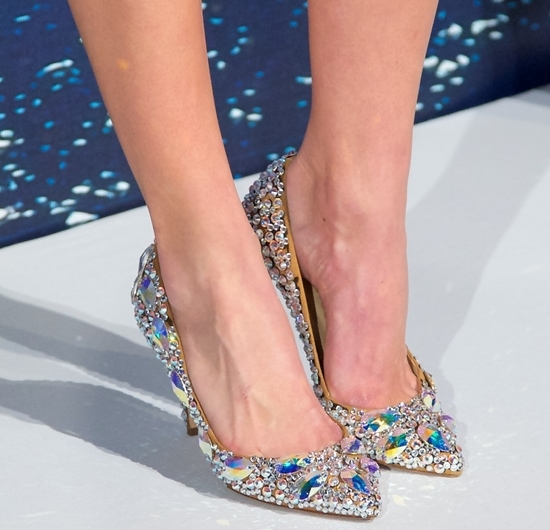 Icy, embellished pumps bling up Clover Canyon's Russian-inspired collection
With fur-trimmed jackets and mini dresses covered in Hermitage-inspired swirls and patterns, the danger and romance of Russian novels like Tolstoy's 'Anna Karenina' or Akunin's 'Special Assignments' come to life in — couture.
Ballet flats have had their share of stylistic renditions from snake-embossed leather to crazy prints, but having them this bedazzled is quite refreshing.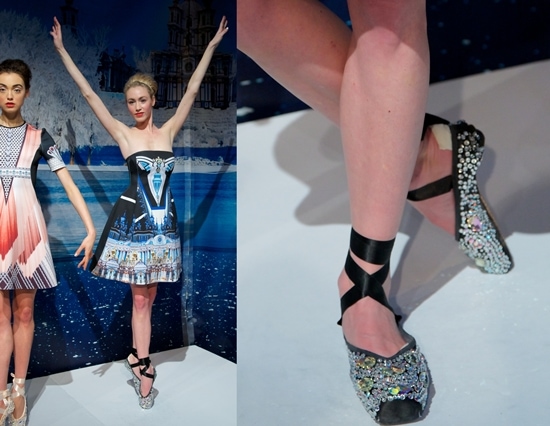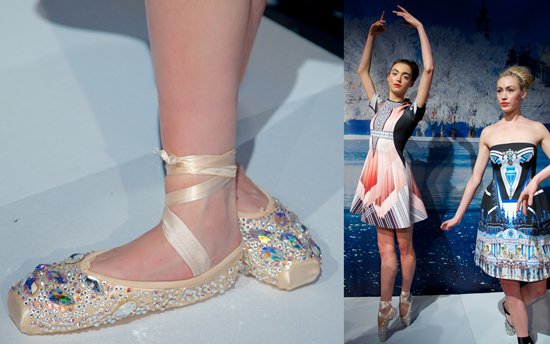 Ballerinas doubling as models for Clover Canyon's Autumn/Winter 2013 collection and showing off their skills in dazzling toe shoes
We say it can be done and that there is a place for such a pair of shoes for our everyday wardrobe, but I guess that remains to be seen until a designer or a brand takes on the challenge of making it mainstream.
Meanwhile, we content ourselves to the closest we can get of this Russian-inspired collection with Chloé's blush leather ballet flats and Nicholas Kirkwood's Swarovski-encrusted pumps available at Net-a-Porter.
Chloé Leather Ballet Flats, £354.20
Nicholas Kirkwood Swarovski Crystal-Embellished Suede Pumps, £1,803.20
Credit: Alberto Reyes / WENN