LeAnn Rimes has struggled with psoriasis since age 2 and has recently been open about her disease in order to raise awareness. When she was younger, the two-time Grammy Award-winning singer/actress used to feel ashamed.
"As I became a performer, I went to great lengths to hide my psoriasis," said Rimes in an interview with National Psoriasis Foundation.
She is leading a nationwide campaign, "Stop Hiding from Psoriasis," encouraging people with psoriasis to talk with their dermatologists about the impact of the disease.
LeAnn Rimes, seen at LAX on June 14, 2018, in Los Angeles, California, has struggled with psoriasis since age 2 (Credit: WENN)
At one point, LeAnn's body was 80 percent covered with lesions, including her hands, feet, and midsection. The severe condition made her uncomfortable showing her skin.
When performing on stage, she would wear two pairs of pantyhose to hide the impact of the disease.
"Performing onstage when I was experiencing a flare was difficult," Rimes said. "My skin would crack and bleed, causing pain and discomfort."
Psoriasis affects nearly seven million Americans, including CariDee English and Kim Kardashian. LeAnn Rimes has worked with her dermatologist to find an effective treatment regimen to manage her psoriasis.
View this post on Instagram
Combined with focusing on reducing stress and maintaining a healthy diet, she's learned to manage her disease effectively.
In December 2001, LeAnn Rimes was in attendance at the first-ever American Giving Awards held at the Dorothy Chandler Pavilion in Los Angeles.
The American Giving Awards is an event that honors and highlights the most deserving charities in the United States.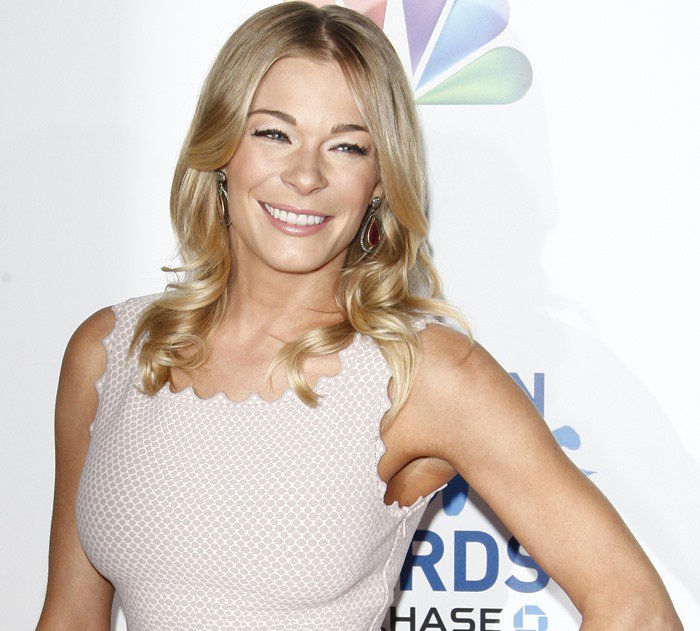 LeAnn Rimes arrives at the 1st annual American Giving Awards presented by Chase held at the Dorothy Chandler Pavilion in Los Angeles, California on December 9, 2011 (Credit: Starbux / WENN)
As both a presenter and a performer at the awards show, LeAnn Rimes made sure that all eyes on her stayed on her by wearing this figure-hugging and leg-flaunting Azzedine Alaia dress.
LeAnn Rimes flaunted her sexy legs in a figure-hugging Azzedine Alaia dress (Credit: Starbux / WENN)
I don't think this dress was the best choice for LeAnn Rimes, though. The dress's cut and fit seem to be more suited to someone with curvier hips or an hourglass shape.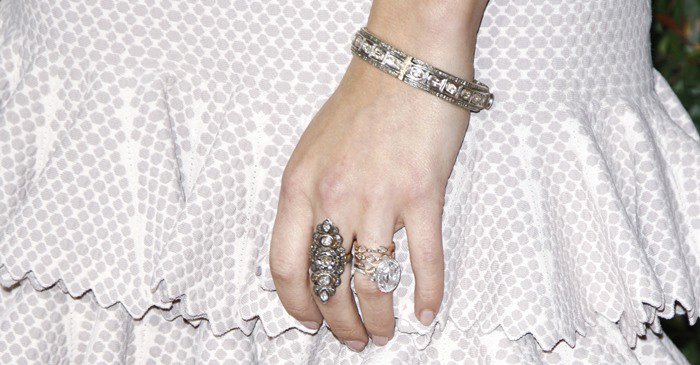 LeAnn Rimes shows off her rings and jewelry (Credit: Starbux / WENN)
But as this is LeAnn Rimes, one of the celebs we can trust to always be wearing amazing shoes, she instantly redeemed this outfit through her choice of footwear.
Never mind that they look off with the ill-fitting dress. We're all just here for the shoes anyway so let's just focus on them: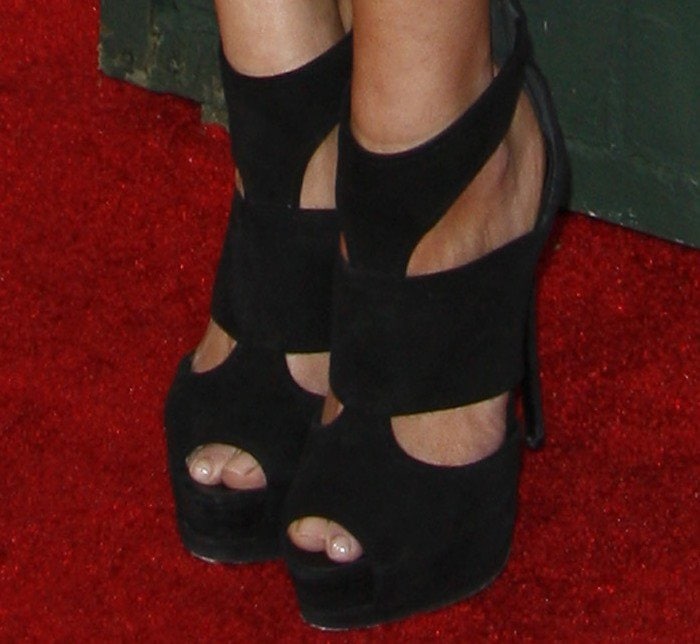 LeAnn Rimes's sexy toes in Giuseppe Zanotti sandals (Credit: Starbux / WENN)
I'm imagining these sharp shoes with a geometrically cut dress or something very flowy but in a deep, dark shade.
Even something like Kirsten Dunst's trench coat dress would work for me. Anything a little less frilly and a little sexier with a touch of edginess to it.
LeAnn Rimes' outfit-saving shoes are these ones from Giuseppe Zanotti that you can buy at Zappos and Farfetch:
Giuseppe Zanotti Suede T-Strap Platform Sandals, $594.99
These suede t-strap platform sandals having dizzying 6″-high heels balanced out by 1 3/4″ platform soles.