How would you define burlesque-worthy heels? If you had to pick a pair and dub it the "Dita Von Teese" of shoes, what would it be?
That's a tough question to answer (especially with Dita Von Teese in mind), so we're going to go ahead and select shoes Dita herself has worn instead. The pumps she sported at the promotional event for her new perfume last week, for instance, were certainly worthy of a burlesque queen. They were black, pointed, and patent, with mega ruffles at the toes, and she wore them quite well with polka-dotted stockings and a vintage Thierry Mugler dress.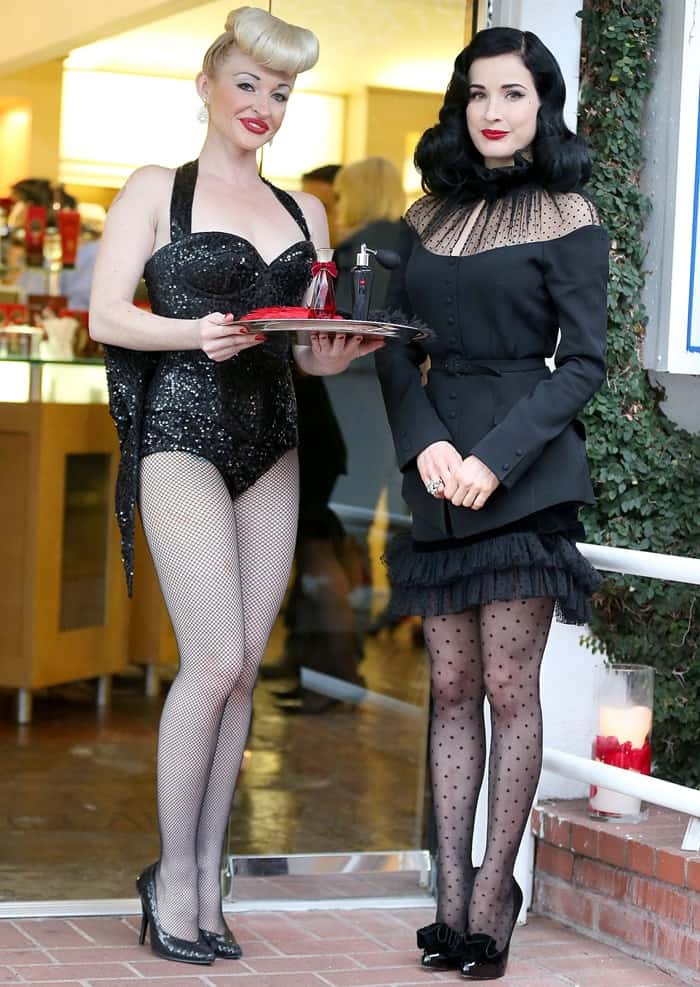 Dita Von Teese, along with Erica Holland, a performer in Teese's dance troupe, attend a pre-Christmas promotional event for Dita's new perfume at Fred Segal in West Hollywood on December 15, 2012
Dita Von Teese at the promotional event for her new perfume at Fred Segal
See? Seriously burlesque-queen-worthy. Do you like this style?
It's a pair from Christian Louboutin and we tried tracking it down. However, we couldn't seem to find it in Louboutin's current (FW2012) collection, nor could we find it in his Spring 2013 lineup. We're going to take a wild guess and assume that it's either from a previous collection, a pair that was custom-made especially for her, or simply an upcoming limited edition style that's not on any list.
We did manage to unearth a checkered ruffled slingback from Louboutin's Spring 2013 collection that comes with the same flirty and feminine style: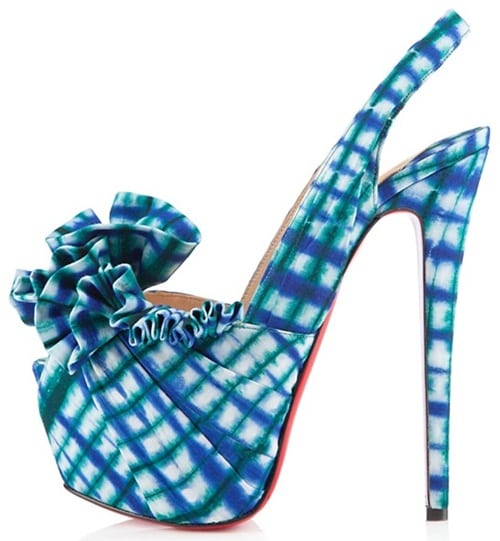 Christian Louboutin 'High BouBou' Ruffled Slingbacks, $1,495
On a side note, if you want something similar to Dita's ruffled Louboutins but don't want to spend too much, try a pair of ruffled suede pumps from Steve Madden instead. You can steal Dita's look by wearing your shoes with polka-dotted stockings and a little black dress:
Steve Madden 'Toppazz' Pumps, $108
Steal the look!
1. Topshop Peplum Dress, $96
2. Anna Sui Sheer Dots Tights, $40
3. Deborah Lippmann Nail Polish in My Old Flame, $16
4. Steve Madden Pumps, $91.79
5. Lola Lipstick in Steam, $18.50
Credit: WENN