Gwen Stefani made a case for double denim when she stepped out for a grocery run with her son, Kingston, at Bristol Farms in Hollywood recently.
Gwen Stefani and her son Kingston Rossdale getting groceries for the family at Bristol Farms on August 24, 2021 (Credit: Mega / WENN)
Showing off her signature cool-girl style, the singer embraced the Canadian tuxedo, wearing a denim shirt with yellow, red, and green stripes down the sleeves.
She left a few buttons undone for a more relaxed look and paired her top with straight-leg frayed jeans.
Gwen Stefani embraces Canadian tuxedo in a denim shirt and straight-leg denim jeans (Credit: Mega / WENN)
The mom-of-three skipped the jewelry, save for her engagement ring, and hid her face behind a black face mask.
She then added a hint of color to the look with lime green artificial nails and simply kept everything else simple with a casual top knot and barely-there makeup.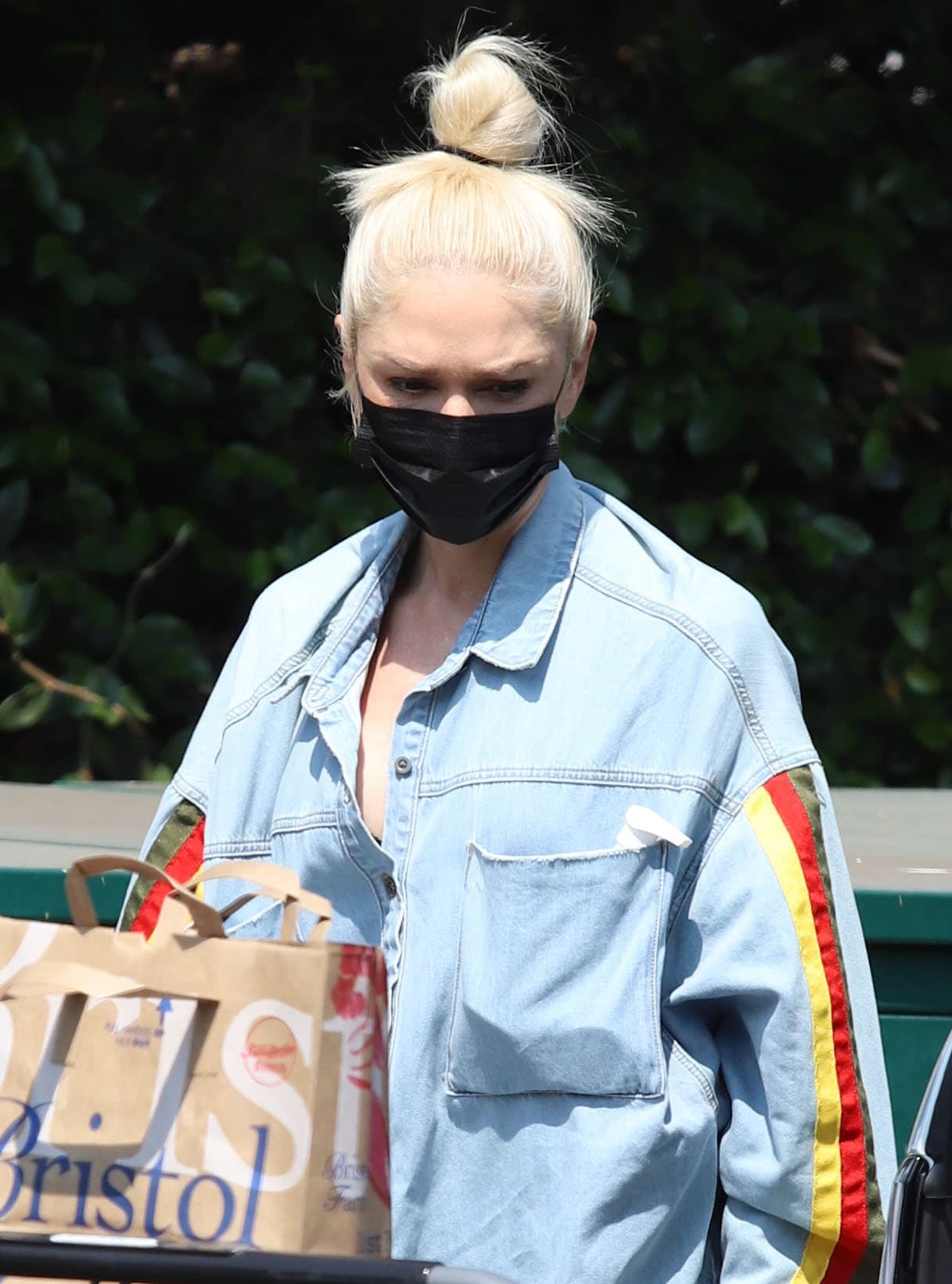 Gwen Stefani wears a casual top knot with a black face mask (Credit: Mega / WENN)
For her footwear choice, Gwen opted for the Vans slip-on Sf checkerboard sneakers. These now-sold-out sneakers have a canvas upper with a collapsible heel, UltraCush sock liners, and a checkerboard midsole.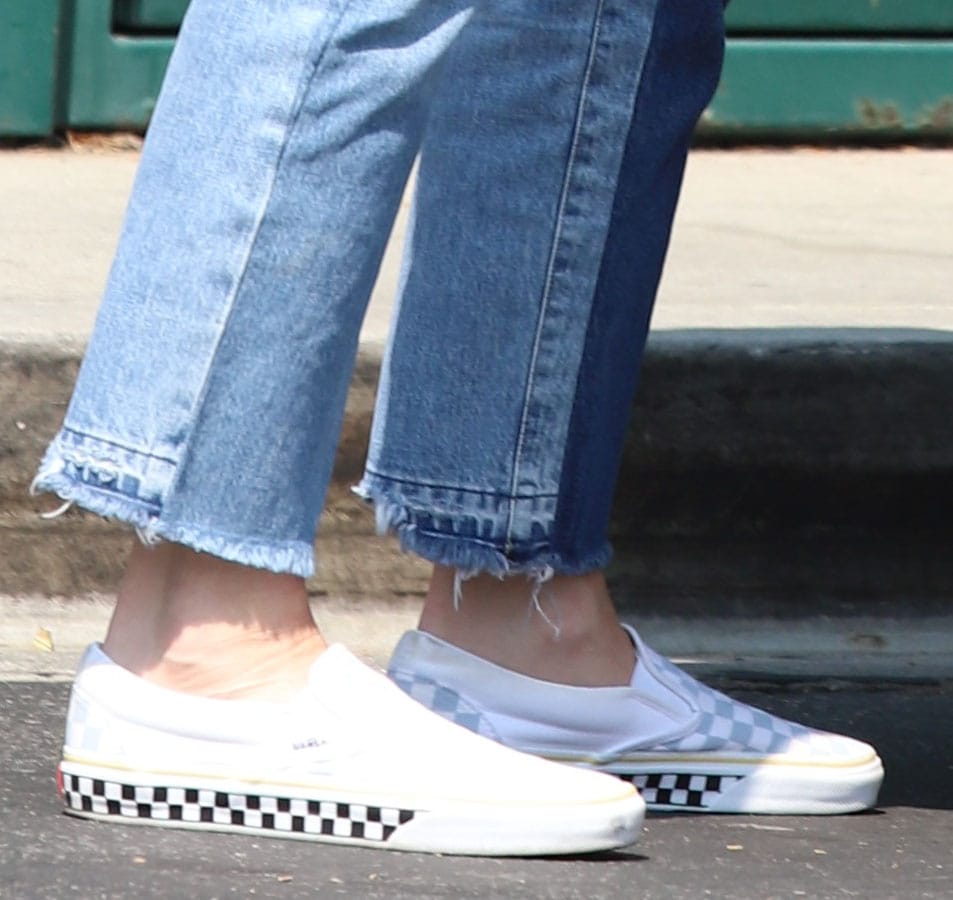 Gwen Stefani pairs her double denim outfit with Vans slip-on checkerboard sneakers (Credit: Mega / WENN)
Her 15-year-old son, Kingston, whom she shares with ex-husband Gavin Rossdale, kept things comfy in a pair of black-and-green shorts, a Ripndip black tee, and a pair of black fuzzy slides.
Missing from the outing was her husband, Blake Shelton, whom she married on July 3, 2021, at the country music singer's Oklahoma ranch.
In late July, Blake Shelton was asked if they'd been on a honeymoon. "No. We haven't yet. We still are probably going to…we did have some time after the wedding, just she and I, but you know…we just wanted something calm for a minute and not to run off and then go do something else," he responded in an interview with Storme Warren on SiriusXM's The Storme Warren Show.
"So we just stayed there in Oklahoma and just had some quiet time, just she and I…she's realizing that the agriculture part of Oklahoma,, and the things that you can do, and her passion is – outside of music – flowers," he added.
"This last spring, when we had time, we went and planted like a few acres of just Zinnias…we've had all this rain this year and wildflowers, acres of those things. She's in absolute heaven with that. So she wouldn't have wanted to leave anyway, because she can just literally walk out there and stand in acres of those things. And she loves it. I do too. It's cool."
"I've had awkward conversations with so many of my friends. 'Oh, oh, yeah. I read about that. How was that?' Listen, we kept it small, get over it. That's not about you. So, there's a lot of them," Blake told SiriusXM's Storme Warren about Adam Levine not showing up at their wedding.
Gwen Stefani's son Kingston wears comfy shorts with Ripndip graphic black tee (Credit: Mega / WENN)