Dove Cameron has changed a lot since her Disney Channel days. She was just 17-years-old when the first episode of the American comedy television series Liv and Maddie aired on July 19, 2013.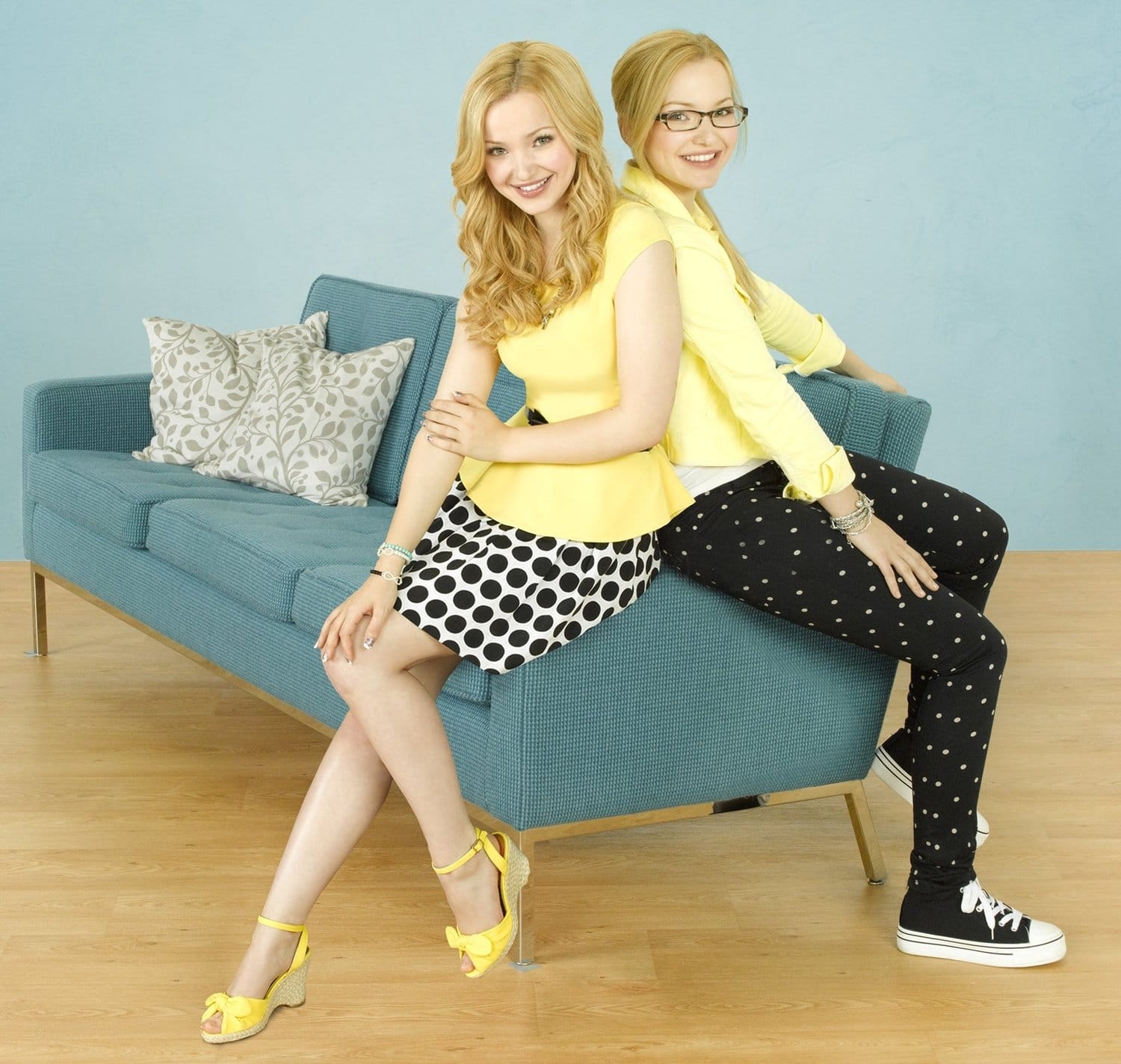 Dove Cameron was just 17-years-old when she made her debut as Liv and Maddie Rooney in Disney Channel's Liv and Maddie (Credit: Disney)
The actress is making a name for herself as a musician and for not being afraid to take risks with her fashion.
For the 2022 Billboard Music Awards, Dove wore a whimsical red dress from Ashlyn that definitely turned heads.
Dove Cameron flaunts her boobs in an Ashlyn gown at the 2022 Billboard Music Awards at MGM Grand Garden Arena on May 15, 2022, in Las Vegas, Nevada (Credit: Bauergriffin / Instarimages)
While we're no strangers to plunging necklines, Dove took the next level by showing off her torso with one of the most daring cut-outs of the night.
The barely-there top was balanced with a tulle and mesh skirt with a contrasting red and nude fabric. She also showed off the upper case "ALCHEMICAL" tattoo on her upper left shoulder.
Dove Cameron has a tattoo with the word "ALCHEMICAL" in all caps on her upper left shoulder (Credit: Bauergriffin / Instarimages)
"When people say I am 'turning bad,' I just remind them I got my first tattoo when I was 14," Dove told Refinery29 about her numerous tattoos in November 2019. She had her "ALCHEMICAL" tattoo inked in January 2021.
Dove Cameron had "ALCHEMICAL" inked on her upper left shoulder in January 2021 (Credit: Bauergriffin / Instarimages)
With a statement neckline, Dove Cameron channeled her inner Snow White with a deep middle-parting, leaving her neck bare by keeping her dark locks over her shoulders.
She kept her accessories minimalistic for her torso-revealing dress with black platform heels from Giuseppe Zanotti and winged liner.
Dove Cameron rocked a revealing Ashlyn gown with a plunging neckline and a sheer boned bustier (Credit: Bauergriffin / Instarimages)
It's safe to say Dove Cameron is taking her former 'Descendants' role to heart with a villain-worthy look after debuting her new song, 'Boyfriend.' Mirror, mirror on the wall – was Dove Cameron the fairest of them all?
This racy Ashlyn dress definitely marks a new moment in Dove Cameron's career as she transitions from Disney star to viral pop sensation.
Earlier this month, Dove made her Met Gala gown in an Iris van Herpen 'Spiral Nebula' gown inspired by cosmic structures of spiral nebulas, spiraling out from their center. She also wore Brilliant Earth earrings and a Lillian Shalom armor ring.
Her dress features "macrocosmic delineated rivers of stars found in these spirals are reflected in the sketches of this design. A dramatic spheroid silhouette is created from singular fine lines, spiraling delicately with the wearer's movements."
Dove Cameron made her debut at the 2022 Met Gala in an Iris Van Herpen 'Spiral Nebula' gown that took a total of 600 hours to make at the Metropolitan Museum of Art in New York City on May 2, 2022 (Credit: John Nacion / Startraksphoto)
Just a few days after attending the 2022 Billboard Music Awards, Dove opened up on Instagram about her personal struggle dealing with depression and dysphoria.
"Identity vs. the self !!! depression & dysphoria. the self is someone I feel I have always deeply known, someone I deeply love and protect, like my own child, I know this self and we are very close," Dove shared on Instagram. "For me, identity and the self have always been diametrically opposed, and there has only ever been room for one at a time to occupy my life."
She added, "I have never been able to make them hold hands, and I realize as I get older, its because I hold a deep-seated belief that who I am is wrong, I am not allowed to be just as I am, I am not meant to be here. I feel I must be something else if I am going to be allowed to be here. and I really do wanna be here with you."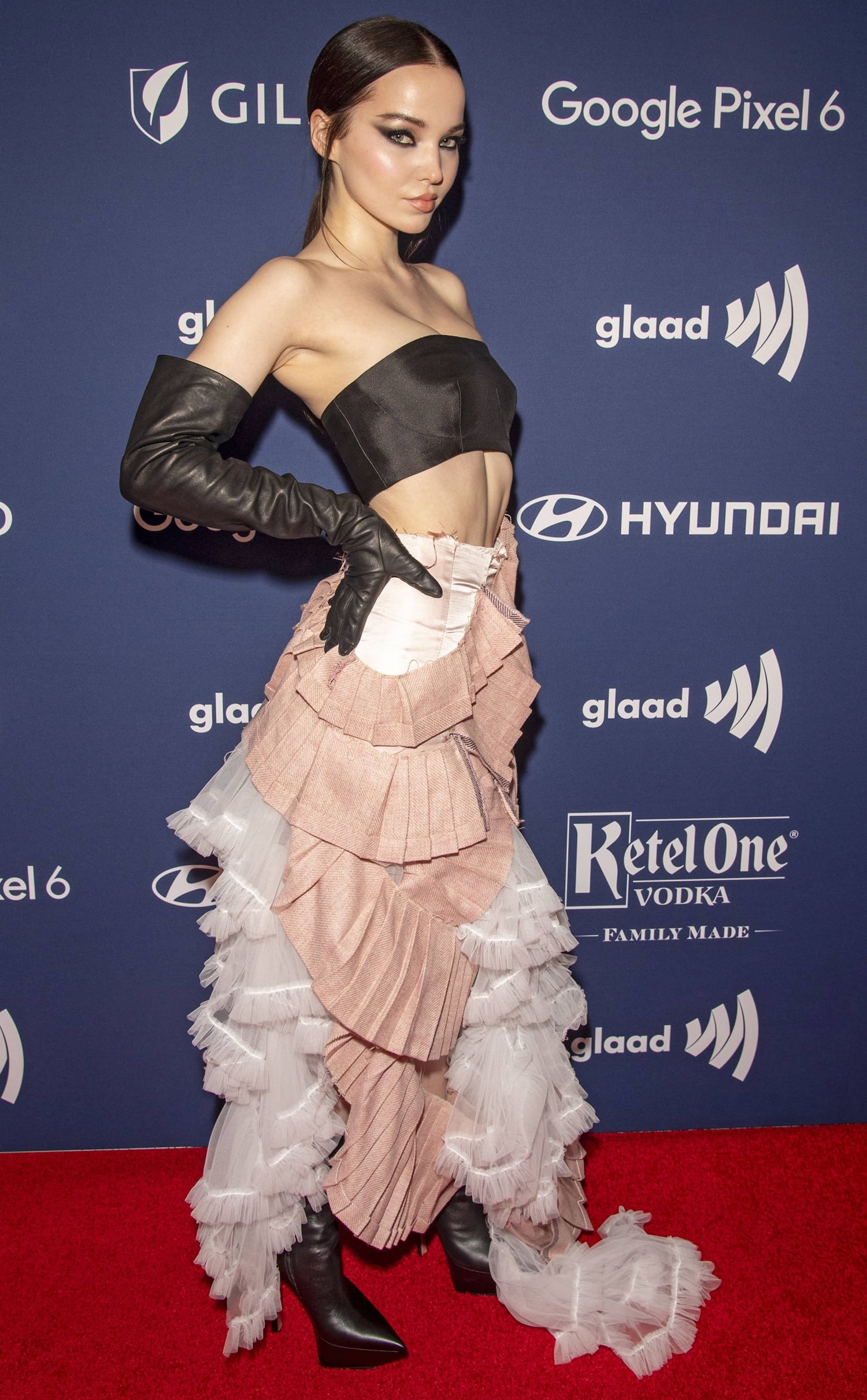 Dove Cameron in a black Prada tube top paired with a high-waisted Saint Sintra skirt, opera-length Marc Jacobs leather gloves, and Amina Muaddi boots at the 33rd Annual GLAAD Media Awards at The Hilton Midtown on May 6, 2022, in New York City (Credit: MEGA / WENN)
"More days than not, I feel pulled towards no identity at all, I feel most natural as something imperceivable to myself, an energy and a presence," Dove admitted.
"I don't know if I will ever be able to live as this, if I will ever find a rhythm in this job where perception is one of the major cornerstones. so far, the self and the identity seem to harm each other, in my personal experience. I'm feeling it out. and if you are too, we can do it together. the longer I'm alive, the more I realize these inner dialogues are actually pretty universal."
View this post on Instagram
"❤️‍🩹all that I am truly clear on is that I'm interested in a life unburdened by myself. easier in theory than in practice, but we're making room. ❤️‍🩹" Dove wrote. "I am beginning to have a hope that the public platform that has been difficult for me to learn to take up space as myself in, can actually be the conduit for change/mutual support/exploration/safety. there is room for us to talk about the things that terrify us/can't be commoditized on a large scale, that can't be commercialized and easily sound-bitten. maybe the spaces that are the least human can become the most human, if we want that, and we can all let each other take up a little more space. I love you."