A sleek, well-organized closet is the envy of every shoe collector, fashionista, and footwear aficionado.
There is actually an entire sub-niche of shoe closet videos on YouTube where viewers lust after gorgeously organized shoes, neatly tucked in their place.
When watching these videos, you'll notice one thing in common – drop front shoe boxes.
These containers are sleek and functional. Each box fits one pair of shoes and has an opening at the side or back that opens from top to bottom and has a top closure.
Drop front shoe boxes are the #1 choice for all shoe lovers and fashion gurus, and here are three reasons why…
1. Aesthetically pleasing
If you love shoes, whether it be sneakers or 4-inch stilettos, you want to show them off. Can you imagine just throwing your shoes in a pile at the bottom of your closet? Of course not!
Drop front shoe boxes allow you to put your footwear away neatly and make your shoe closet look amazing.
When you have a lot of pairs, it can be challenging to find space for them, but with polished-looking containers, you can make them the centerpiece of your home.
2. Customizable
Drop front shoe boxes are stackable and customizable. Let's say you just started building your sneaker collection or are in the process of giving your closet a make-over.
You can start with a few boxes and add more as you get more shoes. They are stackable, so you can fit them in different spots and change the layout to work with your space. They also allow you to have the exact amount of storage – no more, no less.
3. Functional
You want to protect your shoes, but a traditional shoebox makes it difficult to see and access them. Further, shoe boxes look mismatched and aren't as secure.
Front drop box shoe boxes keep your footwear safe while making it easy for you to admire them and take them out.
If you are looking to purchase some drop front shoe boxes to organize your shoes, you want to invest in quality ones that will last as you build up your shoe collection.
They should be made of quality material, easy to open and stack, and look great. The size is also important. They should be big enough to fit all styles of shoes without being too big and taking up an unnecessary amount of space.
When you own a lot of shoes, purchasing drop front shoe boxes for them all can be an investment, and we don't want you wasting your money.
This is why we've put together this list of the all-time best drop front shoe boxes that will make your shoe closet the envy of any footwear aficionado.
1. The Largest
Arkmiido Shoe Storage Box, 2-pack for $37.99 at Amazon
These gorgeous drop front shoe boxes are available on Amazon and have a solid 5-star review. This is their latest version with a larger capacity and made from more durable plastic.
The shoe box features thick white PP plastic walls and a clear drop front door opening on the side. If you want to add some extra color, it also comes in white with blue trim detail.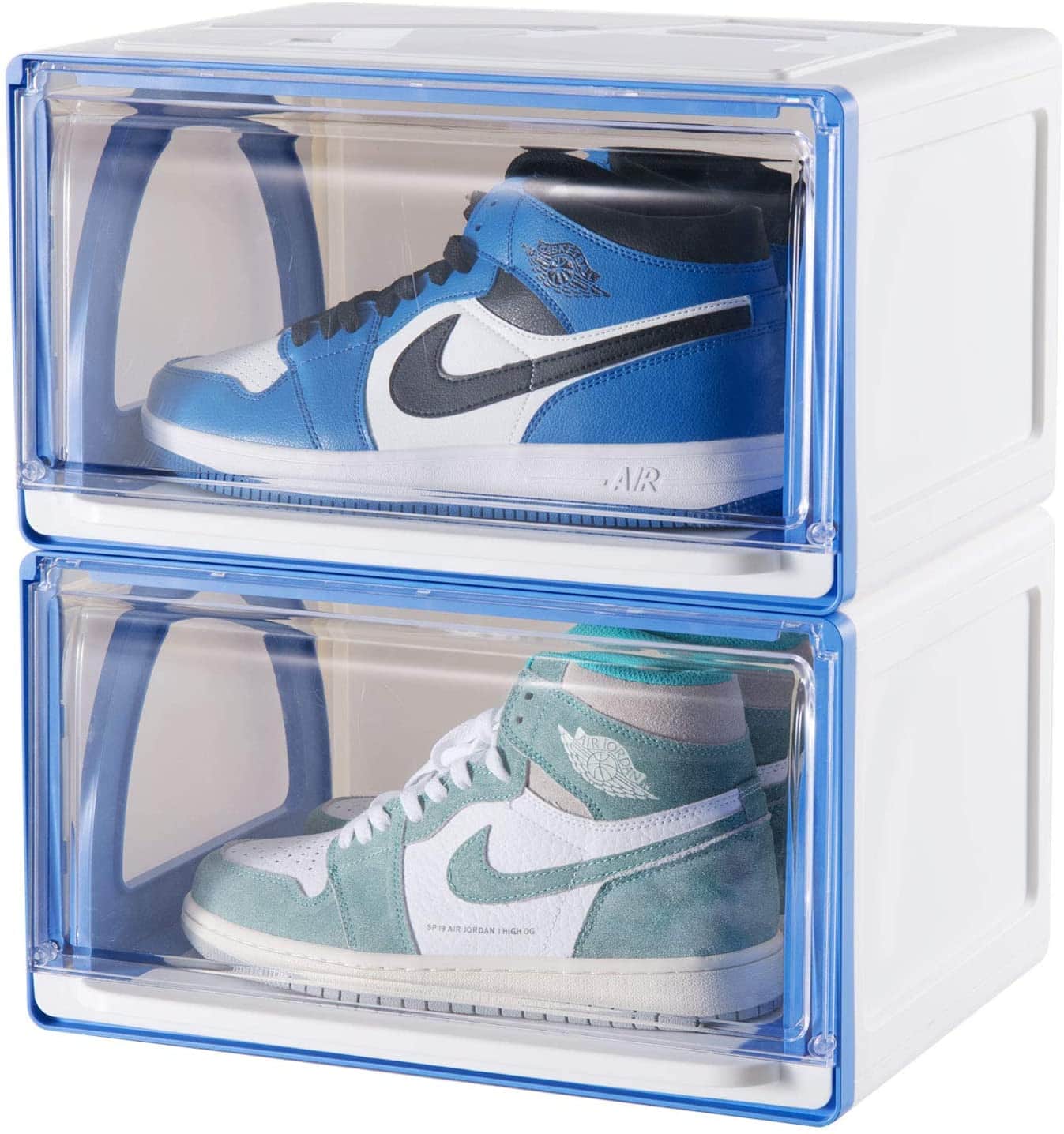 This shoe organizer can make your expensive and favorite shoes a good collection and display
This design will keep shoes closer to the wall while giving you a great visual! The size is perfect at 15 x 10.6 x 8.4 inches. It will fit up to a men's size 14 sneaker or women's heels.
The concave-convex design makes these shoeboxes strong and durable. You can stack multiple pairs, and it won't give!
2. The smallest
Small Drop Front Shoe Box, 6 for $52.99 at The Container Store
If you have less storage space or smaller shoes, you likely don't want to waste space with shoe boxes that are too large. The Container Store has a small version that's just 7.25 x 10.5 x 6 inches which fits most women's size 11 shoes.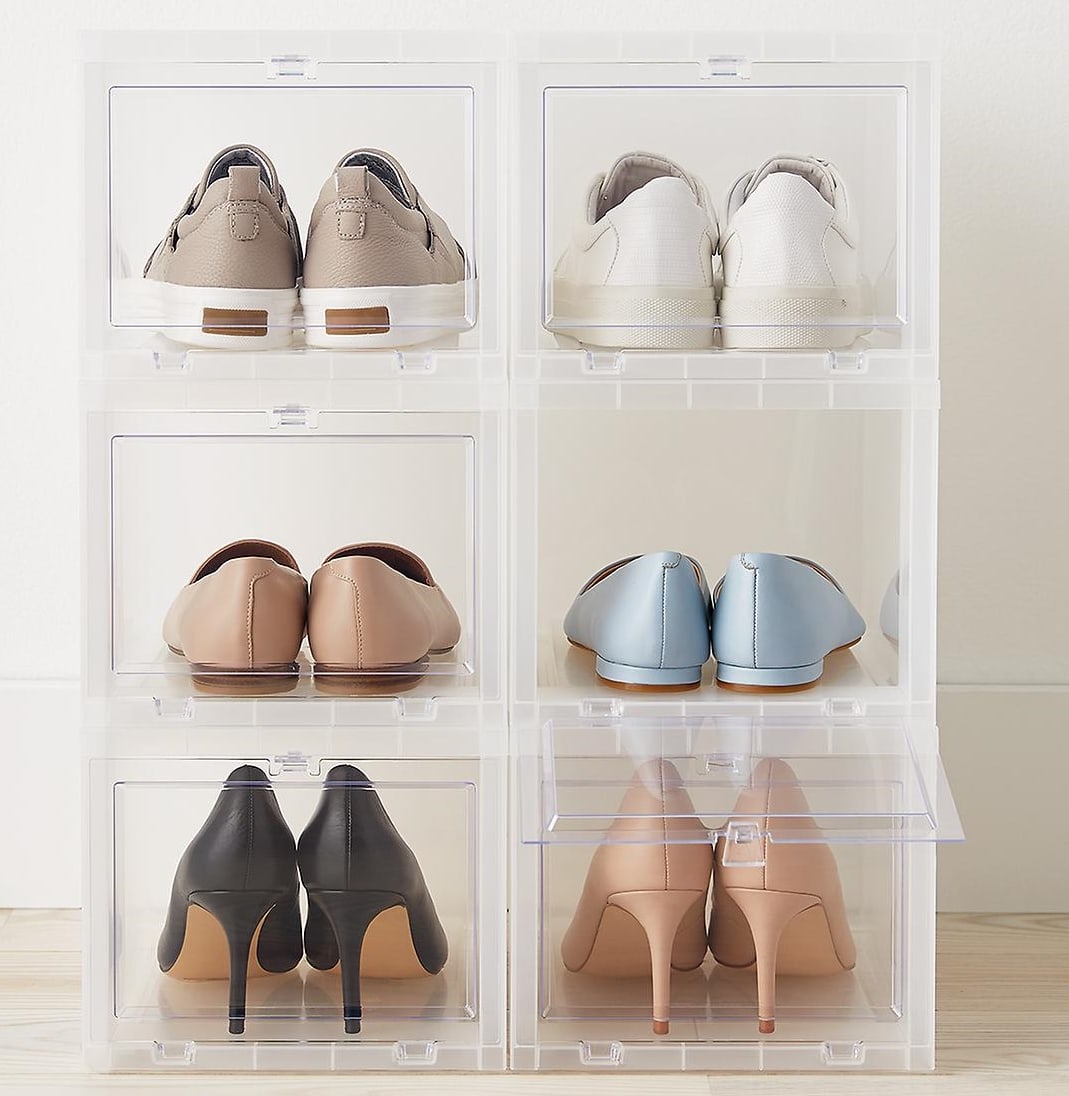 The clear window of this small drop-front shoe box lets you immediately see the pair stored inside
Made from PP plastic, they are all-clear with small ventilation holes so your shoes will be easy to see. They're also easy to access thanks to the drop-front opening.
These shoe boxes are great for stacking, placing on a shelf, or under a bed and are sold in cases of 6 for $50.
3. The most affordable
Skubb Shoe Box, 4 for $7.99 at IKEA
If you are looking for a more affordable option, these IKEA Skubb shoe boxes are a great price! They come in a pack of 4 for just $7.99.
These shoeboxes are made from recycled polyester and have a mesh sidewall that makes it easy to see your shoes.
The mesh allows air to circulate around your shoes and makes it easy to see which pair you have inside
The drop front wall is fastened with a hook and loop, and if not in use, you can quickly flatten them for easy storage. These are a bit smaller than some of the others on the list at 13.5 x 8.75 x 6.25 inches; however, you would still be able to fit most pairs of shoes.
Although this may seem like the perfect option for an extensive shoe collection because of the price, they aren't great for stacking.
Due to the material, they aren't the most durable and will lose their shape and lean when stacking more than two pairs. These are better suited for a closet shelf or under the bed storage.
4. The best value
Starplast Drop Front Storage Shoe Boxes, 4 for $22.49 at Bed, Bath & Beyond
For durable drop front shoe boxes at a great price, these Bed, Bath & Beyond shoe boxes are an excellent option. They have a convenient drop front opening that will display the toe/heel of your shoe.
With a convenient drop front opening, this set of clear plastic storage boxes are perfect to store shoes and makes it easy to see what is inside
The entire box is clear for superior visibility and the plastic is quite durable, making these great for stacking.
Each shoe box has an average size fitting most shoes at 14.6 x 9.9 x 7.7 inches. These are sold in packs of 4 for just $22.49! If you have a large collection that you want to stack and display, these are great!
5. The most stylish
Large Black Drop-Front Shoe Box, 6 for $60 at The Container Store
Remember the shoe closet YouTube videos I mentioned? The Container Store drop front shoe boxes are often featured due to their sleek and stylish look.
This black shoe box is gorgeous; you could display these in your living room, and it would look amazing! The interior walls are all black and made from polypropylene and polystyrene.
The drop-front opening of this shoe box means you don't have to unstack boxes to get the pair you want
The front window is transparent, displaying the heel or toe of your shoes. This large size will fit most men's shoes up to a size 13 as the measurements are 13 x 9.5 x 5.75 inches.
These are purchased in a pack of six, retailing for just over $60. Although they are a little more expensive, The Container Store is notorious for being the best storage container supplier, so you can trust you are getting a reliable product. They also sell replacement windows which is fantastic.
6. The most secure
Rebrilliant Shoe Store Box, 2 for $35 at Wayfair
Most drop front shoe boxes have a clicking latch that can sometimes require extra force to open. If you have a stack of 10 boxes, pulling too hard should cause them to fall over.
These shoe boxes have solved that issue with their magnetic absorption design. The box opens and closes easily with a magnet and will stay in place. The boxes are made from high-quality, durable PP plastic and won't deform.
This sneaker shoe box owns a magnetic adsorption design for easy access, the bottom card slot design, the stack is solid and does not fall
The sides are opaque, and the front cover is completely transparent. They are a great size, 8.3 10.6 x 14.6 inches, and fit most shoes.
Although they were originally designed for sneakers, they work great for high heels as well. They are sold in a set of 2 and retail for about $35.
7. The Brightest
KPX Stackable Shoe Organizer, 12 for $38.99 at Amazon
You'll find that most drop front shoe boxes come in white or clear, and occasionally black. It's rare to find them in bright and bold colors which is what makes these KPX shoe boxes so special!
These stunning drop front shoe boxes come in bright mint green or vibrant lavender purple. They're both eye-catching and functional. Each box is 13 x 9 x 5.4 inches, and although a little below average in size, they still will fit most shoes (men's size 9 and women's size 10).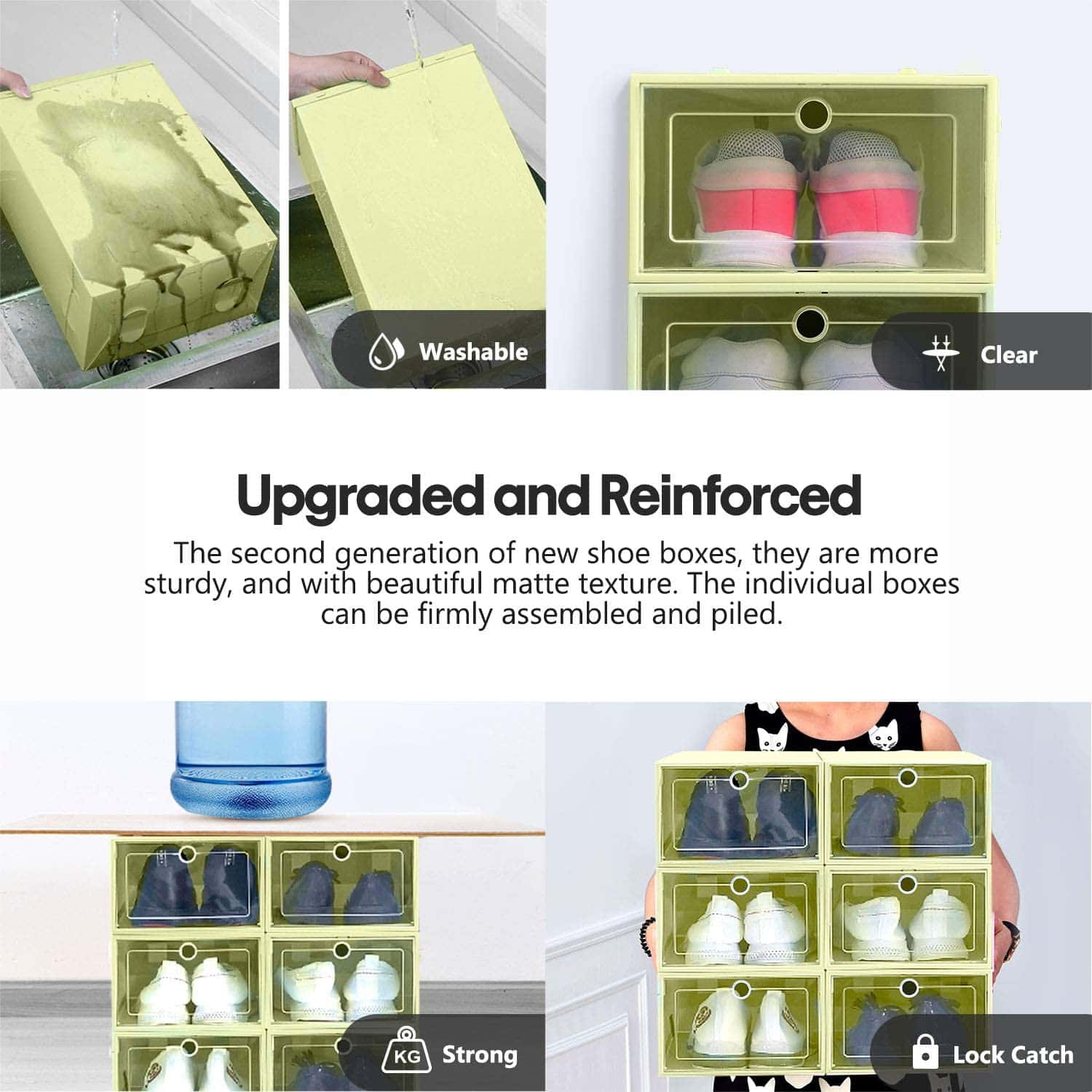 These foldable and stackable shoe boxes shoe box can effectively prevent dust from entering the shoes
The clear window makes shoes visible, and the door clicks in place. To open, there is a small pull hole.
These shoe boxes are made from quality materials and are secure and durable enough for stacking. Available on Amazon, many reviewers say these are the easiest shoe boxes to assemble, and they come at a great price.
A pack of 12 shoe boxes retails for only $38.99, so not only are they bright and beautiful, but they're budget-friendly too!