Stranger Things: Season 4 was an absolute phenomenon in 2022, breaking Netflix viewership records right off the bat on its release weekend.
The fourth season was darker than any season before it, with a storyline that reminded us of supernatural slasher movies.
While this bleaker take on the Stranger Things formula garnered many fans, the most popular aspect of the newest season was undoubtedly the inclusion of a brand new character – Eddie Munson.
(L) Joseph Quinn as Eddie Munson in the premiere episode of Stranger Things: Season 4; (R) Joseph Quinn attending the world premiere of Stranger Things: Season 4 in Brooklyn, New York, on May 14, 2022 (Credit: JOHN NACION / Startraksphoto)
Brought to life by actor Joseph Quinn and winning over audiences' hearts from the get-go, Eddie Munson was the clear breakout star of Stranger Things: Season 4.
This rebel with a cause starts the season off with some sour luck, but with his resilience and self-preservation, he manages to save the day and help the main crew achieve victory.
Simply put, Eddie Munson is one of the best-written characters to come out of Stranger Things in a while. If you need more specifics, here are five reasons why Eddie Munson is so popular:
Joseph Quinn as Eddie Munson in the fourth season of Stranger Things (Credit: Netflix)
5. His Outfit Is Authentic
Take one look at Eddie Munson, and you'll immediately know he's a metal fan – no questions asked.
Whether it's his torn black jeans, the scuffed and worn-in Reeboks, or the black handkerchief that sticks out of his pocket, every element of his outfit screams '80s metal fan.
What shoes is Eddie wearing in Stranger Things?
Eddie Munson's favorite shoe pair is Reebok's white EX-O-FIT Hi men's sneakers. You can buy them on Amazon.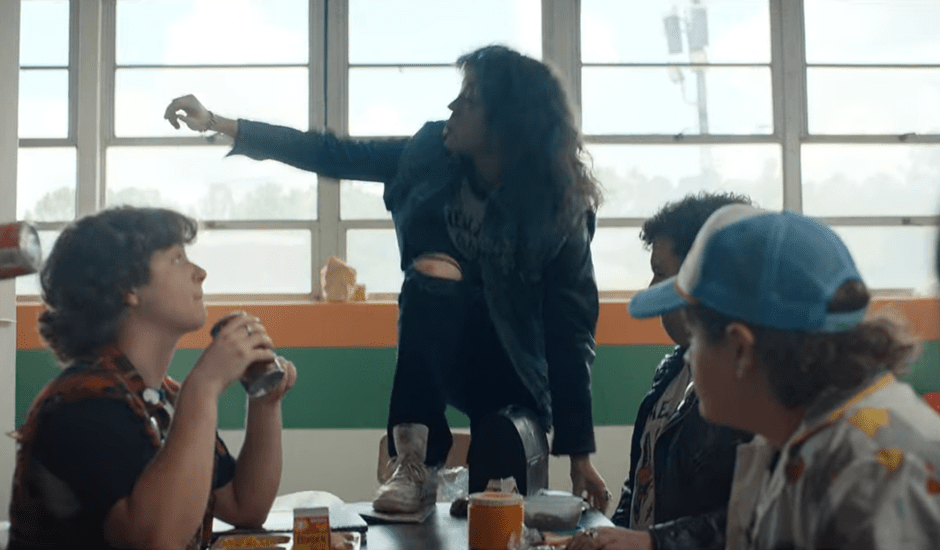 Reebok EX-O-FIT Hi men's sneakers in white seen on Eddie Munson (Joseph Quinn) in Stranger Things season 4 (Credit: Netflix)
It's obvious that Eddie Munson has the look-down pat, but it's the small touches that verify that he's far from a poser.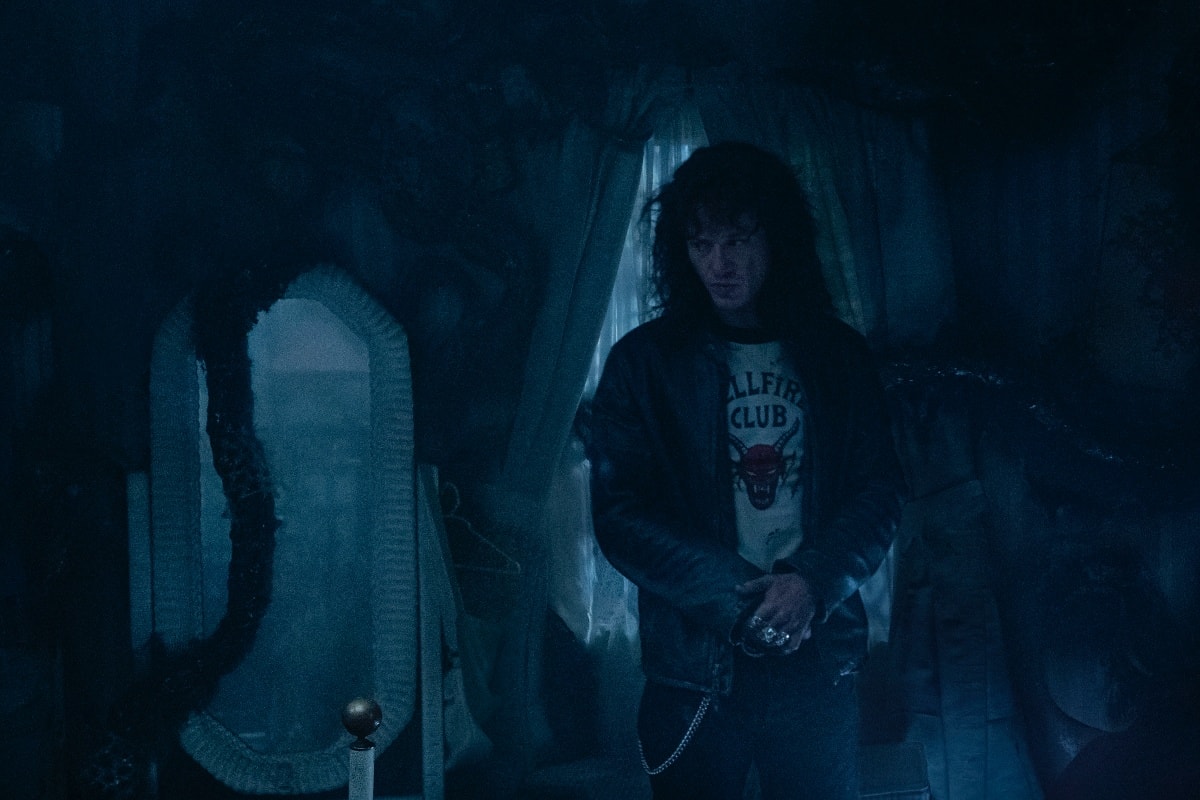 Joseph Quinn as Eddie Munson in the fourth season of Stranger Things (Credit: Netflix)
Look no further than Eddie Munson's denim overwear, which features a slew of call-outs to some of the most revered bands of his time.
On both his jacket and vest, you can spot patches for bands like Megadeth and Iron Maiden, along with some pins for W.A.S.P., Judas Priest, and more.
The enormous back patch pays respect to the revered band Dio and their second album, The Last in Line.
Promotional art for Eddie Munson in the fourth season of Stranger Things (Credit: Netflix)
Ironically, Eddie also sports a Leviathan Cross patch (also known as Satan's Cross), hinting at his story to come.
4. That Iconic Hair
We can't bring up his outfit without highlighting Eddie Munson's hair. In the '80s, there were fewer things that were as glamorous as your haircut.
While Eddie is obviously more into heavy metal than hair metal, he still rocks an impressive and iconic mullet.
Alongside another breakout character Argyle (played by Eduardo Franco), Eddie offers some representation for those viewers who like to keep their locks long and full of volume.
Joseph Quinn as Eddie Munson showing off his iconic hairstyle, which rivals Steve Harrington's mullet for best hair in Stranger Things (Credit: Netflix)
However, some things are too good to be true, as you might be surprised to learn that Joseph Quinn wears a wig to play Eddie Munson on Stranger Things.
To nail the perfect look, Joseph Quinn and the costuming department went through half a dozen different wig tests, slightly changing the length and color to fit his face.
Initially, it took the crew over 40 minutes to properly attach the wig on Joseph Quinn's head before shooting any footage. Luckily, after a bit of practice, they managed to shave it down to 20 minutes. Either way, we couldn't think of a better time investment.
3. Eddie Munson Is Based on a Real Person
Moving into more serious territory, Eddie Munson is so popular because he feels honest and vulnerable, which makes sense considering the character's inspiration.
Although most of his character is completely fictitious, Eddie Munson is loosely based on the real story of Damien Echols.
Growing up in the conservative town of West Memphis, Arkansas, Damien Echols was a rebellious teenager who was wrongfully convicted for the murder of three children, almost entirely due to a "satanic panic" gripping the community.
Damien Echols at the Toronto International Film Festival press conference for West of Memphis on September 8, 2012 (Credit: Dara Kushner / INFphoto)
Like Damien Echols, Eddie Munson is hated and banished by his community purely based on conjecture and appearance.
The creators of Stranger Things, the Duffer Brothers, said that Eddie Munson's character was meant to call attention to the "satanic panic" problem during the '80s and highlight stories like that of Damien Echols.
Luckily, there was a bit of justice in Damien's life, as he was ultimately released from death row and proven innocent in 2010.
Damien Echols with Johnny Depp at the West of Memphis photo call during the Toronto International Film Festival on September 8, 2012 (Credit: Walter McBride / INFphoto)
2. He's a Relatable Misfit
Make no mistake about it, Eddie Munson is far from an ideal role model. Between skipping classes, selling drugs, and rebuking almost everyone around him, there's a lot that Eddie could improve on.
That said, it's hard not to sympathize with his character, especially when you consider his upbringing, less-than-favorable living circumstances, and his being constantly shunned by society.
Joseph Quinn as Eddie Munson in the fourth season of Stranger Things (Credit: Netflix)
As a viewer, it's easy to see Eddie's soft side, no matter how hard he tries to appear on the surface. Representing the underdog in all of us, Eddie speaks directly to those misunderstood metal rebels who received snide treatment in the suburbs while simply trying to enjoy some Dungeons & Dragons.
At the end of the day, Eddie Munson acts selflessly where it counts, protecting those he loves along the way.
1. He Can Shred Metallica Like No Other
Eddie Munson's most iconic moment in Stranger Things: Season 4 had to be near the end of the show when he unleashed a guitar solo to fend off the demon beasts of the Upside Down.
Brandishing his battle gear and his beloved guitar, Eddie made metal fans out of all of us when he started shredding Metallica's seminal 1986 classic, "Master of Puppets."
To make things even more impressive, actor Joseph Quinn actually learned how to play this tough tune on electric guitar for the big scene.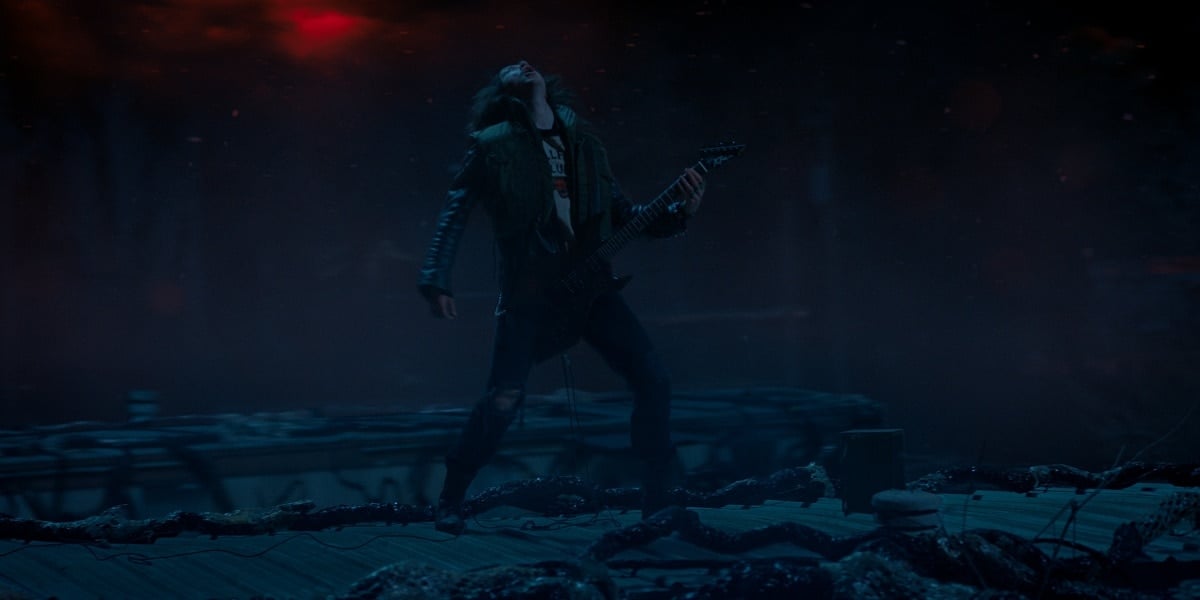 Joseph Quinn showing off his guitar-shredding skills in a climactic scene from the fourth season of Stranger Things (Credit: Netflix)
Considering how many other catchy '80s tunes were included in Stranger Things: Season 4, most notably Kate Bush's "Running Up That Hill," it was fantastic to see some proper shredding for rock fans to rally behind.
Thanks to excellent thematic music integration, this scene introduced Metallica to a brand new generation, inducing headbanging whiplash for some younger viewers.
It's no wonder why Eddie Munson is so popular, as he brought audiences together with the gift that transcends time itself – music.