It's safe to say that the fourth season of Stranger Things was one of the most popular and beloved television shows in 2022 with its dark and emotional plot, intense action, and endearing cast of characters.
Promotional art for the fourth season of Stranger Things (Credit: Netflix)
While it was great to see familiar faces like Eleven (Millie Bobby Brown), Mike (Finn Wolfhard), Lucas (Caleb McLaughlin), Will (Noah Schnapp), and Dustin (Gaten Matarazzo), some of our favorite characters were total newcomers.
It was a delight to see Robin (Maya Hawke), Chrissy (Grace Van Dien), Eddie (Joseph Quinn), Enzo (Tom Wlaschiha), and even Vecna (Jamie Campbell Bower) join the stellar ensemble cast of characters of the popular series.
Of course, this also includes the constantly comedic stoner Argyle, played to perfection by young actor Eduardo Franco.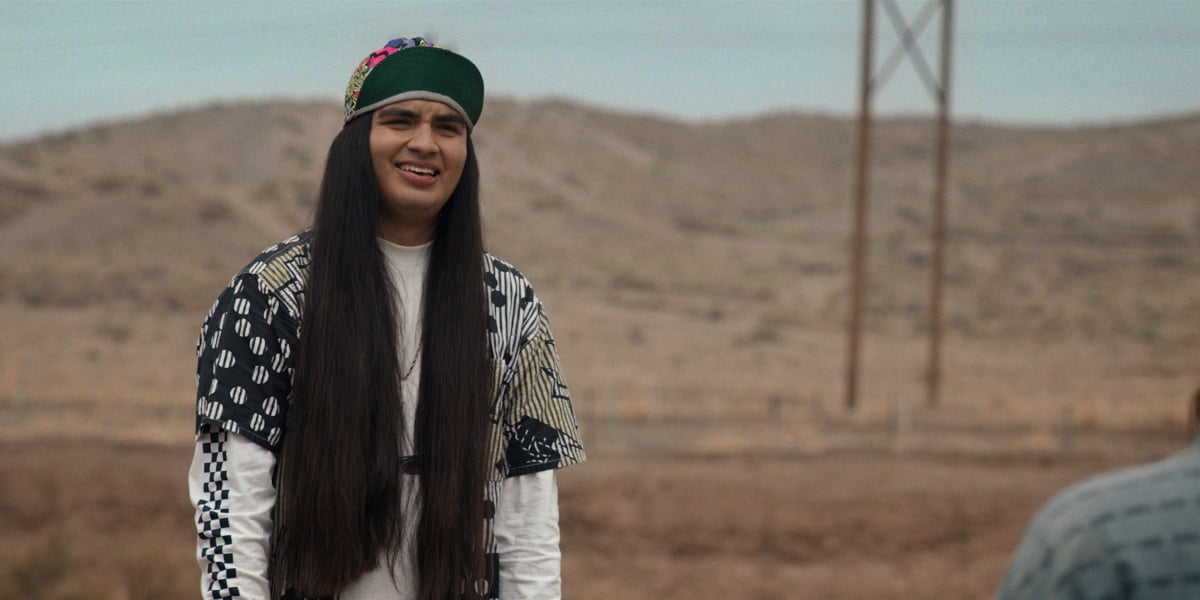 Eduardo Franco as Argyle in the science fiction horror drama series Stranger Things (Credit: Netflix)
While we got to see a lot of Argyle during Stranger Things: Season 4, Eduardo Franco isn't exactly a household name yet. But he's a definite favorite up-and-coming star of ours.
We're uncovering everything you need to know about this lovable new face in entertainment, including his early career and current projects all the way to Eduardo Franco's relationship status.
If you loved Argyle on Stranger Things: Season 4, consider this your crash course on the talented actor who brought him to life!
Where Was Eduardo Franco Born and Raised?
Eduardo Franco was born on August 29, 1994, in Yuma, Arizona, a small city on the southwestern tip of the state that borders Mexico.
Growing up in Yuma, Eduardo helped his parents out whenever he could, as their working-class jobs kept them afloat during hard times.
Throughout childhood and adolescence, Eduardo would travel between Mexico and the United States to visit family and friends. This included his aunt, who would cut his hair at her barbershop. But eventually he stopped going altogether, resulting in his signature long hair.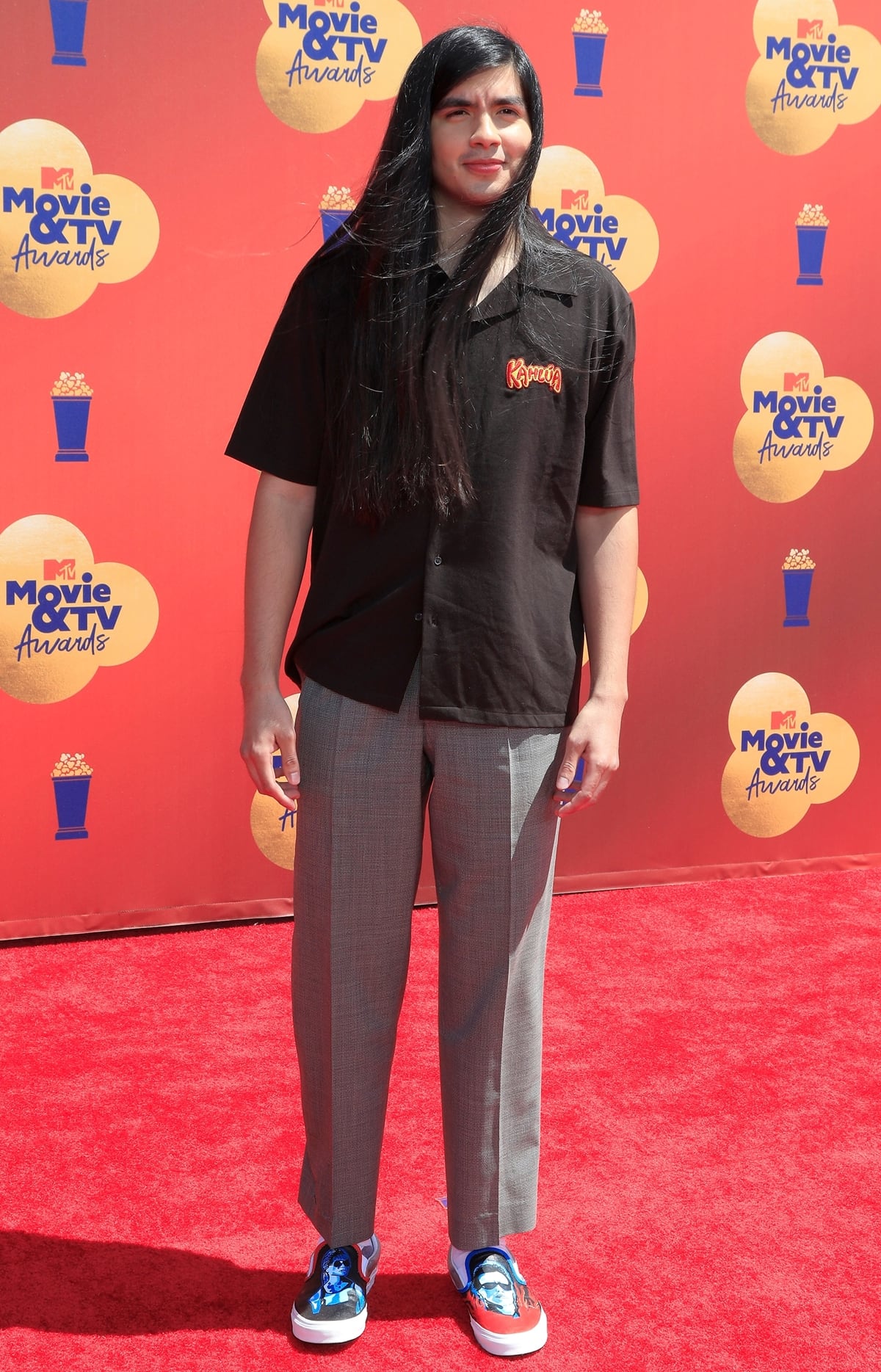 Eduardo Franco attends the 2022 MTV Movie & TV Awards at Barker Hangar on June 5, 2022, in Santa Monica, California (Credit: Kathy Hutchins / Shutterstock)
In fact, Eduardo claims that he hasn't received a proper haircut since he was 16 years old when he cleaned up his look to nab a job at a local movie theater.
Ever the empathetic soul, Eduardo used his disposable income to help his parents pay bills, repaying them for their hard work during his childhood.
Eduardo moved to Los Angeles by himself in his early 20s to pursue his acting career. Soon, he picked up a few one-off roles in television comedies like The Skinny, You're the Worst, and Gamer's Guide to Pretty Much Everything.
In 2017, Eduardo landed his first major role as Spencer Diaz in the Netflix mockumentary American Vandal, soon followed by his debut film role as Jeremy Abelar in the teen comedy, The Package.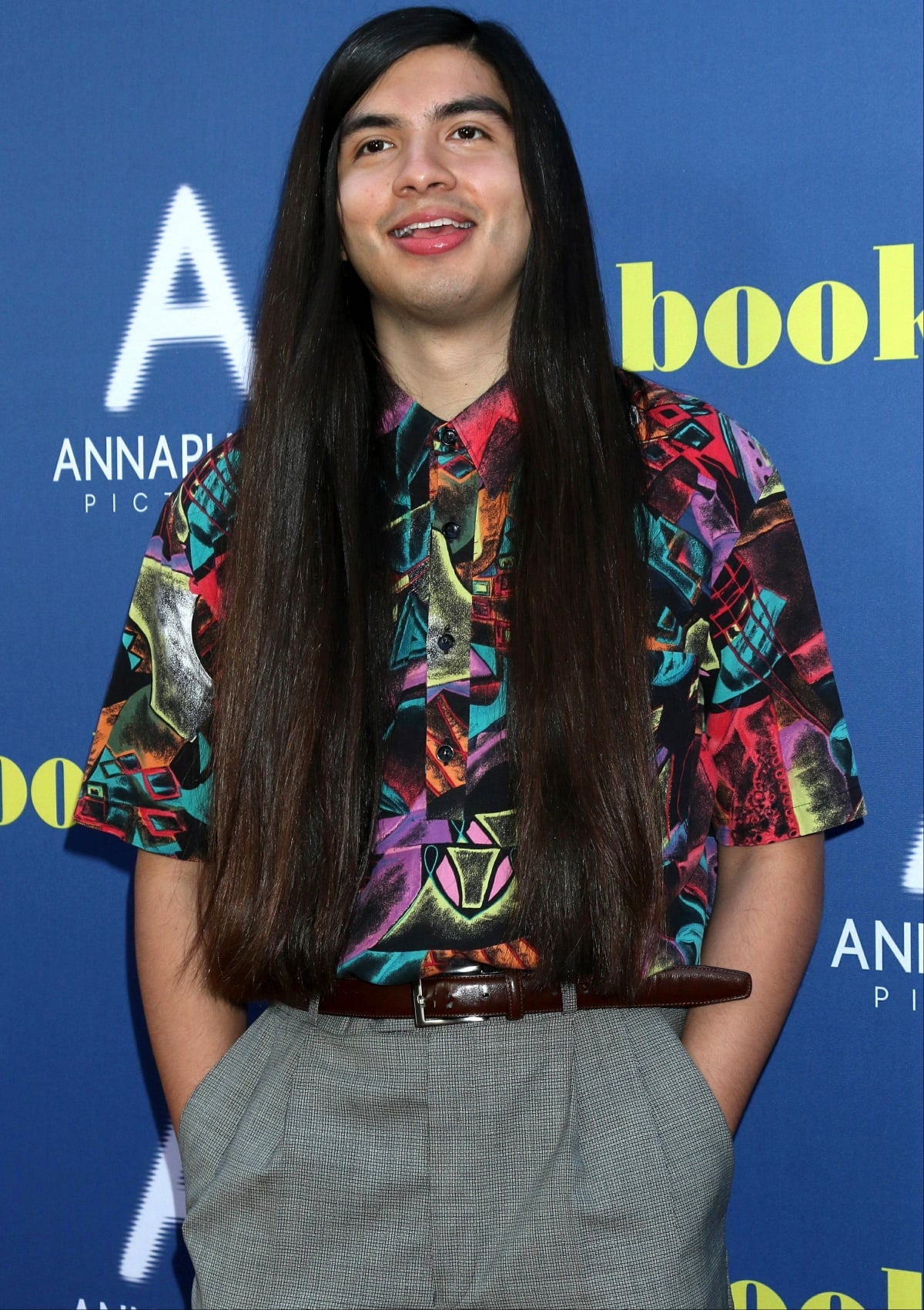 Eduardo Franco attending a special screening of Booksmart at the Theater at the Ace Hotel on May 13, 2019, in Los Angeles, California (Credit: Media Punch / INSTARimages)
He received his biggest break in 2019 when he appeared in the film Booksmart as Theo, a role that was specifically made for him after a favorable audition.
How Was Eduardo Franco Cast on Stranger Things?
After gaining some recognition on various Netflix projects, Eduardo Franco decided to audition for season 4 of Stranger Things in 2020.
Apparently, Finn Wolfhard has seen Eduardo in Booksmart a few years prior and specifically recommended him to the Duffer Brothers for a role on Stranger Things.
In an interesting turn, Eduardo originally auditioned for the role of Eddie Munson, but the part went to actor Joseph Quinn instead.
Joseph Quinn as Eddie Munson in the fourth season of Stranger Things (Credit: Netflix)
Although Eduardo didn't make the cut for Eddie, the Duffer Brothers were impressed with his talents and saw him as a perfect fit for the stoner sidekick Argyle.
Charming, constantly self-medicated, and always keeping things lighthearted and fun, Argyle quickly became a fan-favorite character in Stranger Things: Season 4.
Eduardo Franco as Argyle, who provided comic relief in the bleak fourth season of Stranger Things (Credit: Netflix)
Buddied up next to the often stoic Jonathan Byers (Charlie Heaton), Argyle was a humorous addition to the cast that acted as a great counterbalance to season 4's surprisingly bleak plot.
A Bright Future for Eduardo Franco
Following the success of Stranger Things: Season 4, life seems to be good for Eduardo Franco, with a future full of potential.
Standing at five feet and ten inches, this now 28-year-old actor should have plenty of success in Hollywood and beyond. Plus, Eduardo Franco's relationship status is currently single, making him a prime young bachelor in the business.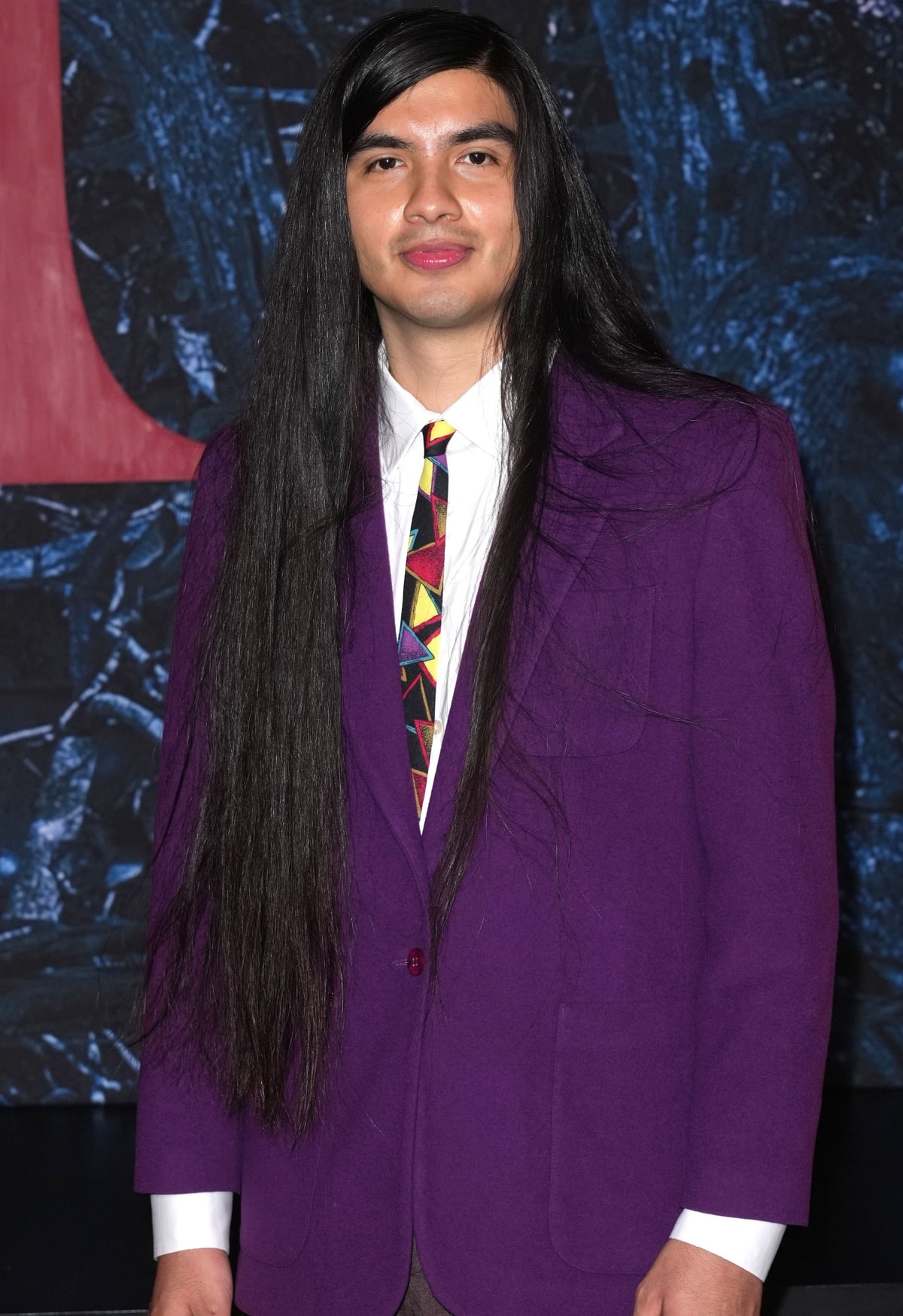 Eduardo Franco at the Stranger Things: Season 4 world premiere on May 14, 2022 in New York (Credit: JOHN NACION / Startraksphoto)
That said, it seems like the actor is keeping his head down and continuing to churn out projects. In 2022, Eduardo lent his voice to the Netflix-produced children's show Gabby's Dollhouse, adding some voice-acting to his portfolio.
Most recently, he can be seen in Hulu's holiday-themed comedy movie The Binge 2: It's a Wonderful Binge as Andrew, continuing his trend of comedic roles.
Considering how personable and talented he is, we'll likely continue to see Eduardo Franco pop up on television and in movies in the years to come.
Although nothing is confirmed yet, we have a strong suspicion that Argyle will return for Stranger Things: Season 5 as well.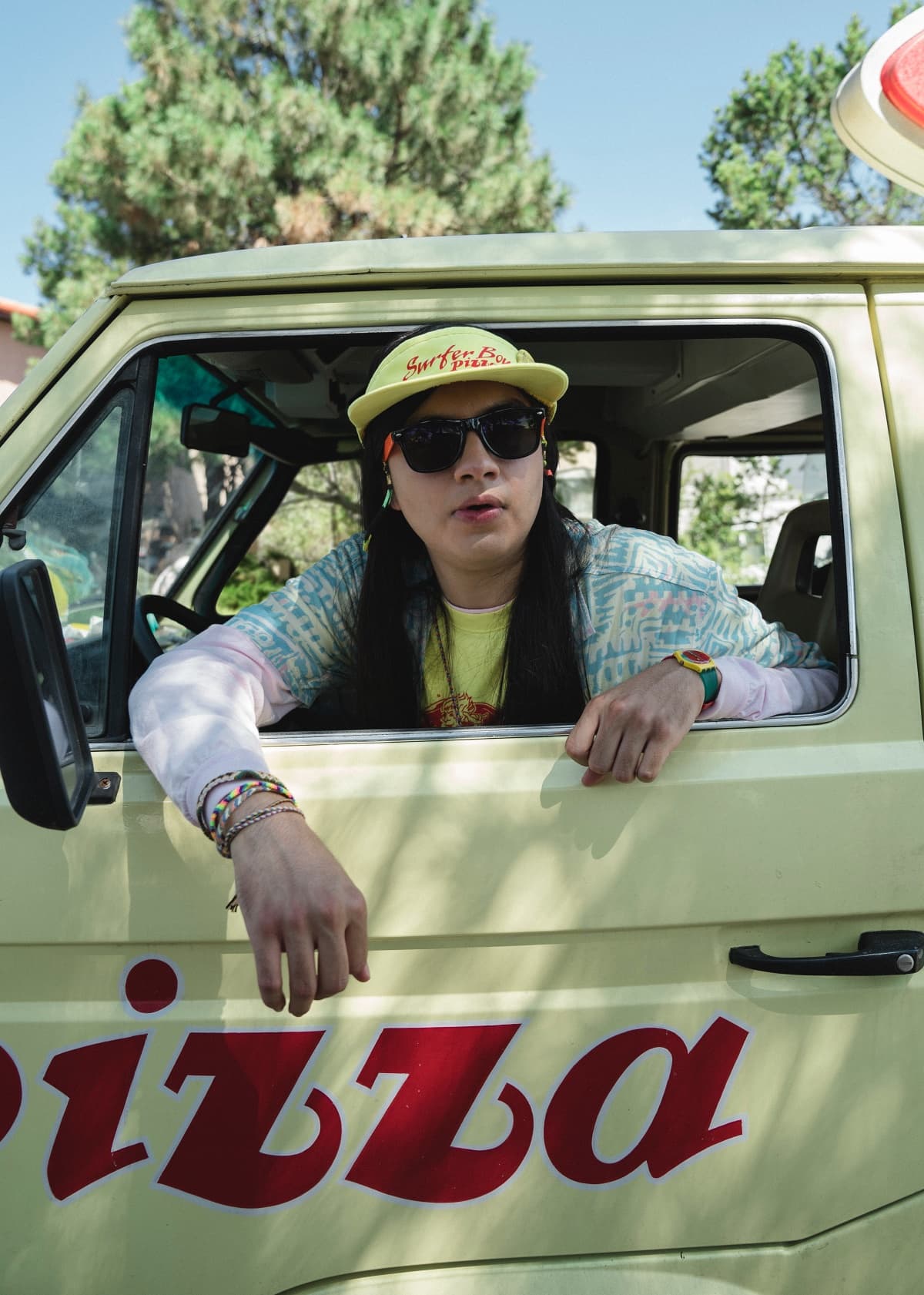 Eduardo Franco may come back as Argyle in the fifth and final season of Stranger Things (Credit: Netflix)
Only time will tell if Eduardo chooses to move away from comedy and into more serious roles or if he keeps supplying the laughs. Either way, we'll be keeping our eye out for Eduardo Franco in the years to come.