You know that weird satisfaction you feel whenever you see a familiar actor in a movie but can't figure out where you recognize them from, then you Google their name to find out that they've appeared in a bunch of your favorite movies? Shouldn't there be a Swedish word for that? The Swedes have a word for everything.
If there isn't a word for that feeling, then we're calling it "Ah, I knew I recognized them!" or AIKIRT for short. Feel free to hashtag it. No pressure.
A prime example of an actor that gives you that AIKIRT feeling (or #AIKIRT for you Twitter readers) is none other than Jamie Campbell Bower.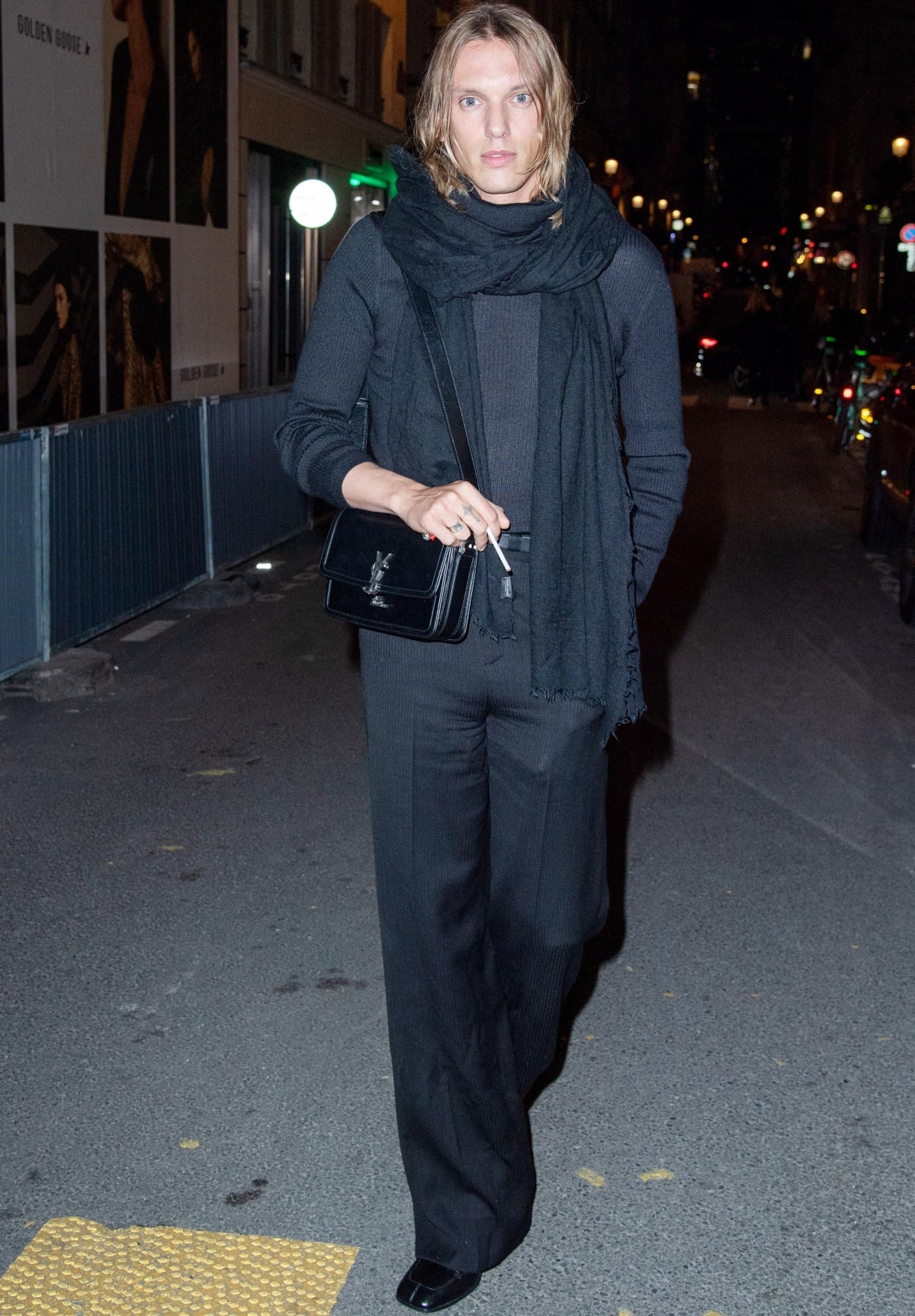 Jamie Campbell Bower attending the Saint Laurent Rive Droite Sushi Park Party during Paris Fashion Week on September 29, 2022 (Credit: Aurore Marechal / ABACA / INSTARimages / Cover Images)
The 33-year-old actor recently shot into the global public eye with his role as Vecna (and the villain's previous iterations, Henry Creel and One) in the fourth season of the smash-hit Netflix series Stranger Things.
If you've watched Stranger Things 4 and wondered why that eerily handsome telekinetic nurse looked so familiar, we're about to give you a serious case of the AIKIRT feeling.
Jamie Campbell Bower shot to stardom playing three characters, one of which was the terrifying villain Vecna, in Stranger Things 4 (Credit: Netflix)
Anyone who is a fan of supernatural romance flicks based on young adult fiction novels and/or went through a theater kid phase will definitely recognize Jamie Campbell Bower in one of the following movies on this list.
Jamie Campbell Bower Got His Start as a Model… Mostly.
Surprise, surprise! Another handsome actor with unique features (we say this with love) was a model before hitting the big screen! It's a bit more than that when it comes to Jamie Campbell Bower, though.
Bower indeed began his career as a model, as he was signed to Select Model Management in London in 2008 after being recommended by a friend. But much of his early success can be attributed to his musical prowess.
Jamie Campbell Bower could be considered a nepotism baby – not in the film industry, but in music!
Counterfeit performing Letters to the Lost live in Chicago (Credit: YouTube)
His parents are both deeply entrenched in the musical scene, as his mother is a music talent manager, and his father works for the iconic Gibson Guitar Corporation.
It goes without saying that his parents encouraged his musical pursuits starting from a young age, resulting in Bower becoming a bona fide virtuoso in multiple aspects.
The now-actor began his musical career as a child violinist, finding great success as his instructors followed the Suzuki method, which teaches music the same way one would teach a linguistic native language.
Jamie Campbell Bower's love for the violin led him to branch out as he began singing and playing the guitar, piano, bass, and countless other instruments.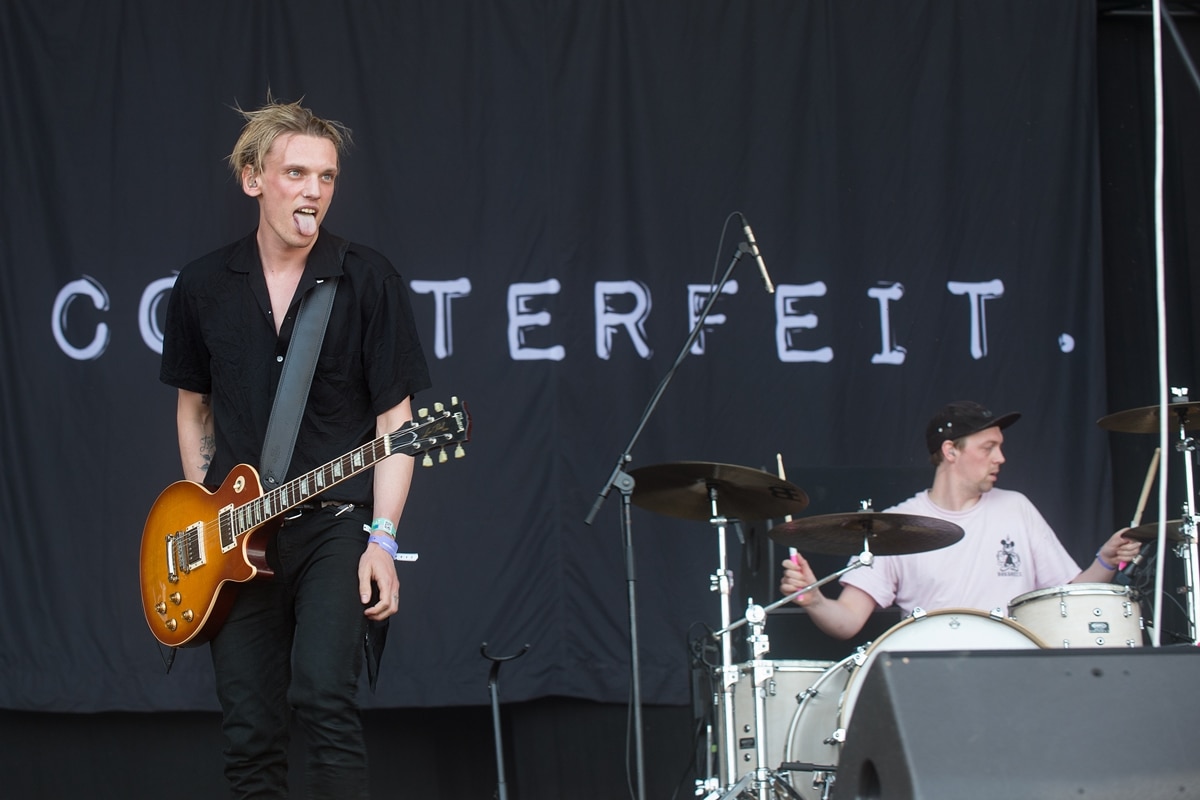 All-around musician Jamie Campbell Bower performing with Counterfeit at the Aerodome Festival in Prague, the Czech Republic, on June 11, 2017 (Credit: yakub88 / Shutterstock)
Like many young Brits with even a sprinkle of musical talent, Bower did spend some time as a punk musician with his band, Counterfeit – however, these brash punkers didn't get together until 2015.
Jamie Campbell Bower's First Major Role Was in the Film Adaptation of Sweeney Todd: The Demon Barber of Fleet Street.
If you found yourself humming, "I feel you, Johanna…" when Vecna appeared on screen in Stranger Things 4, this is why.
In school, Bower pursued his love of performance beyond the musical sphere, finding himself on the stage and becoming a member of the National Youth Music Theatre and National Youth Theatre. It's only right that his first major film role was in a musical!
Jamie Campbell Bower as Anthony Hope in the 2007 musical slasher film Sweeney Todd: The Demon Barber of Fleet Street (Credit: Paramount Pictures / Warner Bros. Pictures)
That's right, in 2007, Jamie Campbell Bower made his debut on the silver screen in the film adaptation of Stephen Sondheim's Sweeney Todd: The Demon Barber of Fleet Street as the lovelorn Anthony Hope.
One of the only truly kind and good characters in the musical, Bower starred alongside A-listers Johnny Depp, Helena Bonham-Carter, and Alan Rickman. Not bad for Bower's first time out!
Jamie Campbell Bower Appeared in Multiple Movies in the Twilight Franchise.
Don't panic, but Jamie Campbell Bower was in Twilight. We repeat: Jamie Campbell Bower was in Twilight!
Well, technically, Bower didn't appear in Twilight itself, but he was in later additions to the saga – New Moon, Breaking Dawn – Part One, and Breaking Dawn: Part Two – as Caius, the right-hand vamp to the Volturi's leader, Aro (Michael Sheen).
As Caius, Jamie Campbell Bower is almost unrecognizable. With bleached blond hair slicked back in a horribly unflattering fashion, red eye contacts, and sullen, black robes over rococo-style finery, Bower looks terribly unsettling. In this role, everything about the 33-year-old actor screams "run!"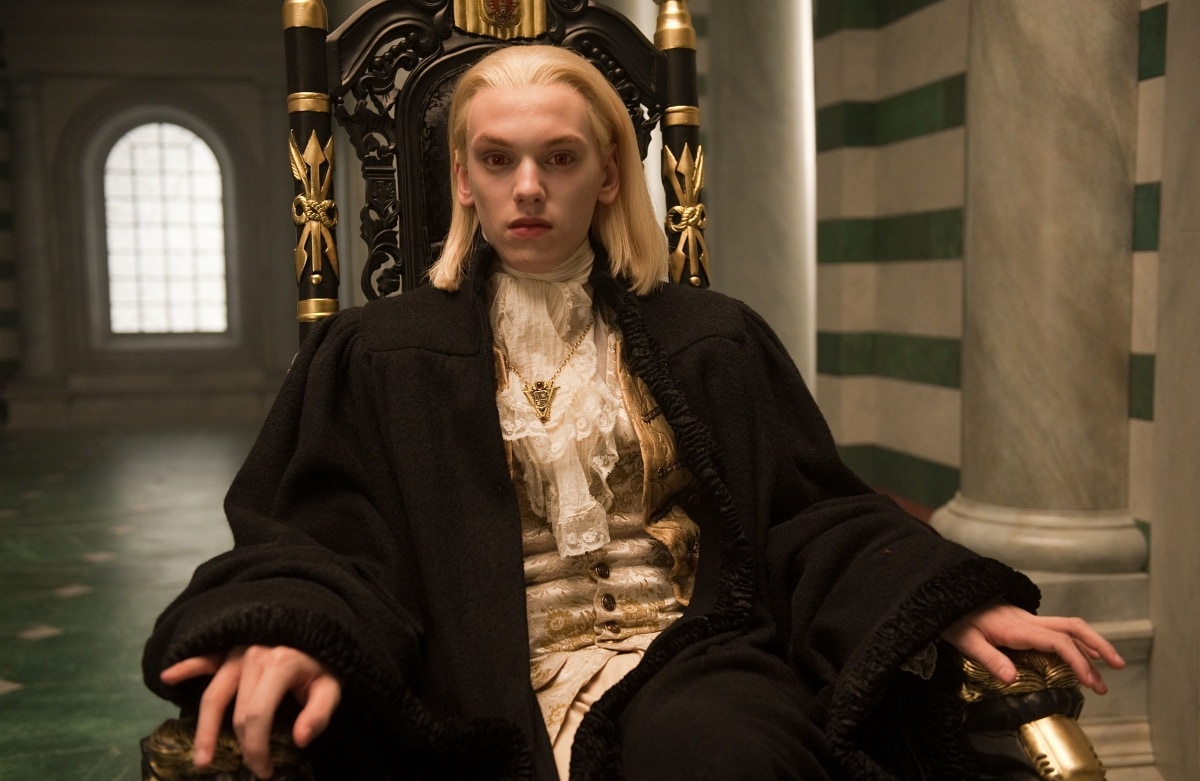 Jamie Campbell Bower as Caius Volturi in the 2009 romantic fantasy film New Moon (Credit: Summit Entertainment)
Though we hate to see such a handsome man done so dirty by the Twilight saga's source material, Bower's unsettling portrayal of Caius paved the way for his future part as the terrifying Vecna.
Last, But Not Least, Jamie Campbell Bower Was in Harry Potter.
Though his role is relatively small and easy to miss, Bower appears in Harry Potter and the Deathly Hallows – Part One (2010) as a young Gellert Grindelwald.
The actor later reprised this role in Fantastic Beasts: The Crimes of Grindelwald (2018), while the older iterations of this character were ultimately played by Johnny Depp, Colin Farrell, and finally, Mads Mikkelsen.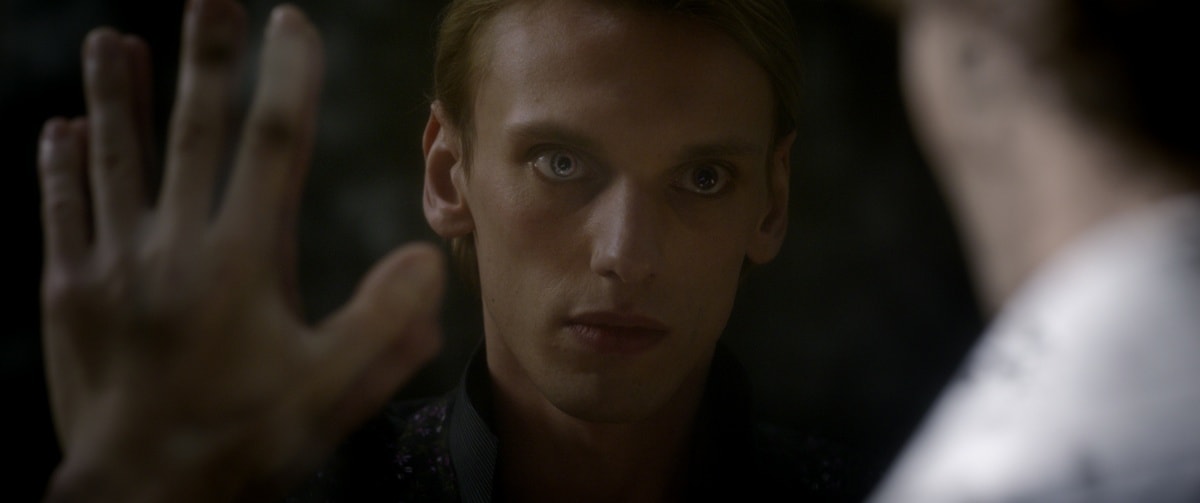 Jamie Campbell Bower reprises his role as the young Gellert Grindelwald in the 2018 fantasy film Fantastic Beasts: The Crimes of Grindelwald (Credit: Warner Bros. Pictures)
Even more, while on the set of Harry Potter and the Deathly Hallows – Part One, Bower struck up a romance with Bonnie Wright – you may know her best by her on-screen counterpart, Ginny Weasley – and the two actually got engaged. Unfortunately, the pair split in 2018.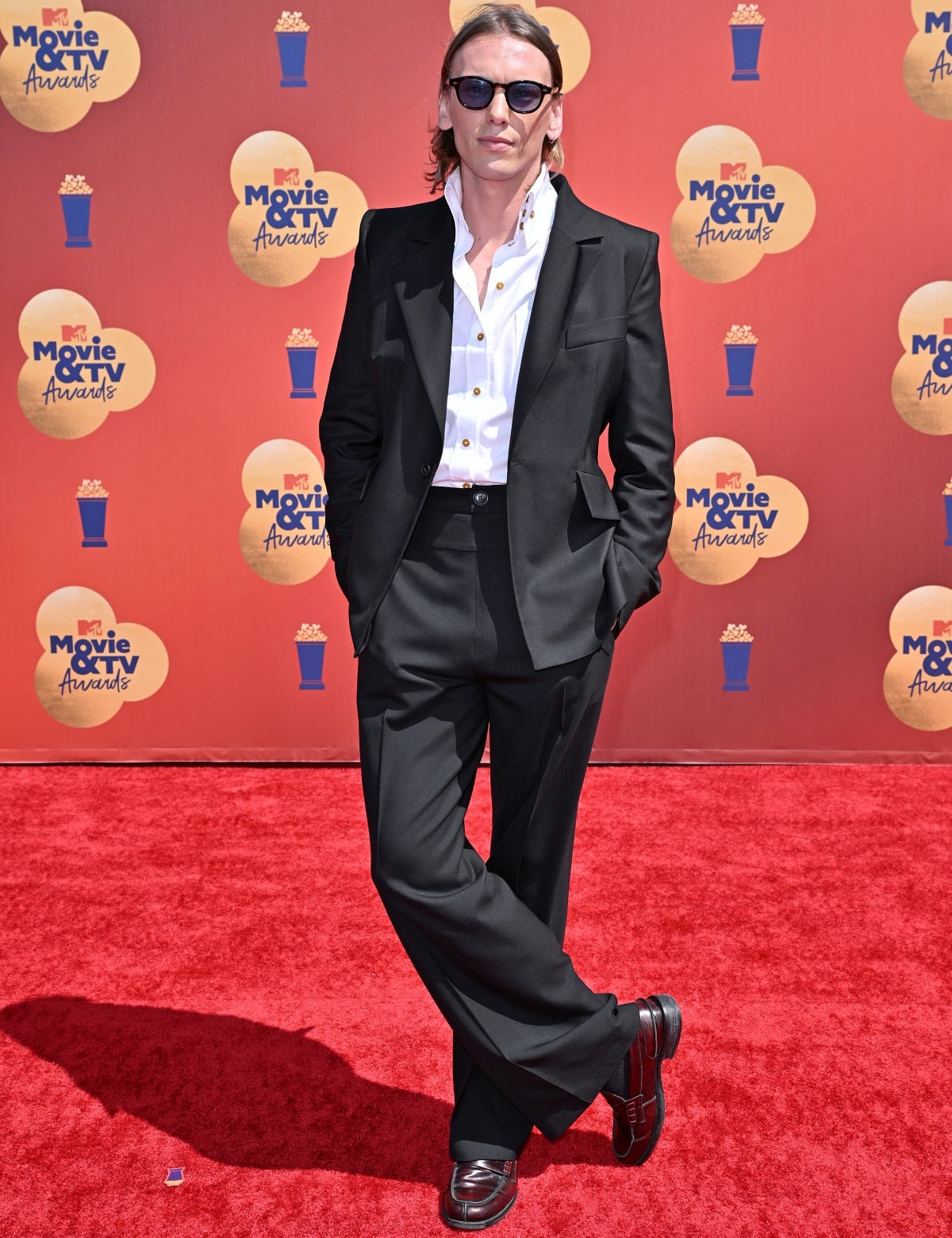 Jamie Campbell Bower exuding cool nonchalance in a Vivienne Westwood suit and shades at the 2022 MTV Movie and TV Awards on June 5, 2022 (Credit: BauerGriffin / INSTARimages / Cover Images)
Few actors can say that they've been in a film franchise that was instrumental to the development of personalities during our formative years, but Jamie Campbell Bower has been in two of them!
Now, you can say without a doubt, #AIKIRT!