When you rifle through any middle school yearbook, you will likely see a bevy of preteens with bulky, closed-mouth smiles.
For the most part, you can chalk this up to braces—they're difficult to smile with, and many kids are self-conscious about them—but when you see adults doing this same awkward smile, the reason isn't always evident.
There has been much speculation about Johnny Depp's smile and teeth (Credit: Cliff Owen / CNP / INSTARimages / Cover Images)
Even stranger is when you see celebrities hiding their teeth in a similar fashion. In Hollywood, nearly every star sports sparkling white porcelain veneers to hide their natural teeth, so what's their excuse?
Johnny Depp is one of these celebrities with a curious smile. Though you can find photos of the actor online with a wide, toothy grin, these appear to be candid shots. When Depp is posing on the red carpet, he generally remains tight-lipped. But why?
What's wrong with Johnny Depp's teeth?
In a 1995 interview with Premiere magazine, the actor Johnny Depp proudly spoke about his dental condition, claiming to have numerous cavities.
He even mentioned having an unfinished root canal procedure from eight years prior, referring to it as a "rotten little stub" at the time.
Johnny Depp's teeth have come under renewed scrutiny after he appeared at the 2023 Cannes Film Festival with noticeably stained and discolored teeth (Credit: Abaca Press / INSTARimages)
Surprisingly, he expressed a liking for his flawed smile and compared it to the imperfections deliberately incorporated into beaded Indian crafts.
I've got loads of cavities. I had a root canal done eight years ago that's unfinished. It's like a rotten little stub. But I like it. It's like when the Indians would make something beaded, they would always put imperfections on it.

I'm proud of these. When I see people with perfect teeth, it drives me up the wall. I'd rather swallow a tick than have that!
Depp criticized individuals with perfect teeth, stating that their flawless smiles bothered him and that he would rather endure unpleasant experiences than have such teeth himself.
Despite his fondness for wine and smoking, the article noted that Depp's breath remained odorless, which could be considered somewhat miraculous.
Johnny Depp's struggles with addiction have led to tooth deterioration
You may notice that Johnny Depp's teeth do not look like other A-listers'.
Despite his laundry list of film credits and estimated $150 million net worth, the actor sports natural crooked and slightly discolored teeth, a stark contrast to the bright white, perfect veneers we are accustomed to seeing.
Johnny Depp smoking a cigarette as Raoul Duke in the 1998 American black comedy adventure film Fear and Loathing (Credit: May 22, 1998)
Unfortunately, Johnny Depp's not-so-pearly whites are likely a result of his lifelong struggle with substance abuse.
The actor has been a cigarette smoker for decades (he has even said he started smoking at the young age of 12).
He can frequently be seen lighting up outside events, and his tobacco addiction is even featured in films like Fear and Loathing in Las Vegas, in which the actor smokes cigarettes nearly the entire time he is on screen.
Some fans believe Johnny Depp's teeth have deteriorated due to smoking and substance abuse (Credit: INSTARimages)
It is well known at this point that cigarettes are bad for your health and can wreak havoc on the appearance of your teeth, causing yellowing, staining, and dryness—not to mention bad breath!
Johnny Depp has also gone on record as a cocaine user. As a stimulant, cocaine is highly caustic to the body when snorted or rubbed on the gums, causing dryness, enamel and gum erosion, staining, and more.
Even more, Johnny "Wino Forever" Depp is well-known for his affection for alcohol, especially red wine. As an alcoholic, Depp reportedly drinks large glasses ("mega-pints") of wine and has spent upwards of $30,000 a month alone on the drink.
Like coffee, wine is extremely harsh on teeth due to its high acidity. Drinking this much wine can certainly lead to the yellow, dark appearance of Johnny Depp's teeth.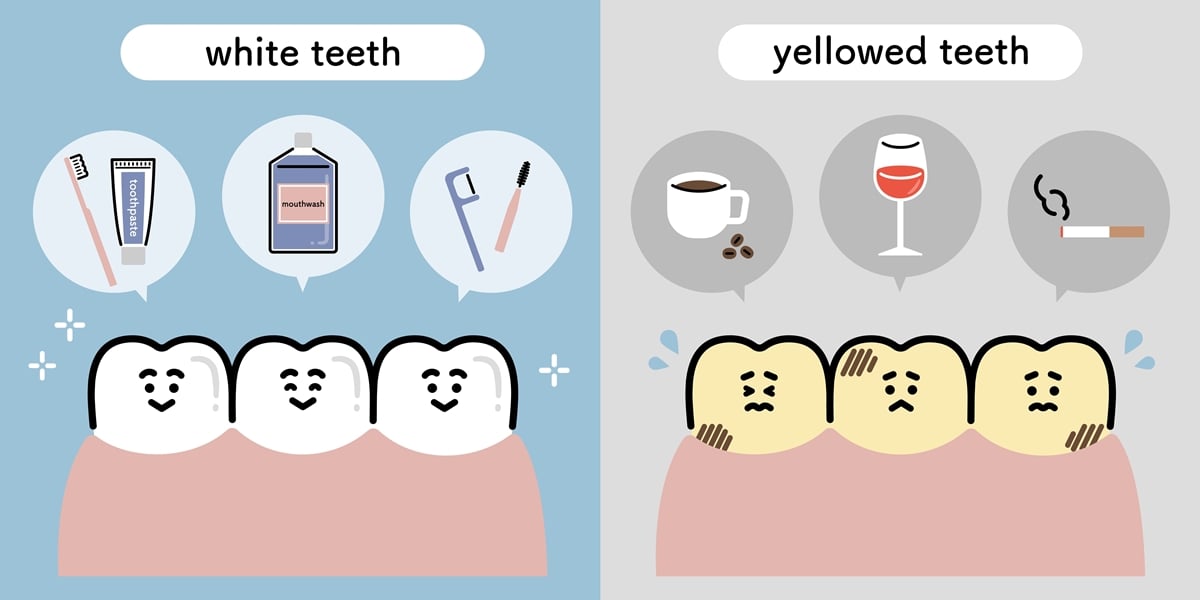 Coffee, wine, and smoking can wreak havoc on your teeth (Credit: KatieKatiko / Shutterstock)
Though the actor has never seemed to care much about traditional beauty standards, the damage to his teeth and pain sustained by his addiction may make the actor self-conscious about the appearance of his teeth.
Pirates of the Caribbean did a number on his teeth, too
As a swashbuckling pirate without access to modern dentistry or toothpaste, it would make sense that Captain Jack Sparrow would have some pretty gnarly teeth.
But you'd think that Hollywood makeup and special effects teams could achieve these nasty pirate teeth without actually harming the actor that portrayed him, right?
Well, maybe.
As it turns out, Johnny Depp felt his on-screen character should have a mouth full of gold teeth and took matters into his own hands.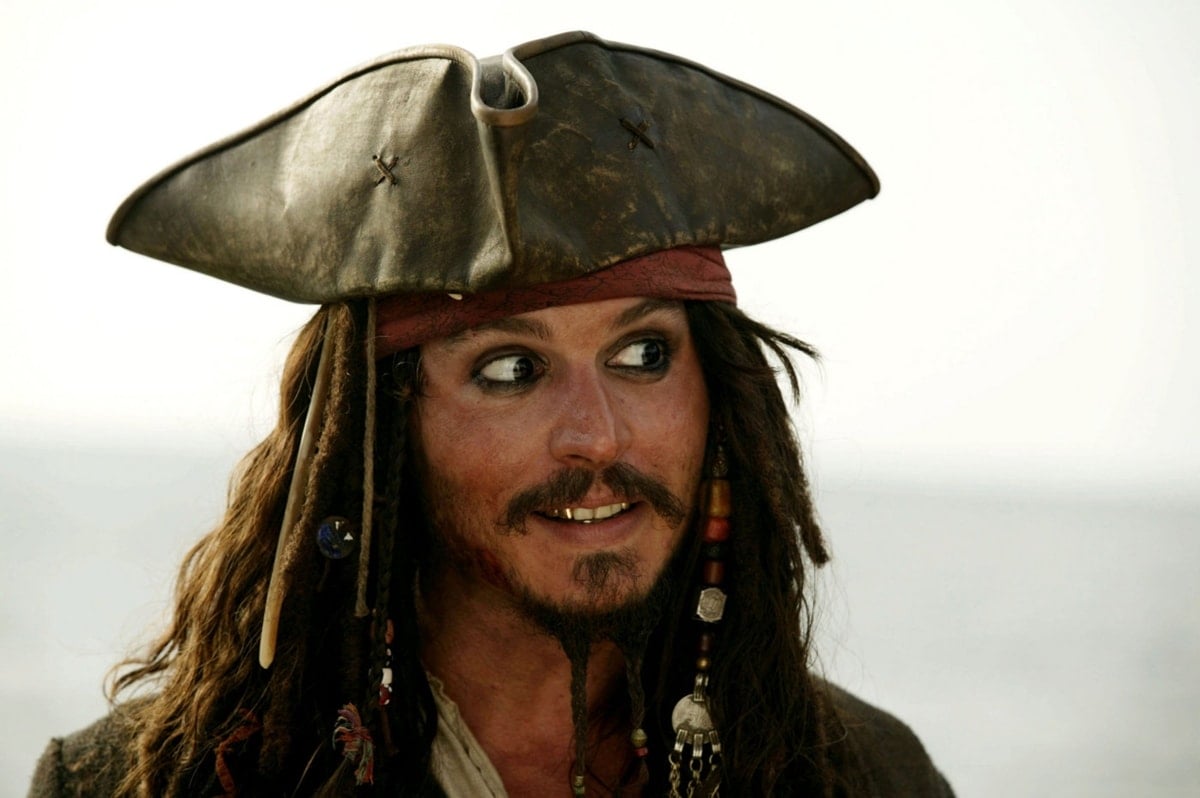 Johnny Depp is the mastermind behind Captain Jack Sparrow's iconic gold teeth in Pirates of the Caribbean (Credit: Walt Disney Pictures)
He assumed that the film's executives would only want Captain Jack Sparrow to have one or two metal teeth, so Depp allegedly went to his own dentist and asked him to implant a number of additional shiny metallic teeth—this way, studio executives couldn't ask the actor to take them out.
As the story goes, Captain Jack Sparrow's numerous gold and silver teeth you see in the Pirates of the Caribbean franchise were Johnny Depp's doing.
Unfortunately, the actor's artistic choice for his teeth ended up being somewhat of a curse. The actor told Fox News that he was now stuck with these golden teeth, which were not easy to take off, saying, "I get them bonded on, so they have to be plucked and filed and all that horror."
Johnny Depp's character, Captain Jack Sparrow in the Walt Disney swashbuckler film series Pirates of the Caribbean, is portrayed as having gold teeth (Credit: Walt Disney Pictures)
In fact, recent photos of Johnny Depp show that he is still sporting those metal teeth, even though he hasn't portrayed Captain Jack Sparrow since Pirates of the Caribbean: Dead Men Tell No Tales was released in 2017.
Though these metal caps may cover some of Johnny Depp's damaged teeth, we wonder if they might be causing more damage in the long run.
Johnny Depp may have a thing for unique teeth
If the actor hasn't made any noticeable attempts to fix his teeth in a way that aligns with traditional beauty standards—despite having enough money to do so—it could be because Johnny Depp likes his teeth that way.
This idea is supported by Johnny Depp's penchant for romance with other people with unique teeth, namely: Vanessa Paradis.
Johnny Depp once said that he loved Vanessa Paradis's smile, even though she had crooked teeth (Credit: Featureflash Photo Agency / Shutterstock)
Depp was married to the French singer from 1998 to 2012. Paradis is well known for her iconic smile, which features a prominent gap between her two front teeth.
The pair have two children together, including their daughter, Lily-Rose Depp, who is now a celebrity model in her own right.
Johnny Depp and Amber Heard: A Stylish Dinner Date in London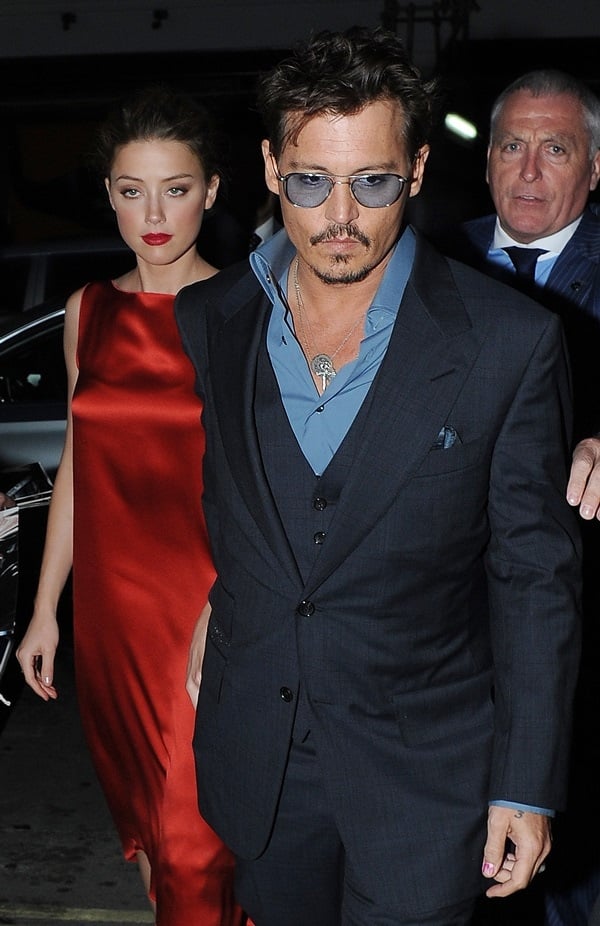 Johnny Depp and Amber Heard looked insanely good together while leaving Cipriani restaurant in London on July 21, 2013 (Credit: Craig Harris / WENN)
In the summer of 2013, Johnny Depp and Amber Heard were openly dating. They had been mum about their relationship for a while, but it was about to change.
The two were spotted holding hands as they left Cipriani Restaurant in London following a dinner date; Johnny was dapper in a three-piece suit while Amber blew us away with her red silk frock and stilettos.
We have to admit they looked insanely good together. No, seriously, we could literally forget the age difference (she was 27, and he was 50!).
Known for his many accents, Johnny protectively held on to his young lady love as the photographers clicked away with their cameras. It was such a gentlemanly gesture, making us love him even more.
Amber looked terrific on their date. Her outfit was effortless, yet she was utterly stunning.
And while the matching red lipstick was spot-on, what sealed the deal was the way she finished the dress with a pair of neutral ladylike snake-print pumps. They complemented the frock oh-so-perfectly!
Amber Heard wearing a red silk shift with snake-print pumps for her date with Johnny Depp (Credit: Craig Harris / WENN)
We don't have any information on Amber's shoes at the moment (although we get the feeling they're from Jimmy Choo), but if you're looking for a fresh way to wear your red dress this season, take a cue from Amber here and finish it with snake-print heels.