Over the past few years, Gaten Matarazzo has risen from success on Broadway to full-blown stardom, mostly thanks to his role on Netflix's popular sci-fi drama series Stranger Things.
Honest, comedic, and endlessly endearing, Gaten Matarazzo has won over audiences around the world with his performance as Dustin, a fan-favorite character in the stellar ensemble cast of Stranger Things.
Noah Schnapp as Will Byers, Finn Wolfhard as Mike Wheeler, Gaten Matarazzo as Dustin Henderson, and Caleb McLaughlin as Lucas Sinclair in the science fiction horror drama series Stranger Things (Credit: Netflix)
However, there's much more to the story of Gaten Matarazzo's rise to fame than you might think, including significant struggles with a rare birth defect.
Despite these obstacles, Gaten Matarazzo has become a heartwarming beacon of hope for fans, as he's constantly exuding good vibes and positive energy.
Gaten Matarazzo at the New York Rangers hockey game at Madison Square Garden in New York City on November 9, 2022 (Credit: Michael Simon / Startraksphoto / Cover Images)
With the recent release of the fourth season of Stranger Things, Gaten's career only continues to bloom. This makes him one of the brightest up-and-coming stars in the business and an excellent role model for fans of all ages.
Even as he battles with his frustrating medical condition, Gaten Matarazzo has proven that hard work and a good attitude can spell success for anyone, regardless of their existing struggles.
A Career Born Onstage
Gaten John Matarazzo III was born in New London, Connecticut, on September 8, 2002. He was born with cleidocranial dysplasia (or CCD for short), a rare birth defect that affects approximately 1 million people around the globe.
Together with his parents and two siblings, Gaten was raised in Little Egg Harbor Township, New Jersey, where he soon became enamored with the world of performing arts.
During his early years of education, Gaten took voice lessons at the Starlight Performing Arts Center in New Jersey, with his sights set on a career onstage.
View this post on Instagram
Starting in 2011, Gaten took on roles in several Broadway shows and musicals, beginning with a production of Priscilla, Queen of the Desert.
After a few other shows on Broadway, he was eventually cast as the young freedom fighter Gavroche in the 25th Anniversary Tour production of Les Misérables, solidifying the actor's talent and hunger for greater success.
Although Gaten appeared on the television crime drama The Blacklist in 2015, it was his next project that truly invigorated his career.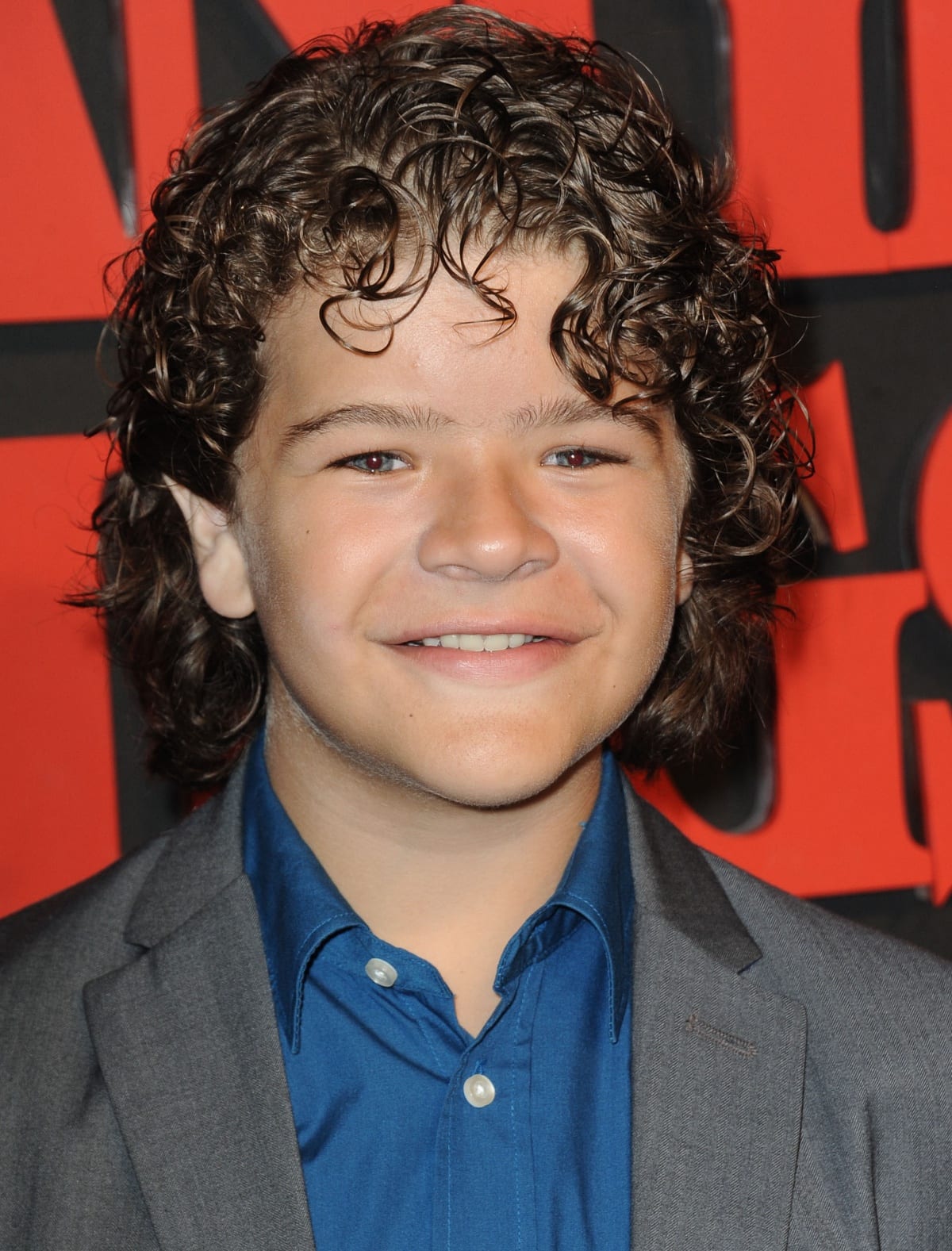 Gaten Matarazzo attending the premiere of Netflix's Stranger Things held at Mack Sennett Studios in Los Angeles on July 11, 2016 (Credit: Peter West / ACE / INFphoto)
In August of 2015, Netflix began the casting process for a new sci-fi drama called Stranger Things, and Gaten was one of the first actors to appear for auditions.
He originally auditioned for the role of Mike Wheeler (which would eventually go to actor Finn Wolfhard), but the showrunners and casting directors were smitten with his charm. After a few more auditions, Gaten was cast as Dustin Henderson before any of the other roles were filled.
Overcoming a Rare Birth Defect and Being a Role Model
Working with Stranger Things creators Matt and Ross Duffer, Gaten helped establish the key traits of Dustin, suggesting that the character should also have cleidocranial dysplasia.
View this post on Instagram
Although symptoms vary from case to case, CCD most commonly results in a lack of collarbone development, stunted height, and dental issues where adult teeth fail to grow properly due to extra baby teeth that crowd the mouth and gums.
Throughout the course of the series, Dustin's CCD diagnosis has become a defining trait for the character and undoubtedly helped spread awareness among the general public.
He measures 5 feet 5 inches (165 cm), which makes his height below average for that of an American male.
"My doctor just told me I'm done growing…I'm not too disappointed because I passed what the Doctors told me I was gonna be when I was younger, which was Five-Three…I'm Five-Five," he said in 2019.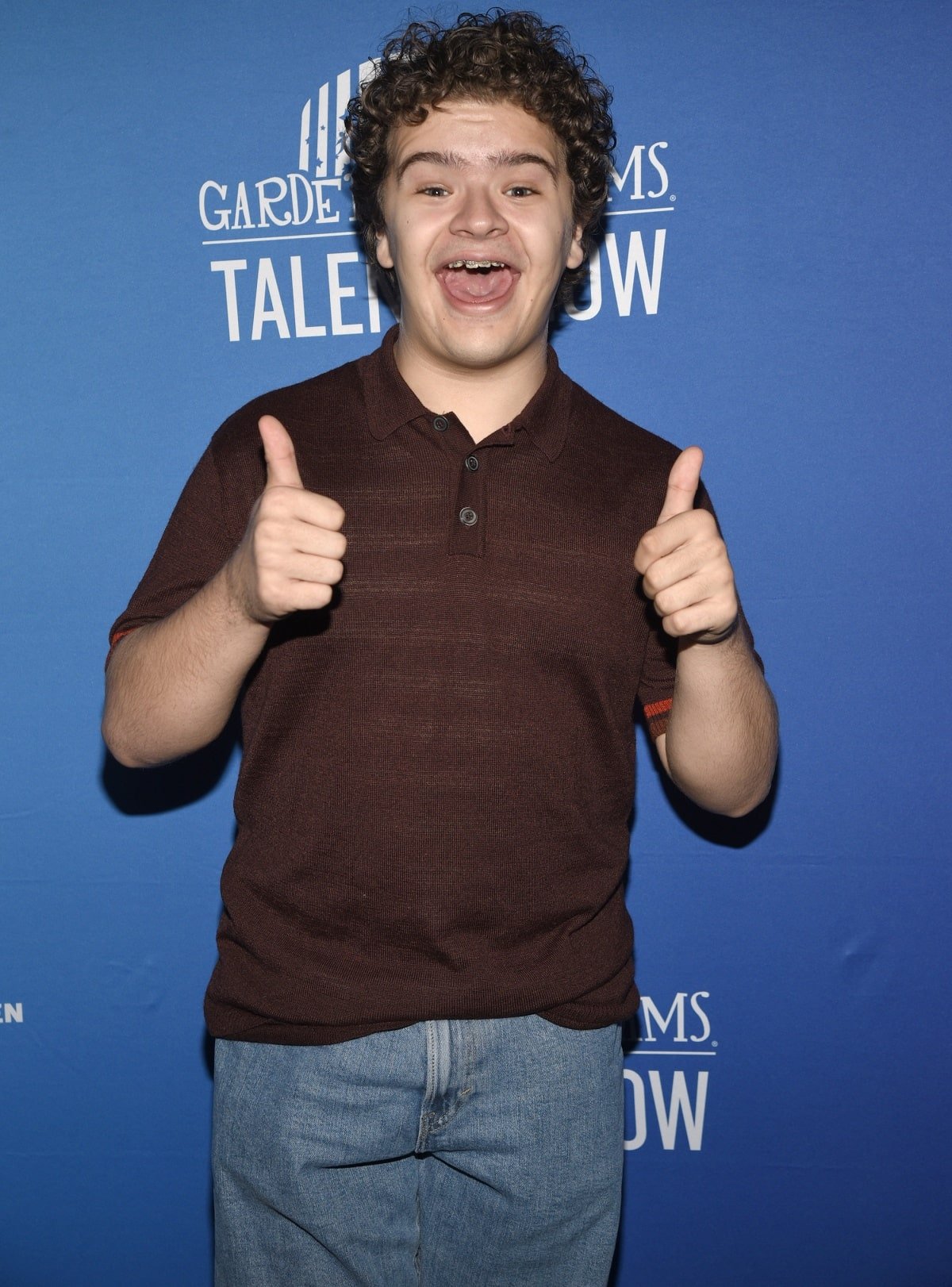 Gaten Matarazzo at the 2022 Garden of Dreams Talent Show hosted by The Garden of Dreams Foundation, a non-profit organization that works with MSG Entertainment and MSG Sports to bring life-changing opportunities to young people in need (Credit: Michael Simon / Startraksphoto)
Doing his best to be a role model that other CCD patients can look up to, Gaten has used his platform for good by working with charities like CCD Smiles to spread awareness.
Rather than being cagey about his medical condition, Gaten has been consistently open and honest, hoping that his experience can help others with their personal struggle.
In his testimonial on CCD Smiles' website, Gaten stated that his acting career has "…given me an opportunity to talk about it and not feel ashamed of it. Thankfully my case is very mild, and I can live like a normal kid, but not everyone that has the condition can, and that's why I'm talking about it because many people are not as fortunate as I am."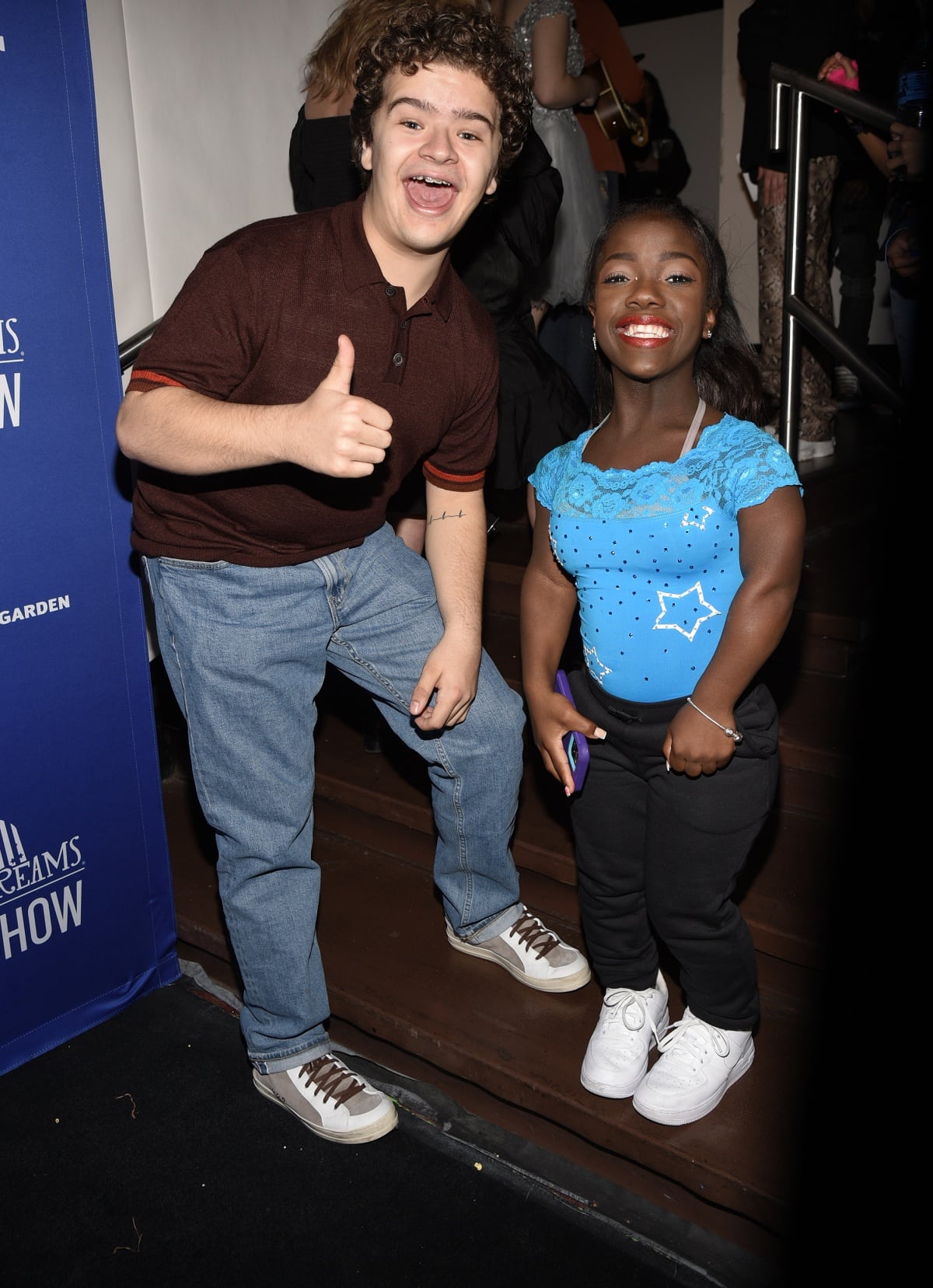 Gaten Matarazzo with a fan at the 2022 Garden of Dreams Talent Show (Credit: Michael Simon / Startraksphoto / Cover Images)
Generally speaking, Gaten has made a notable attempt to use his fame to drive charity and spread awareness, participating in fundraisers for organizations like NEXT for Autism, Feeding America, and Extra Life.
This is especially kindhearted of him, considering that Gaten still deals with problems due to his CCD, but he recognizes that he has the power to change things for good.
That good karma has helped him in his medical journey as well, as Gaten has undergone a successful surgery in early 2020 to improve his dental health – a procedure, which he documented on his Instagram.
View this post on Instagram
What's Next for Gaten Matarazzo?
Coming fresh off of the fourth season of Stranger Things, it seems like the sky's the limit for Gaten Matarazzo.
The actor has stuck close to his roots in recent years, mostly appearing in stage productions while picking up supporting roles in a few television and film projects.
Gaten Matarazzo as Michael Dipnicky in the 2022 coming-of-age comedy film Honor Society (Credit: Paramount+)
Most recently, Gaten appeared in the Paramount+ exclusive coming-of-age film Honor Society, while also dabbling in voice work for the Netflix-produced animated fantasy film My Father's Dragon.
He has also recently returned to live theater, with roles in Broadway musicals such as Dear Evan Hansen and Parade.
Although details are sparse at the moment, Gaten will undoubtedly return to the role of Dustin Henderson for the fifth (and final) season of Stranger Things, which is set to air on Netflix in a couple of years.
Gaten Matarazzo as Dustin Henderson in Stranger Things (Credit: Netflix)
Beyond that, it seems like the actor is taking things slow, choosing his projects carefully, and using his free time to continue doing charity work.
At 20 years old, Gaten Matarazzo has established himself as a wholly selfless actor with a flawless track record, primed for a successful career in show business.
Gaten Matarazzo's Girlfriend, Elizabeth "Lizzy" Yu
While it's not known how or when they met, Elizabeth Yu and Gaten Matarazzo started appearing in photos with each other on social media in 2018.
Also an actress, she will star as Princess Azula in the upcoming American adventure fantasy television series Avatar: The Last Airbender and as Ruby in Lauren Loesberg's drama film Year One. In 2022, she also had a small role as Amy in the 2022 American comedy film Somewhere in Queens.
Gaten Matarazzo and Elizabeth Yu attend Netflix's "Stranger Things" season 4 premiere at Netflix Brooklyn on May 14, 2022, in Brooklyn, New York (Credit: Startraksphoto / John Nacion)
Reportedly born on October 6, 2002, the Asian-American actress is the same age as her boyfriend, Gaten Matarazzo, who was born just a month earlier. They live together in his apartment in New Jersey, along with three cats.
"My family loves her, she's great," he told Us Weekly in 2018 about his girlfriend. "My brother and my sister get along with her great."
"We play pool," he added about Elizabeth "Lizzy" Yu. "I have a pool table at my house."
Gaten Matarazzo and Elizabeth "Lizzy" Yu started dating in 2018 and are living together in New Jersey (Credit: INSTARimages / Roger Wong)
Where other young actors stir up controversy and have a habit of sabotaging their own futures, Gaten Matarazzo stands out as a great role model for all generations, keeping his nose clean and continuing to be charitable and likable.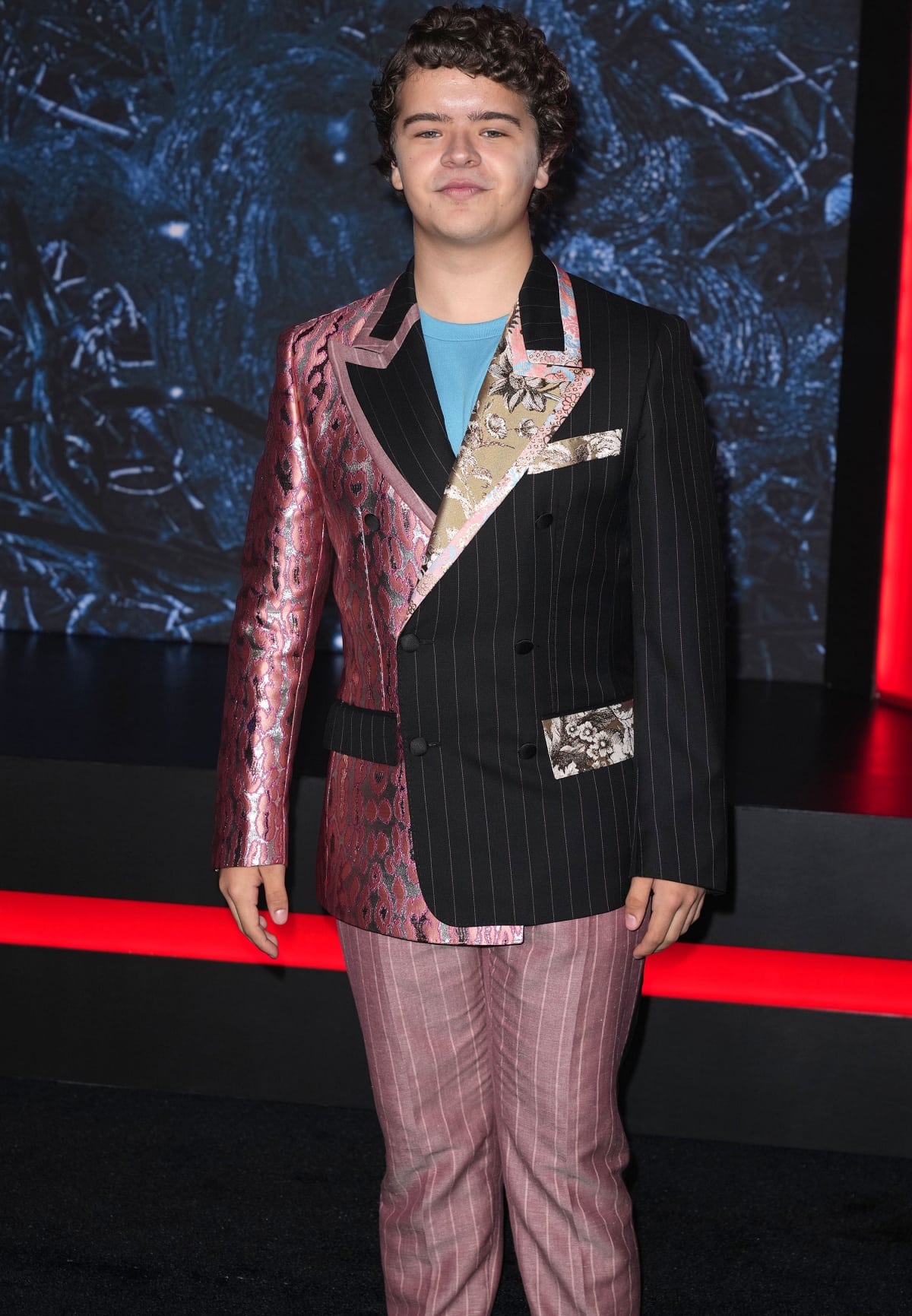 Gaten Matarazzo at the world premiere of the fourth season of Stranger Things in New York City on May 14, 2022 (Credit: John Nacion / Startraksphoto / Cover Images)
We can't wait to see what the future holds for this talented and kindhearted actor, but we have a feeling he's destined for greater things.