It's been 13 years since the release of the highest-grossing film of all time, 2009's Avatar. Now, director James Cameron is back with a sequel, Avatar: The Way of Water, set to hit theaters on December 16, 2022.
Leading lady Zoe Saldana ensured that all eyes were on her as she made dramatic entrances in dark romantic looks for the London promotional tour.
Here are two of her best looks at the premiere and photocall of Avatar: The Way of Water in London:
1. Alexander McQueen Pre-Fall 2022
The 44-year-old actress glided down the blue carpet in a stunning black corset dress from Alexander McQueen. She attended the event with her husband, Marco Perego, who kept close to her during the premiere.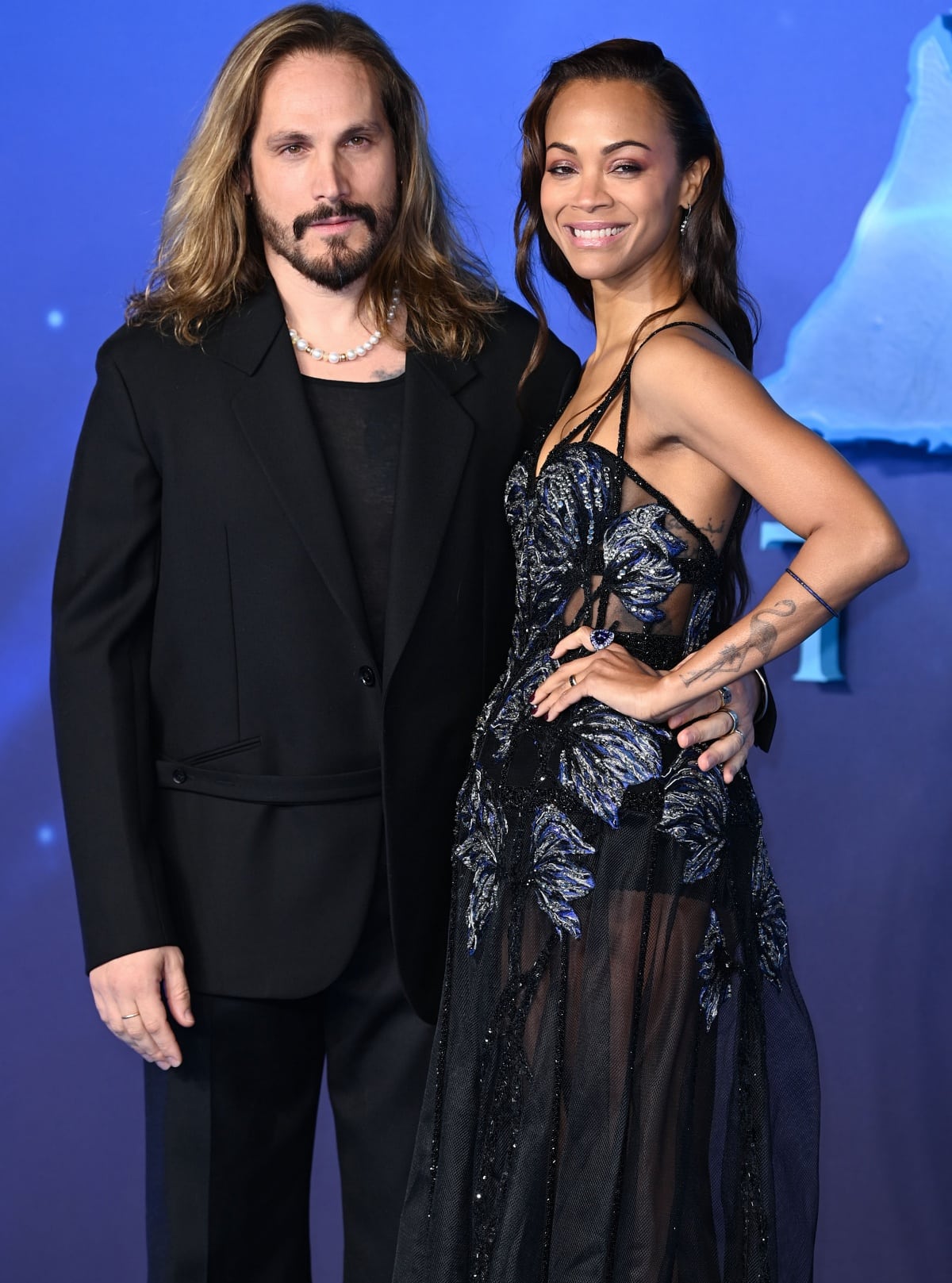 Zoe Saldana in an Alexander McQueen corset dress with husband Marco Perego at the Avatar: The Way of Water premiere held at the Odeon Luxe Leicester Square in London on December 6, 2022 (Credit: PA Images / INSTARimages / Cover Images)
This Pre-Fall 2022 creation featured blue, black, and silver beaded embellishments on the corset. It also had a deep neckline, cut-out detailing and swirling leaf-shaped embroidery. The flowing sheer black skirt had subtle sequin embellishments for a bit of sparkle.
Her shoes can't be seen underneath her dress, but she seems to be wearing towering platform heels that gave her a stylish boost.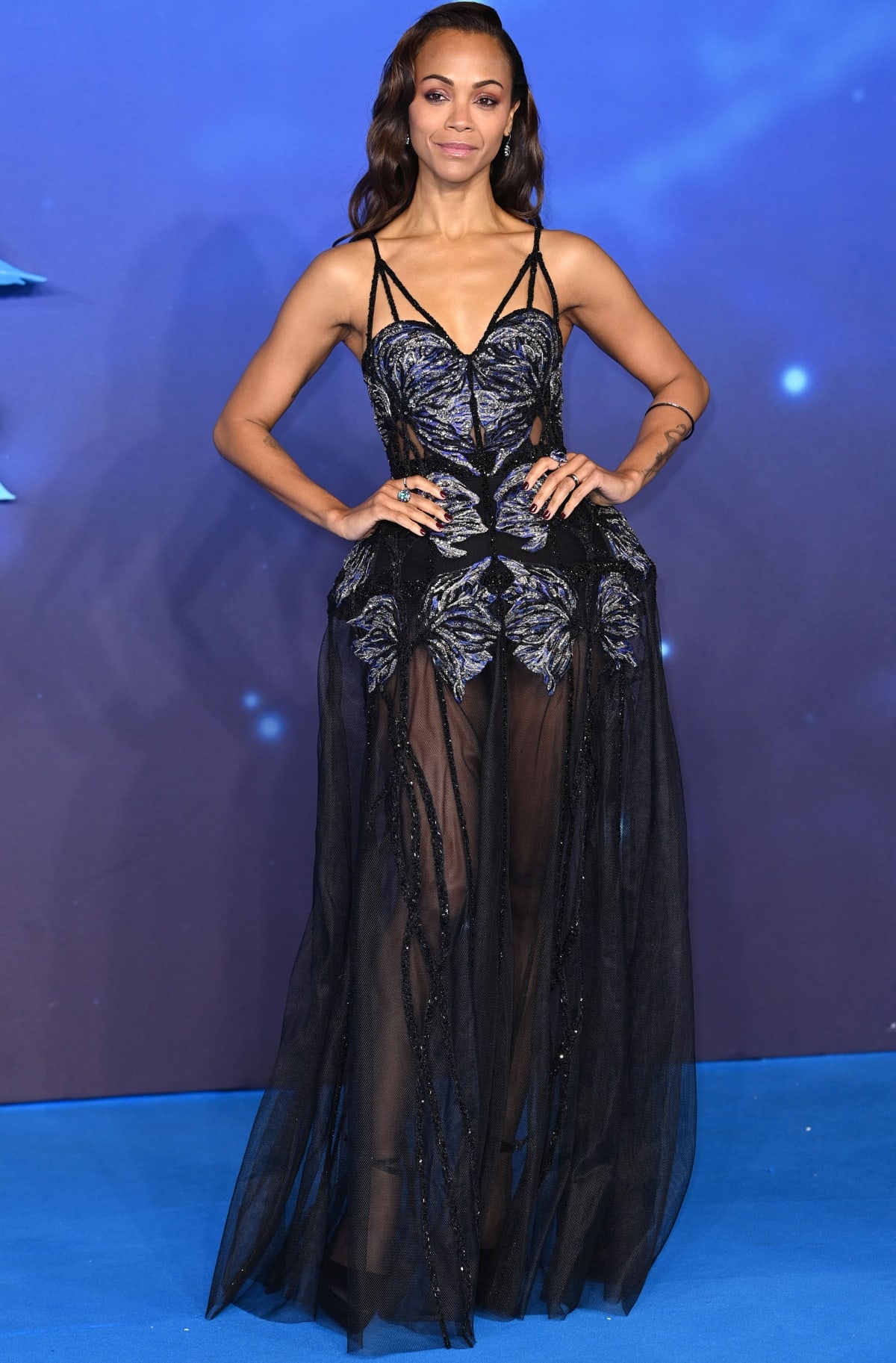 Zoe Saldana looking stunning in an Alexander McQueen Pre-Fall 2022 gown with platform heels (Credit: PA Images / INSTARimages / Cover Images)
As for her beauty look, Zoe Saldana stayed true to the water theme and opted for soft, cascading waves. She also had smoky eyes and glossy nude lips. Cartier jewels provided the finishing touches to her stunning look.
Zoe Saldana with Cartier jewels, cascading waves, smoky eyes, and glossy nude lips (Credit: PA Images / ISNTARimages / Cover Images)
2. Victoria Beckham Spring 2023 and Tamara Mellon
A few days earlier, Zoe Saldana attended the photocall with some of her castmates in London. This time, she went for sultry elegance in an all-black look.
The mother of three wore a Victoria Beckham Spring 2023 sheer circle top layered over a black lace bralette. She styled them with a sheer black midi skirt from the same collection, which featured satin panels and an asymmetric design.
Zoe Saldana exuding sultry elegance in an all-black Victoria Beckham Spring 2023 look at the Avatar: The Way of Water photocall held at the Corinthia Hotel in London on December 4, 2022 (Credit: Matt Crossick / PA Images / INSTARim / Cover Images)
To finish off her look, the Marvel star styled her hair in tousled waves and wore sheer black tights with floral embroidery, Jessie Thomas jewels, and Tamara Mellon heels.
Zoe wore the High Point platform pumps, which you can get for $895 at Tamara Mellon. Crafted from soft black satin, these shoes feature pointed toes and thick front platforms. They also have buckled ankle straps and high stiletto heels.
Tamara Mellon High Point Platform Pumps, $895
Masterfully crafted in Italy, these platform pumps feature Cloud Cushion insoles with 6mm of ultra-foam padding for relieving pressure points as you walk
The newest Avatar movie will hit theaters on December 16, 2022, and James Cameron has stated in many interviews that he hopes that it will help to mark the progress we've made through the global pandemic and uncertainty that has followed.
"Thanks for coming. I don't know about you, this is a pretty surreal moment for me that we are done with the film. Five years of production and five years spanning a really dark period. The pandemic hit, we were shut down completely. I was despairing this art form I love that I dedicated four decades to was over. We finally got back to work but we didn't know if there would be movie theaters. Was it over? But here we are," James Cameron said at the premiere in London.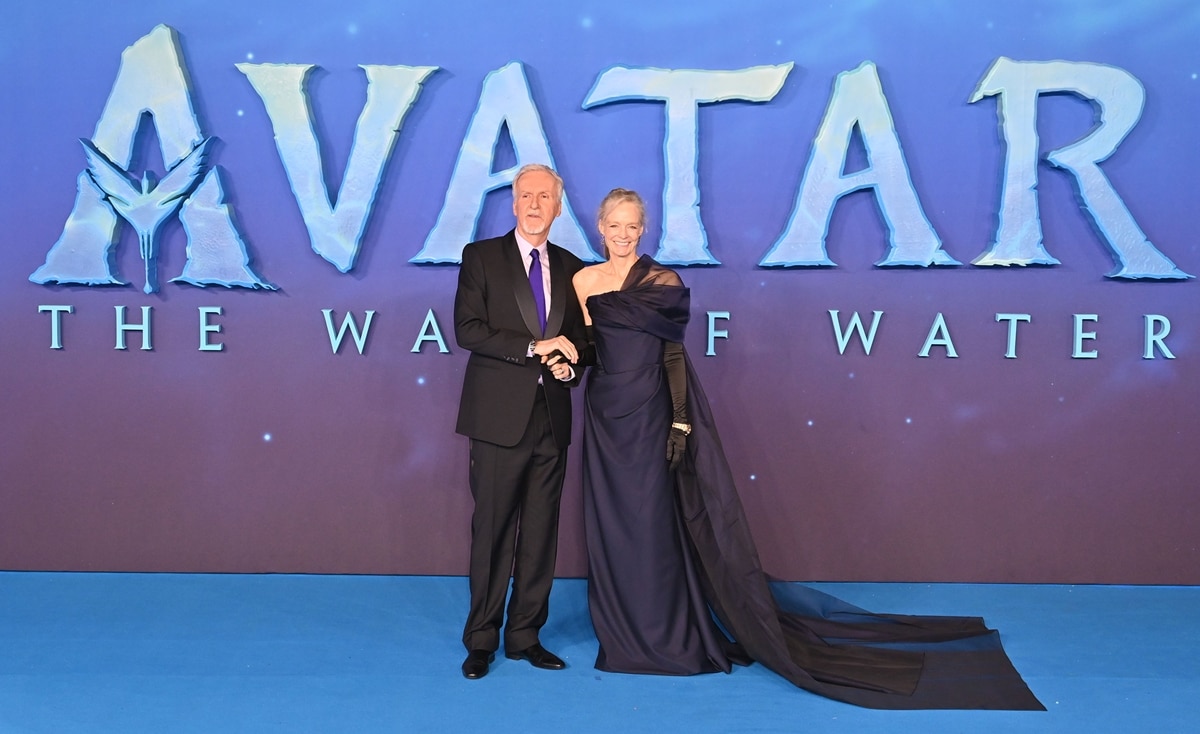 James Cameron and his wife, Suzy Amis Cameron, attend the "Avatar: The Way Of Water" World Premiere at Odeon Luxe Leicester Square on December 6, 2022, in London, England (Credit: Nils Jorgensen / INSTARimages / Cover Images)
"Theaters are full again and moviegoers of the world have declared resoundingly that we need this. We need this ability to gather together to sit in these great dark spaces and to dream together with our eyes wide open in a cinema. To me tonight is not about a new Avatar film. It's about cinema, and here you are in your black-tie finery. It's a celebration of this art form that we love so much. It's back it's alive and it's as great as it's ever been."
The film follows Avatar, which is now the highest-grossing film of all time. It has grossed $2.9 billion worldwide and even has a ride themed after it at Walt Disney World in Orlando, Florida.
The newest film had a production budget of $400 million, and there are hopes that it will outperform the first movie.
Avatar: The Way of Water Fun Facts
Kate Winslet is performing all of her stunts underwater on her own, according to James Cameron.
She broke Tom Cruise's previous record of six minutes of underwater filming in Mission: Impossible – Rogue Nation with her own in Avatar: The Way of Water, with seven minutes and fourteen seconds of filming.
Simon Franglen is the composer for the newest movie, as James Horner, who had originally signed on to compose the music, passed away in 2015.
Kate Winslet a sequined charcoal-colored Badgley Mischka Fall 2015 gown at the "Avatar: The Way Of Water" World Premiere at Odeon Luxe Leicester Square on December 6, 2022, in London, England (Credit: Nils Jorgensen / INSTARimages / Cover Images)
James Cameron is confident about the length of the movie, stating to Total Film, "The goal is to tell an extremely compelling story on an emotional basis. I would say the emphasis in the new film is more on character, more on the story, more on relationships, more on emotion. We didn't spend as much time on relationships and emotion in the first film as we do in the second film, and it's a longer film because there are more characters to service. There's more story to service."
"People say, 'Oh my God, a family story from Disney? Just what we want.' This isn't that kind of family story," Cameron added. "This is a family story like how The Sopranos is a family story."