After revealing back in March that she and her husband have adopted a baby girl into their family, Cate Blanchett announced that she will be taking a break from acting to take care of their new daughter, Edith Vivian Patricia Upton.
Cate Blanchett covers her hair with a hat as she arrives at Los Angeles Airport with Edith Vivian Patricia Upton on December 28, 2015
Earlier this year, she opened up about adopting while attending the premiere of Cinderella at the State Theatre in Sydney, Australia.
"There's a lot of children out there that don't have the good fortune of our biological children so it's lovely to welcome a little girl. We're besotted," she said about adopting a baby girl from the United States.
The couple's adoption news was made public on March 6. Blanchett and Andrew Upton, who married in 1997, are already parents to Ignatius Martin, Roman Robert, and Dashiell John. Cate was spotted cradling baby Edith as she arrived back in Los Angeles from Sydney.
Cate Blanchett arrives at LAX in sunglasses and a black bucket hat
Cate looked stylish as always in a gray suit-and-skinny-pants ensemble, which she paired with the "Ora Palm" metal heel boots from Acne Studios. The actress covered her face with sunglasses and a black hat.
Cate Blanchett's feet in Acne Studios boots
Cate sought the help of airport staff to cover baby Edith's face, but to no avail. The 46-year-old ended up covering Edith's face herself before climbing into an awaiting vehicle.
We're pretty sad to know Cate will be absent from the big screen in 2016, but we totally understand. We wish her luck with her adorable new baby girl!
Cate Blanchett arrives at LAX with her adopted daughter Edith
Get the gorgeous "Ora Palm" boots from Acne Studios by clicking over to Ssense and Farfetch.
Acne Studios "Ora Palm" Embellished Leather Ankle Boots, $800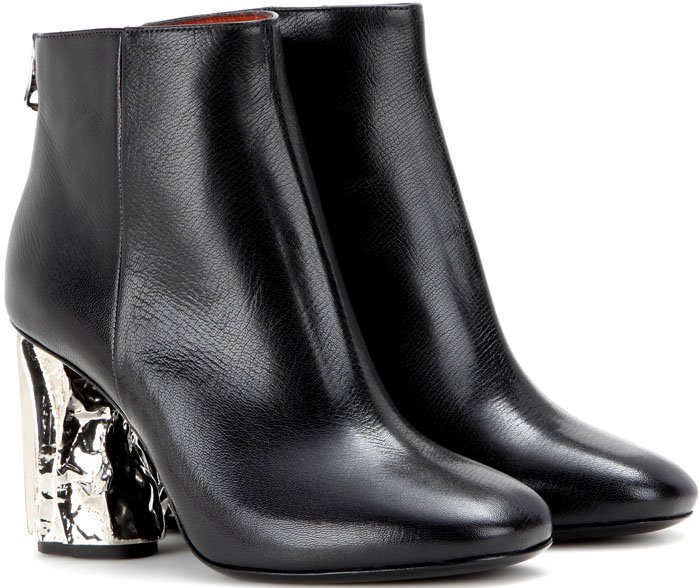 Acne Studios "Ora Palm" Embellished Leather Ankle Boots, $800
Acne Studios "Ora Palm" Embellished Leather Ankle Boots, $800
Credit: WENN