While Andrew Upton and Cate Blanchett had met briefly before while working as actors in Sydney, they started dating after a chance encounter on the set of a TV show in 1996. They had sex after three days and decided to get married after dating for three weeks.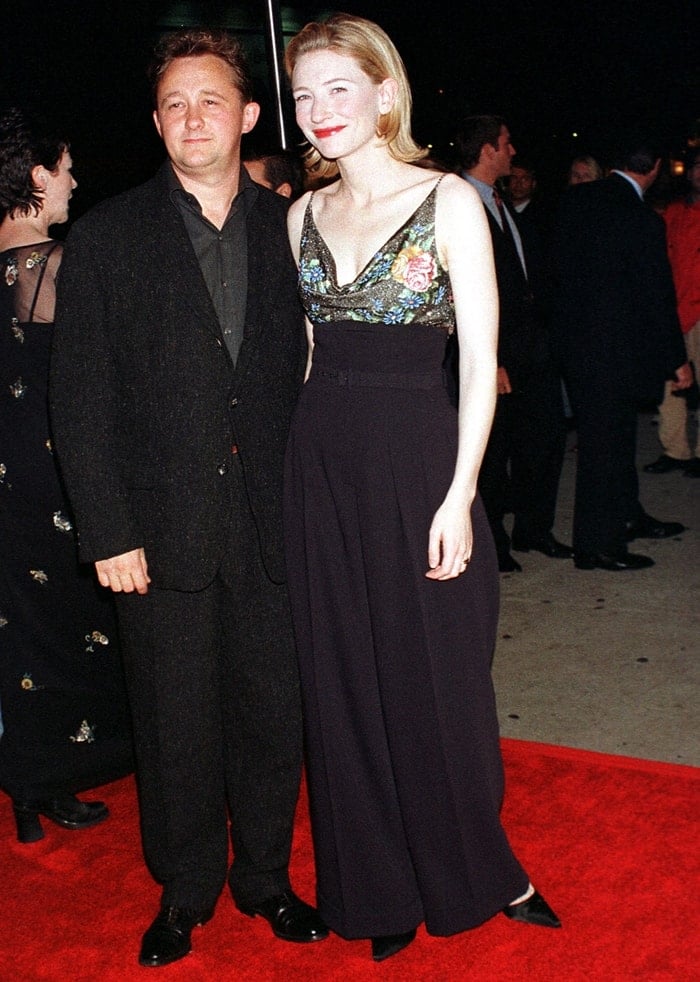 Cate Blanchett and her husband Andrew Upton at the 'Elizabeth' New York City premiere on October 13, 1998
Cate Blanchett spilled the dirt on her long marriage with her husband Andrew Upton, a producer and writer, during an interview with Ellen DeGeneres in October 2015.
"We didn't like each other for a long time – about 17 years!" Cate told the talk show host. "We knew each other socially and we didn't really get on."
"There wasn't actually alcohol – oh no, there was alcohol involved—alcohol and gambling. And then we got tattooed," Cate responded when asked by Ellen how their romance started.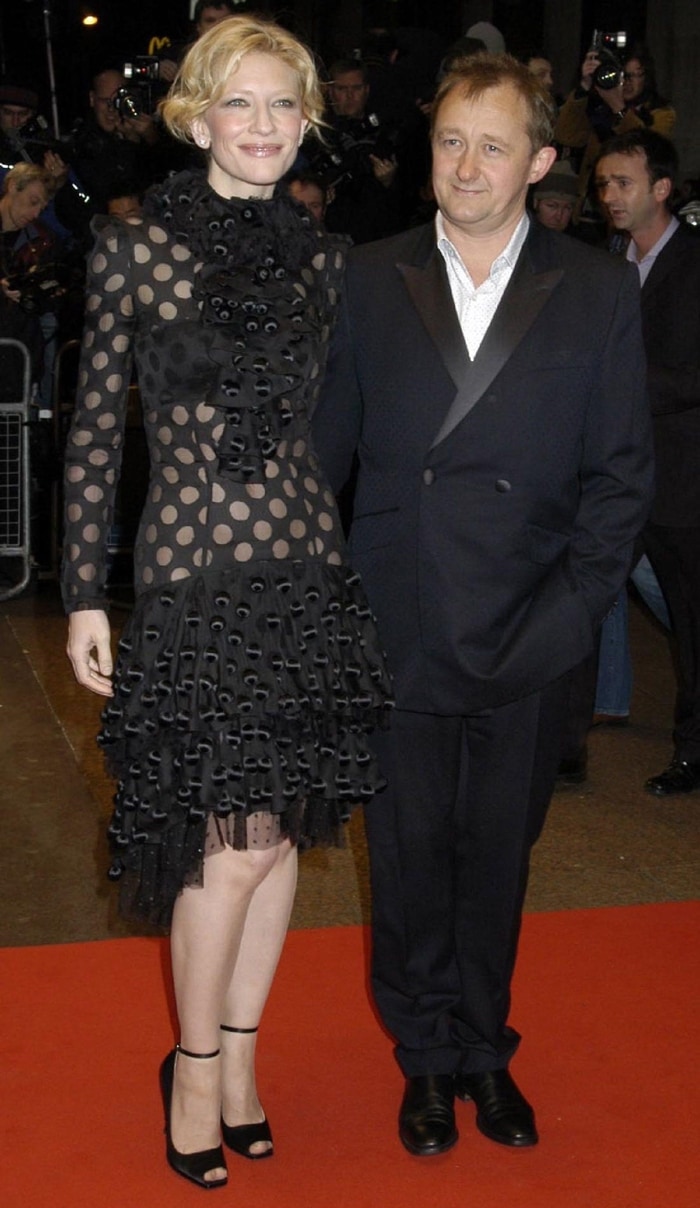 Andrew Upton and his wife Cate Blanchett at "The Aviator" London Premiere held at Odeon West End in London on December 19, 2004
"After three days he turned to me, we were in bed, as you are after three days," Blanchett shared. "He said 'Cate,' and I thought, s–t, he's gonna ask me to marry him and I'm gonna have to say yes and then he said, 'No, I'm hungry. Do you want to go get something to eat?' But then he asked me after about 21 days and I said yes."
"I cooked him the worst meal. I somehow decided that to stuff a trout with walnuts and goat's cheese would be a good idea," Blanchett added. "He ate it and then he asked me to marry him so clearly he was, I don't know, hallucinating. He realized I couldn't cook."
"No, you give them food poisoning, they're delirious and then you've got them," Blanchett revealed about getting to a man's heart through a bad meal.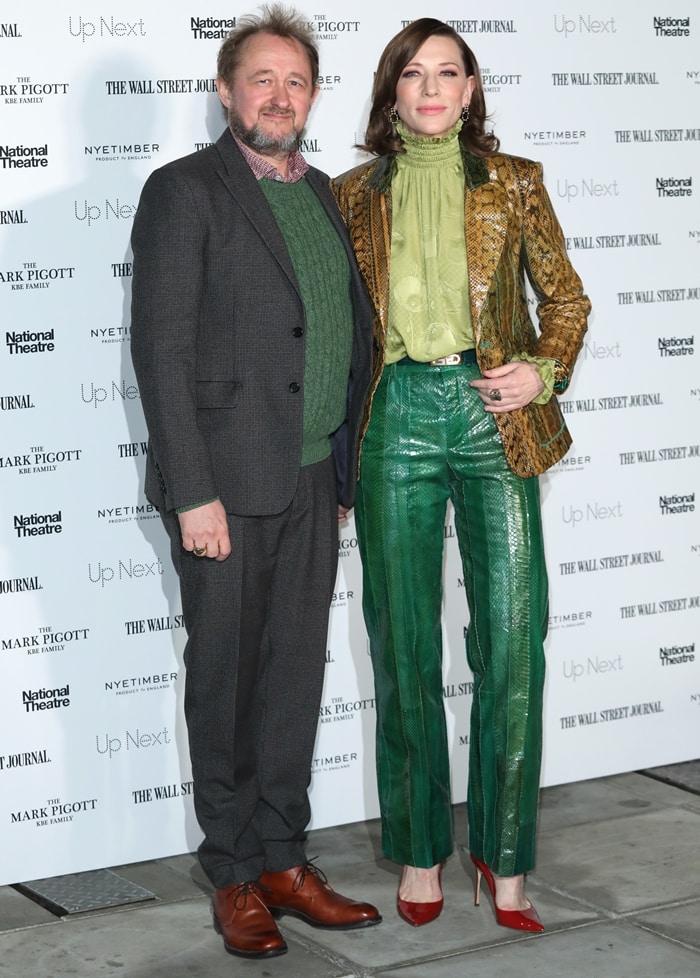 Andrew Upton and Cate Blanchett attend the 'Up Next Gala' at The National Theatre on March 5, 2019, in London, England
"I think marriage is all about timing," the actress told Marie Claire in early 2017. They married on December 29, 1997, in the scenic Blue Mountains National Park in New South Wales, Australia.
"Getting married is insanity; I mean, it's a risk – who knows if you're going to be together forever? But you both say, 'We're going to take this chance, in the same spirit."
"The only moment of my life I would possibly recapture is getting remarried again because we didn't take any photographs," she told Fox News in 2008. "We didn't have any money at the time, and we couldn't afford a photographer."
We're huge Cate Blanchett fans here at Your Next Shoes. The actress is not only brilliant on screen, but she's also fascinating to watch on the red carpet.
Cate Blanchett was beautiful and sophisticated in a black dress
Her fashion choices are usually unexpected (and perhaps even risky), yet she gets away with them unscathed — a unique talent if you ask us. And even when she picks simple pieces for promotional appearances, there's always a little bit of extra to it — a little surprise or a little twist that makes her stand out.
Cate Blanchett's dress with a classic v-neckline
A case in point is the look she wore when she appeared on the 'Late Show with David Letterman' in July 2013.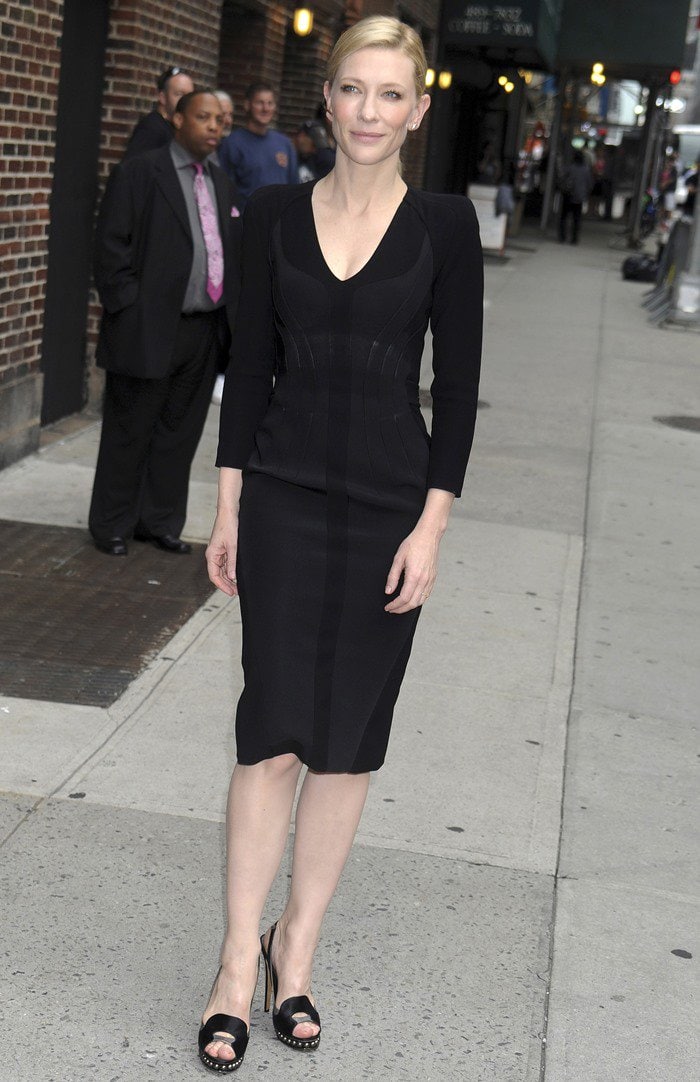 Cate Blanchett flaunts her legs in a black dress from Altuzarra's Fall 2013 collection
Cate opted for a black frock from Altuzarra's Fall 2013 collection. From a distance, the dress seems like your regular LBD, but up close, it features impeccable details, such as panels and seaming on the bodice.
It is a beautifully constructed piece, and it really flattered the actress' figure.
Cate Blanchett arriving at the Ed Sullivan Theater for her appearance on the Late Show with David Letterman in New York City on July 22, 2013
But here's the thing — it was the pair on her feet that made us look not just twice, but thrice. Cate wore peep-toe slingbacks in two tones and with stunning black pearls decorating the platforms. The shoes were undeniably gorgeous, and we couldn't stop staring.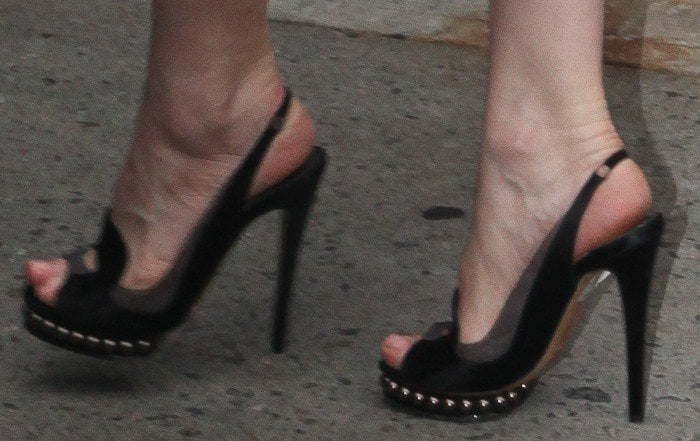 Cate Blanchett's feet in Nicholas Kirkwood shoes
Love? If you know your designer heels, then you might have already guessed that Cate's stilettos are by Nicholas Kirkwood. We're not exactly sure from which collection, but what we do know is that the style was released many seasons ago.
Cate Blanchett's two-tone peep-toe slingbacks with black-pearl-studded platforms
Sophia Bush and Kirsten Dunst were spotted wearing the same pair back in 2011. These shoes are made of lustrous black satin and metallic gray leather. They also feature 5-inch-high heels and half-an-inch-thick black-pearl-detailed platforms.
Nicholas Kirkwood Penny Loafer Peep-Toe Slingbacks, $680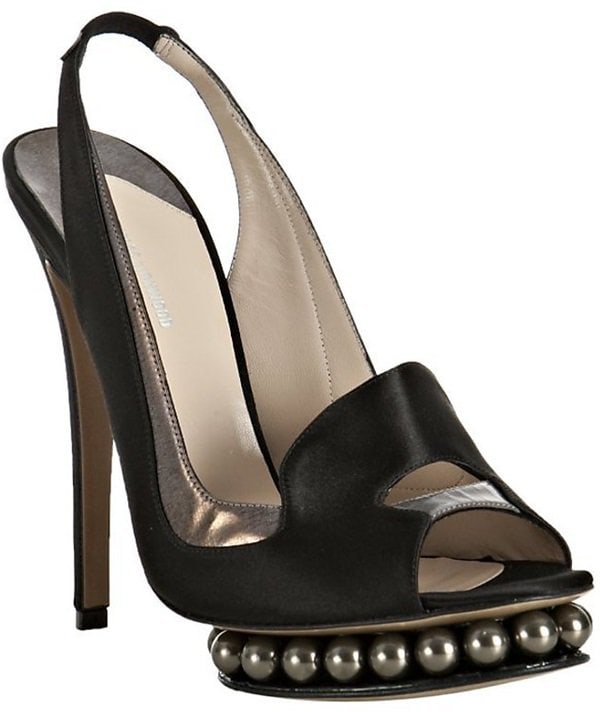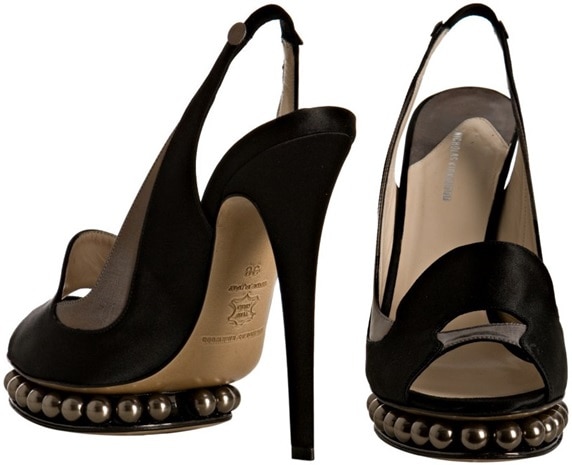 Unfortunately, they're sold out everywhere, so you won't be able to get your hands on a pair. However, you can grab a slightly similar style at Farfetch:
Nicholas Kirkwood Pearl-Platform Slingbacks, £585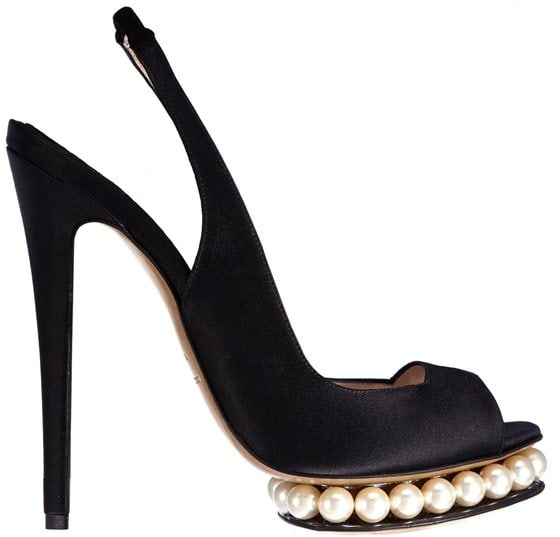 Alternatively, you can purchase the closed-toe version with crystal platforms at Neiman Marcus:
Nicholas Kirkwood Crystal-Platform Satin Pumps, $1,995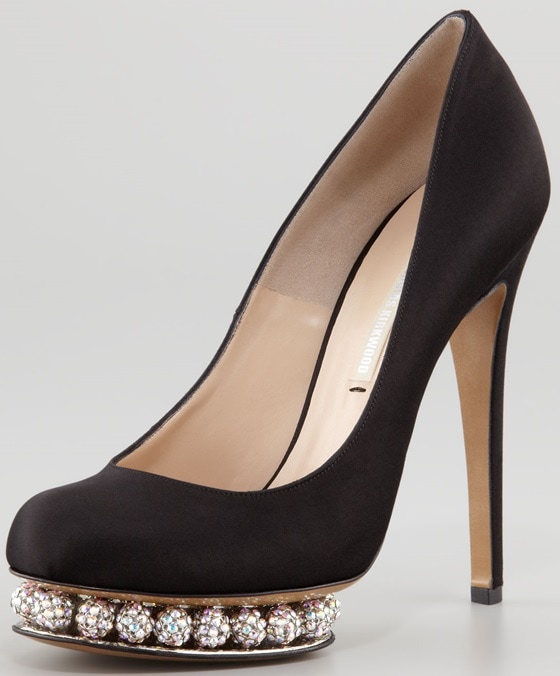 Credit: Kyle Blair / WENN / Daniel Deme / Lia Toby