If you're into comedy (or even if you're not), you've probably heard of Dave Chappelle, a notorious stand-up comedian, actor, writer, and producer.
He is most well-known for his off-the-cuff and controversial comedy style, which often touches on social justice, racism, and politics. The American stand-up comedian has been on stage for decades, first starting his comedy act in high school as a young teen.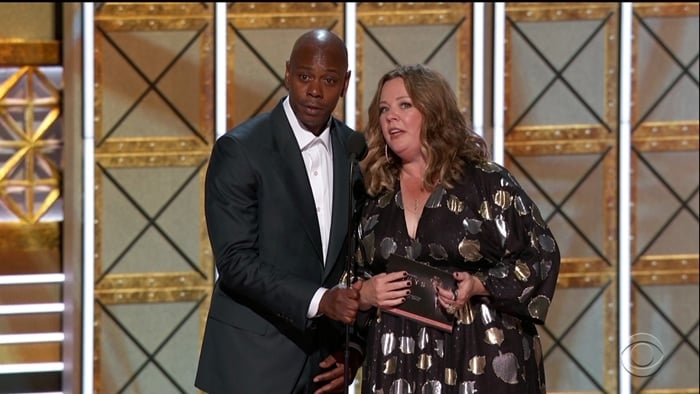 Dave Chappelle and Melissa McCarthy earned trophies for their appearances on Saturday Night Live at the 69th Annual Primetime Emmy Awards in 2017 (Credit: WENN)
Between 2003 and 2006, he gained considerable fame through his part in "Chappelle's Show," a weekly sketch-comedy show on Comedy Central.
Since then, he's received numerous accolades, including two Emmy Awards and three Grammy Awards, as well as the Mark Twain Prize.
Chappelle has appeared in several Hollywood films, including Mel Brooks' Robin Hood: Men in Tights (1993), The Nutty Professor (1996), Con Air (1997), You've Got Mail (1998), Blue Streak (1999), Undercover Brother (2002), and A Star Is Born (2018).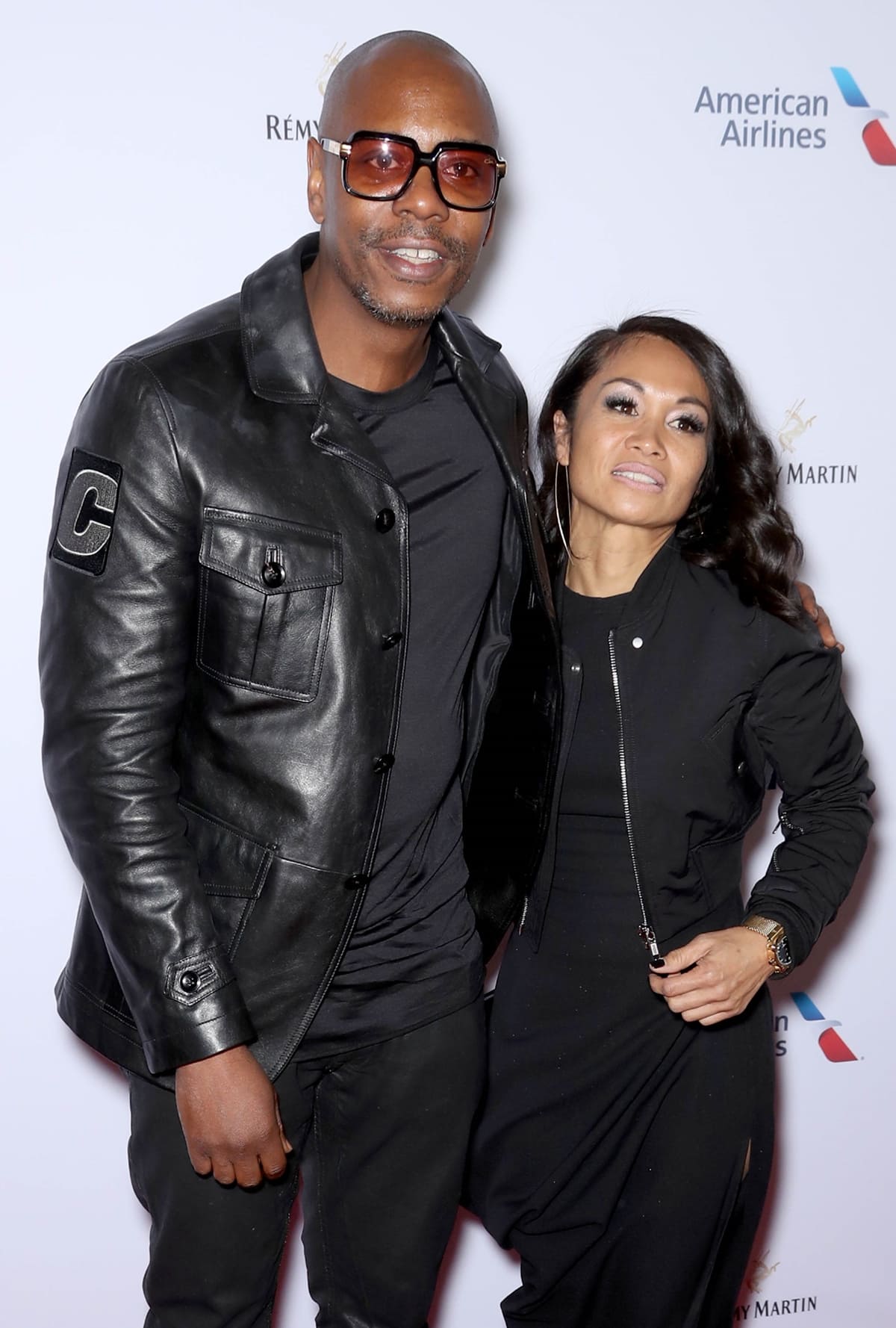 Comedian Dave Chappelle and his wife Elaine Chappelle have been together since the 90s but have kept their relationship and family life extremely private (Credit: John Nacion / Startraksphoto)
Some of the projects Chappelle came close to being involved in include movies like Forrest Gump, Rush Hour, and Requiem for a Dream, as well as biopics that would have seen him portraying Rick James and Charlie Barnett.
How much did Dave Chappelle get for his Netflix special?
He's also been featured on numerous Netflix specials and was allegedly paid over $20 million for each one.
According to The New York Post's Page Six, he was paid a total of $60 million for delivering three comedy specials to the streaming company in 2017. Not too shabby!
But who is the woman behind this successful comedian?
Her name is Elaine Chappelle, and they have been happily married since 2001. In celebrity years, that's basically a lifetime!
Elaine Chappelle is an American of Filipino descent. A private woman, she makes very few public appearances and has remained 'mysterious' despite her infamous husband. She doesn't have a single known social media account – a rarity these days.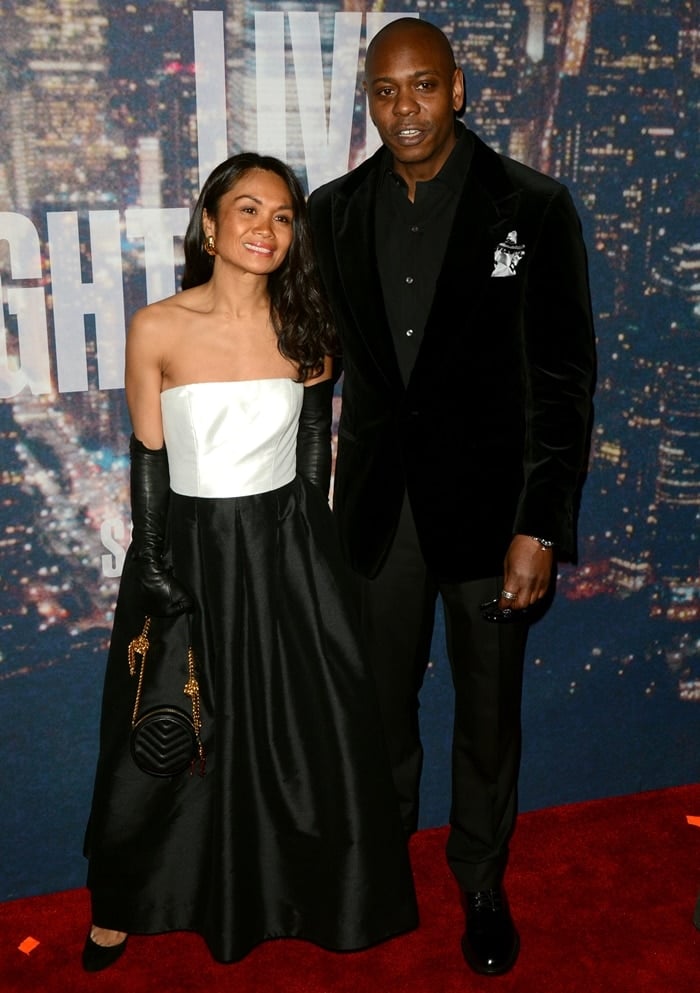 Elaine Chappelle and her husband Dave Chappelle walk the red carpet at the SNL 40th Anniversary Special at 30 Rockefeller Plaza in New York, NY on February 15, 2015 (Credit: Ivan Nikolov / WENN)
Elaine Chappelle (born Elaine Mendoza Erfe) was raised in Brooklyn, New York, where she eventually met her future husband. Dave was immediately interested in Elaine, and with her stunning good looks, it's no surprise.
Allegedly, Elaine had some reservations about starting a romance with Dave Chappelle in the early stages due to his celebrity status.
Dave's wife, Elaine Chappelle, is a native New Yorker of Filipino ethnicity (Credit: Joel Ginsburg / WENN)
To this day, it's unknown when the couple first met and how their romance began. Reports say they had a long romance lasting several years before finally tying the knot in 2001.
In an interview with Howard Stern, Dave revealed that he met Elaine in Brooklyn. "She was with me when I was poor," said Chappelle.
Elaine was born on August 31, 1974, to a devout Christian Filipino family. To this day, she is still a practicing Christian. Her husband, raised as a Unitarian Universalist, converted to Islam in 1997.
During an interview on the Netflix series My Guest Needs No Introduction with David Letterman, Dave Chappelle revealed that his spiritual journey started 30 years ago in a pizza shop. In the interview, the famous comedian shared how his faith has been a driving force behind his successful career, as he always felt that life should have a deeper meaning beyond just material possessions.
Some claim that Dave's choice to convert to Islam affected their relationship for a short period, as Elaine's family was uneasy about the change in religion.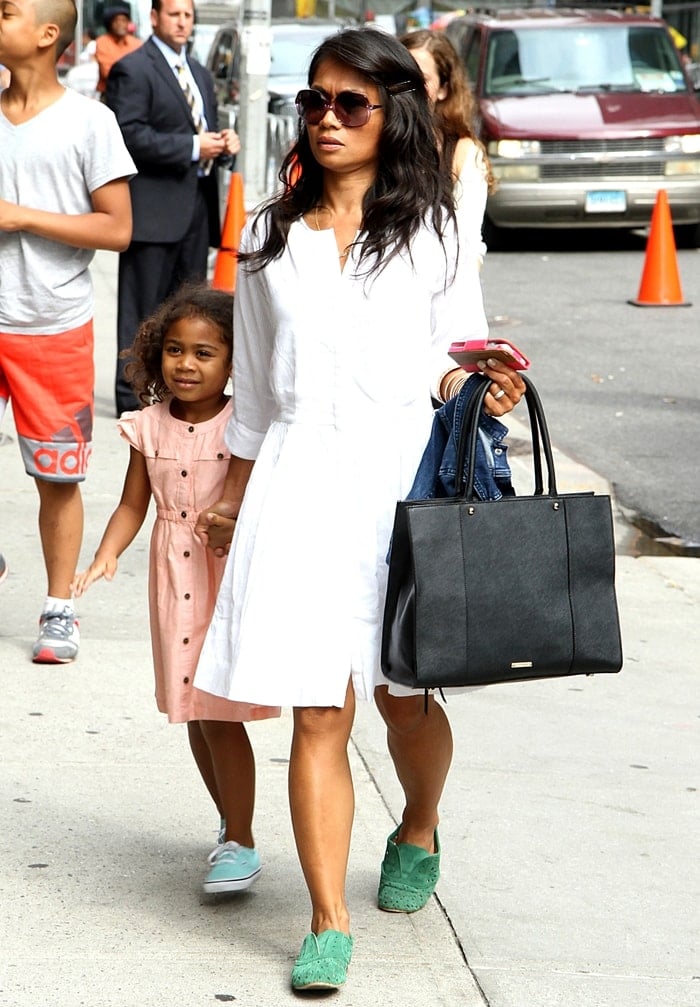 Elaine Chappelle arrives with her daughter Sonal Chappelle for a taping of the Late Show with David Letterman in New York City on June 10, 2014 (Credit: HRC / WENN)
"It's been presented in the public space in such a narrow and dismissive view," he told Letterman. "It's a beautiful religion. And the ideas in that religion are reflected in all the major Abrahamic faiths. You'll see these ideas in both Christianity and Judaism, you know. It is the idea that this place does mean something, you know?"
This could be why they waited several years before getting married. Despite their religious differences, the couple has maintained a harmonious relationship throughout the years.
Family Life
The couple lives on a 65-acre farm near Yellow Springs, Ohio. They have a beautiful family with two sons, Sulayman and Ibrahim, and a daughter, Sonal.
Dave Chappelle and his daughter Sonal attend the "A Star Is Born" premiere during the 2018 Toronto International Film Festival at Roy Thomson Hall on September 9, 2018, in Toronto, Canada (Credit: Jaime Espinoza / WENN)
The family owns several houses in Xenia, Ohio. When asked why Dave Chappelle chose to settle down in Yellow Springs, Ohio he said "turns out you don't need $50 million to live around these parts, just a nice smile and a kind way about you. You guys are the best neighbors ever. That's why I came back and that's why I'm staying."
"It's almost like a nature reserve where they'll let me run free," he said in a 2017 interview with CBS News. "I'm a protected commodity."
Elaine Chappelle is the backbone of the Chappelle family. She has stood by her husband through his challenging yet extremely successful career.
As a comedian, Dave is no stranger to controversy. His jokes have landed him in hot water more times than we can count. However, Elaine still stuck by him through thick and thin.
Dave Chappelle and Russell Simmons attend as RUSH Philanthropic Arts Foundation Celebrates 20th Anniversary at Art For Life sponsored by Bombay Sapphire Gin at Fairview Farms on July 18, 2015, in Water Mill, New York (Credit: Derrick Salters / WENN)
Their three kids play a tremendous role in their day-to-day life, from career decisions to where they live. Dave told CBS News that having kids gave him more depth and forced him to take his career more seriously.
While he might take his career more seriously post-kids, he is still known for making jokes about his family – after all, he is a comedian.
He is known for finding humor in the regular family moments that they share and often jokes about married life.
Though Elaine is very much a private person, she is very easy going and isn't at all concerned when her husband cracks a joke on stage about her. Their lasting relationship is proof of the solid foundation they have built over the years, and his jokes are all in good fun.
Their Yellow-Springs Home
Their beautiful home is modest by celebrity standards yet is a true oasis for this private couple. Their home is 3 bedrooms, 3.5 bathrooms, and is over 3,154 square feet in size.
Dave Chappelle was reportedly paid $20 million per Netflix special (Credit: WENN)
Located on a gorgeous piece of land reaching over 65 acres, the farm life is a surprising choice that shocked many years ago.
The couple moved into the house before filming the third season of Chappelle's Show, uprooting their Tinseltown life.
Dave Chappelle infamously left the show later that year and took several years off, reportedly due to burnout and mental health concerns. Elaine stuck by him, caring for their family during this time.
Housewife or culinary genius? The Chappelle family is definitely eating well
Before having a family, Elaine had dreams of becoming a professional chef. Her culinary skills were impressive, and she could have made a great career for herself in the industry.
However, Elaine chose to stay home to support her family and raise their three beautiful children.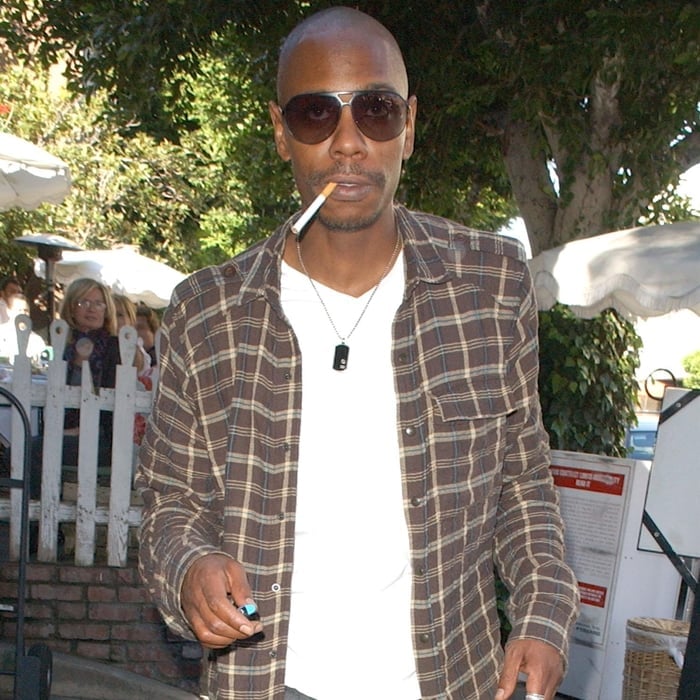 Dave Chappelle is known for being a heavy smoker (Credit: WENN)
When asked about his wife's career, Chappelle boasted about her skills in the kitchen, "she doesn't work as a professional chef, [but the kids] regularly eat like kings at home, thanks to her excellent culinary skills."
Elaine keeps an eye on controversy and keeps Dave in the loop
Elaine has taken on the responsibility of keeping Dave in the loop when things go awry. Like any celebrity, Dave faces criticism online frequently, and he's made a rule to generally avoid reading toxic commentary that shows up on social media.
However, Elaine keeps an eye on things and ensures her husband is notified when it gets out of hand.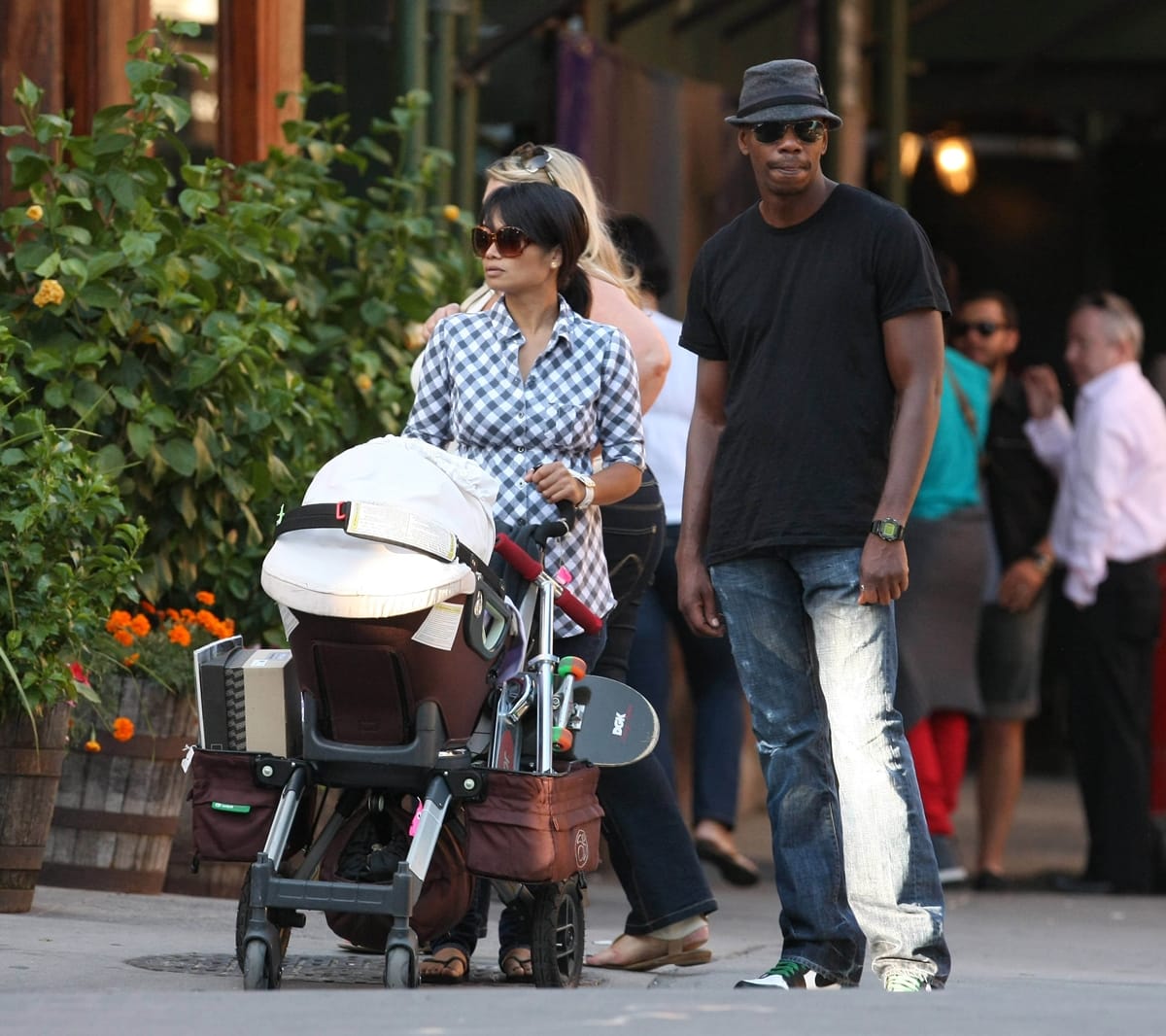 Comedian Dave Chappelle and his wife Elaine Chappelle have three children and live in Yellow Springs, Ohio, where they prefer the quiet life away from the paparazzi (Credit: INFphoto)
When a news article is published, or social media attacks become more serious, Elaine keeps her husband in the loop. She keeps him informed of any ongoing controversies that could negatively affect his reputation.
"The only way I know about stuff is because everyone else tells me about it. My wife, if it gets real bad, she'll let me know, like, 'oh, you should look into this," he explained in an interview.
Net Worth
Chappelle and his wife Elaine have an estimated net worth of over $60 million, and they are definitely enjoying the luxuries of life.
In a stand-up routine, Dave joked about taking his mother-in-law on a private jet to her home in the Philippines, where she was whisked off in a Rolls Royce from the airport. While their Ohio home might be modest, Elaine and Dave Chappelle still enjoy the finer things in life.
Pictured outside Peppermint Club in West Hollywood on January 24, 2020, Dave Chappelle has a net worth of around $50 million (Credit: Instar / WENN)

Elaine Chappelle has maintained her private life throughout the years, and her husband rarely spills the tea in press interviews. What we do know, is that they are still happily married to this day and they continue to share a beautiful life together with their three children.
Dave Chappelle continues to share his comedic talent with the world through Netflix specials and pop-up performances in the United States.
Is Bokeem Woodbine related to Dave Chappelle?
Dave Chapelle's doppelgänger Bokeem Woodbine is by many believed to be Dave's brother, but they're not related. An American actor, Bokeem Woodbine is best known for his role as Mike Milligan in the second season of Fargo.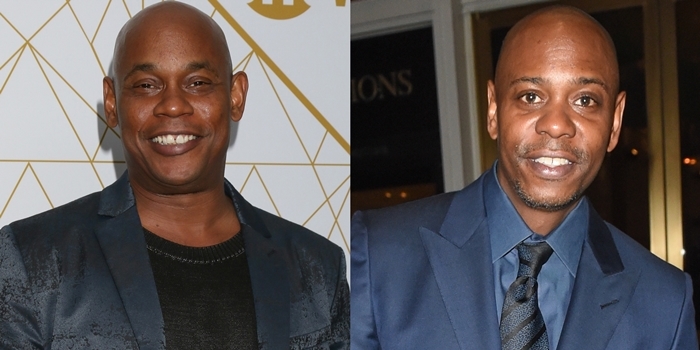 Lookalikes Bokeem Woodbine (L) and Dave Chappelle (R) are not related (Credit: WENN / Nicky Nelson / Joe Alvarez)