Throughout the whole 'Maleficent' movie promo tour, Elle Fanning was the perfect Sleeping Beauty to Angelina Jolie's Mistress of All Evil. She fully embraced her Aurora character and locked down the look with her flaxen hair, fair skin, and delicate features. But lest we forget, Elle actually is more quirky-funky than Sleeping Beauty in real life.
She reminded us of that in the playful Christian Wijnants denim crop top and folded miniskirt getup she wore while out and about in Studio City the other day. Extending her signature offbeat style to her accessories, Elle topped her look with retro-ish Miu Miu cat-eye sunglasses, a colorful Rebecca Minkoff "Marlowe" crossbody bag, a Marc by Marc Jacobs "Katie Bunny" iPhone case, and clunky Dr. Martens Mary Janes.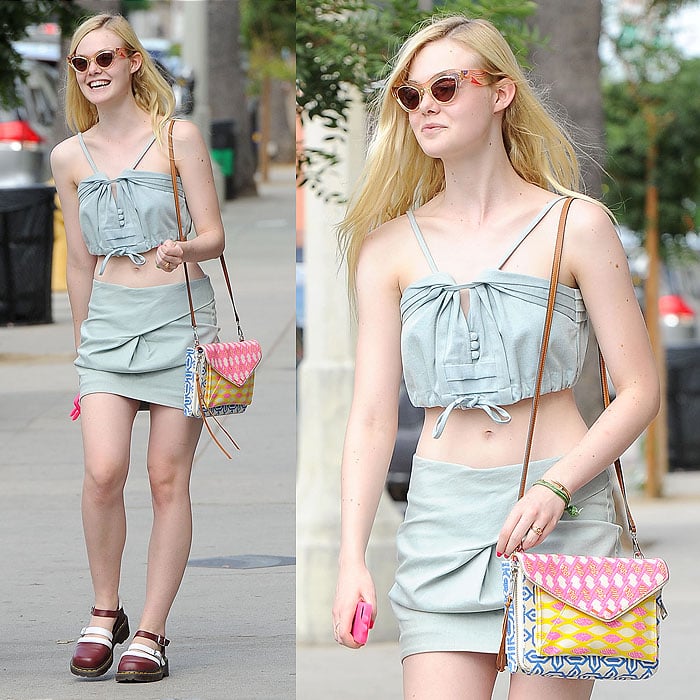 Elle Fanning out and about in Studio City, California, on July 30, 2014
Elle even matched with the friend she hung out with that day — check out their similar quirky styles and denim-on-denim ensembles: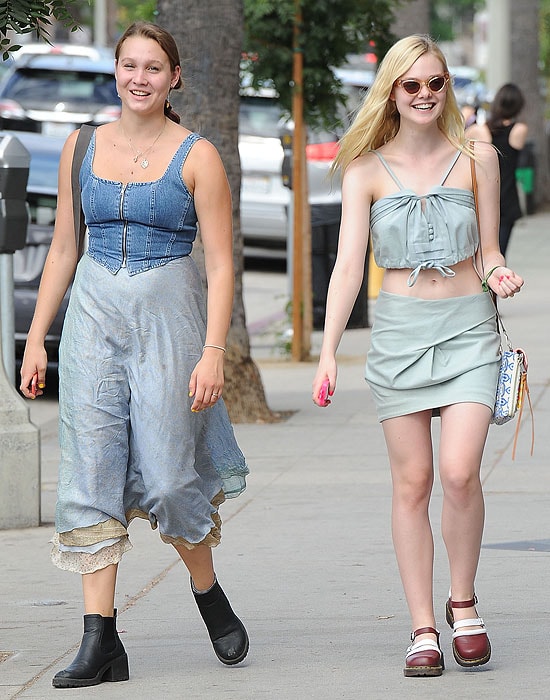 Elle Fanning having laughs with a friend
With the many belly-baring tops we've come across this week, Elle's look could've easily gone unnoticed among the crop-top pack. But because of her decision to forego the usual summer sandals or heels, she stood out and made the crop-top look her own.
Dr. Martens x Agyness Deyn "Aggy Strap" shoes on Elle Fanning
Elle's interesting choice of footwear is from a collaboration between Dr. Martens and English model Agyness Deyn. Agyness has the same funky Brit-punk style, so it's no wonder Elle gravitated toward this capsule collection.
Quirky or not, would you rock any of the styles below like Elle? Shop the entire Dr. Martens x Agyness collection at Amazon.
Dr. Martens x Agyness Deyn "Aggy Strap" Shoes in Cherry/Red/White, $139.95
Dr. Martens x Agyness Deyn "Aggy Strap" Shoes in Navy/White/Acid Orange, $139.95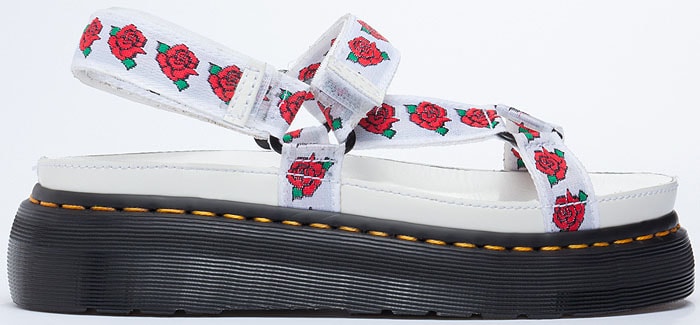 Dr. Martens x Agyness Deyn "Aggy" Sandals in White Rose, $159.95
Dr. Martens x Agyness Deyn "Aggy LTT" Boots in Deep Mahogany/Porcelain, $239.95
Credit: WENN