You may know Emilia Clarke as the Mother of Dragons, but do you know her as a singer?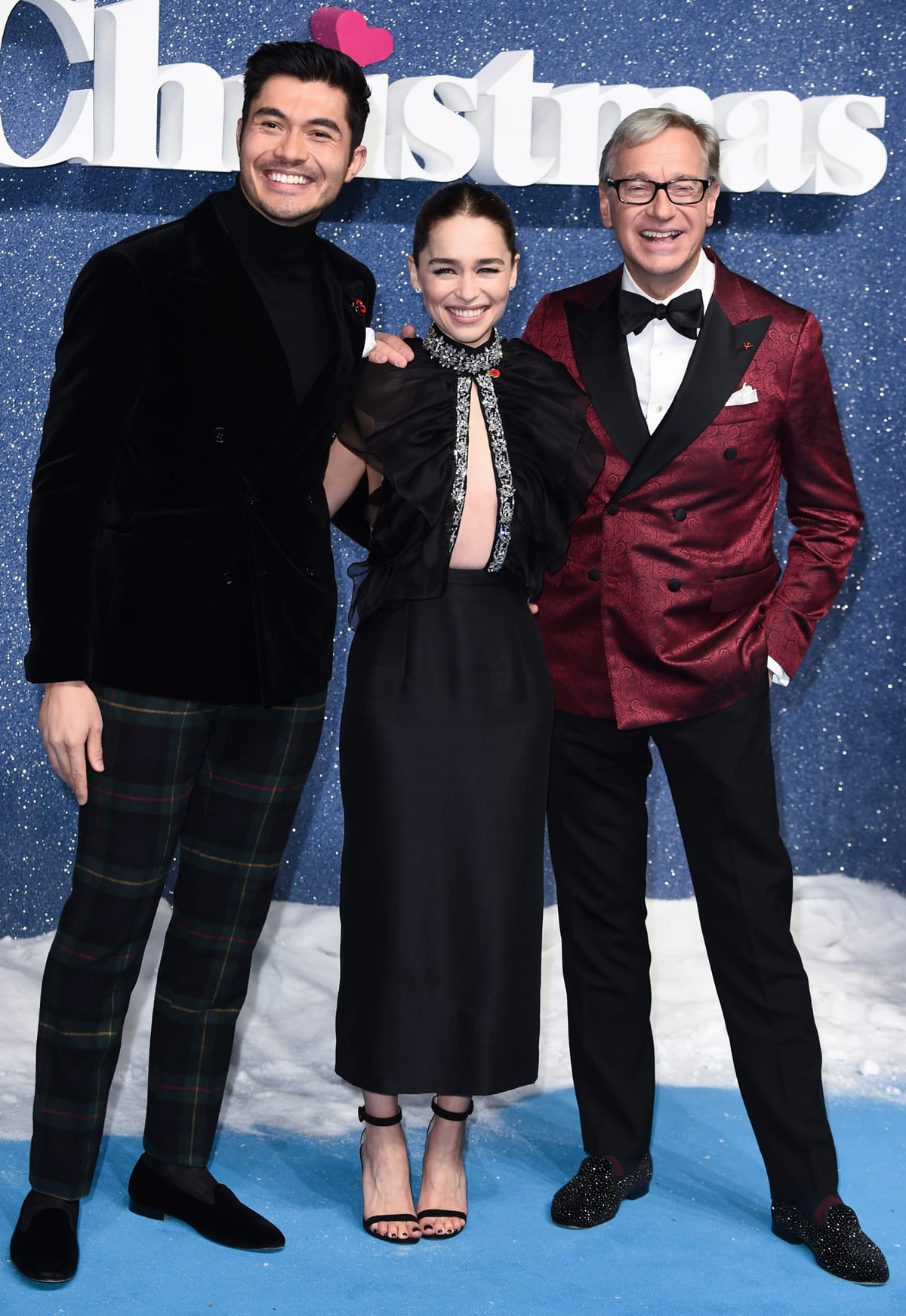 Henry Golding, Emilia Clarke, and director Paul Feig attend the "Last Christmas" UK Premiere at BFI Southbank on November 11, 2019, in London, England (Credit: Featureflash Photo Agency / Shutterstock)
With no opportunity to showcase her singing talent in Game of Thrones, Clarke's surprising skill has been mostly kept in the dark – until now.
Read on to find out more about Emilia Clarke and her role in Last Christmas.
Who Is Emilia Clarke?
Clarke is an English actress best known for her role as Daenerys Targaryen in HBO's Game of Thrones TV series.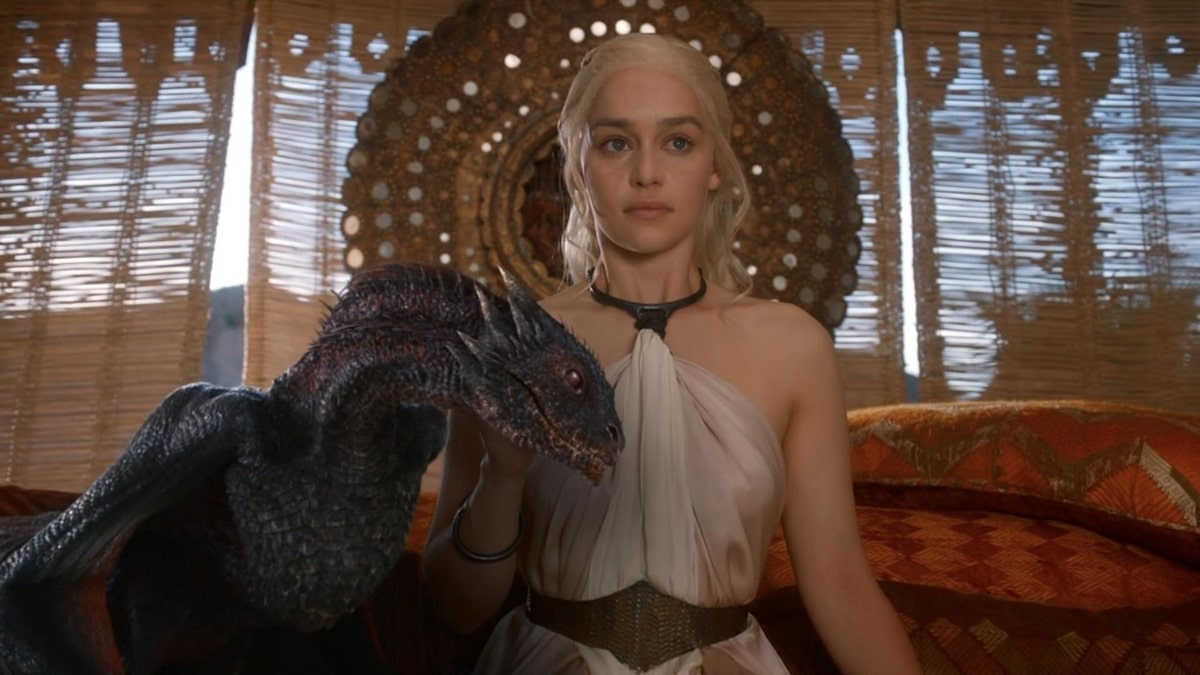 Emilia Clarke became famous as Daenerys Targaryen in the HBO epic fantasy television series Game of Thrones (Credit: HBO)
Studying at the Drama Centre London, Clarke has appeared in several stage productions, whilst making her TV debut in Doctors in 2009.
What Is Last Christmas?
Playing on the title of Wham!'s classic, festive tune, Last Christmas is one of 2019's most notable romantic comedy films.
Written by Emma Thompson and Bryony Kimmings and directed by Paul Feig, this film was heavily inspired by George Michael's music.
Emilia Clarke was praised for her performance starring opposite Henry Golding in the romantic comedy Last Christmas (Credit: Universal Pictures)
Clarke plays the role of a Christmas shop worker. Going on to shape a relationship with an intriguing man (played by Henry Golding), her character then begins to fall in love with him.
Singing in Last Christmas
Clarke was 32 when she started filming this film before turning 33 on October 23rd, 2019: one month before the film actually premiered.
Even though Clarke had already delved deep into her career at this point, the film still provided her with new challenges in her early 30s – singing.
In the trailer, Clarke's character, Kate, can be spotted tackling some tunes. So, does the musical voice actually belong to Clarke?
Emilia Clarke in a Valentino sequined silk maxi dress at the Universal Pictures Premiere of Last Christmas at AMC Lincoln Square on October 29, 2019, in New York City (Credit: Debby Wong / Shutterstock)
The answer to this is yes. Clarke confirmed that she does use her own singing voice in Last Christmas, although admitted that it was a lot of pressure to take on George Michael's greatest hits.
Clarke coped with this by essentially becoming her character, Kate. By realizing that the lyrics told Kate's story, Clarke utilized Michael's words to embody her musical talent and bring the character to life.
"I don't do my own stunts but I do do my own singing," Clarke told Entertainment Tonight in an interview.
"I was aware that that would be too much pressure for me to be like, 'It's George Michael! I'm singing to George Michael!' [But then] I kind of realized that the words that I was saying were so poignant for the character, and that I was telling her story, and it's just that George Michael was giving me the vehicle with which to do it."
Emilia Clarke impressed everyone with her singing as Kate Andrich in the 2019 romantic comedy film Last Christmas (Credit: Universal Pictures)
"It was incredibly nerve-wracking, because I care so much about singing, and I'm genuinely at my happiest when I am singing," she added in an interview with NPR.
"However, doing it on camera in front of a lot of people, and doing it, you know, with George's perfect song was — every time before I sing I just think I'm getting tonsillitis, or my throat is closing up or something — so it took a lot of courage, but I got there."
Despite how terrified Clarke was to do Michael justice, Clarke was determined to contribute her own voice to the film and managed this task spectacularly.
Emilia Clarke's struggles
Aside from the challenge of singing, Clarke had to overcome some separate struggles beforehand in her 20s, including suffering from 2 brain aneurysms.
This allowed the actress to relate to Kate's dark storyline in Last Christmas, who experiences surgery for a similarly life-threatening disease.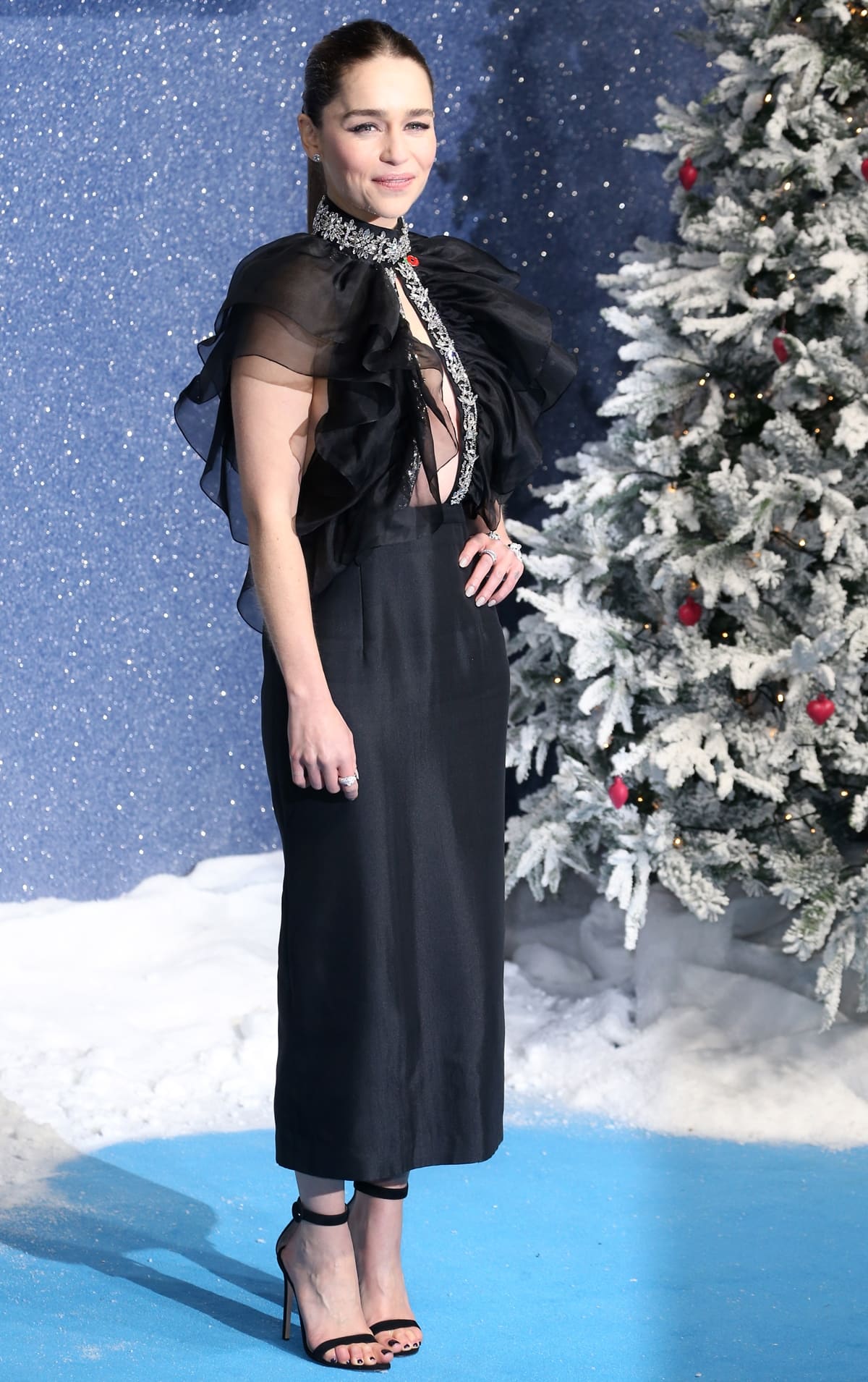 Emilia Clarke in a custom Prada dress and Gianvito Rossi Portofino sandals at the UK film premiere of 'Last Christmas' at the BFI Southbank on November 11, 2019, in London, England (Credit: Cubankite / Shutterstock)
Despite how much Clarke could relate to Katie, this wasn't in fact what spurred her on to take the job. This touching storyline became an unexpected experience for Clarke, allowing her to explore her character more as time went on.
Spotting Clarke's Game of Thrones Tattoos
Clarke previously got dragon tattoos within the concluding 2011 season of Game of Thrones as a tribute to her role as Daenerys.
These can be spotted in Last Christmas, in the scene when Kate is heading home in her dad's cab. Fans will be able to briefly spot the tattoos on her wrist.
Who else starred in Last Christmas?
This film hosts many talented actors and actresses, including Henry Golding as Tom, Emma Thompson as Petra, and Michelle Yeoh as Santa, just to name a few!
So, how was the film received?
Grossing over $121 million on a $25 budget, Last Christmas was able to spread its Christmas cheer spectacularly with its range of well-known actors and actresses.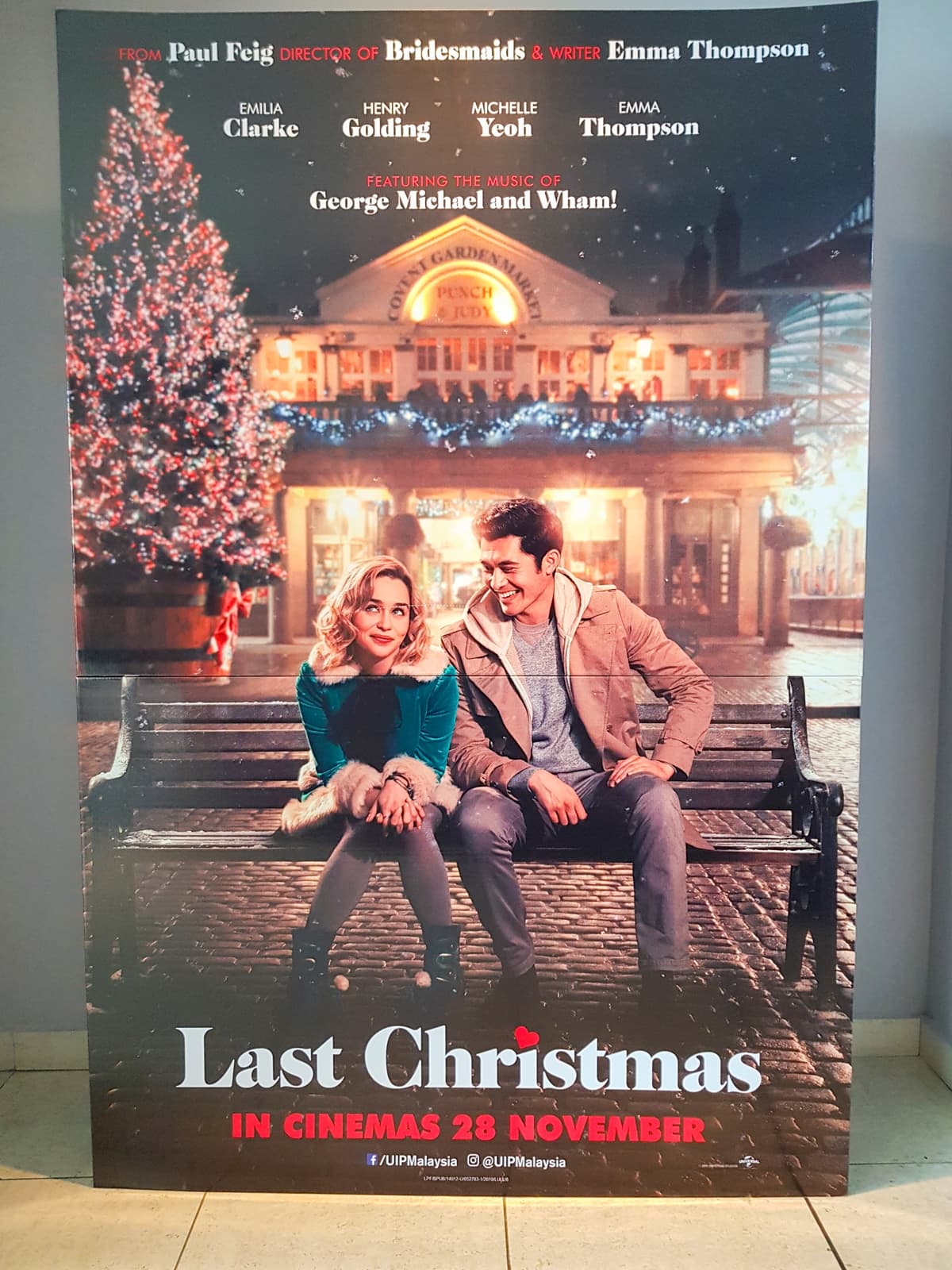 Last Christmas was a box office success despite mixed reviews from critics (Credit: Faiz Zaki / Shutterstock)
As the face of Daenerys Targaryen, Clarke has become a British favorite in the UK, boosting the film's popularity as one which could shed joy and festive spirit in the holiday season.
While a box office success, Last Christmas ended up receiving mixed reviews. The talent, leads, and musical hook are seen as incredibly impressive, whilst the story is sometimes described as poorly conceived.
Clarke's take on music
If you thought that this was Clarke's first stab in the musical performance industry, you would be wrong. This actress was also featured in a Broadway form of Breakfast at Tiffany's in 2013, starring as the character Holly Golightly.
Emilia Clarke shows off her feet in black Gianvito Rossi Portofino sandals (Credit: Cubankite / Shutterstock / Featureflash Photo Agency)
If this wasn't enough, Clarke also took part in a Red Nose Day act, displaying a musical tune in a Game of Thrones musical parody.
Whilst this performance aimed to deliver entertainment rather than talent, audiences are still able to see Clarke's deep connection with musical numbers.
From this, fans can assume that Clarke may take the spotlight in musical performances in the coming future. Whilst Daenerys met her end in Game of Thrones, Clarke certainly hasn't!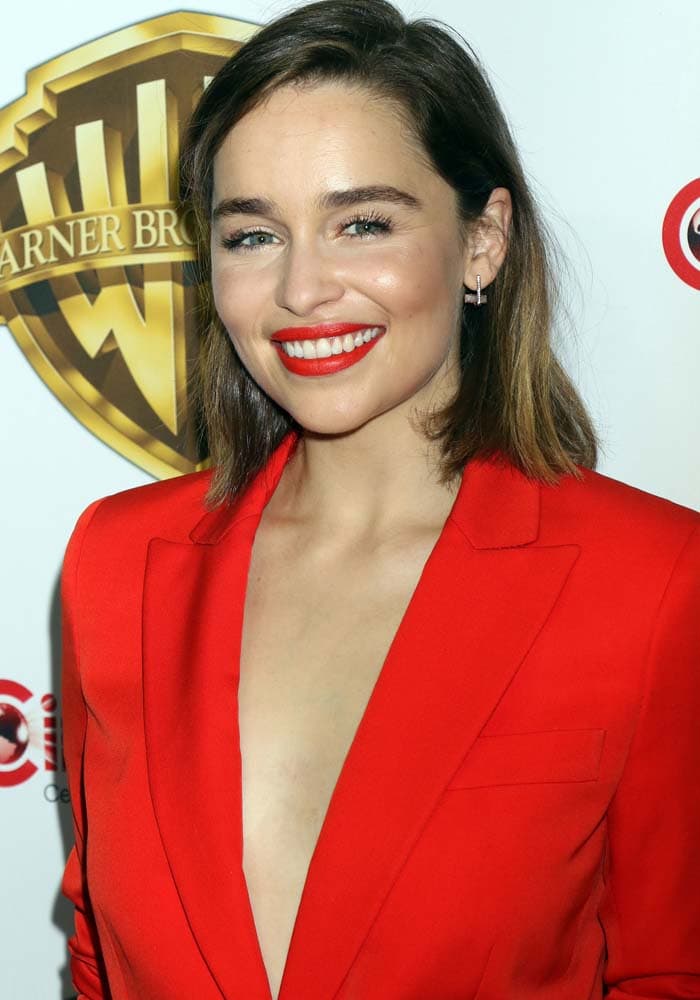 Emilia Clarke wears her hair down at Warner Bros. Pictures' 'The Big Picture,' an exclusive presentation highlighting the summer of 2016 and beyond at The Colosseum at Caesars Palace during CinemaCon, the official convention of the National Association of Theatre Owners, on April 12, 2016, in Las Vegas, Nevada (Credit: WENN)
In April 2016, the sixth season of Game of Thrones was just around the corner and series star Emilia Clarke, who plays Daenerys Targaryen in the show, was just as excited as the fans — maybe even more excited.
Emilia couldn't contain herself as she talked about the upcoming sixth season of "Game of Thrones" at the 2016 CinemaCon in Las Vegas.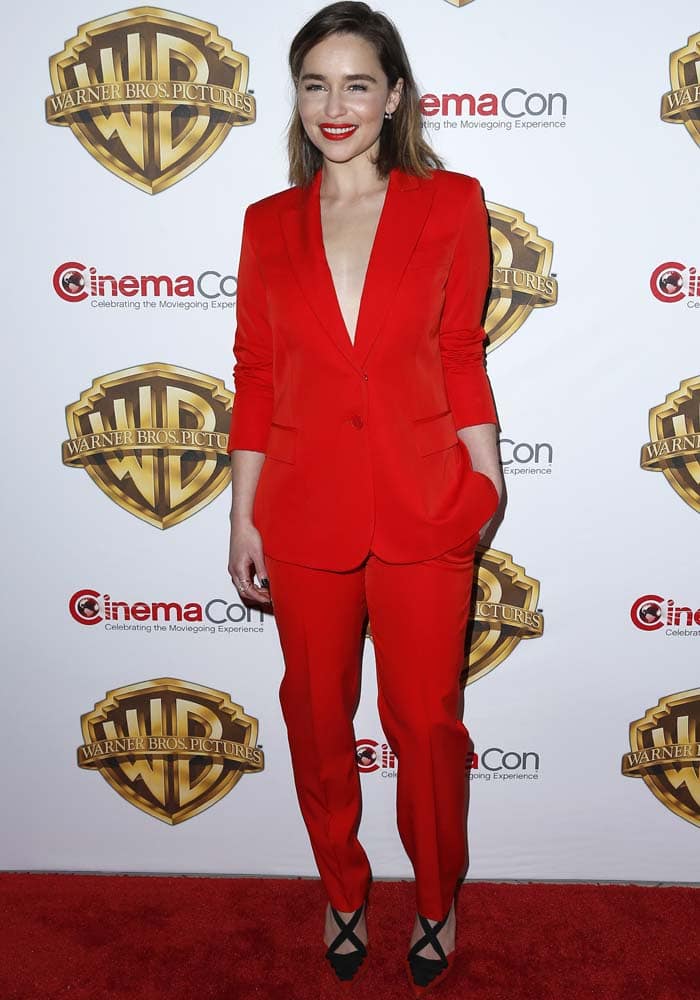 Emilia Clarke stuns in a red cleavage-baring Stella McCartney set (Credit: Judy Eddy / DJDM / WENN)
The Star Wars star wore a Stella McCartney suit and pants, which she dressed up with Rachel Katz rings, Vita Fede earrings, and Effy Jewelry.
The short actress put on the unreleased limited edition Kurt Geiger "Siene" pumps from the Spring/Summer 2016 collection.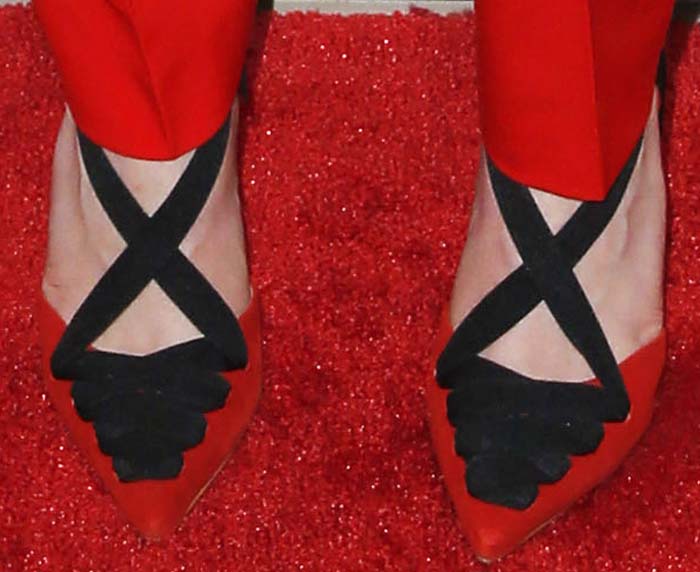 Emilia Clarke's feet in unreleased Kurt Geiger pumps (Credit: WENN)
Emilia offhandedly mentioned that the upcoming season would be so explosive that it will "blow televisions up."
Then again, if it wasn't shocking, it wouldn't be "Game of Thrones."
Kurt Geiger had just launched its latest line featuring Karlie Kloss as the brand's new face, but the "Siene" pumps that Clarke wore are no longer available online.
You can check out similar Kurt Geiger lace-up shoes at Zappos and Nordstrom.
Orange Kurt Geiger "Barnes" Pointed Lace-Up Pump, $265 – $323.17
Black Kurt Geiger "Barnes" Pointed Lace-Up Pump, $265 – $323.17