Emilia Clarke's rise to stardom was truly amazing to watch. She started out as a soap opera actress, and then rocketed to stardom after being cast as Daenerys Targaryen in Game of Thrones.
For a relative unknown actress to be cast in such a demanding role was a risky move, but clearly, the casting department at HBO knew what they were doing, because she was a hit.
Emilia Clarke had her breakthrough role as Daenerys Targaryen in the HBO epic fantasy television series Game of Thrones (Credit: HBO)
By this point, Clarke has been involved in some of the biggest franchises in pop culture history. She was paid $1.1 million for each installment of seasons seven and eight of GoT.
She got the chance to play Sarah Connor in Terminator Genisys, and while that movie wasn't exactly well-received (it currently holds a score of 27% on Rotten Tomatoes), there were plenty of people excited to see an iconic character like Sarah Connor portrayed by none other than Daenerys Targaryen.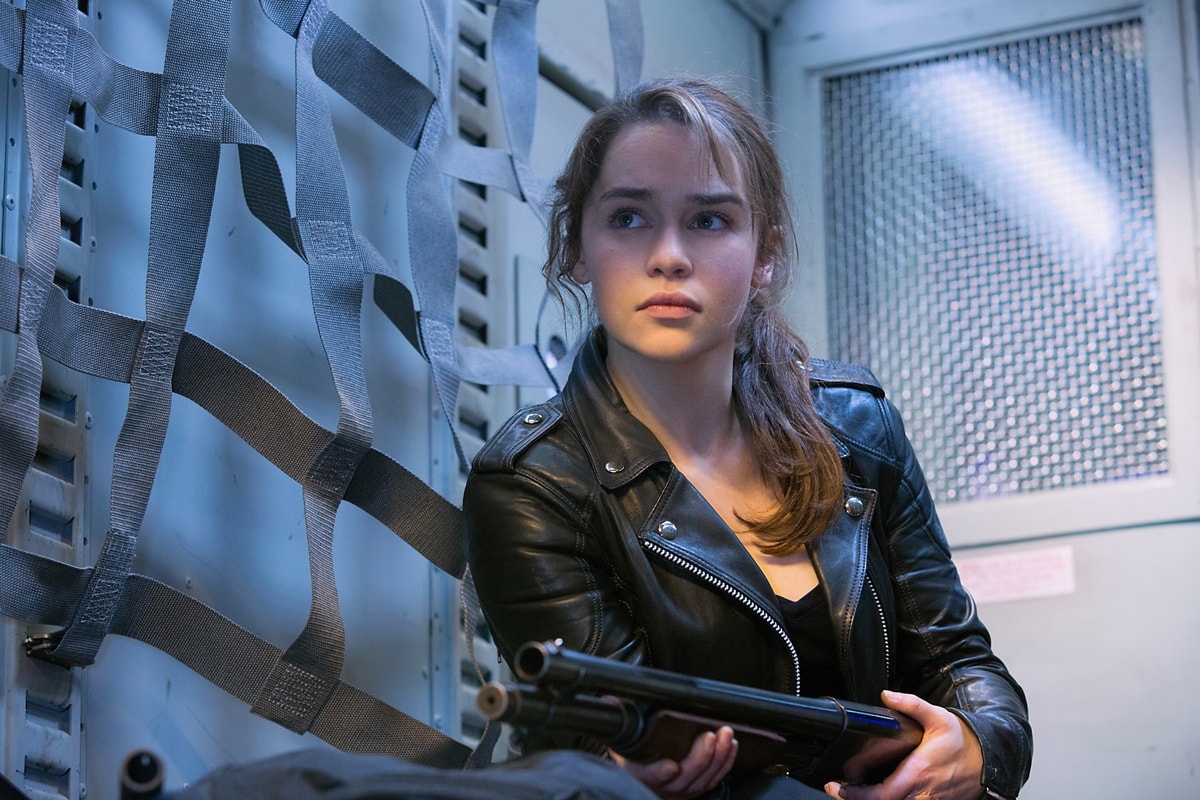 Emilia Clarke portrayed Sarah Connor in the science fiction film Terminator Genisys (Credit: Paramount Pictures)
Clarke has also proven herself to be a very charming romantic comedy lead – she and Henry Golding are fantastic together in Last Christmas, and she also shines in 2016's Me Without You.
But maybe the most exciting new development in her career is her role as Qi'ra in the Star Wars universe.
Qi'ra, Emilia Clarke's character in Star Wars
Emilia Clarke joined another heavy-hitting franchise when she was cast to play Qi'ra in Solo: A Star Wars Story. Qi'ra is Han Solo's childhood friend (and first love).
The two lived on the streets of the planet Corellia together, that is until Qi'ra is captured by an Imperial officer while trying to escape the planet with Hans.
Emilia Clarke, Chewbacca, and Alden Ehrenreich attend the photocall for "Solo: A Star Wars Story" during the 71st annual Cannes Film Festival at Palais des Festivals on May 15, 2018, in Cannes, France (Credit: BAKOUNINE / Shutterstock)
The ending of the film pulls a huge twist with Qi'ra's character. This is a huge spoiler for those who haven't seen a movie, so turn back now if you haven't watched! But at the end of Solo: A Star Wars Story, it's revealed that Qi'ra actually works for Darth Maul's crime ring.
This is a HUGE development, and it's pretty unlikely that Star Wars would drop a bomb like resurrecting Darth Maul and then never revisit it. This has led fans to theorize that there could be an upcoming Qi'ra and Darth Maul film – featuring Emilia Clarke reprising her role, of course.
Emilia Clarke as Qi'ra in the Star Wars film Solo: A Star Wars Story (Credit: Walt Disney Studios Motion Pictures / Lucasfilm)
While many were lukewarm on the characterization of young Han Solo, Qi'ra was received very positively by fans and critics alike. Qi'ra is complex and has a very interesting story arc in the film (and in subsequent novelizations and comics), and there seems to be way more interest in following up more of her story as opposed to young Hans.
The nature of an upcoming project hasn't been confirmed, it is known that Emilia Clarke signed on for several Star Wars projects, not just Solo: A Star Wars Story. Clarke herself has teased a bit about the future of the character and confirmed to The Hollywood Reporter that she was signed on for Star Wars films.
Now, technically, it's pretty common for actors to sign on for multiple franchise films whether there are plans for them or not – it's sort of like a failsafe so that the company can pursue whatever storyline they're planning.
Emilia Clarke promotes her Star Wars debut in a Dolce & Gabbana ensemble paired with floral print Christian Louboutin So Kate pumps and Oliver Peoples x The Row Parquet sunglasses (Credit: BAKOUNINE / Shutterstock)
But since Clarke's performance was so well received, she's almost guaranteed her own movie. Qi'ra's crime stories would be very fun to pursue, and it would also give the franchise a chance to explore the popular fan theory that Qi'ra is Rey's mother.
All that being said, it's very possible that Clarke may return to play Qi'ra once again. There are already plenty of side stories that follow the orphan thief and her life on Corellia. For example, the novel Most Wanted, which takes place before Solo: A Star Wars Story, may eventually be adapted.
Fancasting Emilia Clarke
Honestly, having a beloved actress like Clarke join the huge cast of Star Wars is a dream come true. Even before Solo: A Star Wars Story came out, there were people online fancasting Clarke as characters like Star Wars Rebels' Hera Syndulla.
Speaking of fancasts, there are a LOT of people out there who fancast Clarke in various franchises. If you somehow missed the hype around the actress, just Google her name and basically any franchise and you'll find people on social media professing their wishes to have Clarke appear in their favorite stories.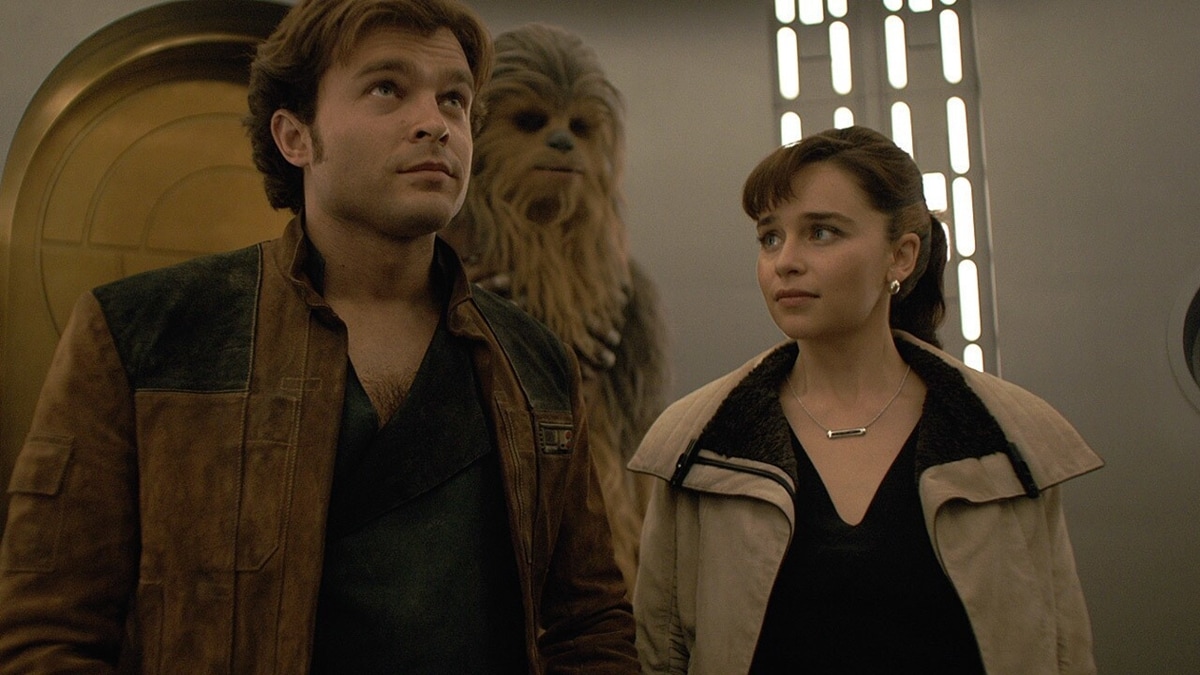 Alden Ehrenreich as Han Solo and Emilia Clarke as his romantic interest Qi'ra in the 2018 American space Western film Solo: A Star Wars Story (Credit: Walt Disney Studios Motion Pictures / Lucasfilm)
Notably, there was a HUGE community of people fancasting Clarke as Amber Heard's replacement in Aquaman 2. People photoshopped Clarke onto Queen Mera of Atlantis, and there was even a petition circulating that demanded that Clarke replace Heard.
There were rumors that Heard was being replaced, but as of now, it has been confirmed that Heard will be reprising her role.
Aquaman and the Lost Kingdom is in production now, and due for theaters in December 2022, so the hope that Clarke would appear as Queen Mera has fizzled out.
Fans were hoping Emilia Clarke would replace the much less popular Amber Heard as Princess Mera in Aquaman and the Lost Kingdom (Credit: DC Entertainment / Peter Safran Productions)
Not to worry, though – there are plenty of other Emilia Clarke fancast edits to marvel over. One Reddit thread is dedicated to casting her into the Marvel Universe, with fans expressing their desires to see her play characters like Kitty Pryde or Firestar.
What Else Is in Store for Emilia Clarke?
There are plenty of confirmed upcoming roles for Emilia Clarke – it's not all just speculation and theories! Naturally, the pandemic has slowed down many productions, so there were a few projects that she was meant to be signed onto that were delayed.
One big upcoming project is a theater role. Clarke was supposed to play Nina Mikhailovna Zarechnaya in a West End theater adaptation of The Seagull. The play was supposed to run in 2020 but was delayed. It is now expected to finally come to the stage in 2022.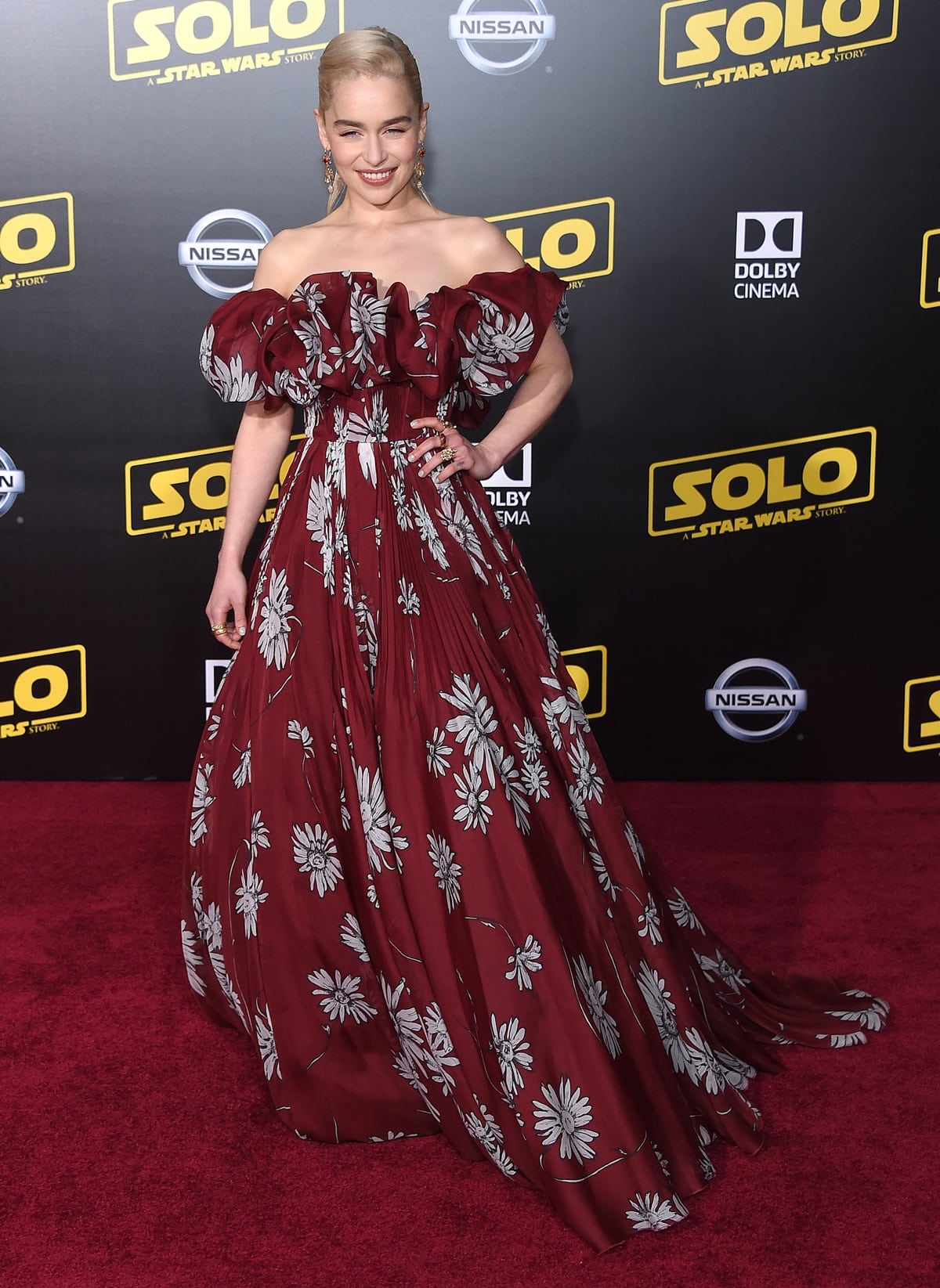 Emilia Clarke in a Valentino Spring 2018 Couture off-the-shoulder red gown with white flowers at the premiere of Disney Pictures and Lucasfilm's Solo: A Star Wars Story held at the El Capitan Theatre on May 10, 2018, in Los Angeles (Credit: DFree / Shutterstock)
On top of that, Clarke is involved in an upcoming animated film called The Amazing Maurice. She will perform the voice of Malicia.
Most excitingly, though, she will be appearing as the main character in the upcoming Disney+ series, Secret Invasion. Little is known about the series at this time, and her character hasn't been announced yet, but we do know that it is part of Phase Four of the Marvel Cinematic Universe.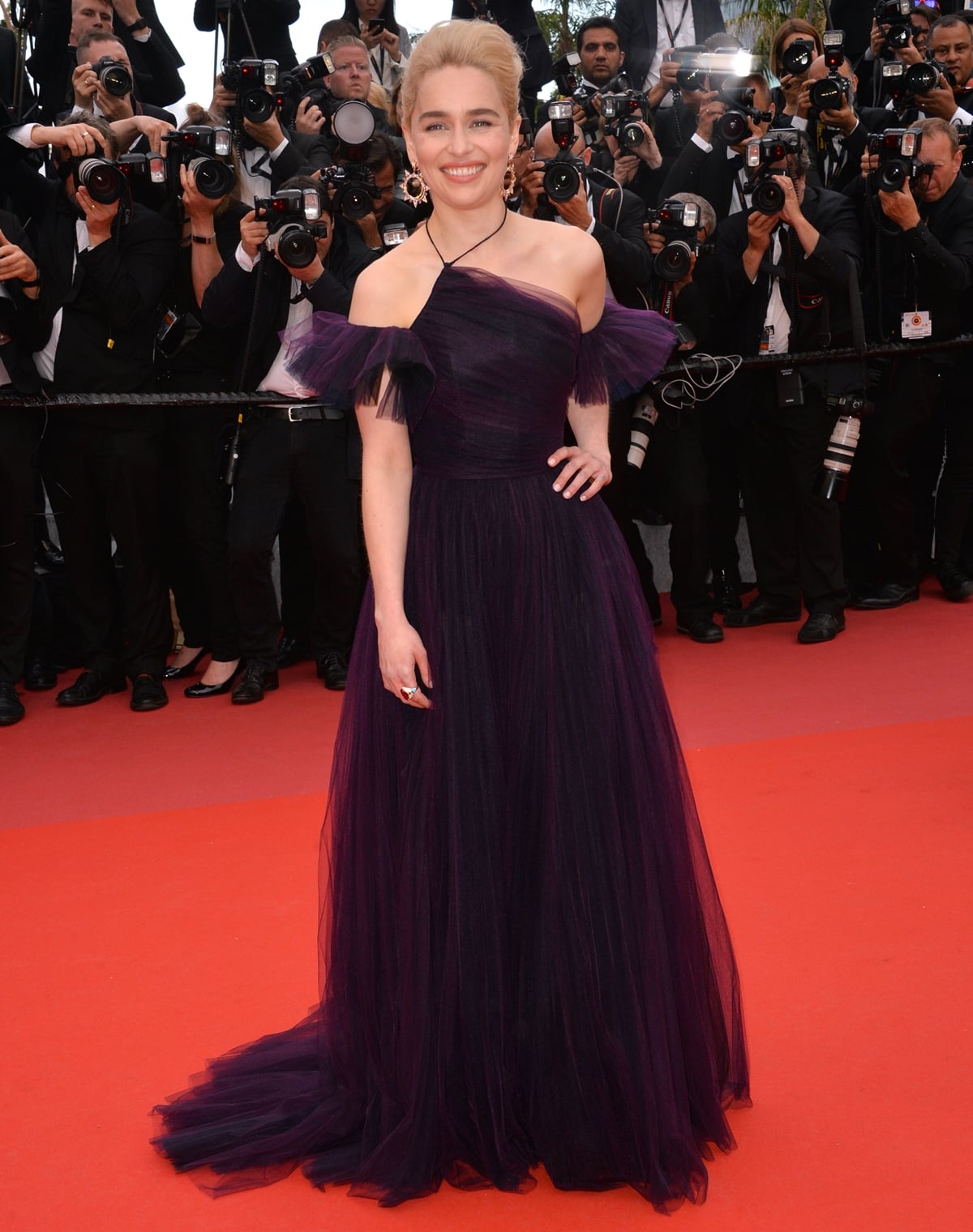 Emilia Clarke in Dior Haute Couture at the screening of "Solo: A Star Wars Story" during the 71st annual Cannes Film Festival at Palais des Festivals on May 15, 2018, in Cannes, France (Credit: Featureflash Photo Agency / Shutterstock)
Anything can happen at the MTV Movie Awards, including a sudden transformation of a "Game of Thrones" star into a "Star Wars" Jedi knight — and a well-dressed one too, at that.
Emilia Clarke shows off her brunette hair at the 2016 MTV Movie Awards at Warner Bros. Studios on April 9, 2016, in Burbank, California (Credit: WENN)
In April 2016, Emilia Clarke went from her blonde GoT character Daenerys Targaryen to a brunette Jedi engaged in a lightsaber battle at the 2016 MTV Movie Awards in Los Angeles.
Emilia wore a sequined graphic print ankle-length dress which she paired with a fun embellished clutch — both by Miu Miu.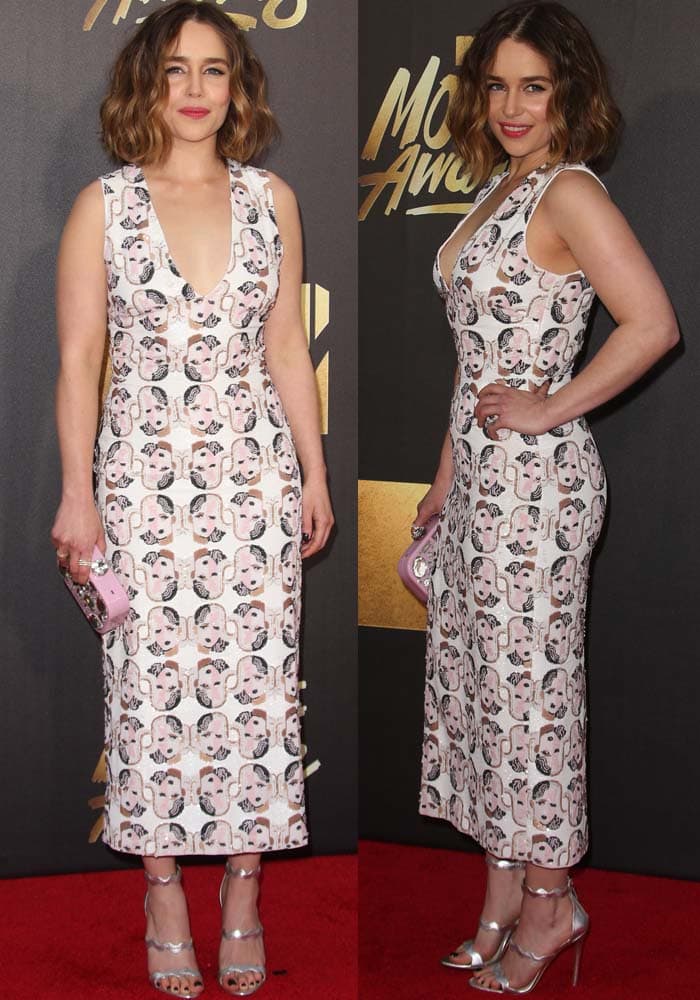 Emilia Clarke wears a graphic Miu Miu dress on the red carpet (Credit: FayesVision / Brian To / Apega / WENN)
The short actress dressed up her look with jewelry from American jewelry designer Anita Ko and a pair of triple-strapped Prada sandals in muted silver leather.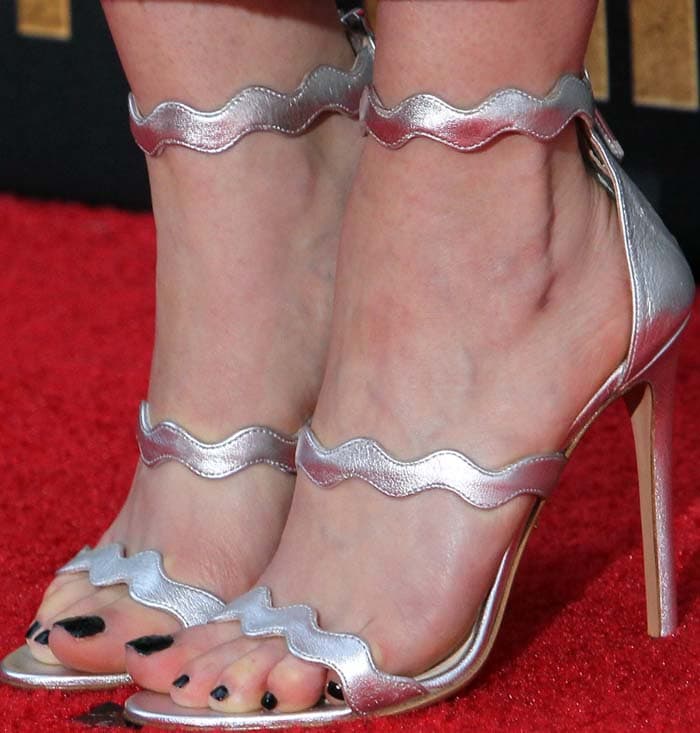 Emilia Clark's feet in silver leather Prada sandals (Credit: WENN)
We're not sure where Emilia got her lightsabers but she definitely didn't let the opportunity to handle them go to waste.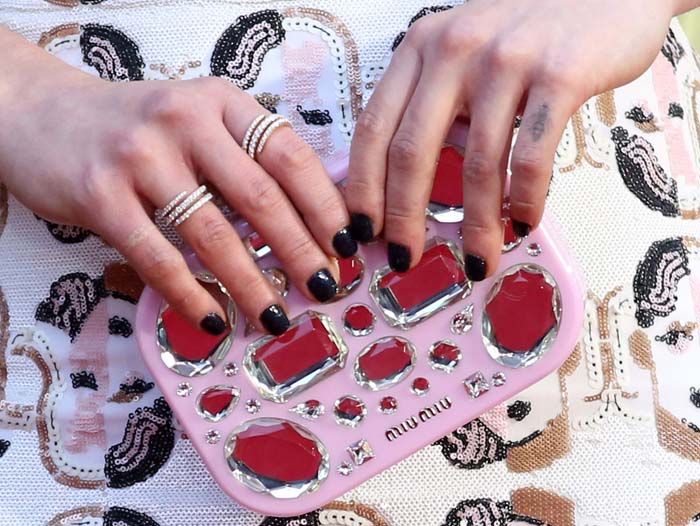 Emilia Clarke carries an embellished Miu Miu clutch (Credit: WENN)
The actress uploaded a photo of her Kedi battle with the caption, "Detectives who also happen to battle in intergalactic space.. Oh @mtvawards2016 you sure make a happy audience."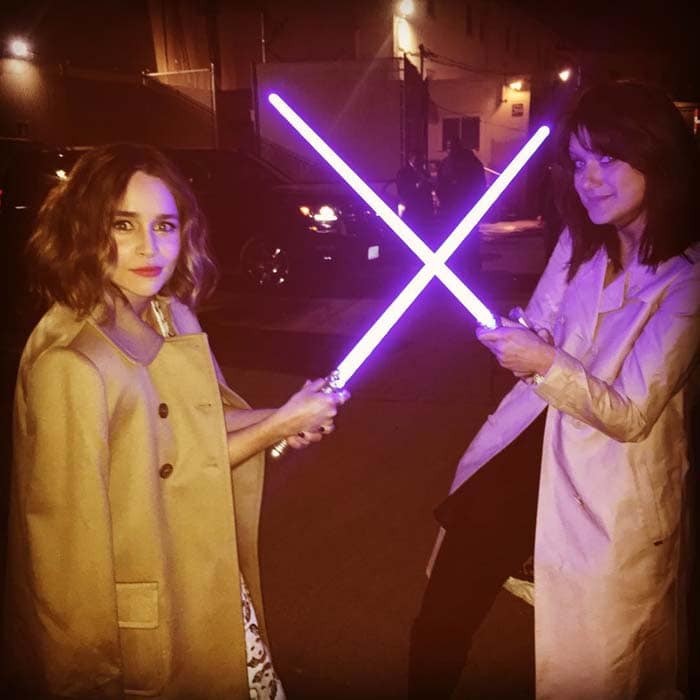 Emilia Clarke shows she knows how to with a lightsaber, a fictional energy sword featured throughout the Star Wars franchise (Credit: Emilia Clarke's Instagram)
You can order Emilia's gorgeous Prada triple-strapped wavy sandals in red suede at Nordstrom and Farfetch.
Prada Suede Triple-Strap Wavy Sandal in Rosso, $830