Okay, buckle in, because this one is a doozy.
We all know that Rosie O'Donnell is, well, strange, but in a now-deleted TikTok video, the 59-year-old actress went out of her way to embarrass herself not once, but twice.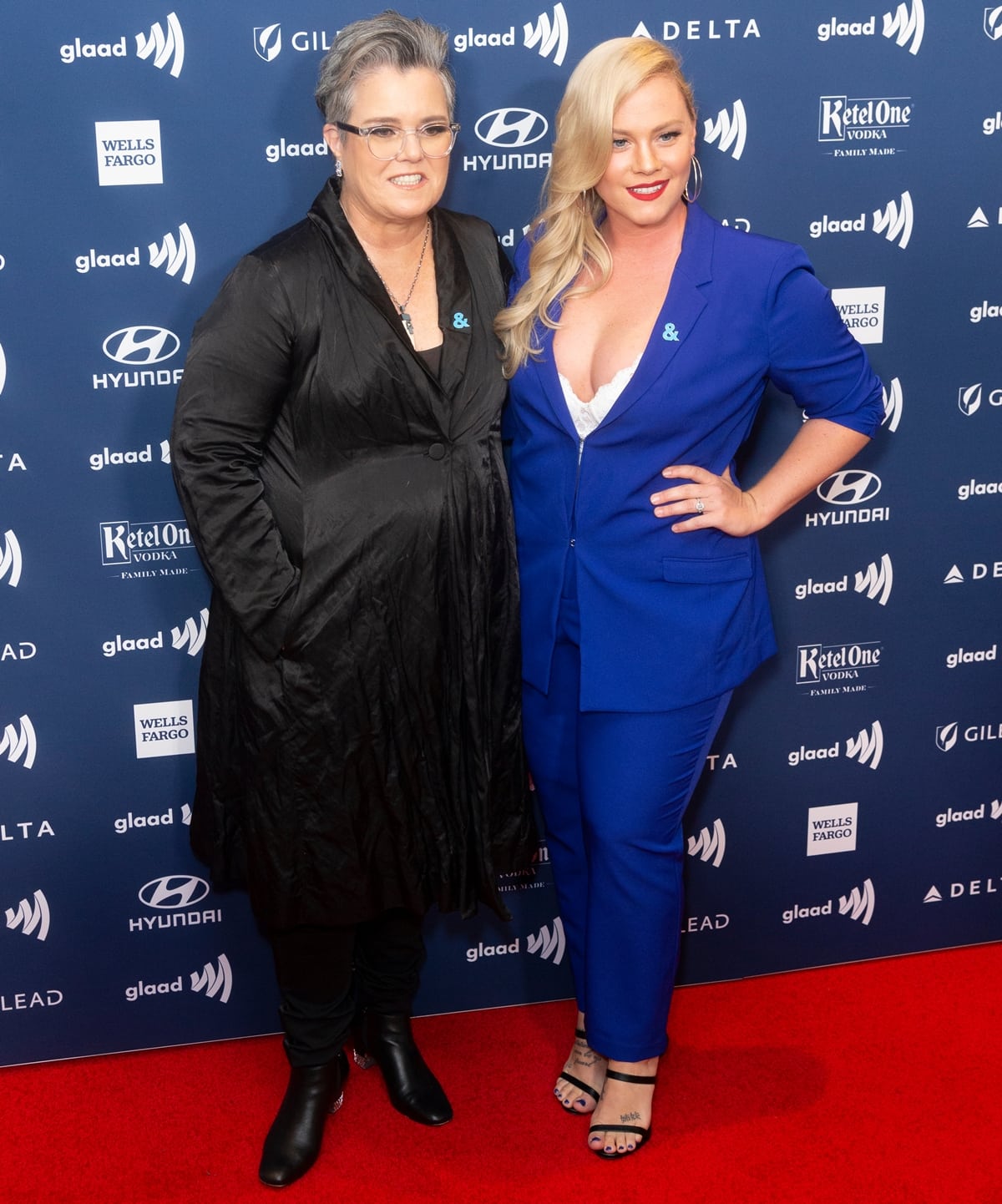 Rosie O'Donnell with her then-fiancée Elizabeth Rooney at the 30th Annual GLAAD Media Awards at New York Hilton Midtown on May 4, 2019, in New York City (Credit: Lev Radin / Shutterstock)
In the video, O'Donnell explains that she was at Nobu Malibu when she struck up a conversation with Priyanka Chopra and her husband, Nick Jonas, that ended in an embarrassing mistake.
"So when I said, 'Hi, Nick Jonas. You were great in Kingdom and 'Hi, [Priyanka]. I know your dad.' She goes, 'You do? Who's my dad?' And I'm like, 'Deepak.' She's like, 'No, and Chopra is a common name.' … I felt so embarrassed," O'Donnell says in the now-deleted video.
The wealthy comedian then finishes off with a piss-poor apology, saying, "Nick Jonas, I apologize and to the Chopra wife, I apologize too."
Rosie O'Donnell mistook Priyanka Chopra for author Deepak Chopra's daughter (Credit: s_bukley / Cubankite / Shutterstock)
WTF, Rosie?!?! First, like a racist, she assumes that Priyanka must be related to Deepak Chopra. Then, O'Donnell refers to the award-winning actress and philanthropist as 'the Chopra wife'!
Priyanka Chopra was understandably not cool with O'Donnell's attempt at an apology but handled it like a champ.
In an Instagram story, the actress wrote: "I have never taken myself so seriously to think everyone would know who I am, or my work for that matter. But if you wanted to make a public apology for a very awkward private encounter, I think probably best to take the time to google my name before doing it or even try to reach out directly. We ALL deserve to be respected for our unique individuality and not be referred to as 'someone' or 'wife' especially in a sincere apology. If we can learn to respect our differences in an authentic way, the world we raise our children in, will be amazing."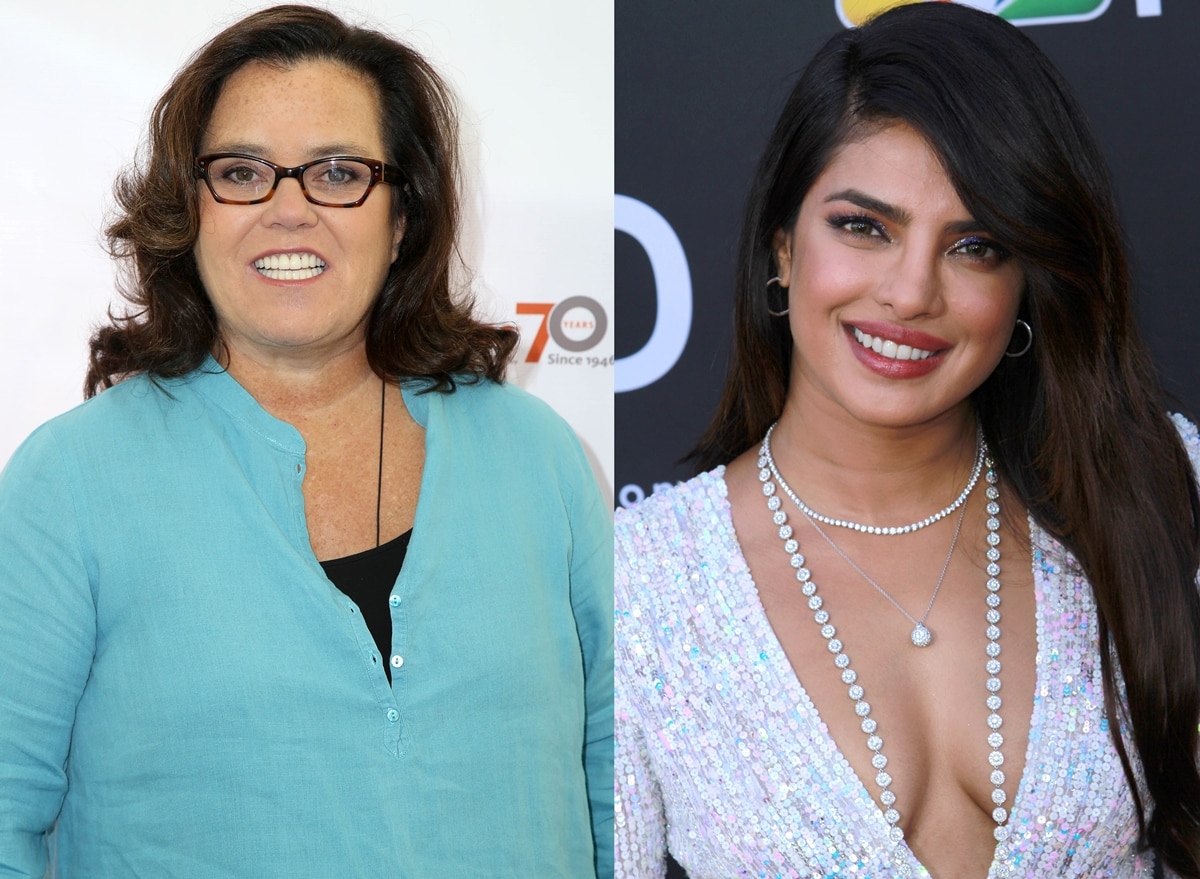 Priyanka Chopra informed Rosie O'Donnell that Chopra is a common name and that not all Indians are related (Credit: Kathy Hutchins / Shutterstock)
Rosie O'Donnell went on to apologize again, saying, "Anyway, Priyanka is her name. Priyanka. I hope I'm pronouncing that right. I just want to apologize to her and to everyone who thought that it was really inappropriate of me. Sorry, sometimes I f*ck up. I did at Nobu."
Embarrassing all-around for O'Donnell, but snaps to Priyanka Chopra for handling the situation with such grace.
Priyanka Chopra in a bathrobe dress from Vintage Halston at the 'Baywatch' world premiere in Miami on May 13, 2017 (Credit: JLN Photography / WENN)
In May 2017, Priyanka Chopra did her best to look sexy in a bedazzled bathrobe dress as she arrived at the premiere of her new film 'Baywatch' at the Lummus Center in Miami, Florida.
She was joined at the premiere by her co-stars Dwayne Johnson, Kelly Rohrbach, Ilfenesh Hadera, and Jon Bass.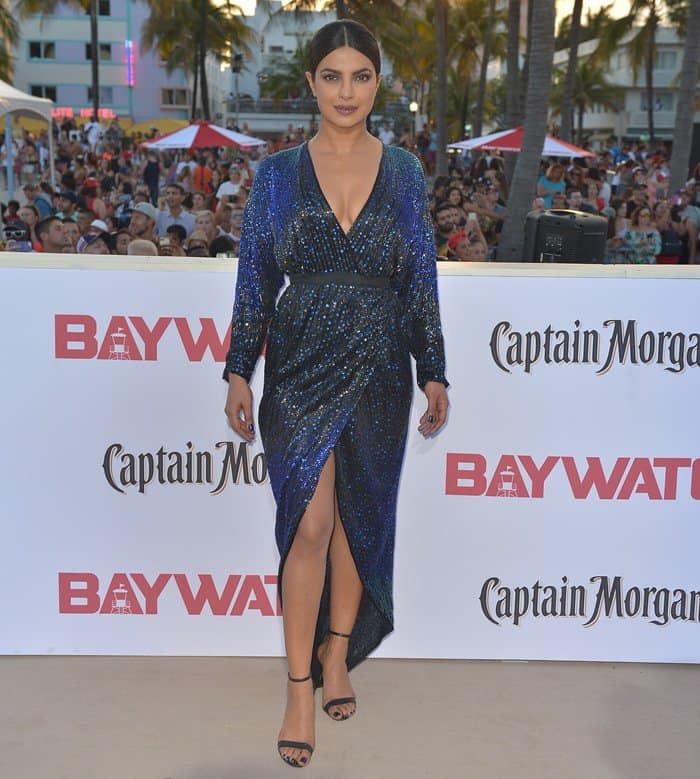 Priyanka Chopra in a blue sequin-embellished long-sleeve dress from Vintage Halston (Credit: JLN Photography / WENN)
The then 34-year-old 'Quantico' actress donned an unflattering blue sequin-embellished long-sleeve dress from Vintage Halston that failed to unleash her inner sea goddess.
While Priyanka looks good in just about anything, she pushed her fashion luck to the limits in this bathrobe dress that she styled with a satin waistband and matching sandals from Schutz that you can find at Zappos and Nordstrom.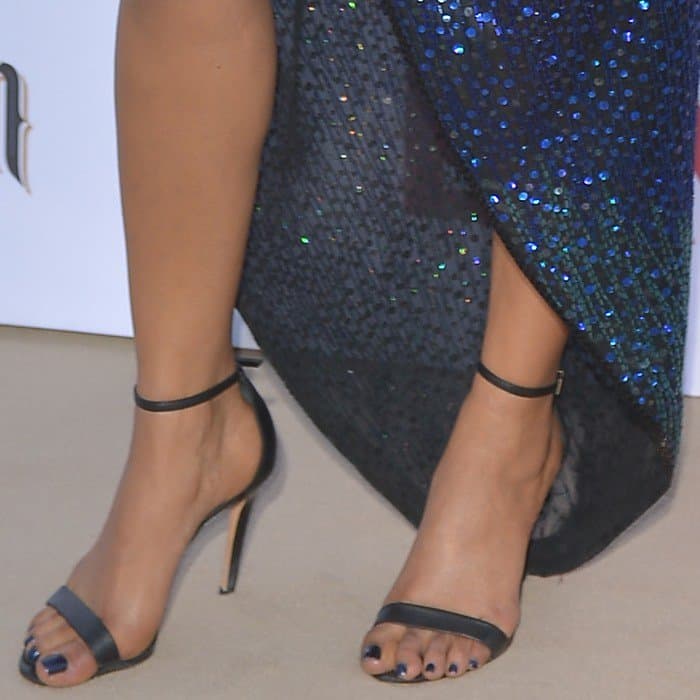 The Indian actress, singer, film producer, philanthropist, and the winner of the Miss World 2000 pageant, shows off her feet in ankle-strap sandals from Schutz (Credit: JLN Photography / WENN)