They have been dating for a month now, and it seems Katie Holmes and her new beau Emilio Vitolo Jr. are still going strong.
Just last week, the couple were spotted holding hands while strolling around SoHo in matching white tees.
Katie Holmes and Emilio Vitolo Jr. holding hands while walking around SoHo in New York City on October 1, 2020
Tom Cruise's ex-wife took a step back in time with her yellow plaid pants that were reminiscent of Alicia Silverstone's iconic yellow plaid outfit in the '90s comedy Clueless.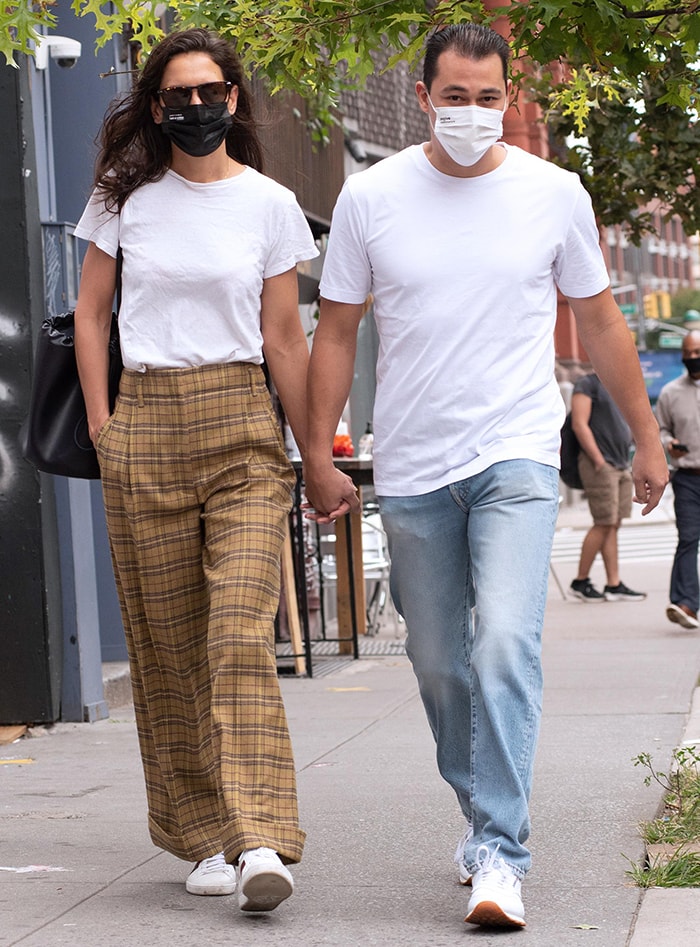 Katie Holmes steps back to the '90s in yellow plaid baggy pants and white tee
Letting her outfit do the talking, Katie skipped the jewelry and kept her look low key with tortoise sunglasses and a black EvolveTogether face mask.
The Dawson's Creek star, who has earned herself a reputation as a style icon, accessorized with a Sharkchaser Bubble bag.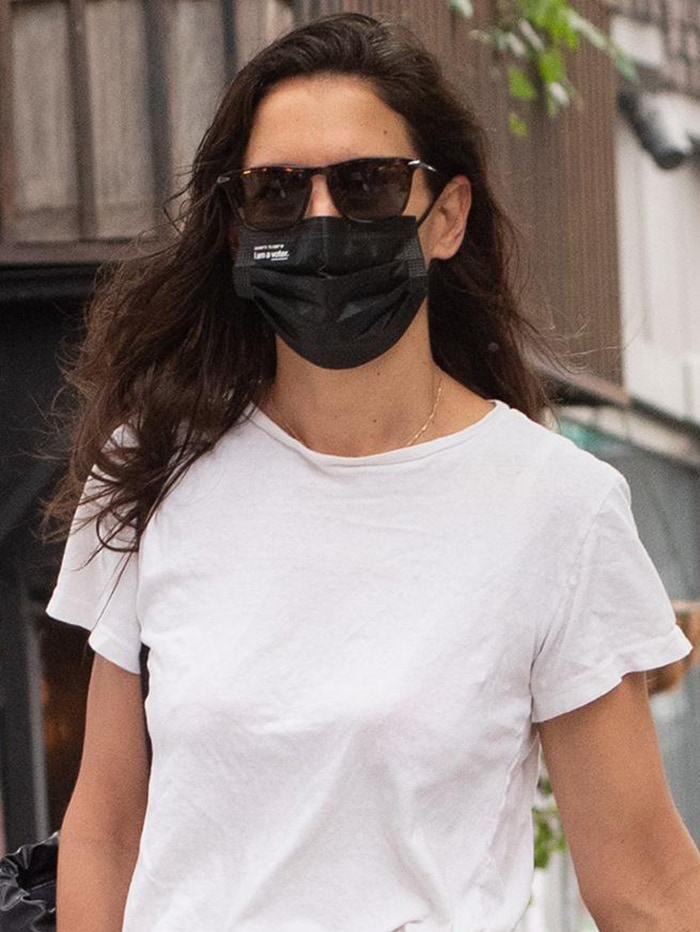 Katie Holmes wears her hair loose and keeps a low-key look with sunglasses and face mask
To finish off her outfit, Katie opted for the classic pair of Gucci New Ace sneakers.
Crafted from white leather, these sneakers have a low-top silhouette with the luxury label's signature red and green stripes, golden bee embroidery, and contrasting red and green heel tabs.
Katie Holmes completes her chic look with Gucci sneakers
Gucci 'New Ace' Sneakers, $650 at Nordstrom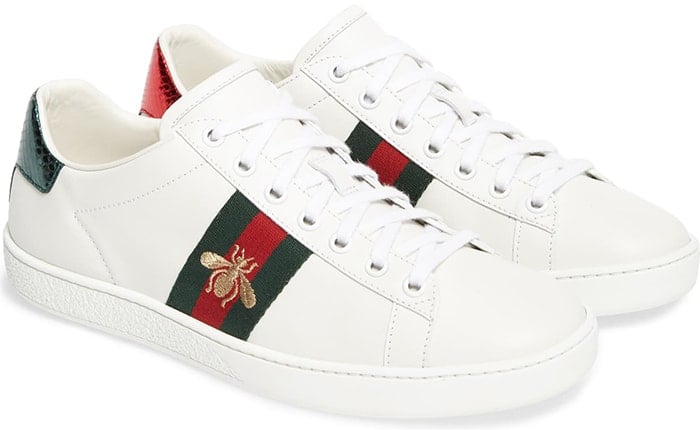 Golden bee embroidery and striped webbing bring iconic Gucci house codes to this sneaker while contrasting heel tabs reference the brand's official colors
Meanwhile, her new boyfriend Emilio looked fresh in a white tee with light-washed jeans and white sneakers. He wore a similar face mask in white from EvolveTogether to prevent the spread of coronavirus.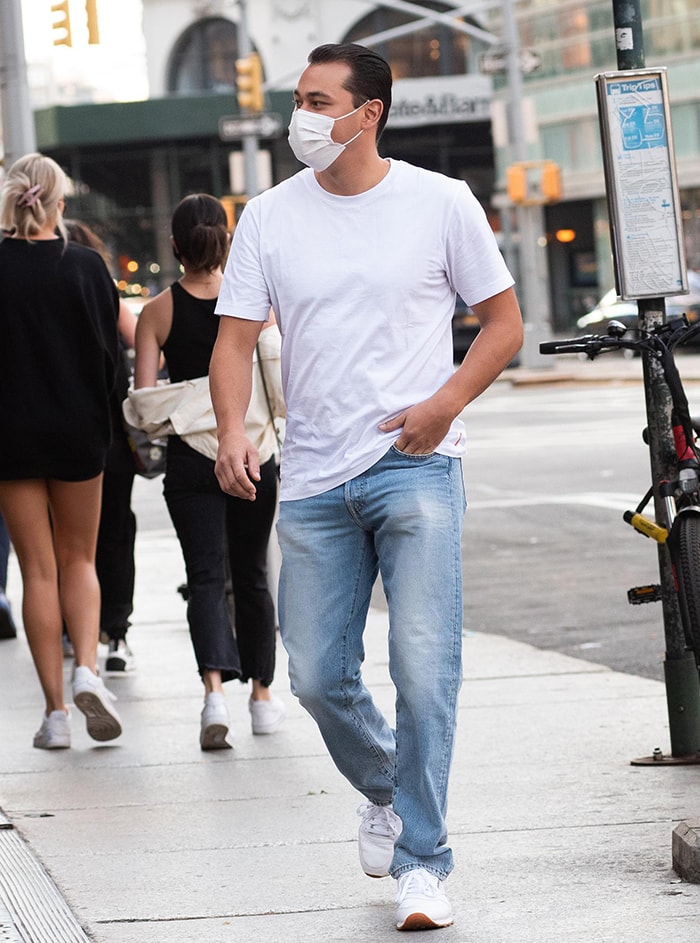 Emilio Vitolo Jr. looks fresh in a white tee, denim jeans, and white sneakers
Katie Holmes Meets Boyfriend's Father Emilio Vitolo Sr.
Two weeks ago, Katie and Emilio took their relationship to the next level as they were spotted having lunch with her boyfriend's father, Emilio Vitolo.
Katie Holmes lunches with boyfriend and his dad, Emilio Vitolo Sr., at Emilio's Ballato in NYC on September 25, 2020
The three seemed to be getting along well while dining al fresco at the Vitolo's family-owned restaurant, Emilio's Ballato.
"Emilio Sr. seemed very happy with Katie," a source told Us Weekly. The insider added that Emilio's friends think Katie is "great for him."
"Emilio is into Katie. Whenever he's asked about her, he blushes and smiles. They are always laughing when they're together. It's constant smiles and loving looks between them and Emilio's friends more than approve of Katie."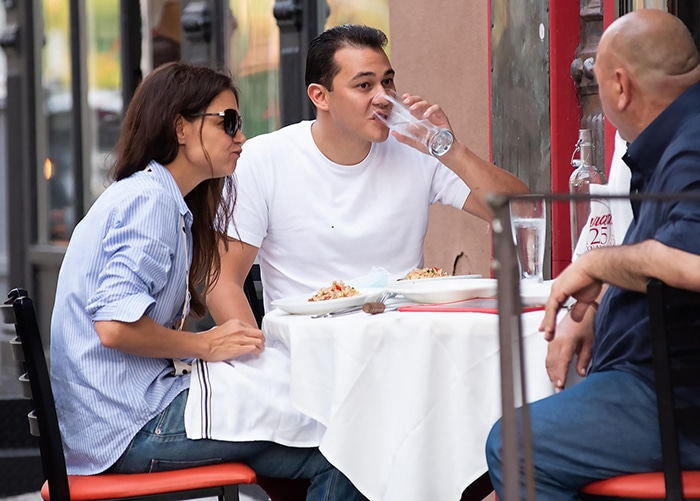 Katie Holmes seems to be getting along with her boyfriend's father
For the lunch out, the 41-year-old actress wore a blue-and-white striped shirt, styled with a black-and-white dotted tie, and paired with baggy jeans.
She teamed her look with oversized sunglasses and her favorite Gucci Jordaan loafers.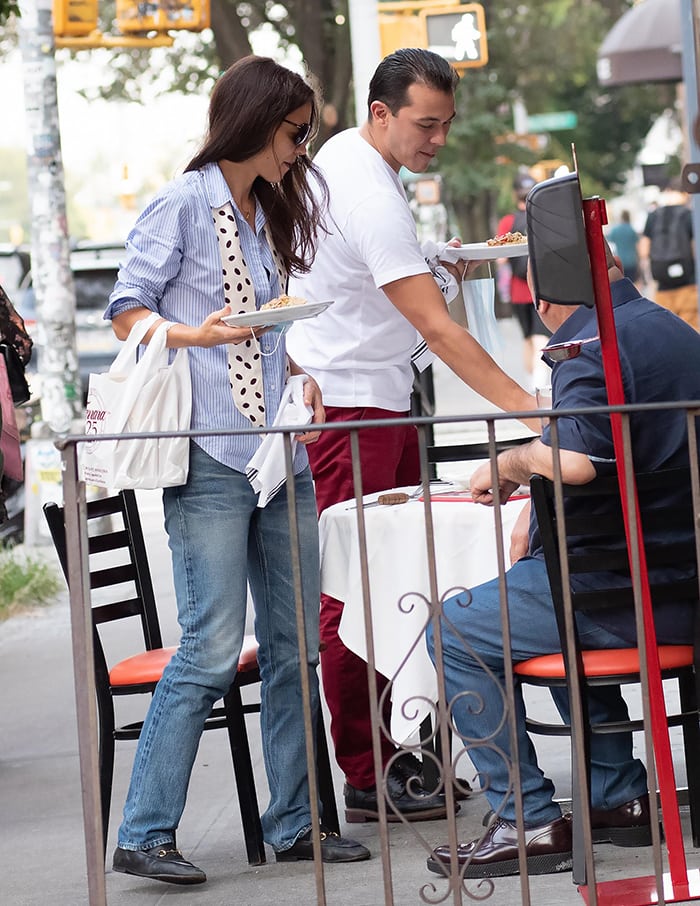 Katie Holmes wears a striped blue-and-white shirt with baggy jeans and Gucci loafers for the lunch out
Lourdes Vitolo is unhappy about Emilio and Katie's relationship
While their friends and Emilio Vitolo Sr. approve of their relationship, there's one person that wasn't exactly thrilled—his mom, Lourdes.
Based on previous reports, Emilio dumped his fiancée, Rachel Emmons, just days before photos of him kissing Katie surfaced.
Lourdes was "furious" about how Emilio ended things with Rachel and that his new relationship with Katie Holmes upset her, according to Page Six.
"[Lourdes] thinks she brought him up better than that. She didn't like how [Emilio] handled this at all."
However, another source revealed that things weren't going well between the former couple before Katie showed up.
An insider familiar with Emilio's family said: "He and fiancée were taking it slow, and it wasn't working out."
"He likes older women. He dated an older anchor at Fox, and others, so he has a history with older women," the insider added.
Credit: Instar / WENN