Describing herself as being of Polish-Israeli descent, Emily O'Hara Ratajkowski was born to American parents on June 7, 1991, in Westminster, London, England.
Her mother, Kathleen Balgley, is a professor, and her father, J. D. Ratajkowski, is an art teacher and painter. Despite being born in the U.K., Emily was raised in San Diego, California, from a young age.
She has a diverse ethnic background, with her heritage being 25% Polish and 25% Ashkenazi Jewish. The remaining 50% is a mix of Irish, complemented by some German and English roots and a distant trace of Welsh ancestry.
Emily Ratajkowski with her mother, Kathleen Balgley, who was raised Catholic and discovered her Jewish roots as an adult (Credit: Daniel Robertson / Startraksphoto)
Emily's father boasts half-Polish ancestry. His other ethnic roots include Irish, German, English, and even a touch of distant Welsh heritage. On the maternal side, Emily's grandfather was a Polish Jewish immigrant, while her grandmother had Irish and German origins.
Both of Emily's parents were raised in the Catholic faith. Interestingly, Emily's mother discovered her father's Jewish heritage as an adult, leading her to embrace Judaism. This connection to Judaism is further exemplified by Emily's mother teaching at a Jewish school.
Does Emily Ratajkowski speak Polish?
No, she only speaks a few words of Polish. On September 30, 2013, Emily Ratajkowski took to Twitter to respond to a user who asked about her knowledge of Polish.
Emily also revealed that her favorite book is Super Sad True Love Story, the third novel by Soviet-born American writer Gary Shteyngart that you can buy on Amazon.
She tweeted: "@yashodara2045 I only know a few words in Polish! I wish I spoke fluently. My fav book is 'Super Sad True Love Story.' Thx for the support!"
Emily Ratajkowski indicated that she only knows a few words in Polish and expressed a wish to speak the language fluently (Credit: Emily Ratajkowski's Twitter)
Emily Ratajkowski is setting the record straight on pronouncing her last name. In a February 2023 video on the Tory Burch official TikTok page, when questioned about the correct way to say her surname, the model promptly clarified, saying it's "Rat-ah-COF-sky."
The interviewer's surprised reaction was a simple, "Oh my God." Emily, who has identified her lineage as "Polish-Israeli," emphasized, "I'm Polish. That's the pronunciation."
This explanation came after Emily had previously hinted at the correct pronunciation by commenting, "It's 🐀🐄🎿everyone! Liana and I are both Eastern European so I was being playful! This is how you say it in Polish!"
Emily Ratajkowski Covers Up in Modest Red Outfit for Marie Claire's Fresh Faces Event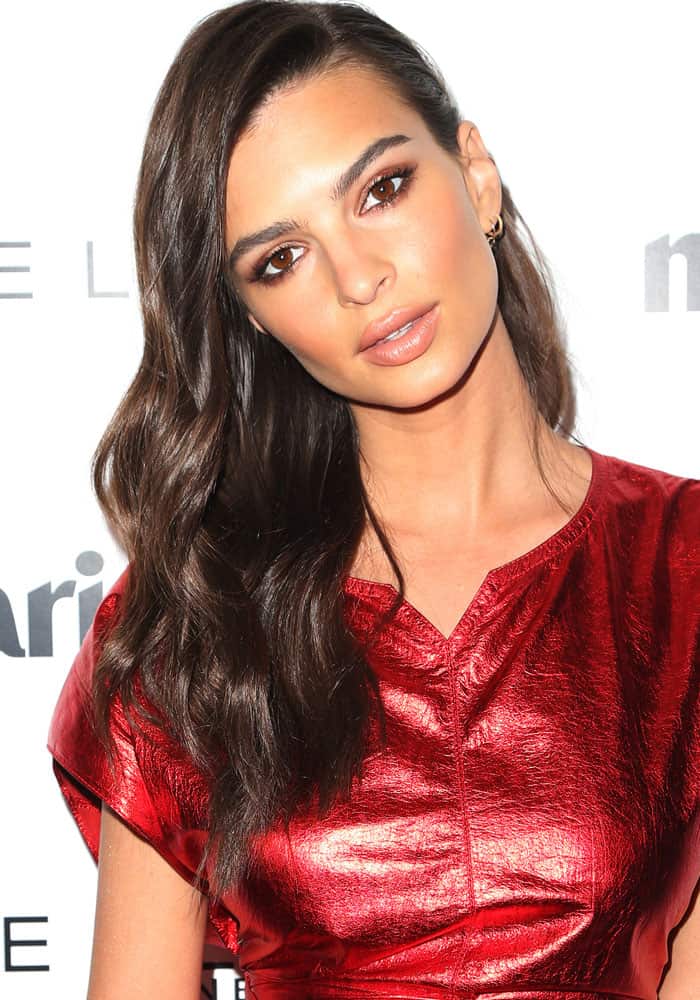 Emily Ratajkowski wears Alison Lou Girl Power single huggy hoop earring with a metal red Isabel Marant Daren top at Marie Claire's "Fresh Faces" in West Hollywood on April 21, 2017 (Credit: FayesVision / WENN)
We're so accustomed to seeing Emily Ratajkowski baring her skin that it's a bit of a surprise when she covers up — though, somehow, she still exudes sex appeal.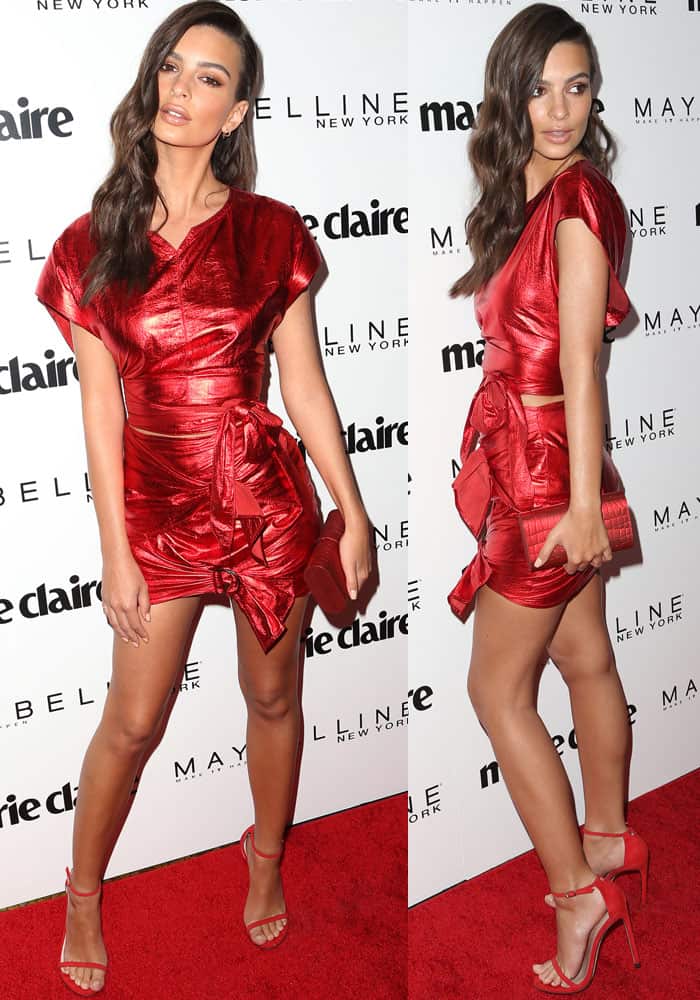 Emily Ratajkowski flaunted her legs in a striking Isabel Marant Doll mini skirt, showcasing her signature captivating charm (Credit: FayesVision / WENN)
In April 2017, the iCarly actress still caught our attention as she went modest for Marie Claire's "Fresh Faces" event in an all-red outfit.
Emily Ratajkowski displays her feet in red Stuart Weitzman Nudist sandals (Credit: FayesVision / WENN)
Emily proved that you don't have to show skin to be sexy, though we're pretty sure she looks sexy no matter what.
Emily Ratajkowski went matchy-matchy with a red pair of Stuart Weitzman "Nudist" sandals (Credit: FayesVision / WENN)
The Blurred Lines actress wore a two-piece bow-detailed outfit by Isabel Marant, consisting of the "Daren" top and "Doll" skirt in metallic red leather.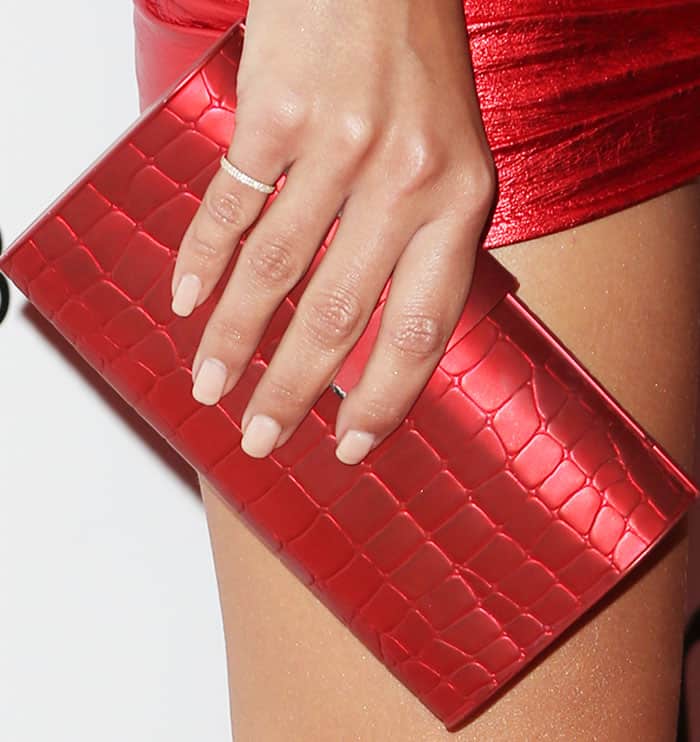 Emily Ratajkowski added the final touch to her look with an Edie Parker embossed clutch (Credit: FayesVision / WENN)
Emily finished her look with a reptile print-embossed Rebekah clutch by Edie Parker and a pair of Stuart Weitzman "Nudist" sandals in red suede.
The actress kept her makeup simple to balance out the strong colors.
Emily Ratajkowski went for a nude makeup look to balance out her red ensemble (Credit: FayesVision / WENN)
We love that Emily can look sexy without bearing too much skin. For her, a little bit of leg goes a long way.
Overall, we love her Isabel Marant look. The buckled skirt and knotted waist flowed seamlessly, and the loose sleeves balanced out the tight midsection.
You can shop Emily's red-hot Stuart Weitzman "Nudist" sandals at Nordstrom and Zappos.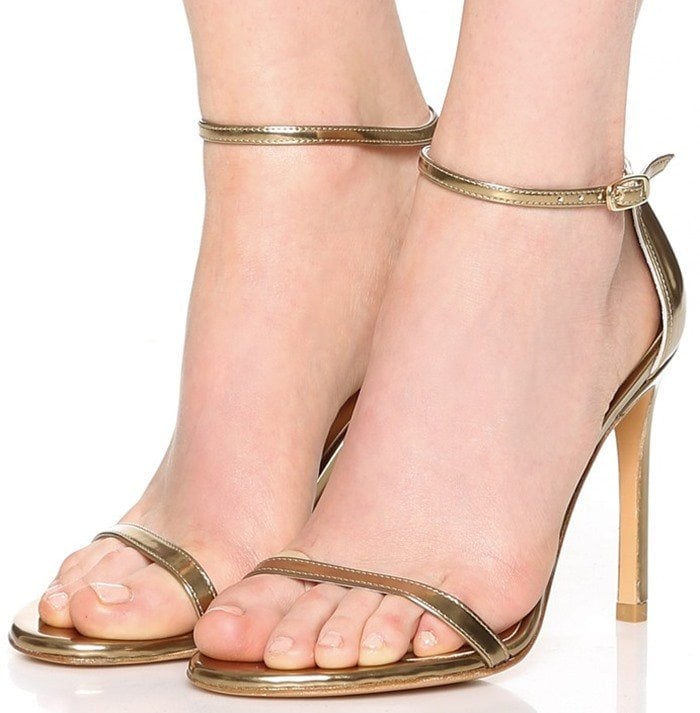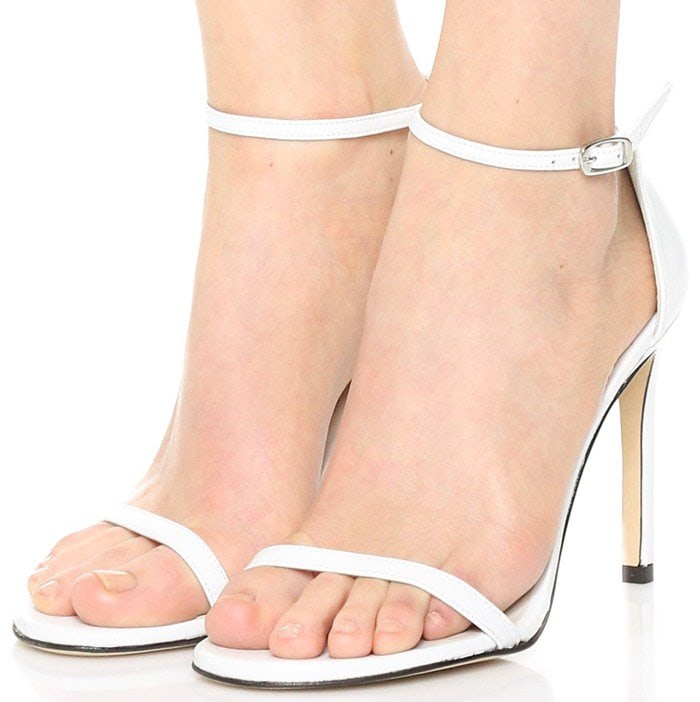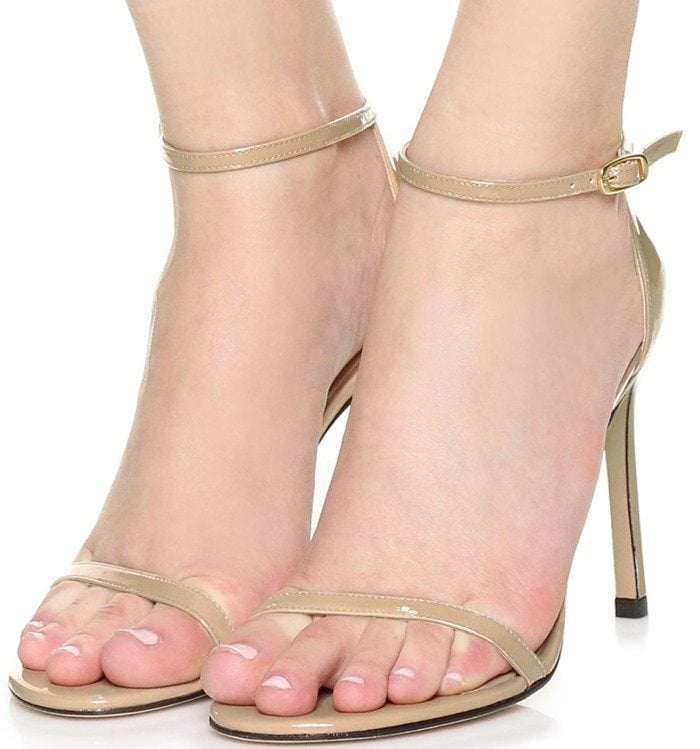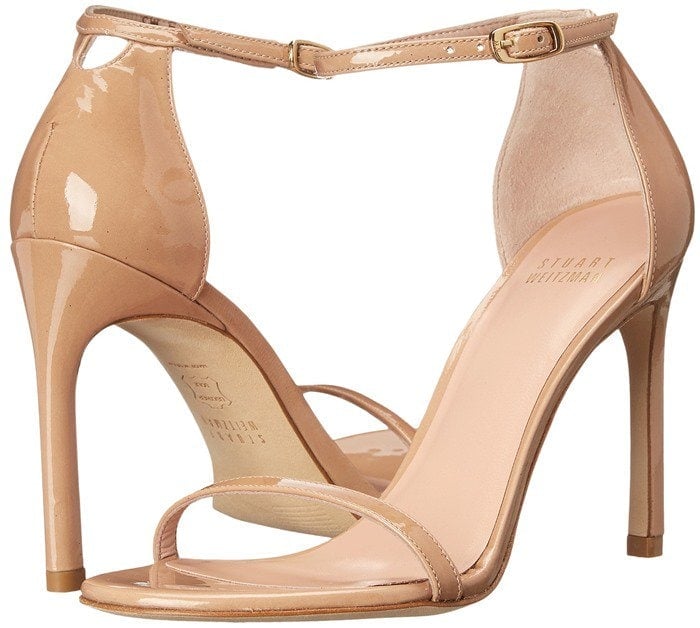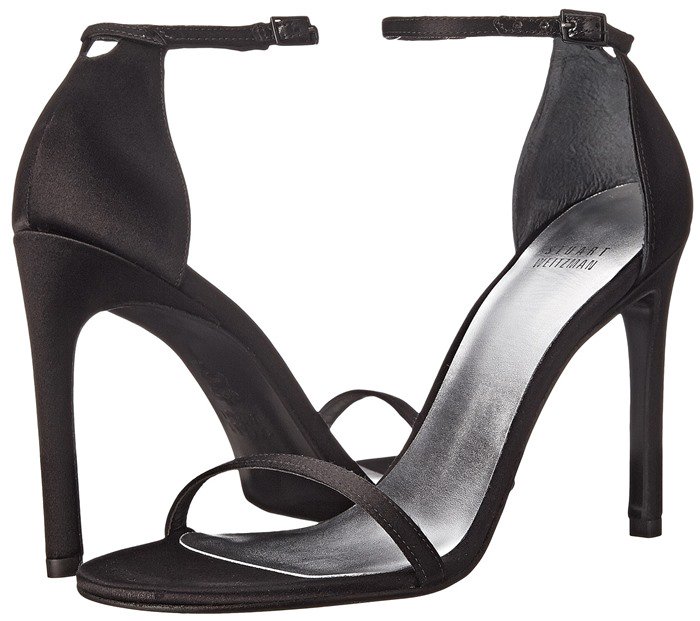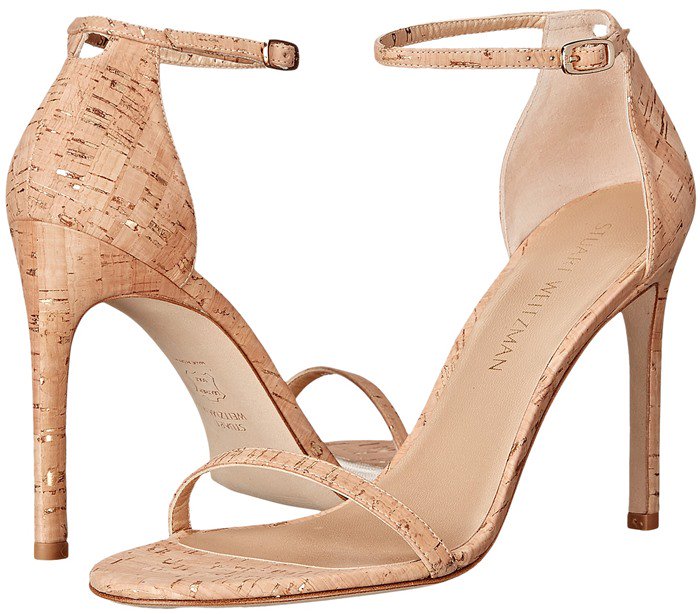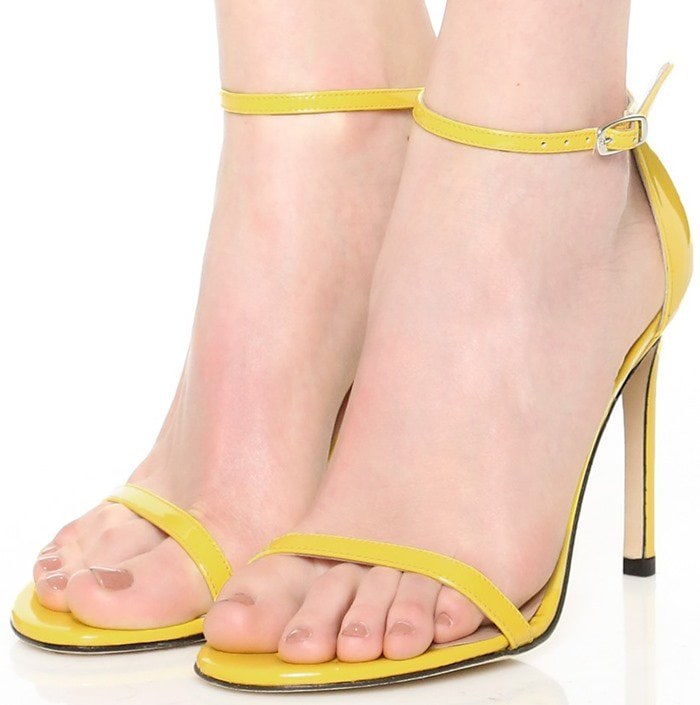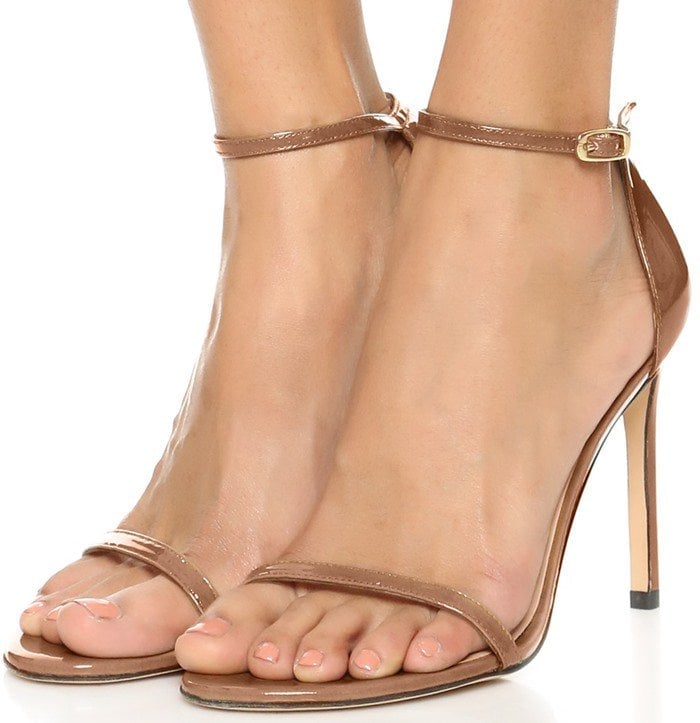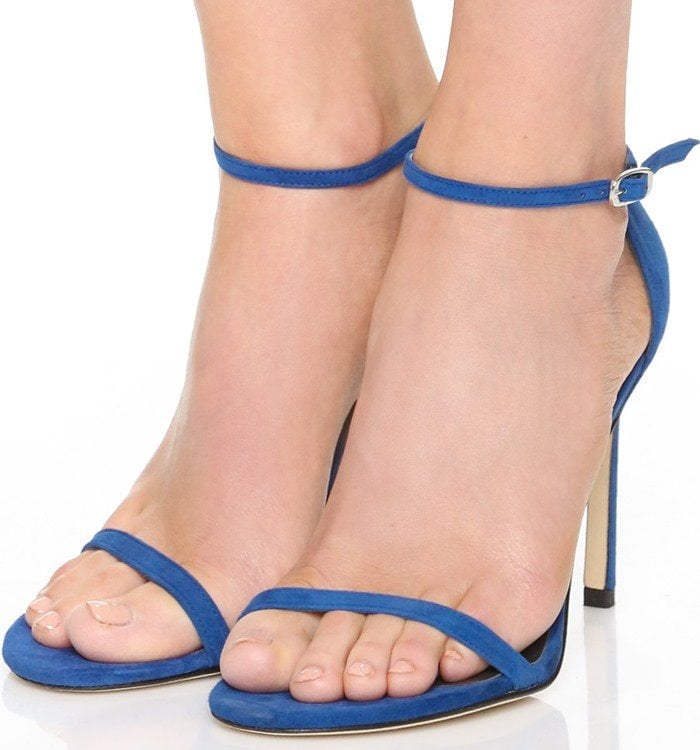 Stuart Weitzman "Nudist" sandals, $172.43 – $435