Since her onscreen debut in Blow (2001), Emma Roberts has made quite the name for herself in Hollywood due in part to her familial relationships with other big-name stars (her aunt Julia Roberts is a famous actress, as is her father, actor Eric Roberts), and due to her skills as an actress in her own right.
Emma was born in 1991 in Rhinebeck, New York, a historical town with under 3,000 people. Her parents divorced when she was only seven months old.
Shirley MacLaine, Julia Roberts, and Emma Roberts at the Los Angeles premiere of 'Valentine's Day' held at the Grauman's Chinese Theater in Hollywood on February 8, 2010 (Credit: Tinseltown / Shutterstock)
Growing up, Emma spent a large portion of her youth on the film sets of her aunt Julia, which inspired her to pursue a career in acting, much to her mother's chagrin.
Since 2001, Roberts has appeared in 38 feature films, from the aforementioned Blow in 2001 until her appearance in the film Holidate in 2020.
In this article, we'll look at the top 10 most critically successful films in Emma Roberts's filmography according to Rotten Tomatoes, commenting on those films (and her roles within them) and tracing the different points of her career when the films were released. Let's dive in!
10. In A Relationship (2018) – 60% Critics / 41% Audience Score
Released in 2018, this romantic drama film stars Emma Roberts alongside actors Michael Angarano, Dree Hemingway, and Patrick Gibson. The film centers around two different couples across the span of one summer in Los Angeles.
Emma plays Hallie, a woman in her mid-20s, as she navigates through her relationship with Owen, her long-time boyfriend.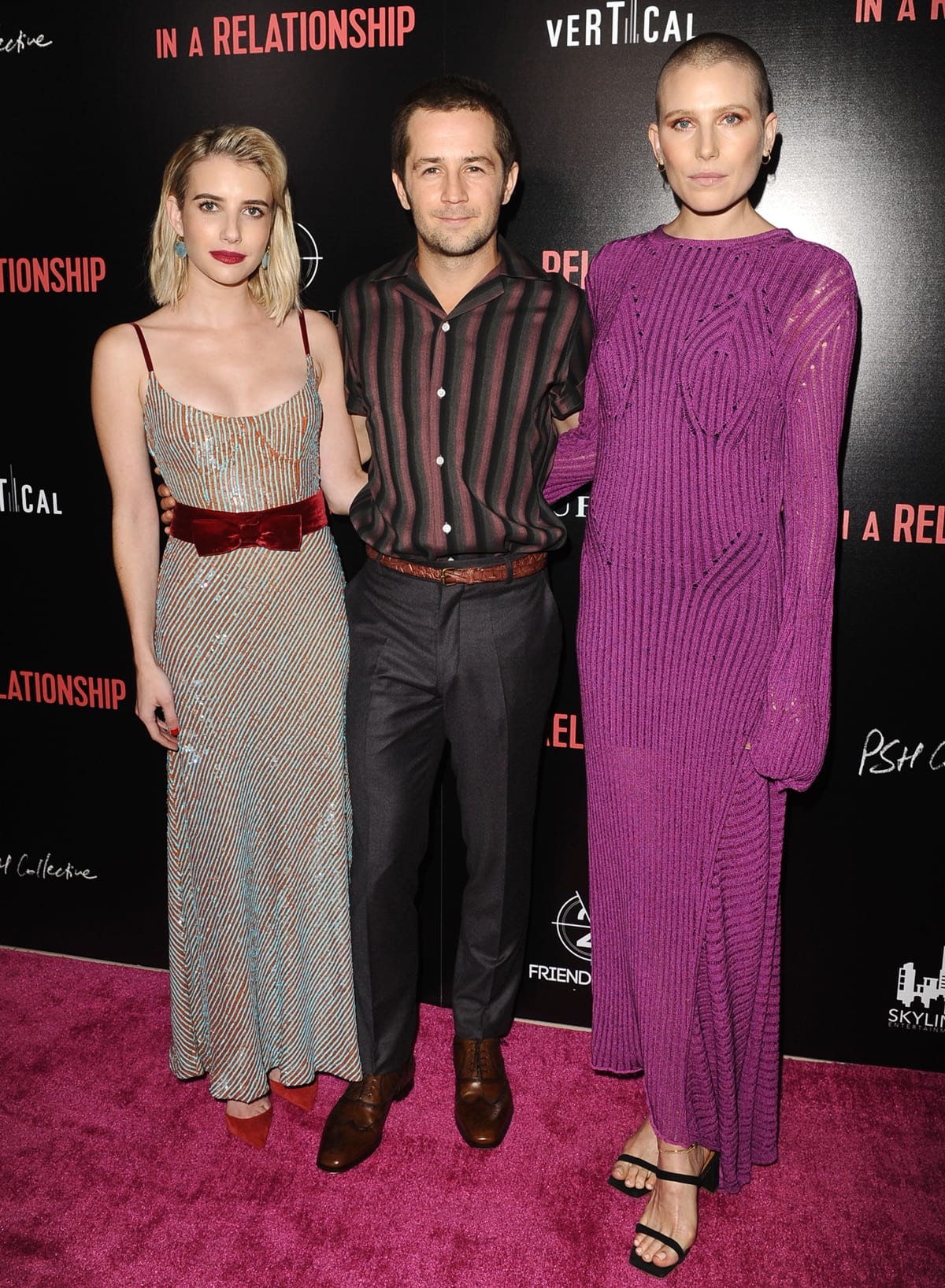 Emma Roberts in a custom sequin Markarian dress with Michael Angarano and Dree Hemingway at the "In a Relationship" Premiere at The London Hotel on October 30, 2018, in West Hollywood, California (Credit: Michael Simon / Startraksphoto)
She was 27 when she starred in this film. One interesting note is that Roberts also acted as an executive producer for the film, in addition to her role as the lead actress.
The film received a mixed response, with some appreciating the comedic aspects of the film, while others claimed it was derivative and somewhat boring.
Audiences seemed to side with the more negative critical reviews, as the audience score for this film is lower than the critic score.
9. Scream 4 (2011) – 61% Critics / 56% Audience Score
Released 11 years after the previous entry in the storied meta-slasher franchise, Scream 4 saw the return of the original cast members (David Arquette, Neve Campbell, and Courtney Cox) alongside a batch of fresh-faced characters, which included Emma Roberts as Jill Roberts, the cousin of Sidney Prescott, who was the protagonist in the first Scream film.
Actresses Emma Roberts and Hayden Panettiere flaunt their legs at the "Scream 4" World Premiere at Grauman's Chinese Theatre on April 11, 2011, in Hollywood, California (Credit: Featureflash Photo Agency / Shutterstock)
The role was initially offered to actress Ashley Greene, but Emma Roberts ended up receiving the role at the age of 21.
While initially appearing like an innocent victim of the serial killer Ghostface, Jill becomes the mastermind behind the murders within the film. She seeks fame as the sole survivor of the recent attacks.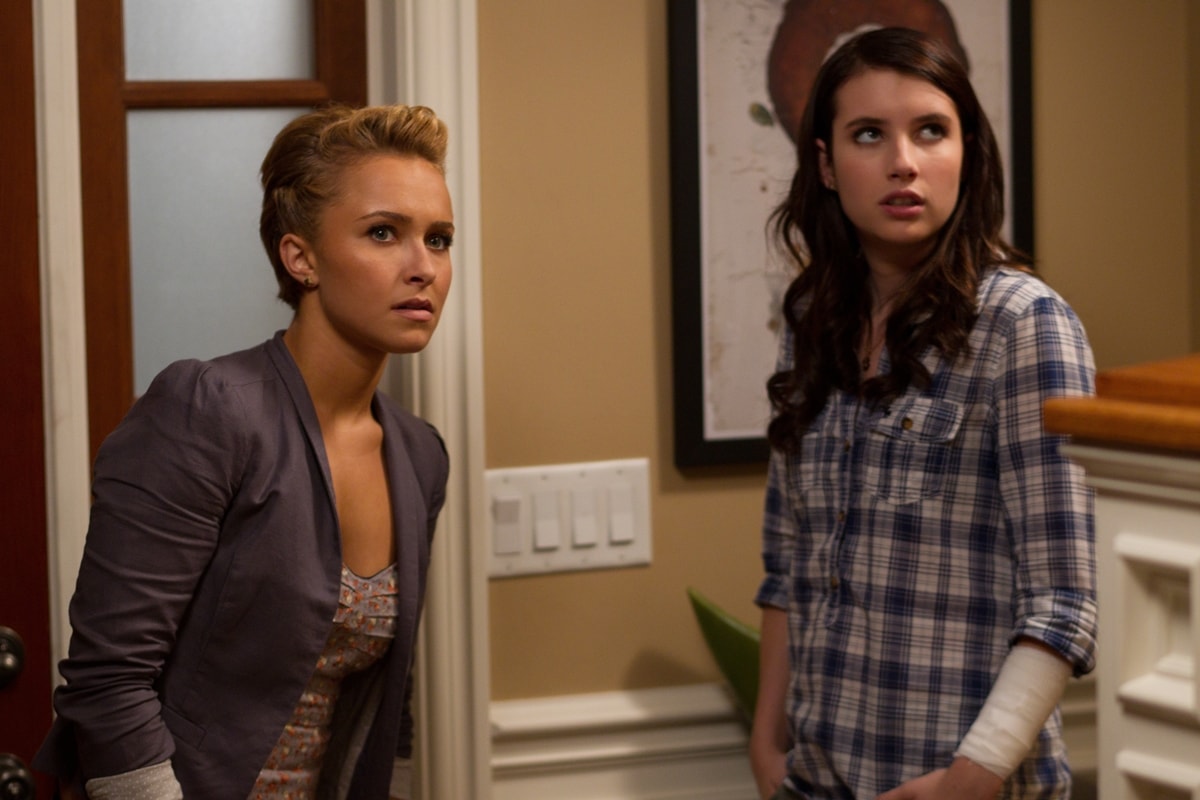 Hayden Panettiere as Kirby Reed and Emma Roberts as Jill Roberts in the 2011 American slasher film Scream 4 (Credit: Dimension Films)
Like In A Relationship, critical reception to the film was mixed, with many remarking on the cleverness of the premise, while others derided the film (and the franchise as a whole) for being quite stale by 2011. Audiences, for the most part, agreed with the mixed critical assessment.
8. I Am Michael (2015) – 62% Critics / 37% Audience Score
A biographical film involving a gay activist who turns away from his homosexuality to become a Christian pastor, I Am Michael was released when Emma Roberts was 24 years old.
In the film, Roberts plays the role of Rebekah Fuller alongside actors James Franco and Zachary Quinto.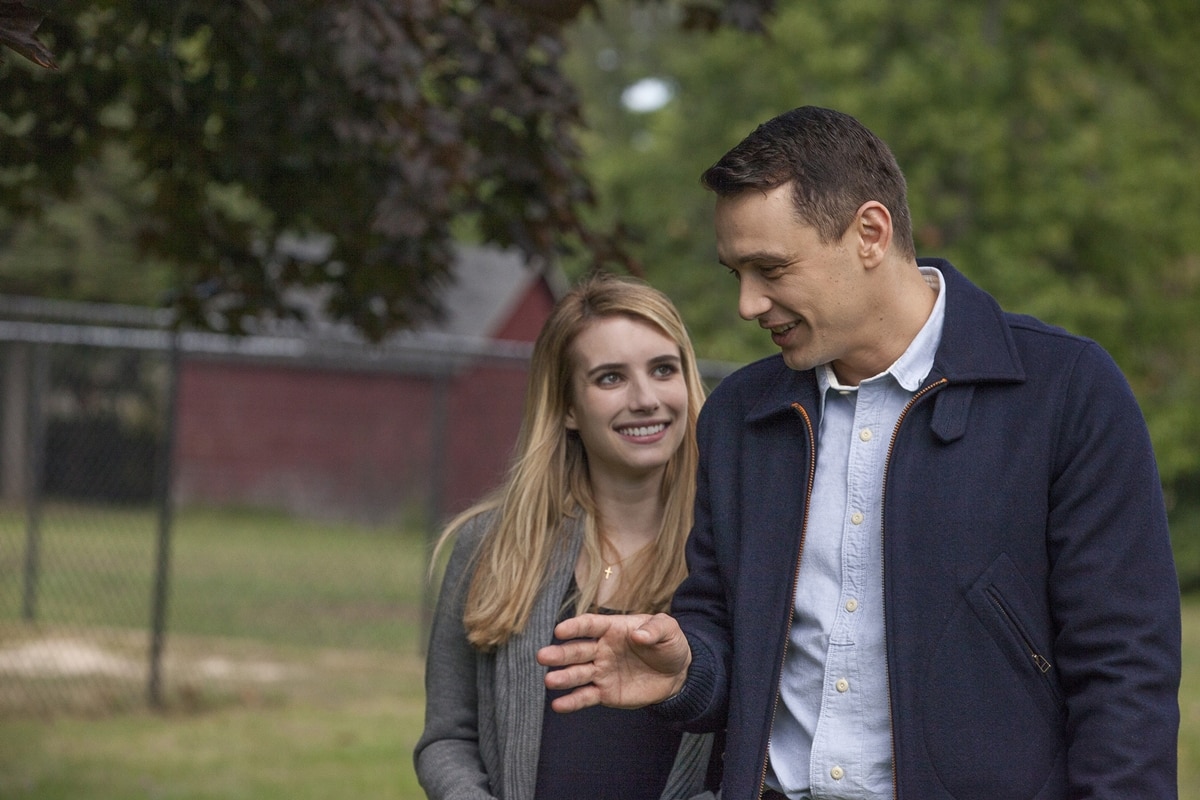 James Franco as Michael Glatze and Emma Roberts as Rebekah in the 2015 American biographical drama film I Am Michael (Credit: Brainstorm Media)
Rebekah is a religious woman whom Michael Glatze (Franco) meets in a small Christian Bible school in rural Wyoming – eventually becoming his girlfriend, despite Glatze's repressed homosexuality.
Critical reception to the film was mixed, as the director Justin Kelly attempted to remain impartial in his portrayal of Michael Glatze's life – a fact which some reviewers appreciated but others disliked. Audiences apparently disliked it as well, as evidenced by the 37% audience score for the film.
7. Lymelife (2008) – 63% Critics / 52% Audience Score
An earlier film in Robert's filmography, Lymelife was released when Emma was only 17 years old.
A comedy-drama film that centers around two families in Long Island, New York, the film was written by brothers Derick and Steven Martini, who based the film on aspects of their upbringing in the state of Long Island.
In the film, Emma plays Adrianna Bragg, a teenager who acts as the love interest for Scott Bartlett, the protagonist (played by actor Rory Culkin – who was also in Scream 4!).
Rory Culkin as Scott Bartlett and Emma Roberts as Adrianna Bragg in the 2008 American comedy-drama film Lymelife (Credit: Screen Media Films)
The film deals with the two families as they grapple with issues surrounding relationships, and an outbreak of Lyme disease (hence the title of the film).
As with most films at this point of our list, the critical reception was mixed, though many critics did have positive things to say about the film. In a review from critic Caryn James, she remarked "Roberts moves one step closer to adult stardom."
Audiences had a slightly more negative outlook on the film, with many viewing it as a more standard coming-of-age film.
6. Nerve (2016) – 66% Critics / 66% Audience Score
In a move that saw Roberts switching over to the thriller genre, Nerve was released when Emma Roberts was 25 years old.
Starring alongside Dave Franco and Juliette Lewis, Roberts stars as Vee, one of the players in a high-stakes truth-or-dare online game, which sees the contestants face increasingly more risky challenges as they compete for a large cash prize.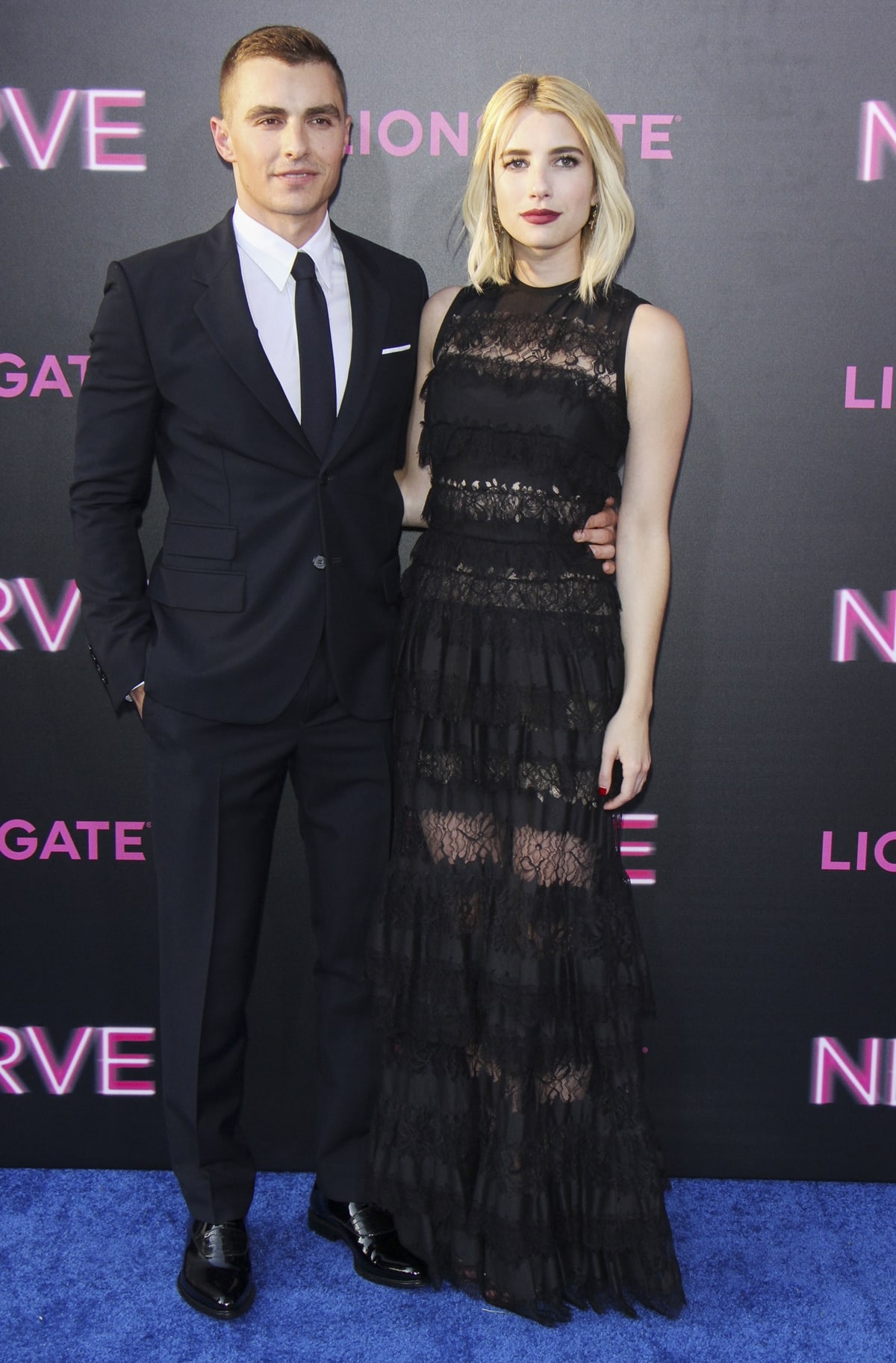 Dave Franco and Emma Roberts in a ruffled Elie Saab gown attend the "Nerve" New York premiere at SVA Theater on July 12, 2016, in New York City (Credit: INFphoto / Roger Wong)
Directors Henry Joost and Ariel Schulman drew upon the themes they explored in previous works (including their hit documentary Catfish), with this online-based thriller film.
Critical reception to the film was positive, although some critics remarked that they disliked the ending of the film, as it did not maintain the overall tone and messaging of the entire film. Audiences for the most part agreed as well.
5. Paradise Hills (2019) – 67% Critics / 69% Audience Score
Paradise Hills is an interesting project for Emma Roberts – as it is a Spanish science fiction film acting as Spanish film director Alice Waddington's feature directorial debut. Emma Roberts was 28 when the film was finally released.
In the film, Emma portrays Uma/Anna, a young woman who finds herself on an island simply known as Paradise.
Emma Roberts plays a young woman sent to Paradise in the 2019 Spanish science fantasy thriller film Paradise Hills (Credit: Alfa Pictures)
While the island initially appears as a utopic getaway for young women, a dark truth is eventually revealed: that the island is used as a rehabilitation center for "rebellious" women who refuse to submit to the wills of their parents or husbands.
This was a film that was critically well-received, with critics noting the ambitious plot and production of the film. Audiences agreed as well, as the audience score for Paradise Hills even exceeded the critic score.
4. Palo Alto (2013) – 68% Critics / 49% Audience Score
Acting as the directorial debut of Gia Coppola (the granddaughter of Francis Ford Coppola), Palo Alto is a film adaptation of a collection of short stories by the same title by James Franco.
Emma Roberts was 24 when the film was released, and she portrays the role of April, a high schooler who acts as the object of affection for Mr. B, her athletics coach, played by Franco himself.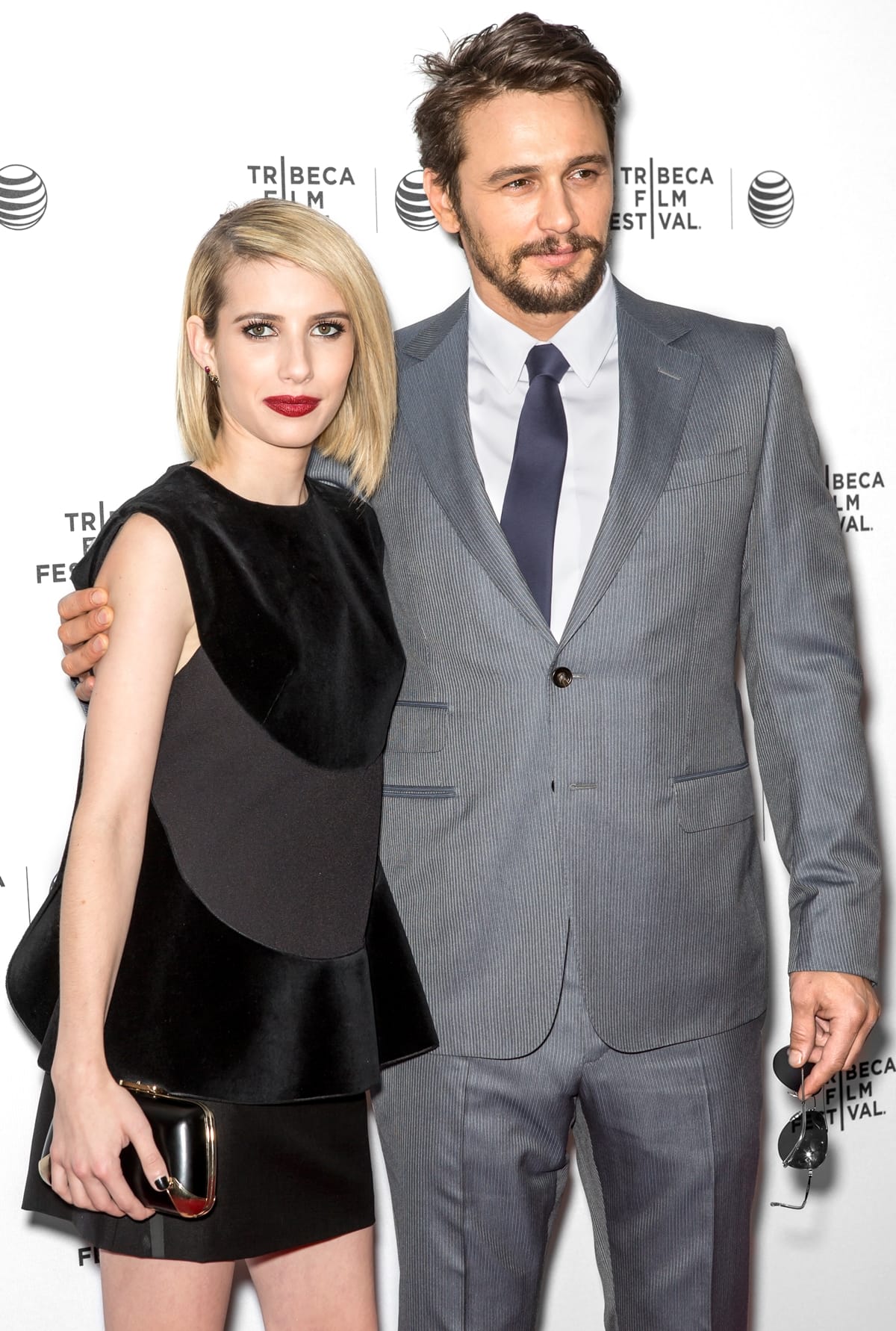 Actor James Franco and actress Emma Roberts in a black Saint Laurent sequin dress arrive at Tribeca Film's 'Palo Alto' – Los Angeles Premiere at the Director's Guild of America on May 5, 2014, in Los Angeles, California (Credit: Ovidiu Hrubaru / Shutterstock)
The film has a slice-of-life structure and deals with multiple plotlines involving high schoolers.
Many reviewers welcomed the directorial efforts of Gia Coppola and remarked on the coming-of-age structure of the plot as a whole. However, some critics disliked the loose structure, so the film was not universally loved.
Audiences seemingly were not as warm to the film as the critics, as noted by the film's lower audience score in comparison to its critical score.
3. Celeste and Jesse Forever (2012) – 71% Critics / 62% Audience Score
Emma Roberts was 21 when she signed on to play the role of Riley Banks in Celeste and Jesse Forever, a romantic comedy/drama film that was released in 2012.
Roberts' role in the film is more of a supportive one, as the film's lead stars include Rashida Jones (who also co-wrote the film), and Andy Samberg.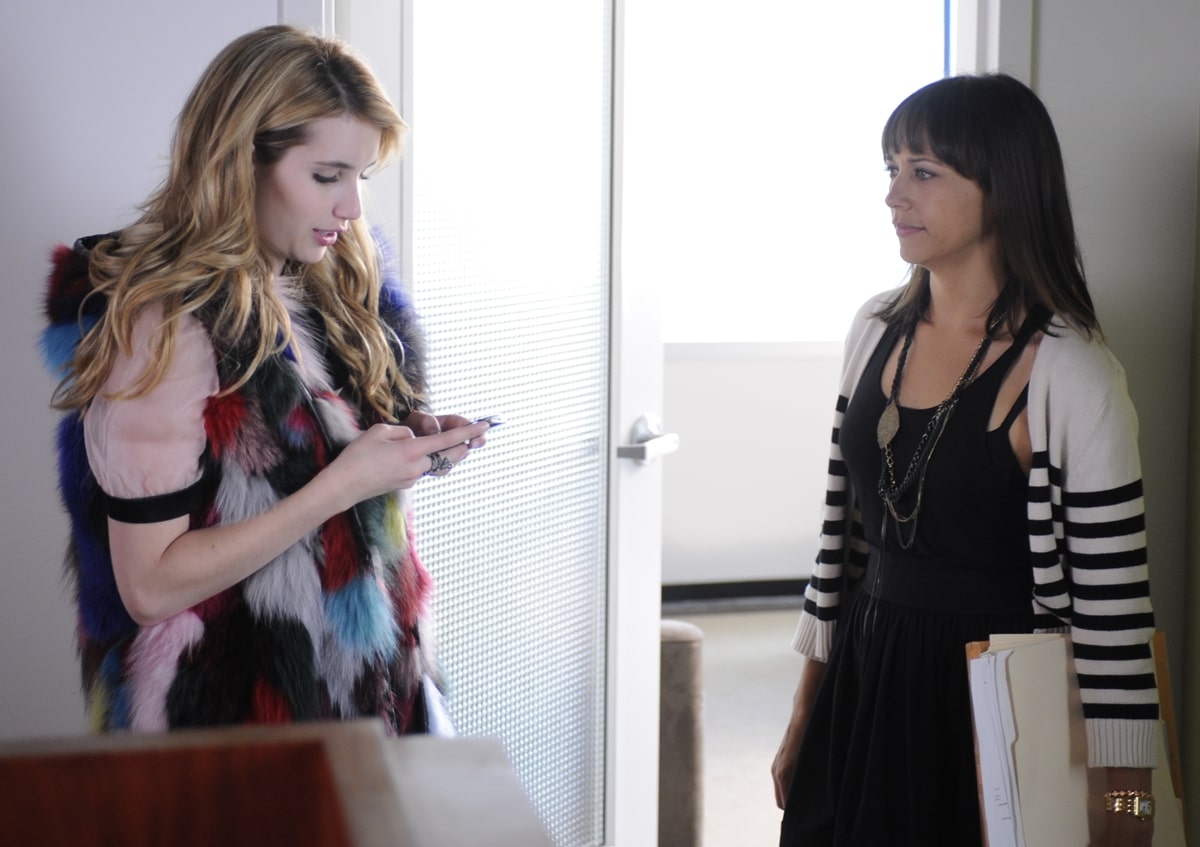 Rashida Jones as Celeste Martin and Emma Roberts as Riley Banks in the 2012 American romantic comedy-drama film Celeste and Jesse Forever (Credit: Sony Pictures Classics)
The film centers around Celeste and Jesse, two high-school sweethearts who get married young. Their relationship begins to face challenges, however, which leads them to a somewhat rocky divorce.
In the film, Emma Roberts' character Riley Banks is a young pop sensation, who is signed by the media company that Celeste works for.
Many critics of the film found it to be a refreshing take on the rom-com genre, and the film received a positive reception overall. Some critics did have negative things to say regarding the film, and the audience reception was perhaps slightly less enthusiastic than the critical reception.
2. The Blackcoat's Daughter (2015) – 74% Critics / 50% Audience Score
Another thriller film in the filmography of Emma Roberts, Roberts was 24 years old by the time this film was produced in 2015.
This independent film features a cast of young female talent, including Kiernan Shipka and Lucy Boynton. Dark, slow, and very atmospheric, the film is one of the many thriller films directed by Oz Perkins, an American director whose output remains typified by dark thriller films.
The film centers around Joan (played by Emma Roberts) a young girl who escapes from a mental institution and meets two stranded students in a remote prep school. They soon find themselves at odds with an evil, omniscient presence which threatens their safety.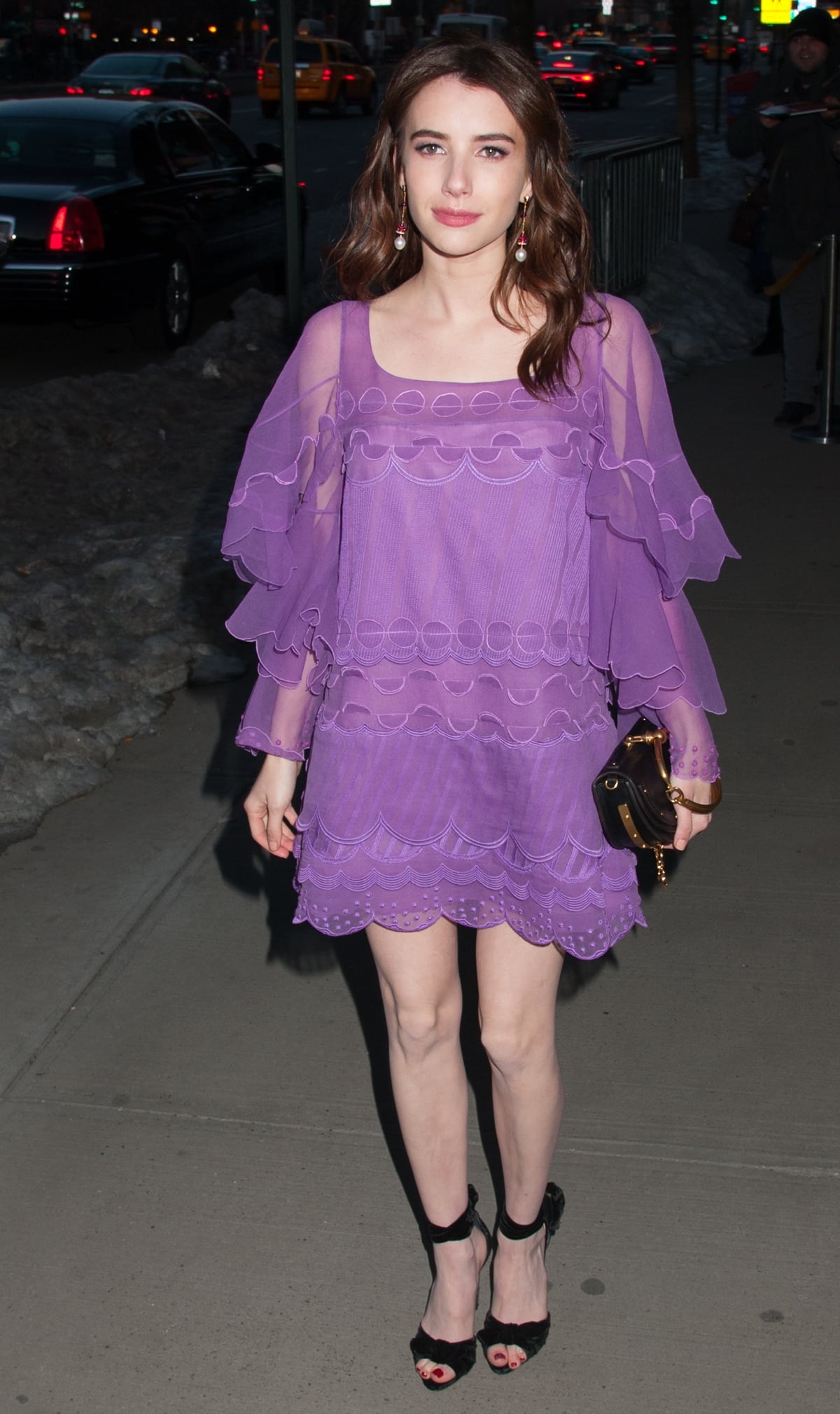 Emma Roberts in a purple Chloé dress with black sandals for a screening of "The Blackcoat's Daughter" hosted by A24 and DirecTV with The Cinema Society at Landmark Sunshine Cinema on March 22, 2017, in New York City (Credit: Marcus Owen / Startraksphoto)
While the film was produced in 2015, it wouldn't hit theatres until 2017, after the release of Oz Perkin's follow-up film, I Am the Pretty Thing That Lives in the House was released to critical success in 2016.
Audiences were quite positive regarding the reception of The Blackcoat's Daughter and deemed it an effectively chilling and multi-layered film.
Audiences seemingly thought the film was too convoluted, however, as evidenced by the discrepancy between critic and audience reception of the film.
1. Who Are We Now (2017) – 96% Critics / 69% Audience Score
The most critically successful film Emma Roberts has appeared in, Who Are We Now, is a drama film that was released in 2017 when Emma was 26 years old.
In the film, Emma stars alongside a talented cast that includes Julianne Nicholson and Zachary Quinto (who she previously worked with on I Am Michael).
Emma Roberts as Jess in the 2017 American drama film Who We Are Now (Credit: FilmRise)
She portrays the character of Jess, a young and passionate public defense lawyer who devotes herself to helping Beth (played by Julianne Moore), a young mother who is freshly released from prison on a manslaughter conviction.
Beth desires to gain custody of her son again after custody was awarded to her sister following her incarceration.
The film was an independent production and received critical acclaim from the reviewers that managed to see it, as noted by the high critical score.
Emma Roberts portrays a young lawyer working for a public defender in Who We Are Now (Credit: FilmRise)
The audience score is markedly lower on the website, but the website only hosts a singular review from audiences, as the film did not get a significant widespread release.
Such a shame for Emma Roberts, as this seems to be a very well-made film that could've helped her career. Hopefully, it will receive more attention soon!
Conclusion
That sums up our top 10 critically successful Emma Robert films list. Hopefully, you've discovered more Emma Roberts films you can seek out and watch. Whether they deserve their critical reception will be up to you to decide.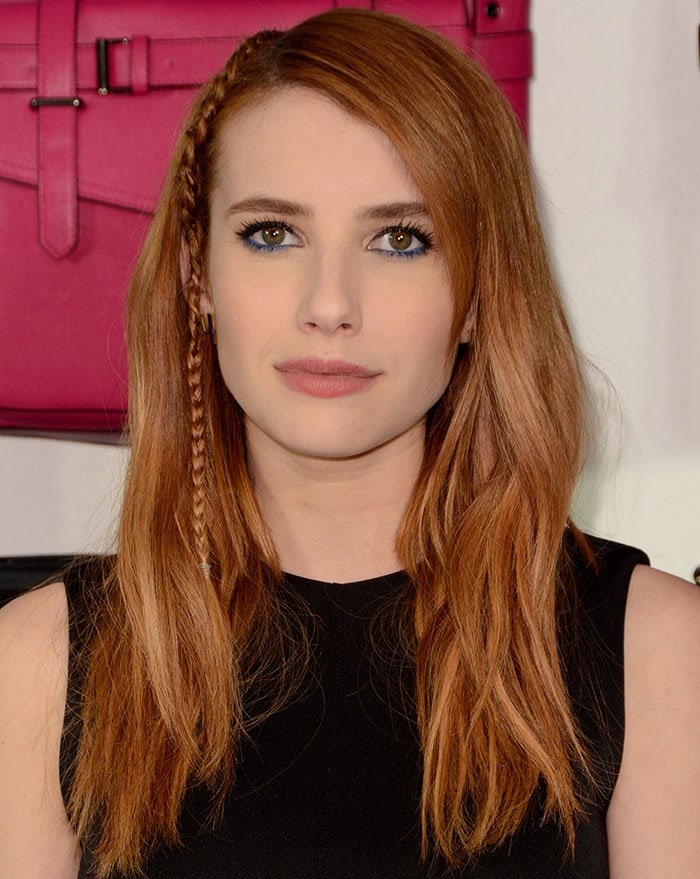 Emma Roberts wears a thin braid in her hair at the REED x Kohl's Collection Launch Dinner held on April 20, 2016, at Kohl's PR Showroom in New York City (Credit: WENN)
In April 2016, Emma Roberts joined Solange Knowles at the Reed for Kohl's Collection Launch Dinner held at Kohl's PR Showroom in New York City.
The then-25-year-old actress seemed to get the color block memo. She flaunted her legs in a chic blue-and-black mini dress from the collaboration.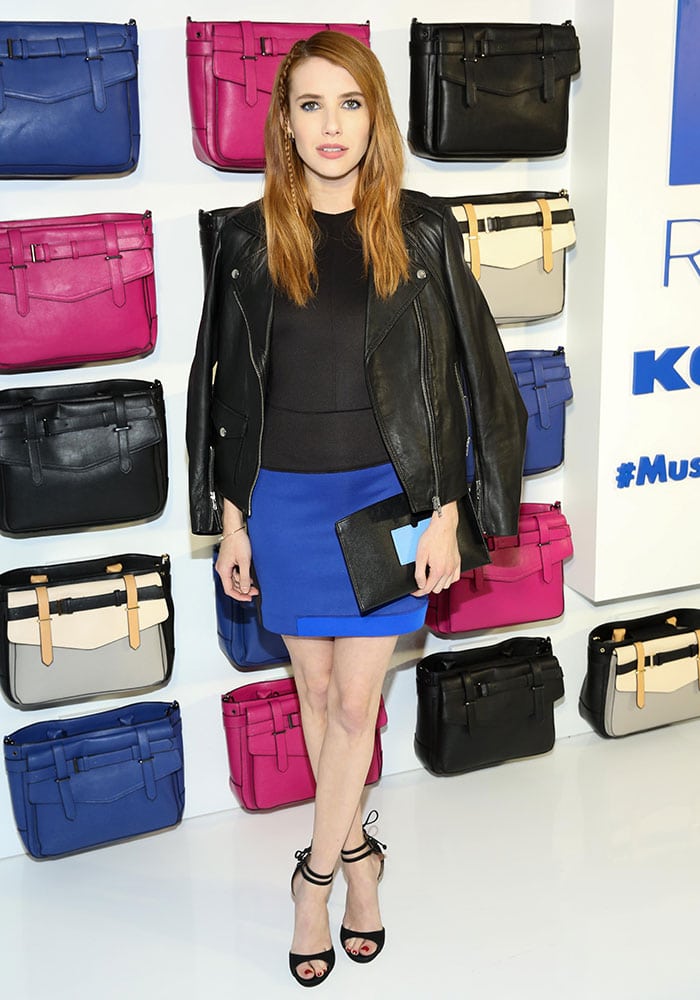 Emma Roberts wears a REED x Kohl's mini dress to the collection's launch (Credit: WENN)
The sleeveless dress showcased her slender figure with a classic form-fitting sheath silhouette, scuba construction, geometric stitching, and a thigh-grazing hemline.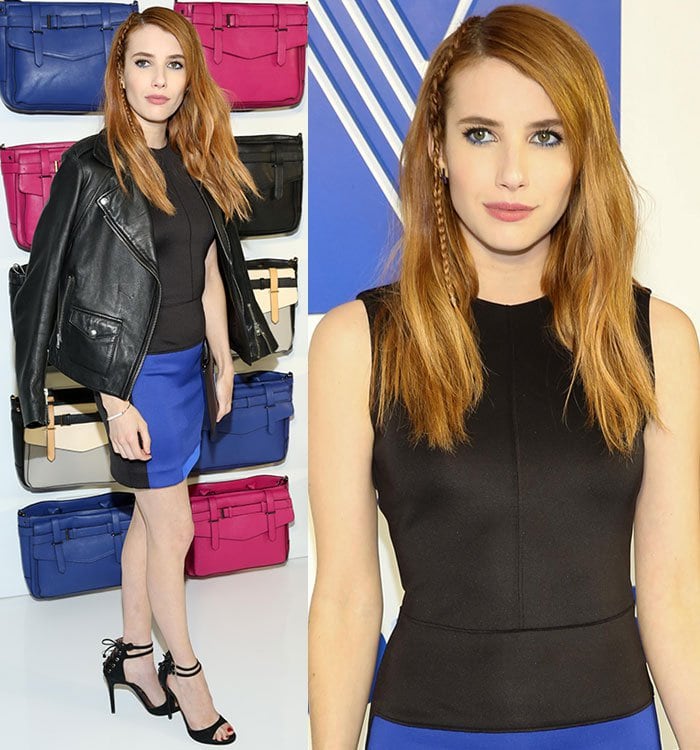 Emma Roberts shows off her legs in an item from the new REED x Kohl's Collection (Credit: Andres Otero / Ivan Nikolov / WENN)
Emma added a black leather Sandro jacket to her look and kept the rest of her accessories to a minimum.
She sported a pair of Jennifer Meyer earrings, a Phillips House bracelet, and a Reed for Kohl's pouch that matched her dress.
The "Scream Queens" star was spotted confidently posing alongside the fashion designer himself, Reed Krakoff.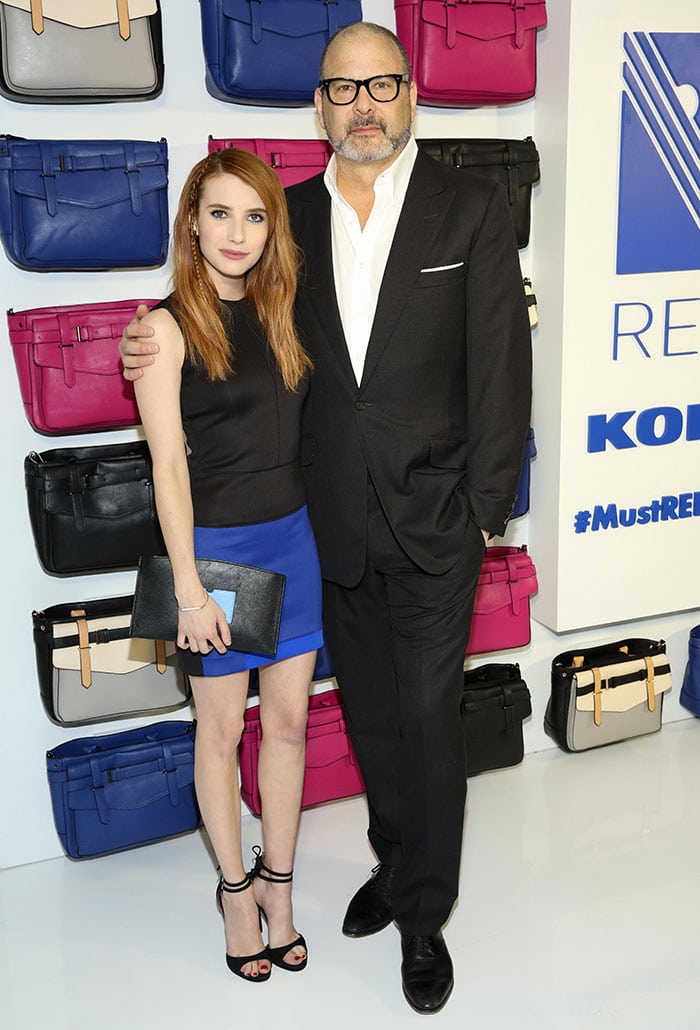 Emma Roberts and designer Reed Krakoff pose for photos at the REED x Kohl's Collection Launch Dinner (Credit: WENN)
She also slipped into a pair of black strappy sandals by Tabitha Simmons.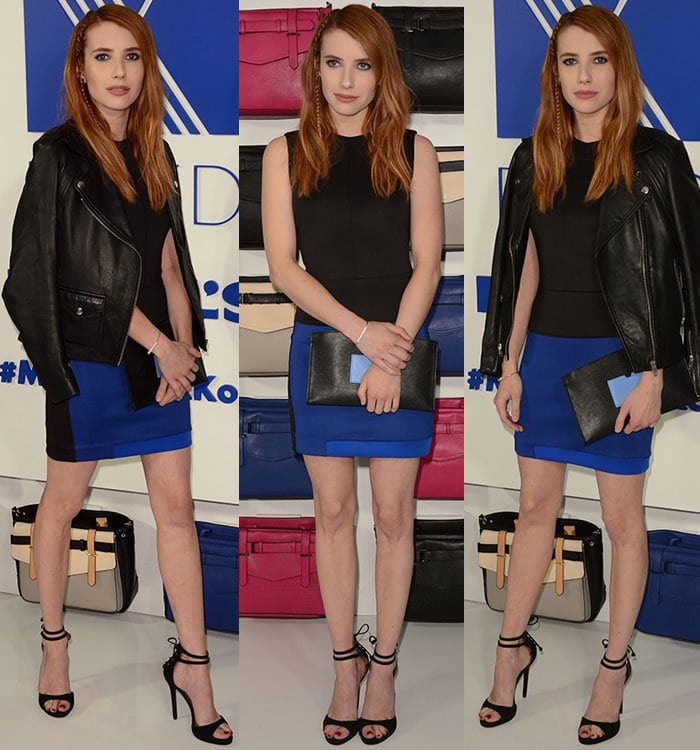 Emma Roberts wears a REED x Kohl's dress with black suede heels (Credit: WENN)
Emma sported blue under-eye eyeliner and black mascara, staying true to the color-block theme of her look. She completed her look with tousled waves and a narrow braid on one side.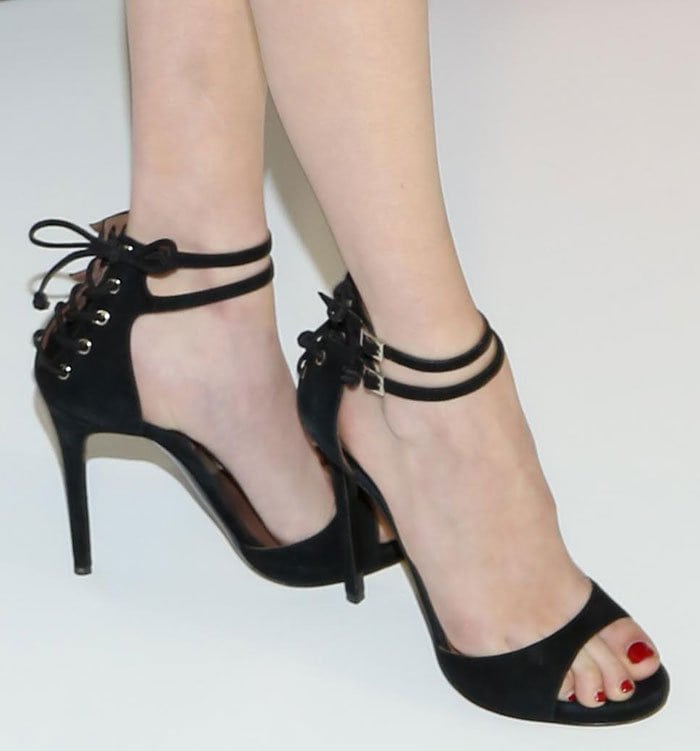 Emma Roberts's feet in black suede Tabitha Simmons sandals (Credit: WENN)
Emma's suede Tabitha Simmons "Viva" sandals feature a lace-up back, double adjustable ankle straps, open toes, and four-inch heels.
Emma Roberts's feet in black suede Tabitha Simmons sandals (Credit: WENN)
These Tabitha Simmons sandals were available in two color versions but have now sold out online.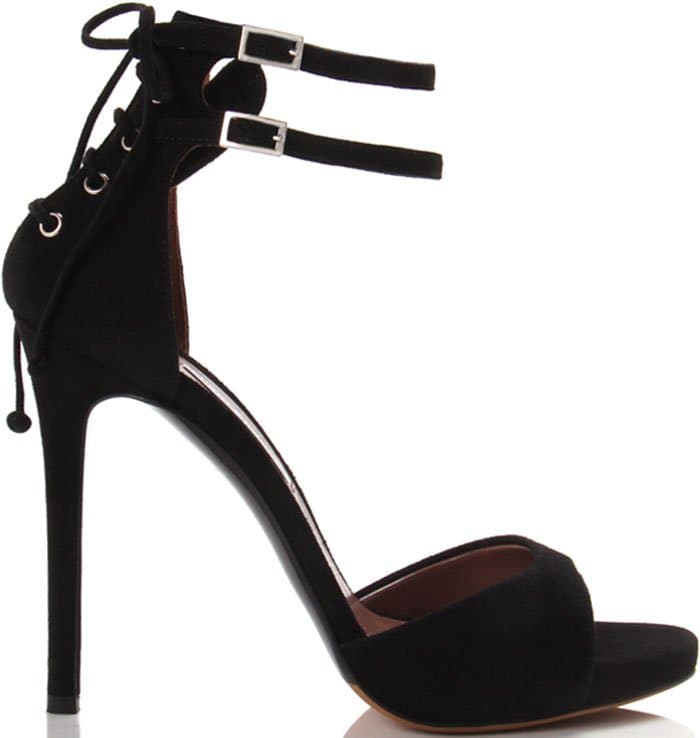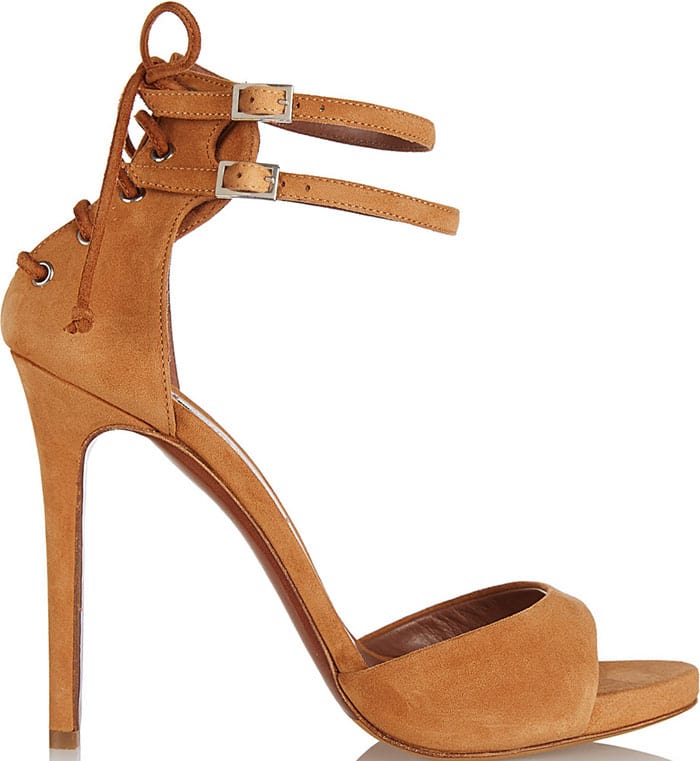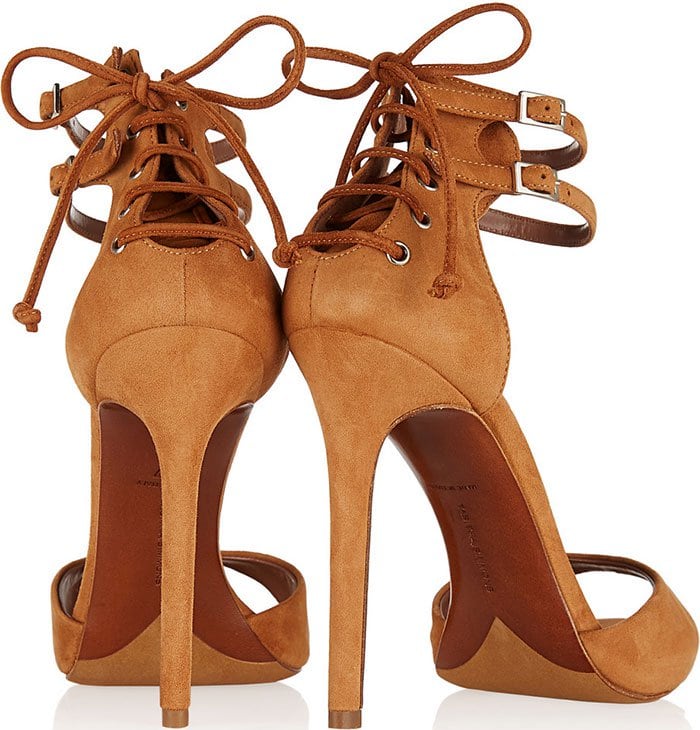 Tabitha Simmons "Viva" Platform Sandals, $745