Beyoncé is one of the most famous people in the world, and her sister Solange is also an award-winning singer, but they have kept their families out of the spotlight.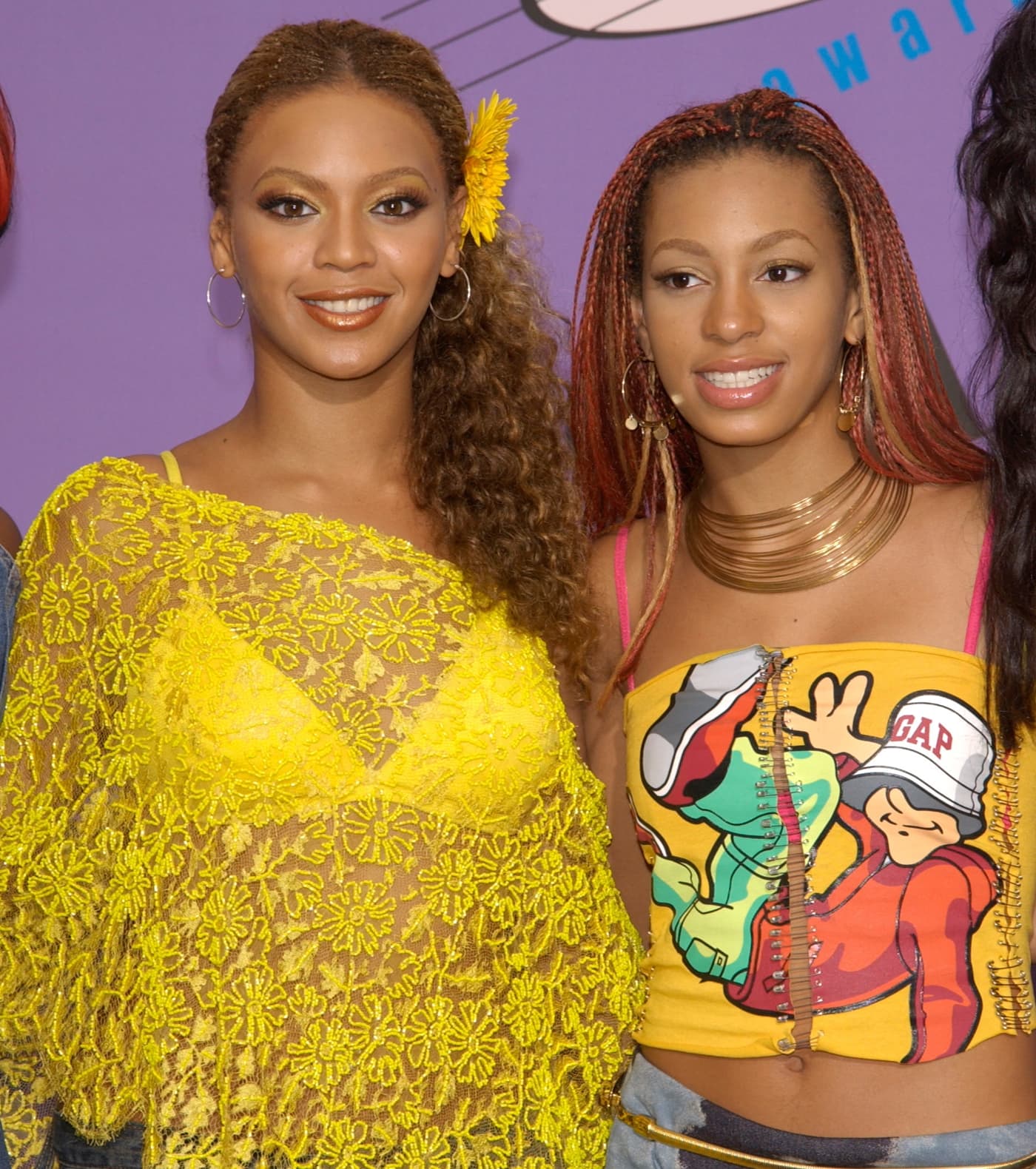 Destiny's Child Beyonce Knowles with her sister Solange at the 2001 Teen Choice Awards held on August 12, 2001, at the Universal Amphitheatre, Universal City, California (Credit: Featureflash Photo Agency / Shutterstock)
But they have told the world that they are very close and are more like best friends than sisters.
They Support Each Other Unconditionally
Beyoncé has been topping charts since she was a kid in Destiny's Child. She has gone on to have a very successful solo career.
Solange is also in the music industry, but she has gone in a slightly different direction. In addition to making her own music, she co-writes and co-produces music for other artists.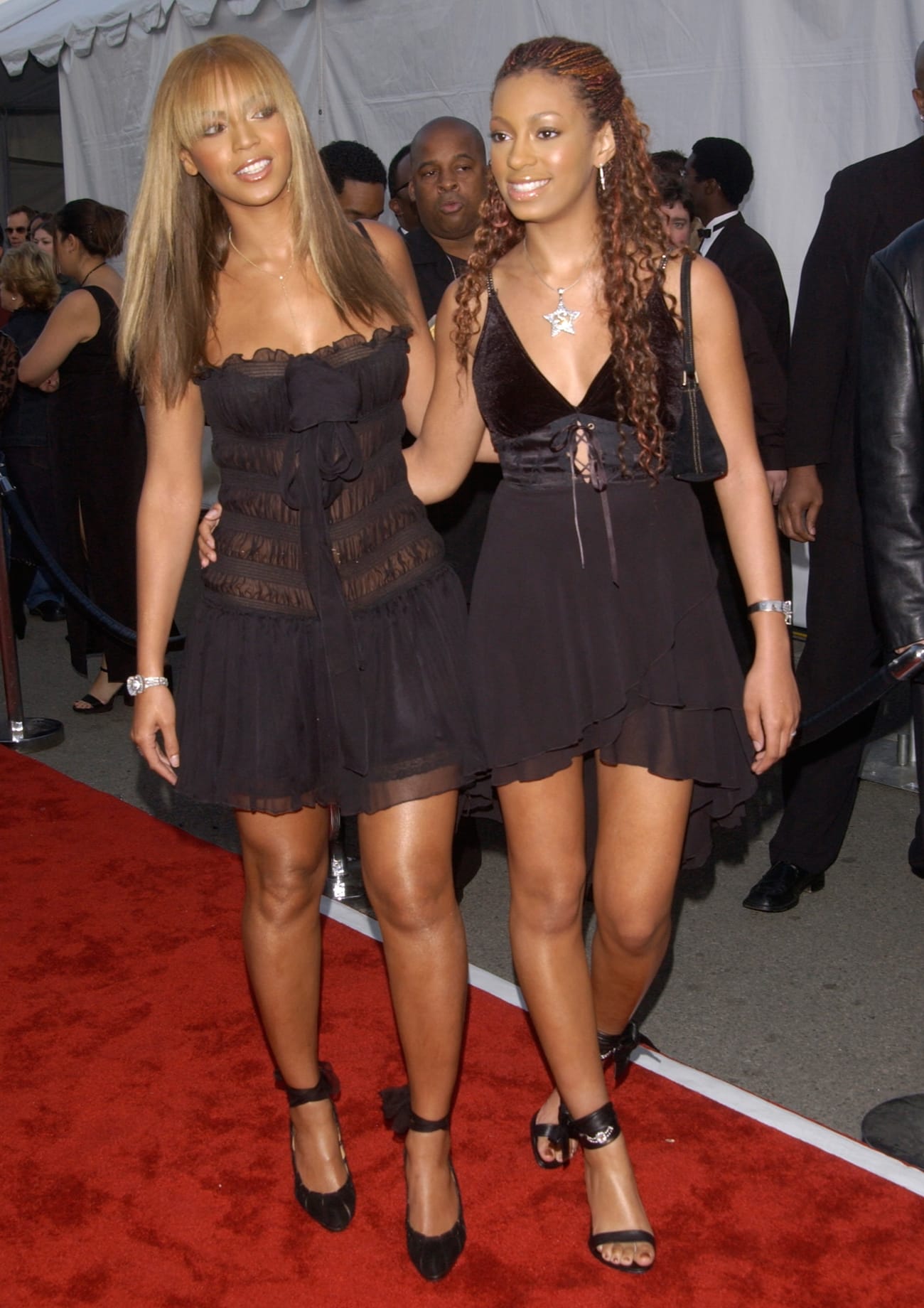 Solange Piaget Knowles was a backup dancer for Destiny's Child and is often compared to her elder sister, Beyoncé Knowles (Credit: Featureflash Photo Agency / Shutterstock)
The pair may have different styles in music, but they have always been each other's biggest supporters. The duo is thick as thieves, unlike some celebrity siblings. It's common for famous siblings to be compared in the media.
Beyoncé is one of the most famous international artists, but the sisters are both respected artists with their own music styles.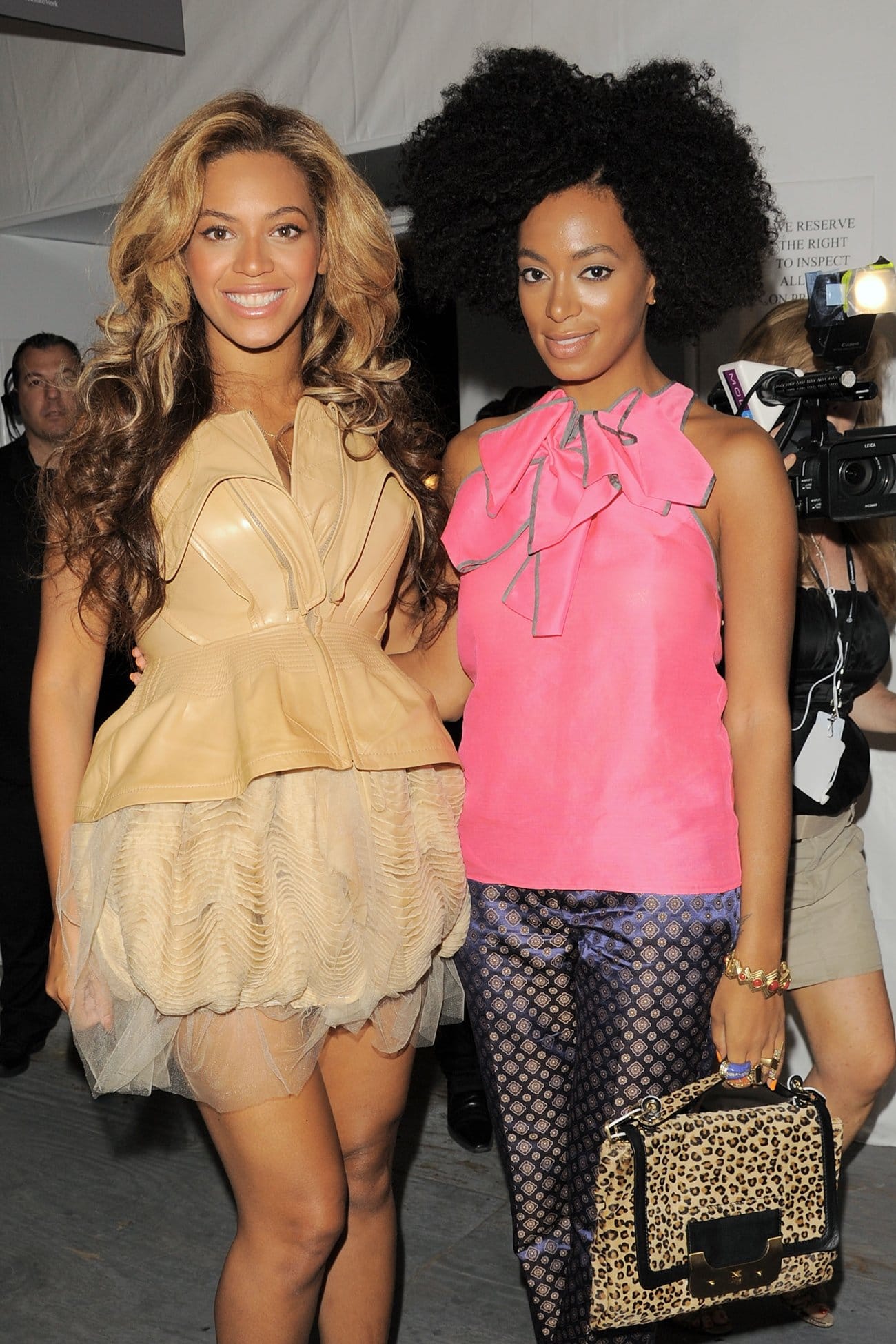 Beyoncé Knowles and her sister Solange attended the J.Crew, Vera Wang, and Rodarte fashion shows during Spring 2012 Mercedes-Benz Fashion Week on September 13, 2011, in New York City (Credit: Bill Davila / Startraksphoto)
Most importantly, they respect and support each other in every aspect of their lives.
The pair have a close bond as sisters and find time to confide in each other about motherhood, friendship, and fame. They will also babysit for each other whenever they can.
Even though they are busy making music and empowering females worldwide, they still make time for each other as sisters.
Their Relationship Wasn't Always Smooth Sailing
Their relationship wasn't always picture-perfect when they were kids. Beyoncé was busy becoming an international star with her music group, Destiny's Child.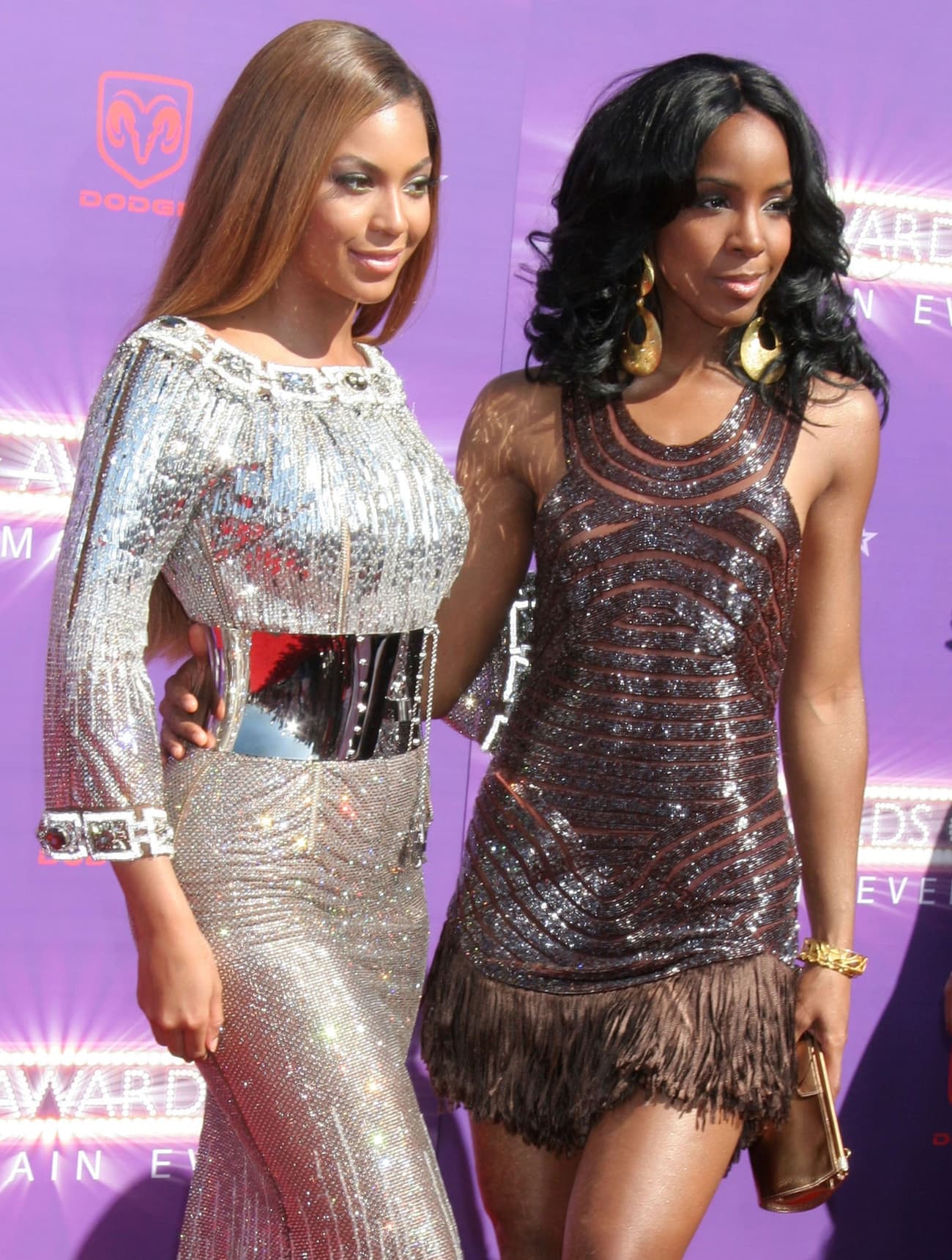 Beyonce Knowles and Kelly Rowland are not related but grew up together (Credit: s_bukley / Shutterstock)
Fellow group member and best friend, Kelly Rowland, moved in with the Knowles family during this time, and it was a rough transition for Solange, who was just five years.
In an interview with Evening Standard, Solange remarked that "[Rowland's] mother was a nanny for another family, so Kelly lived with us when they first moved from Atlanta. She was like a second sister."
But it was difficult for Solange to share her big sister with someone else.
Kelly Rowland in a Marcell von Berlin feather dress with a black corseted belt, zip-up leather gloves, high heel sandals, and Gismondi jewelry at the Los Angeles Premiere of "The Harder They Fall" at Shrine Auditorium and Expo Hall on October 13, 2021 in Los Angeles, California (Credit: MEGA / WENN)
"I grew up with Beyoncé; her sister, Solange; her mother, Tina; and her eldest cousin, Angie [Beyince]," Kelly revealed in Marie Claire in 2019.
"We grew up in this industry together, we've shared ups and downs, and we are closer than ever," she said. "I can tell her anything, and she'll never judge me. She's a real friend: genuine, loyal, and trustworthy."
Kelly Rowland in a black sheer floor-length gown from Beirut-based fashion house Jean-Louis Sabaji at the 2022 Vanity Fair Oscar Party hosted by Radhika Jones at Wallis Annenberg Center for the Performing Arts on March 27, 2022 in Beverly Hills, California (Credit: MEGA / WENN)
Solange revealed to Elle that she felt left out when sharing Beyoncé with Kelly Rowland. "My sister and Kelly [Rowland] were the same age, which is like a built-in best friend in the house; they were extremely close."
But she used the opportunity to begin exploring music and wrote her own songs because it felt like her own thing. Solange and Beyoncé have different styles of music, and they are both greatly respected artists in the music industry.
Their Mom Sent Them To Therapy
According to Tina Lawson, the famous duo's mother, Beyoncé was irritated that Solange always wanted to hang out with her and her friends when they were younger.
While sibling rivalries are normal, the fact that Beyoncé was quickly rising to fame meant that therapy was a must.
Their mother took them to therapy to ensure that Beyoncé would be sensitive to Solange's feelings. Therapy also helped Solange deal with jealous feelings while living in her famous sister's shadow.
Beyonce Knowles and Solange Knowles are not only sisters but also best friends (Credit: Seth Browarnik / Startraksphoto)
When Solange turned 13, the pair began to form a closer relationship, which they credited to their five-year age difference.
Now, the pair have an amazing relationship. The sisters continue to support each other as they make their mark on the world with their talents and hard work in the music industry.
Solange Knowles and her older sister Beyonce at the 50th Annual Grammy Awards at the Staples Center in Los Angeles, on February 10, 2008 (Credit: Jen Lowery / Startraksphoto)
Beyoncé spoke highly of her sister in an interview with Interview Magazine in 2017.
"But I'm so happy to interview you because, clearly, I'm your biggest fan and I'm super proud of you…I remember thinking, 'My little sister is going to be something super special,' because you always seemed to know what you wanted," Beyoncé told Solange.
Beyoncé's younger sister also complimented her older sister. "You did a kickass job. You were the most patient, loving, wonderful sister ever. In the 30 years that we've been together, I think we've only really, like, butted heads … we can count on one hand."
Solange Knowles clips her hair back to show off her earrings at the REED x Kohl's Collection Launch Dinner held on April 20, 2016, at Kohl's PR Showroom in New York City (Credit: WENN)
Solange Knowles is known for her bold and quirky sartorial choices.
In April 2016, however, the then-29-year-old singer took a more conventional route as she attended the Reed x Kohl's collection launch dinner held at Kohl's PR Showroom in New York City.
Beyonce's sister opted for a neutral colorblock look.
Solange Knowles wears a $55 dress from the REED x Kohl's collection (Credit: WENN)
She slipped her curves into a $55 sleeveless maxi dress from the collaborative collection between the American department store chain Kohl's and fashion designer Reed Krakoff.
The black, sand, and white dress featured a crewneck and an asymmetrical hemline.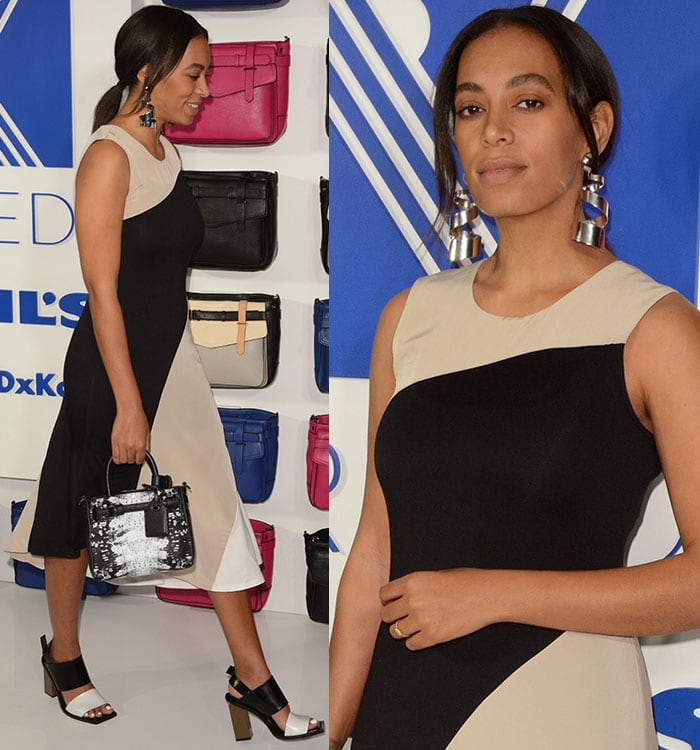 Solange Knowles accessorizes her REED x Kohl's dress with colorblock shoes, eccentric earrings, and a shiny handbag (Credit: WENN)

Solange edged up the look with a pair of silver spiral drop earrings and a mini convertible satchel, also from the collaboration.
She sported minimal makeup with nude lipstick and pulled her hair back into a ponytail with face-framing tendrils.
Solange Knowles wears a Reed x Kohl's colorblock dress (Credit: Andres Otero / Ivan Nikolov / WENN)
To top off the neutral look, Solange teamed the dress with a matching pair of colorblock sandals from Marni's Spring 2016 collection.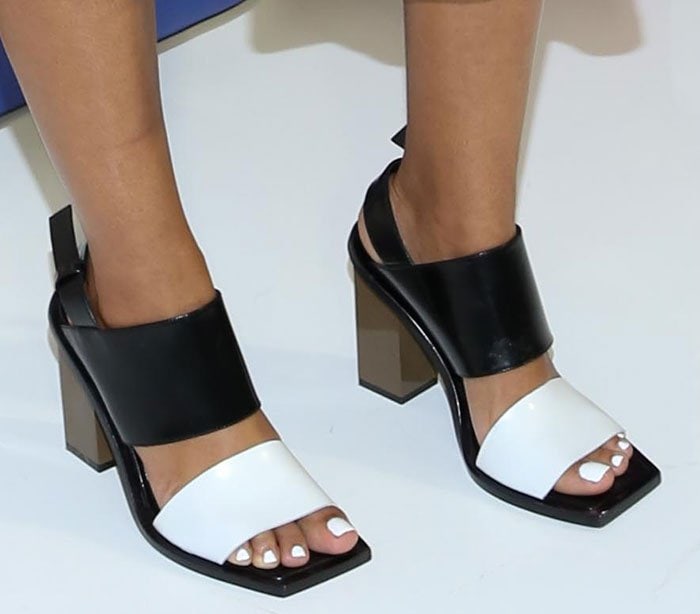 Solange Knowles's feet in colorblock Marni sandals (Credit: WENN)
These modern and architectural leather sandals feature wide straps, slingback straps, and four-inch block heels.
Solange Knowles's feet in heeled Marni sandals (Credit: WENN)
You can check out these sandals with lower heels in different versions at Net-A-Porter, SSENSE, and Farfetch.
Marni Colorblock Slingback Sandals, $920