34-year-old actress Evan Rachel Wood has been a staunch activist against sexual and domestic abuse, using her star power to help enact real change.
Unfortunately, her passion for those who have suffered in these situations is due to her own experiences as a victim.
Evan Rachel Wood is seen filming "Westworld" on the Highline on October 5, 2021, in New York City (Credit: MEGA / WENN)
For years, Evan Rachel Wood didn't specifically say who her abuser was, but it soon became very clear that it was none other than her ex-fiancé, goth rocker Marilyn Manson.
Last month, the actress appeared in a heart-wrenching documentary series, Phoenix Rising, where she detailed the awful abuse she experienced at the hands of her ex.
Evan Rachel Wood and Marilyn Manson Met When She Was 18
The pair first met at a party hosted at the Chateau Marmont, a swanky Los Angeles hotel well known for its sordid history, telling Elle in August 2007 that they found solace in one another's presence since both of them were "hiding in the corner or a party neither of us wanted to be at."
At the time, Manson was still married to burlesque performer Dita Von Teese but still pursued a friendship with Wood, who says that they simply became "movie buddies."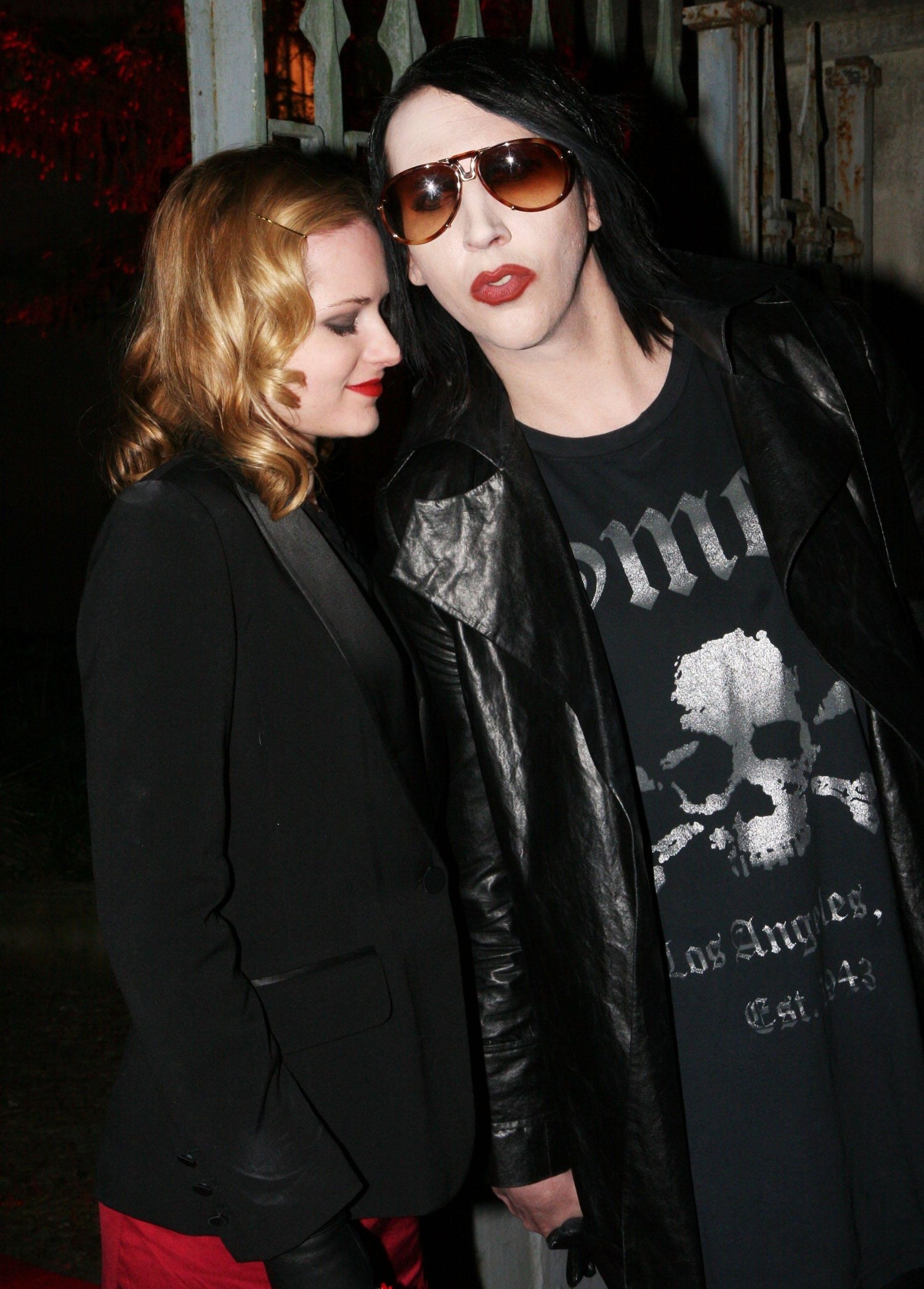 Marilyn Manson and girlfriend Evan Rachel Wood started dating in mid-2006 when she was 18 and he was 37 (Credit: Stefan Trautmann / WENN)
However, their marriage didn't last, as Dita Von Teese filed for divorce in December 2006, with some sources citing that Manson's "friendship" with Wood was a driving factor for their split. It was then that Wood says that "we just suddenly looked into one another's eyes and knew."
They began their relationship when Evan Rachel Wood was only 18 and Marilyn Manson was 37.
"I met somebody that promised freedom and expression and no judgments, and I was craving danger and excitement," she said in an interview with Rolling Stone.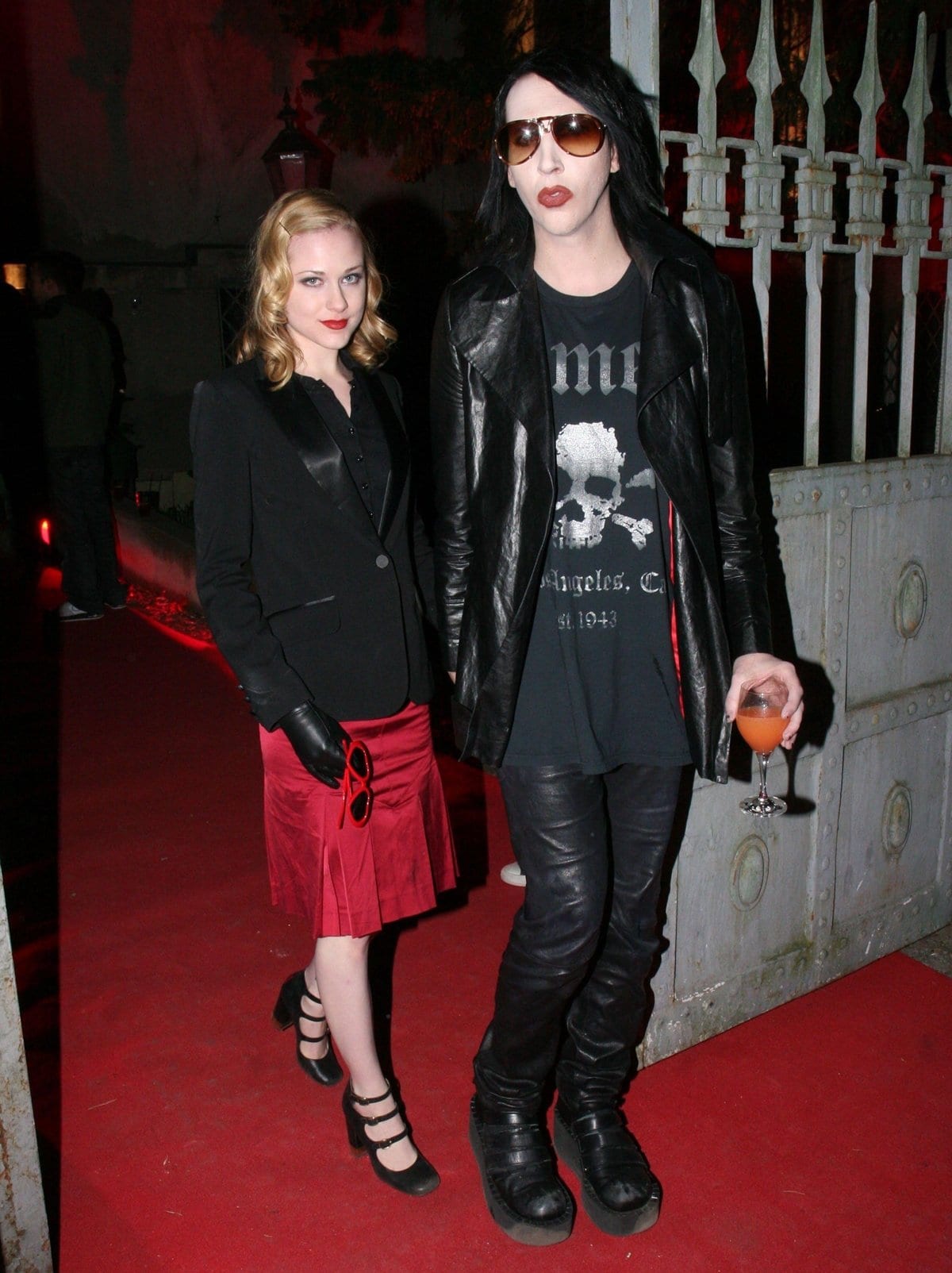 Marilyn Manson and his girlfriend Evan Rachel Wood leaving a listening session of his new album "Eat Me, Drink Me" for the German press held at an old mansion in Grunewald in Berlin, Germany on April 20, 2007 (Credit: Stefan Trautmann / WENN)
"And I was craving danger and excitement. I looked at my mother one day and said, 'Mom, I'm gonna get on this tour bus for eight months and see the world and have a crazy journey and find myself, and if people aren't OK with that, I'm sorry, but I can't live my life for other people.'"
Their Early Relationship Was Plagued by Controversy
Alongside going public with their relationship, Wood appeared as Manson's love interest in the "Heart-Shaped Glasses (When the Heart Guides the Hand)" music video and stirred up a bit of controversy mostly due to the graphic nature of the video.
"It's nothing like I thought it was going to be," Wood said about the music video in the film Phoenix Rising. It was filmed when she was 19.
"We're doing things that were not what was pitched to me. … We had discussed a simulated sex scene, but once the cameras were rolling, he started penetrating me for real. I had never agreed to that. I'm a professional actress, I've been doing this my whole life; I've never been on a set that unprofessional in my life up until this day."
"It was complete chaos," she added about the "Heart-Shaped Glasses" music video. "I did not feel safe. No one was looking after me. It was a really traumatizing experience filming the video. I didn't know how to advocate for myself or know how to say no because I had been conditioned and trained to never talk back, to just soldier through."
"I was coerced into a commercial sex act under false pretences. That's when the first crime was committed against me and I was essentially raped on camera."
Manson's lawyer Howard King denied her claims in a statement to The Guardian: "Of all the false claims that Evan Rachel Wood has made about Brian Warner, her imaginative retelling of the making of the Heart-Shaped Glasses music video 15 years ago is the most brazen and easiest to disprove, because there were multiple witnesses.
Evan Rachel Wood decorated her low bun with fresh flowers at the 70th Emmy Awards at Microsoft Theater on September 17, 2018, in Los Angeles, California (Credit: Sara De Boer / Startraksphoto)
Wood received endless amounts of hate from the general public, but the worst abuse came from the hands of her partner, Marilyn Manson.
From the outside, their relationship seemed perfect (if not strange), as Wood described their relationship as "healthy" and "loving" to Elle.
It wasn't until a brief breakup and quick reconciliation in 2008 that red flags began to pop up.
In an interview with Spin magazine, Manson detailed the abusive, manipulative tactics he employed in order to "save" their relationship: "… every time I called her that day — I called 158 times — I took a razorblade and I cut myself on my face or on my hands. This was intentional, this was a scarification, and this was like a tattoo. I wanted to show her the pain she put me through… the song "I Want to Kill You Like They Do in The Movies" is about my fantasies. I have fantasies every day about smashing her skull in with a sledgehammer."
Marilyn Manson and Evan Rachel Wood were in a relationship from 2006 to 2010 and even got engaged (Credit: O'Neill / White / INFphoto)
Unfortunately, no one seemed to call him out on it.
Manson and Wood reconciled and became engaged in January 2010, but called it quits for good after just eight short months.
Evan Rachel Wood Comes Forward About the Incessant Abuse
In 2018, she testified before the House Judiciary Subcommittee, sharing the tale of her own horrific abuse in order to help pass the Sexual Assault Survivors' Bill of Rights, bravely saying, "My experience with domestic violence was this: Toxic mental, physical and sexual abuse which started slow but escalated over time, including threats against my life, severe gaslighting and brainwashing, waking up to the man that claimed to love me raping what he believed to be my unconscious body. And the worst part: Sick rituals of binding me up by my hands and feet to be mentally and physically tortured until my abuser felt I had proven my love for them."
Evan Rachel Wood wears a black APM Monaco mono dragon tail sliding ear jacket and Melinda Maria earrings (Credit: Sara De Boer / startraksphoto)
She continued to speak publicly about her experiences. Still, it wasn't until 2021 that she explicitly named Marilyn Manson as an abuser, writing in an Instagram post: "The name of my abuser is Brian Warner, also known to the world as Marilyn Manson. He started grooming me when I was a teenager and horrifically abused me for years. I was brainwashed and manipulated into submission. I am done living in fear of retaliation, slander, or blackmail. I am here to expose this dangerous man and call out the many industries that have enabled him, before he ruins any more lives."
View this post on Instagram
In the Phoenix Rising documentary, fans saw tweets from Dan Cleary, Manson's former personal assistant, who wrote: "He broke her. I didn't totally realize until later in life. But as I see so many people defending him and calling his accusers liars, I've just had enough. Believe them, I saw it."
Evan Rachel Wood's claims of Manson's abuse are detailed and heart-wrenching, including allegations that he hit her with a whip used by a Nazi during the Holocaust, forcing her to drink his blood (and to let him drink hers), and even delivering electric shocks to her genitals.
Evan Rachel Wood in a black beaded Versace dress and Christina Louboutin 'So Kate' pumps for the Premiere Of HBO's "Westworld" Season 3 held at TCL Chinese Theatre on March 5, 2020 in Hollywood, California (Credit: Sara De Boer / startraksphoto)
In another account in the documentary, Wood shares that she made the difficult decision to terminate a pregnancy in 2011 — since Manson refused to wear condoms — only to be met with more abuse: "He flew out for the abortion. I was just so scared and sad. I obviously believe in a woman's right to choose, but that doesn't mean it wasn't devastating…The second it was over [he] was like, 'Make me dinner.' And I remember being like, 'I'm supposed to be resting — my body has gone through this trauma, there's aftermath here.' And he didn't care."
Despite support from fans and other abuse survivors, Evan Rachel Wood's bravery has been met with lawsuits from Marilyn Manson's team.
Dita Von Teese has defended her ex-husband Marilyn Manson in face of abuse claims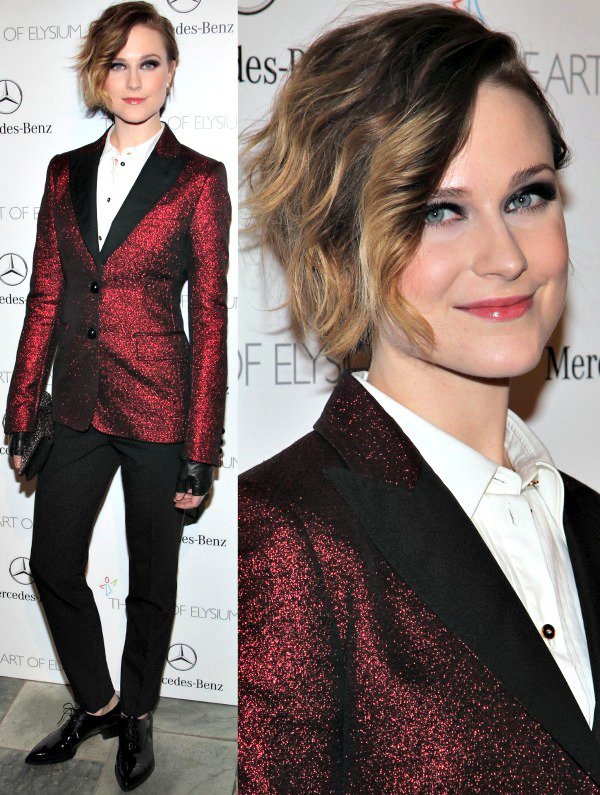 Evan Rachel Wood sweeps her hair to one side as she attends Art of Elysium's seventh annual Heaven Gala held on January 11, 2014, at the Skirball Cultural Center in Los Angeles (Credit: FayesVision / WENN)
In January 2014, Evan Rachel Wood made a dramatic entrance at Art of Elysium's seventh annual Heaven Gala as she debuted her cool new rocker look.
The then 26-year-old actress and singer took the theatrical route in a Moschino Cheap and Chic outfit, including a shimmery ruby blazer and black cigarette pants.
Evan styled it with a white shirt, black leather fingerless gloves, smoky eyes, glossy pink lips, an embellished clutch from Rodo, and earrings from Anito Ko.
She swept her short hair to one side and styled it in retro-glam waves, and she finished off her look with a pair of black patent leather Christian Louboutin "Zazou" brogues.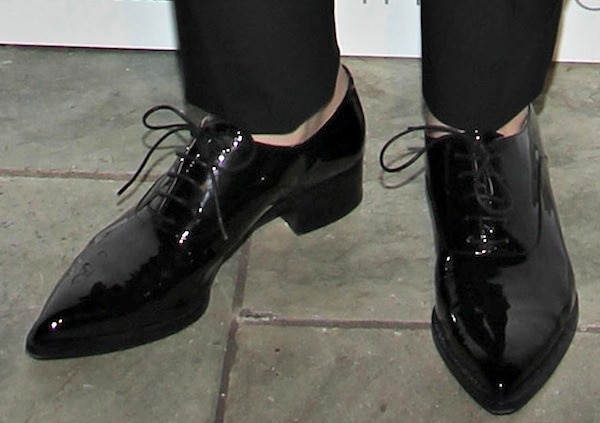 Evan Rachel Wood's feet in black patent leather Christian Louboutin brogues (Credit: FayesVision / WENN)
The "Zazou" brogues from Christian Louboutin feature stacked heels, pointed toes, lace-up fronts, and the brand's signature red leather soles.
They are available in leopard print and black patent leather at Nordstrom, Ssense, Saks Fifth Avenue, and Mytheresa.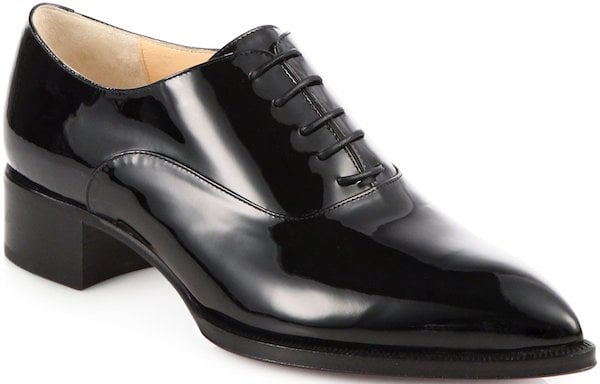 Christian Louboutin "Zazou" Brogues in Black Patent Leather, $795

Christian Louboutin "Zazou" Brogues in Leopard Print, $854