Jewelry is a timeless investment, while shoes are more fashion-forward and trendy. A well-chosen piece of luxury jewelry can be cherished forever, while shoes may only be in style for a season or two.
While a designer watch may depreciate, diamond tennis bracelets and pieces from prestigious jewelry houses will continue to gain value. The brands have a heritage and are sought-after by some of the jewelry world's top clientele.
While you may not know all these jewelry brands, you'll have seen their pieces worn by some of the most photographed celebrities in the world. Their pieces break records at auction houses, like Elizabeth Taylor's 'La Peregrina' necklace from Cartier that sold for $11.8 million in 2011.
While these luxury jewelry brands are aspirational, many offer sterling silver- and gold-plated jewelry alongside their luxury pieces. We're sharing 8 of the most expensive brands that make jewelry a piece of living art.
1. Tiffany & Co.: A Timeless Icon
One of the most recognizable jewelry brands in the world is Tiffany & Co. Its synonymous blue box is an industry icon.
The jewelry house launched in New York in 1837 with the name ' Tiffany, Young & Ellis' before being changed to simply 'Tiffany & Co. The brand is an industry-leading luxury jeweler and one of the most successful American companies.
Tiffany & Co. is an American jewelry brand famous for its diamond engagement rings and high-quality innovative designs
Tiffany & Co is famous for its diamond engagement rings, creating the 'Tiffany setting.' The luxury jewelry brand gained pop culture status after the 1961 movie 'Breakfast at Tiffany's' with Audrey Hepburn. Many of the brand's best-selling pieces are from in-house designers, including Jean Schlumberger, Elsa Peretti, and Paloma Picasso.
2. Chopard: A Swiss Luxury House With a Rich History and a Modern Touch
Chopard was founded in 1860 by Louis-Ulysse Chopard in Switzerland. The luxury jewelry house can now be found across 100 locations internationally. Chopard was the jewelry partner for the latest James Bond movie, ' No Time to Die.'
It is famous for being one of the leading makers of luxury Swiss watches with historical links to figures like Tsar Nicholas II of Russia. Chopard is credited with creating the sporty-chic style of wristwatch for women, elevating thinner silhouettes with steel and diamonds.

Chopard is a Swiss manufacturer of luxury watches and jewelry, known for its more attainable everyday collection made using precious stones and 18-karat gold
Chopard follows the trend of our luxury jewelry brands by having a more attainable everyday collection made using precious stones and 18-karat gold.
3. Bulgari: From a Greek Silversmith to an International Jewelry Legend
While Italy is famous for its ateliers and leather, the country is also home to some of the most expensive jewelry brands in the world. Bulgari was founded by Sotirio Bulgari in 1884 in Greece, developing as a single jewelry store until it expanded and moved its headquarters to Rome.
Hollywood glamour of the '50s and '60s put Bulgari on the international stage, with celebrities like Audrey Hepburn, Elizabeth Taylor, Grace Kelly, and Sophia Loren visiting its Via Condotti flagship store.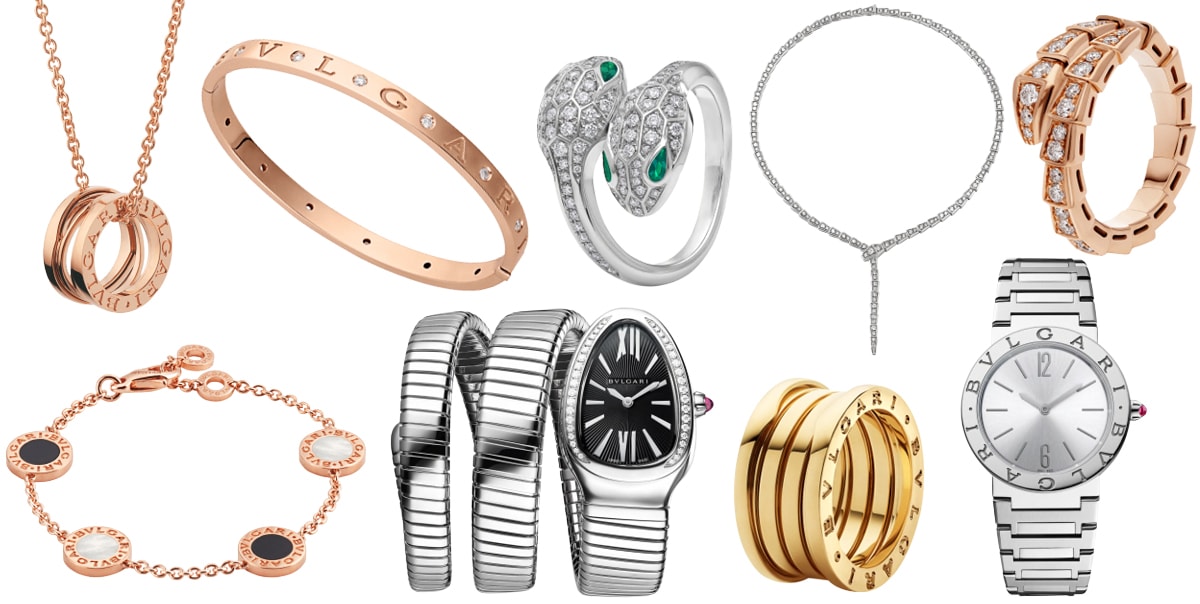 Bulgari has become famous for its immaculate craftsmanship and use of colorful gemstones and diamonds that have attracted famous celebrities from all over the world
The signature Bulgari motif focuses on cabochon stones. Famous pieces from Bulgari's collection include the ' Serpenti Viper ring.'
Bulgari has expanded its brand through licensing agreements, including with Luxottica for sunglasses. You'll often see Bulgari spelled as BVLGARI using the Latin alphabet. The brand is now part of the LVMH Group.
4. Van Cleef & Arpels: A Feminine Icon of Luxury Jewelry
Van Cleef & Arpels is a luxury jewelry company launched in 1896 by Alfred Van Cleef, a Dutch diamond-cutter, and Salomon Arpels, his father-in-law. The brand is synonymous with its feminine iconography, focusing on flowers and animals as design inspiration.
The company counts some of the most famous women in the world amongst its clientele, from Princess Diana and Jackie Kennedy to Eva Peron and Elizabeth Taylor.
Van Cleef & Arpels is a French luxury jewelry company that offers Art Deco, nature, and feminine designs
The brand became synonymous with luxury after opening boutiques in Monte-Carlo, Nice, and Vichy. Van Cleef & Arpels made a crown for Queen Nazil of Egypt in the 1930s and the coronation crown for Empress Farah Pahlavi in 1967. The crown was made of 36 emeralds, 36 rubies, 105 pearls, and almost 1,500 diamonds – taking nearly 11 months to make.
Van Cleef & Arpels' most recognizable design is the Alhambra pendant.
5. Cartier: The Jeweler of Kings and Celebrities
Cartier is one of the most recognizable luxury jewelry houses in the world. It built a reputation as one of the go-to brands for royalty and celebrities. King Edward VII called Cartier " the jewelry of kings and the king of jewelers," with the jewelry house providing 27 tiaras for his coronation in 1902.
Cartier created the Patiala Necklace and other jewelry in 1925 for the Maharaja of Patiala, with the order totaling more than $2.7 billion in today's currency.
The world's leading luxury jeweler, Cartier designs and manufactures timeless and exquisite watches and jewelry worn by many A-list stars
Cartier's most famous design is the panther, which continues to be amongst its best-selling styles. Other iconic designs include the Tank watch, launched in 1919, and the Love bracelet in 1969.
6. Harry Winston: The Jeweler Who Inspired Marilyn Monroe
Marilyn Monroe once sang, " Talk to me Harry Winston, tell me all about it" in the iconic song ' Diamonds Are a Girl's Best Friend.'
Harry Winston was one of the best-known jewelers in America, launching his eponymous jewelry brand in 1932.
While Harry Winston created jewelry using the finest metals and precious stones, the jewelry house also acquired some of the world's most sought-after diamonds.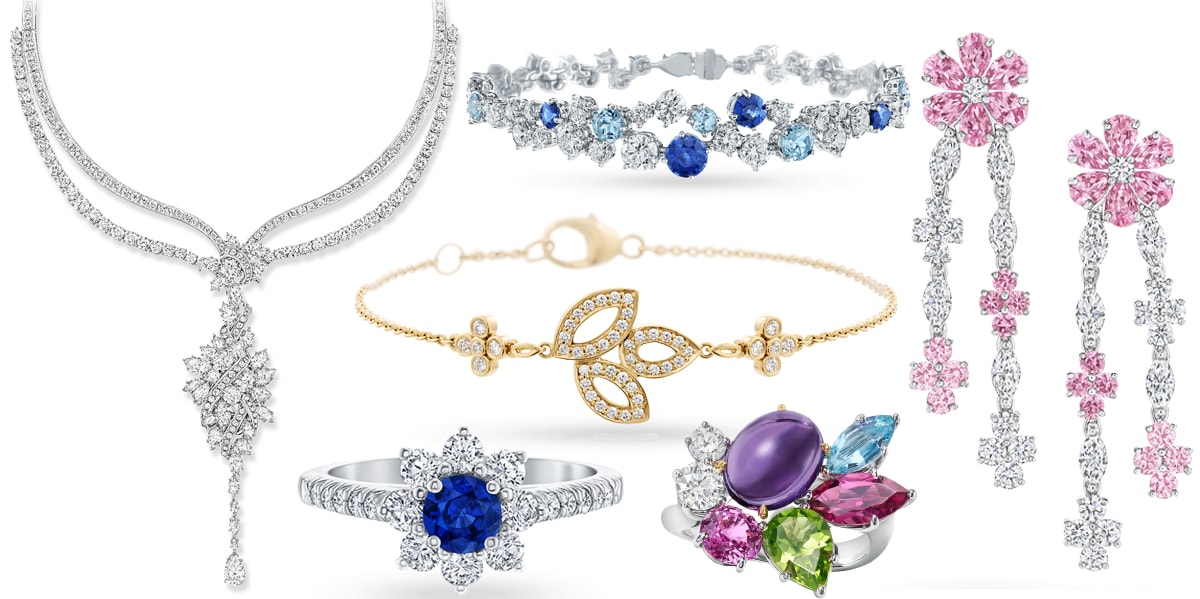 Dubbed the King of Diamonds and the original jeweler to the stars, Harry Winston created jewelry using the finest metals and precious stones and also acquired some of the world's famous diamonds
Winston famously purchased the infamous 'Hope Diamond' that had been worn by Louis XIV. Winston eventually gifted the 45.52-carat diamond to the Smithsonian Institution, where it remains on permanent exhibit.
While other brands have gravitated towards offering more attainable pieces in 14-carat gold or steel, Harry Winston has kept its focus on high and fine jewelry.
7. Mikimoto: The Pearl Jewelry Brand for Those Who Prefer Something Different
Diamonds aren't everyone's best friend. If you prefer pearls, Mikimoto is the luxury jewelry brand for you. The brand was founded by Mikimoto Kokihi in Tokyo in 1899 and describes itself as " the originator of cultured pearls."
It offers unparalleled craftsmanship with over a century of innovation, creating pearl jewelry for every generation.

Mikimoto is Japan's representative jeweler, credited as the creator of the first cultured pearl
8. Graff: The English Jeweler Who Reinvents Famous Diamonds
Graff is an English-founded jewelry brand similar to Harry Winston, building a reputation for purchasing and resetting famous diamonds into new designs. It was established in 1960 by Laurence Graff, who created fine diamond jewelry and Swiss watches.
Two of its most famous pieces include the Graff Pink, a 20ct pink emerald-cut diamond, and the Delaire Sunrise, the world's largest vivid yellow diamond with an emerald cut.
Graff has built a reputation for acquiring famous diamonds and resetting them into new designs
These eight brands are amongst the most expensive jewelry brands in the world, creating some jewelry that has broken records at auctions and become part of fashion history.