Keira Knightley's lookalike Daisy Ridley is apparently being confused with yet another actress.
In a funny PSA video published in December 2016, The Worst Witch actress Felicity Jones asked fans to please stop confusing her with Daisy Ridley.
Felicity Jones makes clear she's not Daisy Ridley in a public service announcement (Credit: Felicity Jones)
"I know we both have dark hair and talk funny to you Americans, and I know we're both in Star Wars, but yes, remarkably — two young, British women can exist in the same cinematic galaxy," the Rogue One star says rather mockingly. "I know. Crazy."
Their characters in the Star Wars universe are not related. Felicity portrays female protagonist Jyn Erso in Rogue One: A Star Wars Story while Daisy plays the role of Rey Skywalker in the Star Wars sequel trilogy.
The two actresses have become friends in real life and met up for lunch in late 2016.
"We talked for hours, and we just talked really quickly and really intensely to each other," Jones revealed in an interview with Josh Horowitz during MTV News' Facebook Live.
"Obviously, it's difficult because you can't really talk to your friends or family about it because we're keeping the story mysterious, so it was really nice to actually sit down with someone and be able to share the entire experience."
Daisy Ridley wears her hair up at the 88th Annual Academy Awards at the Hollywood & Highland Center on February 28, 2016, in Hollywood, California (Credit: Brian To / WENN)
Daisy Ridley has had a whirlwind year in 2015. The up-and-coming actress went from a nobody to one of the most talked-about actresses of the year.
In February 2016, the then 23-year-old Silent Witness actress just added another milestone to her Hollywood portfolio: Her first Oscars red carpet appearance.
Daisy Ridley's feet in custom Christian Louboutin heels (Credit: Brian To / WENN)
The actress stepped out to present at the 2016 Academy Awards in a gorgeous jeweled look.
Daisy wore a crystal, lace, and bead-embellished soft tulle dress by Chanel that featured cutouts at the back, a plunging front, and a very fresh take on the peplum skirt.
The "Star Wars" actress accessorized her look with a clutch, bracelet, earrings, and a ring — all from Chanel as well.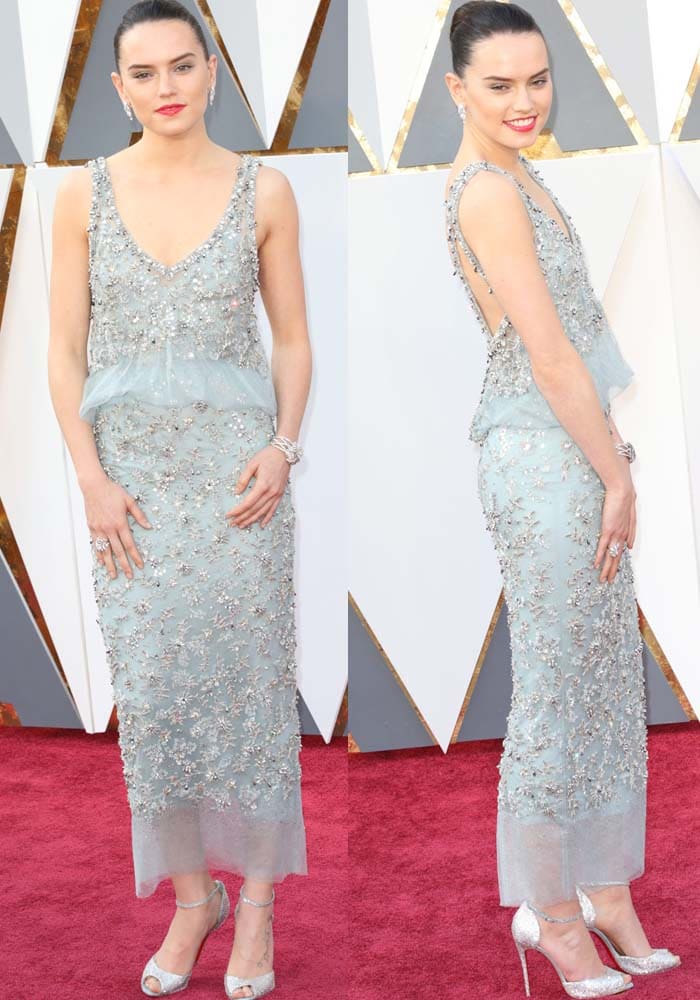 Daisy Ridley makes her red carpet debut in a Chanel dress (Credit: Brian To / WENN)
Daisy finished her sparkling ensemble with custom-made Christian Louboutin ankle strap sandals that displayed her tattooed feet.
While we can't lead you right to Daisy's custom Loubs, we can find you some similar designs at Zappos and Nordstrom.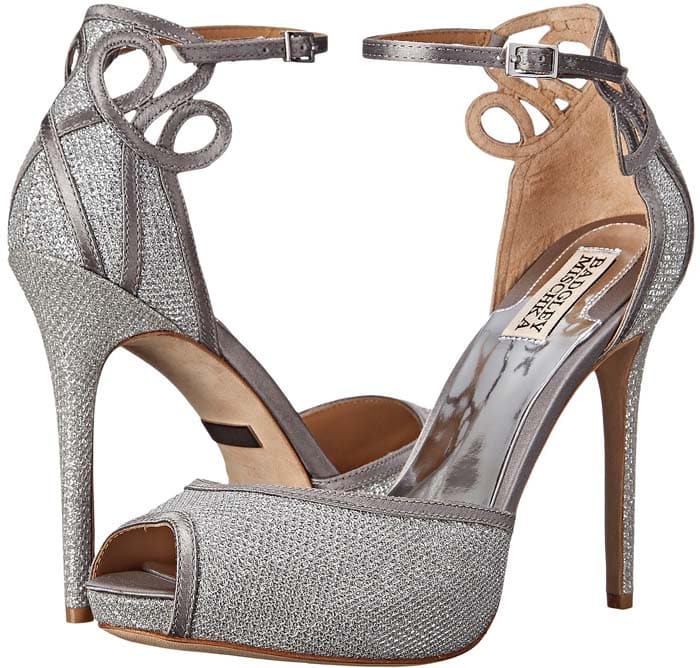 Badgley Mischka 'Smolder' Shimmery Peep-Toe Pump in Silver, $225
Maison Margiela Glitter Embellished Sandals, $895
Oscar de la Renta Silver Leather 'Annabel' Ankle Strap Sandals, $695