Fergie learned the hard way that taking risks doesn't always pay off. The former Black Eyed Peas singer decided to take liberties with the US national anthem at last Sunday's 2018 NBA All-Star Game and put a bizarrely sexy, jazzy spin to the traditional song.
Watch the cringeworthy rendition of "The Star-Spangled Banner" punctuated with breathy notes, extra scat syllables, and jazz hands.
Miss Fergalicious might not have done jazz right in her disastrous performance, but she did manage to nail the cabaret vibe in her figure-hugging ensemble.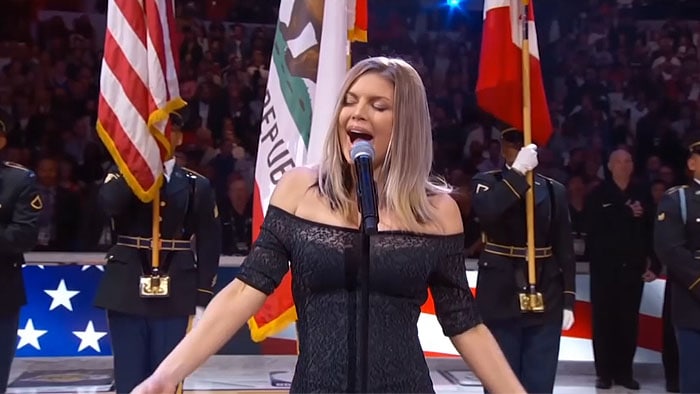 Fergie doing her bizarre, sultry rendition of the US national anthem, "The Star-Spangled Banner."
"Here's the thing about taking risks," Jimmy Kimmel said a few days later, while also noting that Fergie didn't intentionally try to ruin the song.
"When it comes to the national anthem — don't. Don't take risks when you're doing brain surgery, don't take risks when you're driving a school bus or singing the national anthem. Just regular is fine."
The 42-year-old singer looked smashing in a black lace off-the-shoulder dress paired with sexy Casadei black patent ankle-strap sandals.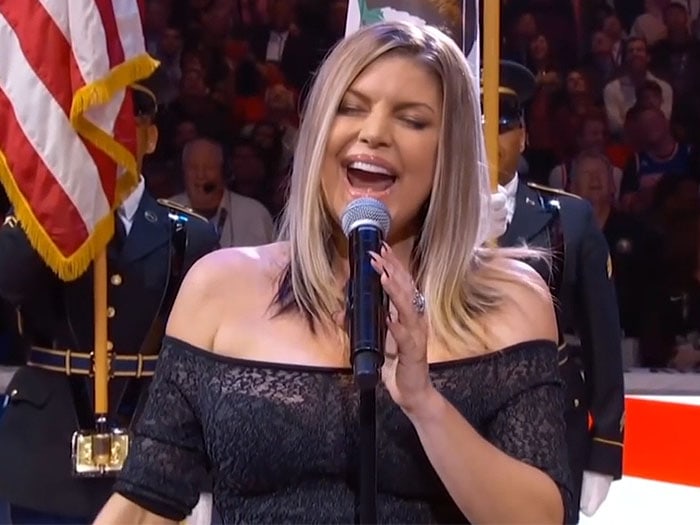 Fergie wearing a black lace off-shoulder dress and Casadei ankle-strap sandals in her performance of the U.S. national anthem
Never one without a touch of rock element in her look, Fergie accessorized with silver metal rings, black-tipped coffin nails, and black highlights in her blonde hair.
"It actually didn't sound so bad at first," one attendee told People. "Everyone was just trying to figure out what was going on. Like, was she about to break out into a different song? Then she started doing all those ranges and it just went downhill."
Fergie singing the U.S. national anthem at the 2018 NBA All-Star Game at the Staples Center in Los Angeles, California, on February 18, 2018.
She later apologized for her massive, musical fail. "I've always been honored and proud to perform the national anthem and last night I wanted to try something special for the NBA," Fergie said in a statement to TMZ.
"I'm a risk taker artistically, but clearly this rendition didn't strike the intended tone. I love this country and honestly tried my best."
DJ Suede The Remix God, a musician whose real name is Keenan Webb, later had success with a remix of Fergie's catastrophic national anthem performance.
The singer wore the same Casadei ankle-strap sandals to the season finale viewing of "The Four" a couple of weeks earlier.
Fergie wearing a Versace gold printed satin shirt and a Versace Medusa logo pendant necklace
As gorgeous as she looked in her Versace Spring 2018 gold-scrollwork-print shirt and pants, she seemed to be slipping out of the steeply pitched heels.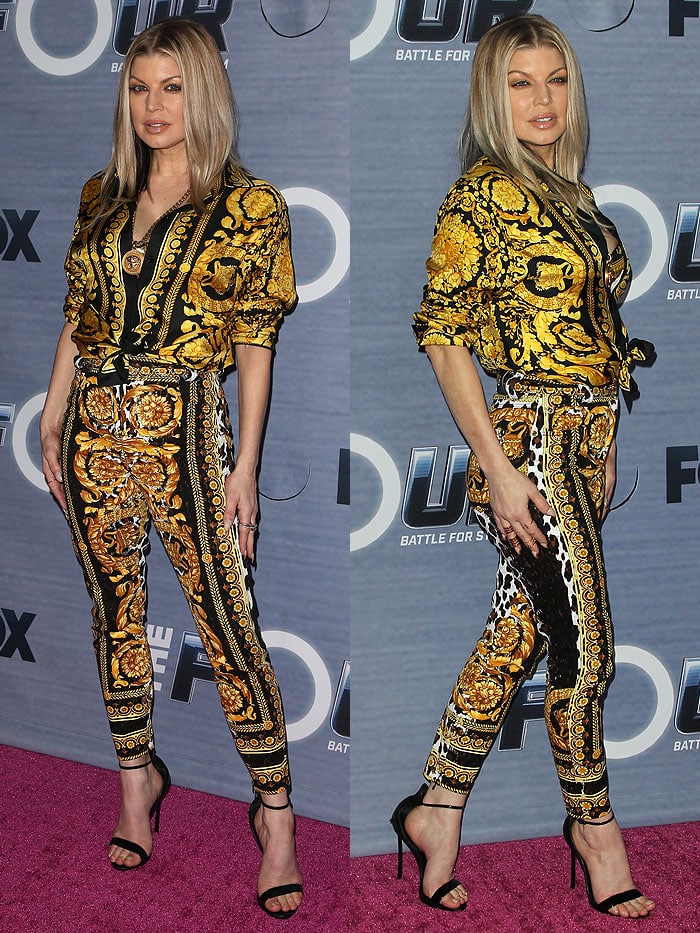 Fergie in a yellow-and-black printed shirt and pants from Versace
We've got some tips for Fergie on how to keep your shoes from slipping off your feet!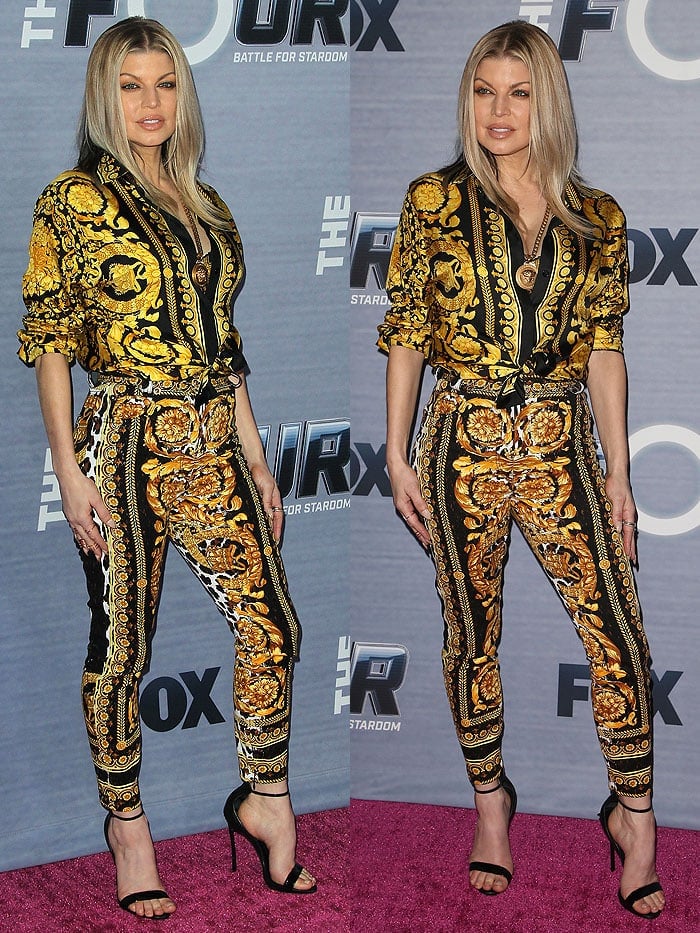 Fergie at the season finale viewing party for Fox's "The Four" held at Delilah in West Hollywood, California, on February 8, 2018.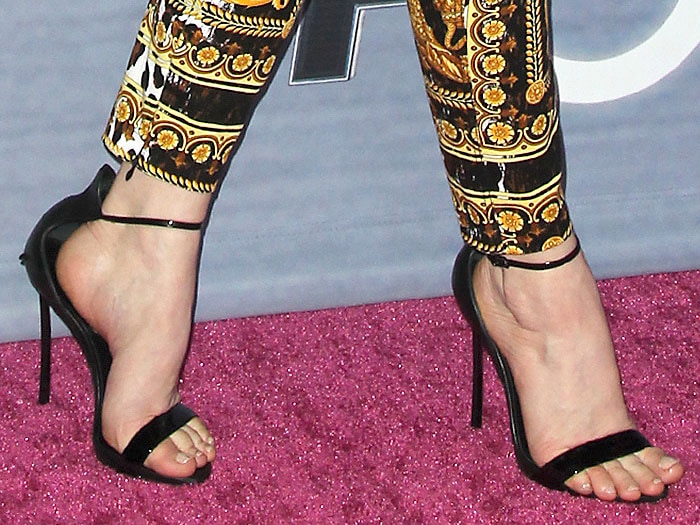 Fergie's feet in Casadei patent ankle-strap sandals
Fergie's toes slipping out of the steeply pitched heels
Casadei "Blade" Ankle-Strap Sandals, $727
Credit: Adriana M. Barraza / FayesVision / WENN