While born and raised in the United States, Vanessa and Stella Hudgens were raised by a Filipino mom, Gina Guangco-Hudgens, who came to America with their father, firefighter Gregory Hudgens.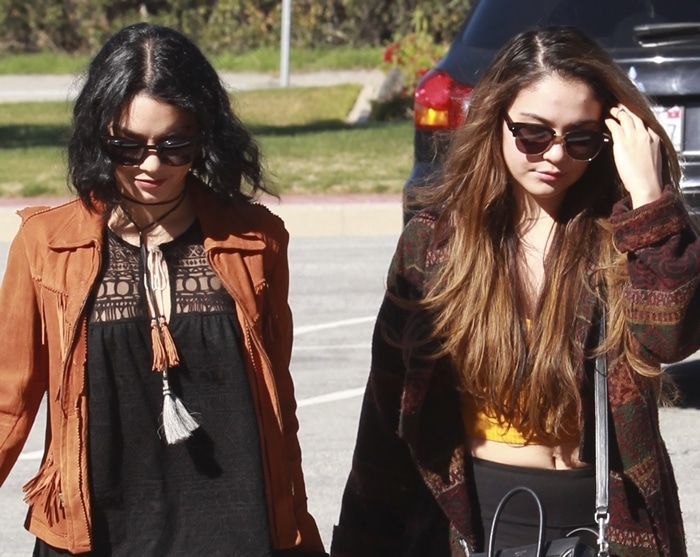 Filipino actresses Vanessa Hudgens and her sister Stella arrive at Forest Lawn Memorial Park to make funeral preparations of their father Gregory following his death in Burbank on February 2, 2016
Their dad, who was of Irish, French, and Native American descent, died of cancer in February 2016, just one day before his oldest daughter played Betty Blair Meg Rizzo in Fox TV's "Grease: Live." The High School Musical actress dedicated her acclaimed performance to Greg.
"She came to America from the Philippines with my father, so all that she knew in America was my dad, my sister (Stella), and me. Now that my dad is gone, it's been difficult," Vanessa said about her mom.
Added the singer-actress in an interview with Ruben V. Nepales for Inquirer.net, "My mom had to find things to keep herself preoccupied, especially things that bring her joy. She goes line dancing two times a week, and she loves it".
Vanessa Hudgens (L) and Gina Guangco-Hudgens attend the Teen Choice Awards 2017 at Galen Center on August 13, 2017, in Los Angeles, California
In February 2012, Stella Hudgens and her older sister Vanessa Hudgens both looked busy checking their phones while out shopping.
Stella and her older sister Vanessa Hudgens were born in Salinas, California, and raised along the West Coast, from Oregon to Southern California
If it's true that how you look is how you feel, then Vanessa Hudgens' pink and purple outfit was a clear sign that the then 23-year-old actress was in a very happy mood that day!
Complete with a purple flower in her hair, Vanessa's boho-chic-themed outfit consisted of a salmon pink tank dress, a printed purple fringed robe, and black wedge clogs.
She accessorized with thick-rimmed cat-eye sunglasses. A Lila Rice serpent spear gold triangular pendant necklace and a Chanel purse completed her look.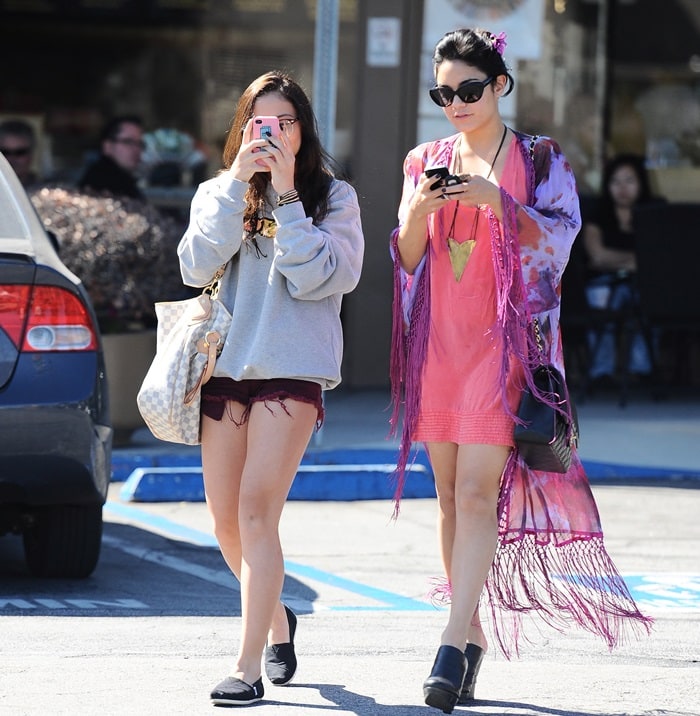 Vanessa Hudgens leaving a nail salon in Studio City with her sister Stella Hudgens on February 24, 2012
This look Vanessa Hudgens put together feels too all over the place for me, and I think those clogs need to be replaced with flat sandals. However, the pink and purple really call out to my inner 7-year-old self, and I can't help but love the color combo!
Most of it is on Vanessa Hudgens' purple haze UNIF 'Silk Boss' robe, which is a beautiful and lightweight topper to wear this spring and summer:
Vanessa Hudgens wearing a purple haze UNIF 'Silk Boss' robe
Wear this with your neutrals to add a pop of color to your warm-weather ensembles. Or, like Vanessa, you can choose to play up the boho style and the purple paint splatter print and wear it with plenty of pink bohemian-inspired pieces.
UNIF Silk Boss Robe in Purple Haze, $87.95 to $143.00
Vanessa Hudgens's statement jewelry is this Lila Rice serpent spear necklace:
Lila Rice Serpent Spear Necklace, $318
It features an embossed snakeskin pattern on the surface of the spear-shaped brass alloy pendant. It retailed for $318.00 but it is now sold out.
This necklace might not be reissued but Lila Rice Marshall, the designer behind Lila Rice, has come up with some new versions of this spear necklace. She seems to be a big fan of the spear, triangle, and pyramid shapes and she uses them on everything from her necklaces to earrings to rings.
Credit: WENN / Adriana M. Barraza