Stella Hudgens joined her older sister Vanessa Hudgens while attending the 2018 Coachella Valley Music and Arts Festival. Born on November 13, 1995, as Stella Teodora Chanel Guangco Hudgens, the American actress is best known for Mr. Hollywood (2015), The Memory Thief (2007) and Deeply Irresponsible (2007).
Stella Hudgens is Vanessa Hudgens' younger sister and they grew up along the West Coast, from Oregon to Southern California
Frequently seen enjoying each other's company, Vanessa is 7 years older than her younger sister Stella.
Stella Hudgens and her older sister Vanessa Hudgens go shopping at Urban Outfitters in Los Angeles on August 8, 2017
Their father, former fireman Gregory Hudgens, died from cancer in February 2016. Vanessa announced his death on Twitter:
"I am so sad to say that last night my daddy, Greg passed away from stage 4 cancer,' she tweeted. 'Thank you to everyone who kept him in your prayers. Tonight, I do the show in his honor," the actress tweeted.
Luckily, their mother Gina Hudgens (née Guangco), who is of Filipino-Chinese-Spanish descent, is still doing well.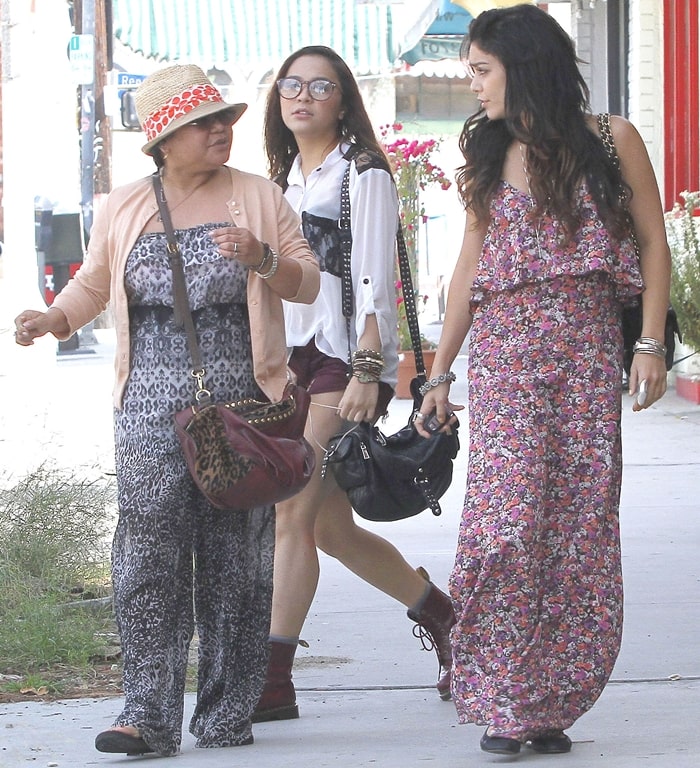 Vanessa Hudgens out for lunch in April 2012 with her mother Gina Guangco and her sister Stella Hudgens in Los Angeles, California
In September 2015, it looked like Vanessa Hudgens was all healed up! The actress revealed a cast-free hand following the injury she sustained in London.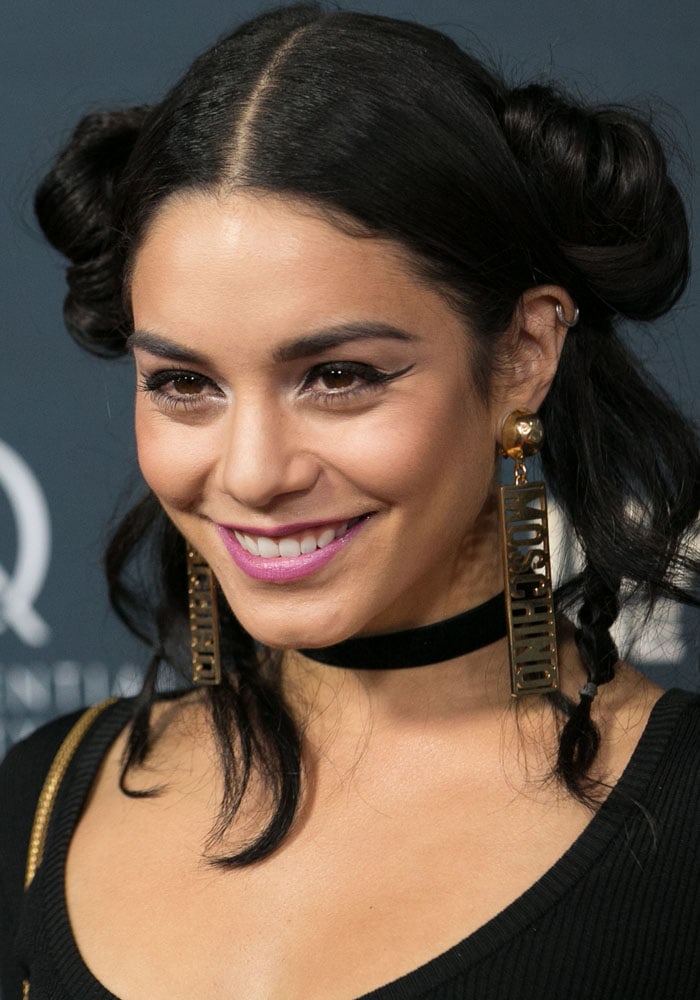 Vanessa Hudgens attends the world premiere of Jeremy Scott: The People's Designer in Los Angeles on September 8, 2015
The "High School Musical" star announced the removal of her full-on cast in an Instagram-upload but mentioned that she still needs to wear a splint for the foreseeable future.
At least this time, her medical accessory is removable.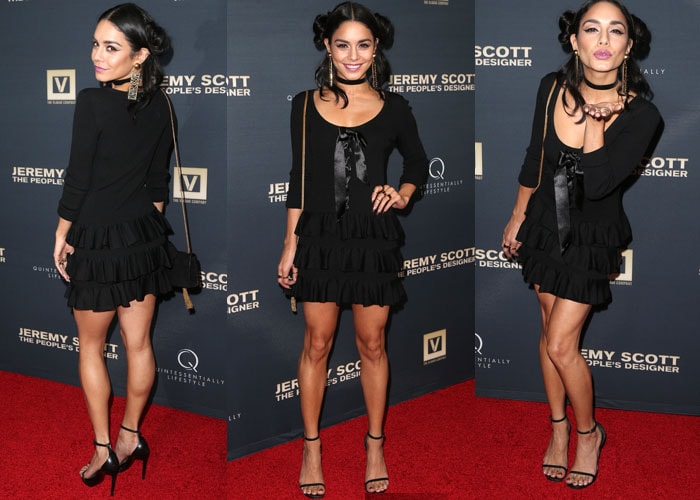 Vanessa Hudgens wears a Moschino and Saint Laurent look as she poses on the red carpet
Vanessa decided to take advantage of the removable splint by going bare-handed as she graced the red carpet of Jeremy Scott: The People's Designer at the TCL Chinese Theater in Los Angeles.
Vanessa posed and flirted with the camera, sans need to color-coordinate her cast with her outfit this time around.
Vanessa Hudgens shows off a metallic pedicure in a simple pair of Saint Laurent heels
The 26-year-old wore a dress by Jeremy Scott's brand Moschino and accessorized it with a Saint Laurent purse and a pair of Saint Laurent "Jane" leather sandals.
Vanessa Hudgens and her sister, Stella Hudgens, pose on the red carpet of the premiere of "Jeremy Scott: The People's Designer"
Vanessa's younger sister Stella also wore Moschino to the event.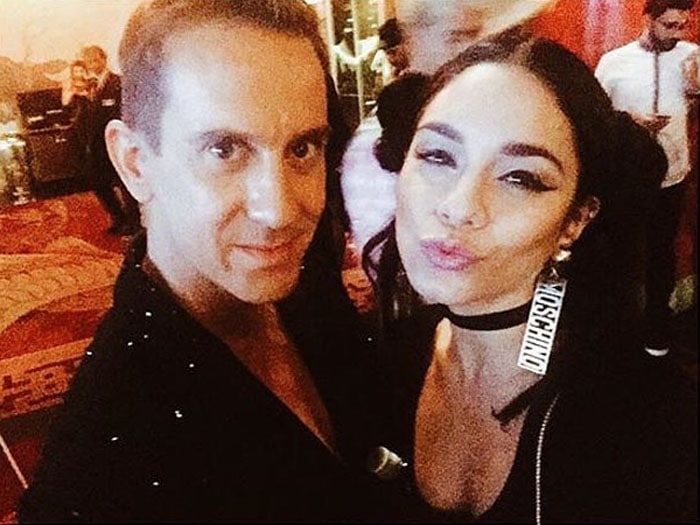 Vanessa Hudgens goofs around and takes a selfie with fashion designer Jeremy Scott at the premiere of "Jeremy Scott: The People's Designer"
We don't quite understand what Vanessa was going for in this look (Street Fighter Chun Li meets goth princess?) so we will choose to ignore the upper part of her outfit and focus on her heels.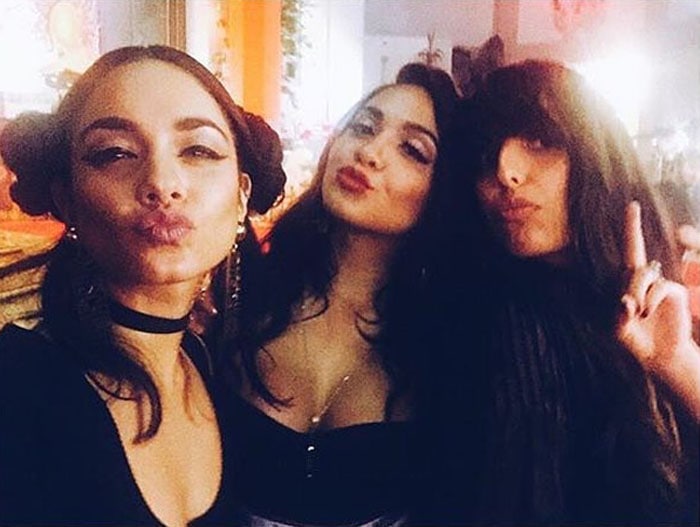 Vanessa Hudgens, Stella Hudgens, and a friend goofing around on the red carpet at the premiere of "Jeremy Scott: The People's Designer"
It's very easy to mistake these minimalist heels for the Stuart Weitzman "Nudistsong" sandals, but the heel cup gives it away.
While the Stuart Weitzman heel cup is a bit more covered up and vertical, the Saint Laurent's slants slightly more.
To get Vanessa's sandal staple, click your way over to Nordstrom.
Saint Laurent "Jane" Leather Sandals, $695
Credit: Vaness Hudgens' Instagram / FayesVision / Brian To / WENN