Chloe Grace Moretz is coming back to our TV screens as she takes on the starring role in the sci-fi series The Peripheral, set to debut on October 21 on Amazon Prime Video.
On Tuesday, the cast of the sci-fi streaming TV series graced the red-carpet premiere of their new show held at the Ace Hotel in Los Angeles.
Leading the style pack was the 25-year-old actress, who opted to show off her toned figure.
Chloe Grace Moretz showcases her abs and legs at the Los Angeles premiere of her upcoming series The Peripheral on October 11, 2022 (Credit: BauerGriffin / INSTARimages / Cover Images)
The Carrie star wore a Louis Vuitton sleeveless cropped top that's adorned with layers of reflective mirror panels strategically placed to create a fish scale pattern.
Allowing her futuristic-looking top to do the talking, Chloe paired it with a plain black high-waisted maxi skirt with a front slit that showed a glimpse of her toned legs.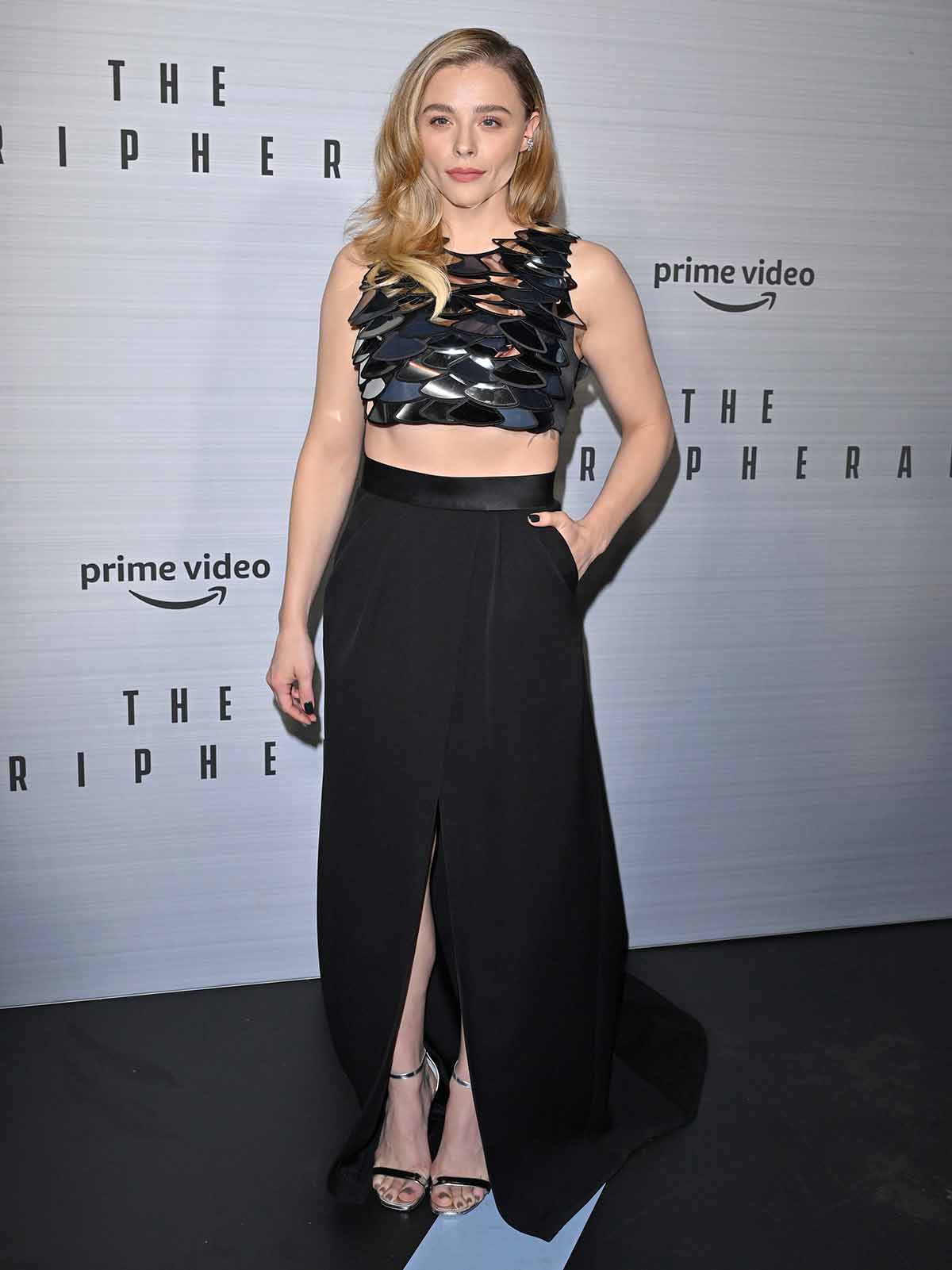 Chloe Grace Moretz in a futuristic Louis Vuitton mirror-paneled crop top and high-waisted maxi skirt (Credit: BauerGriffin / INSTARimages / Cover Images)
She then opted for less-flashy accessories, styling with just a pair of diamond ear cuffs and a boxy clutch.
Her golden tresses were parted to one side and styled in thick waves, while her makeup featured pink eyeshadow, dewy blush, and nude pink lipstick.
Chloe Moretz wears light pink makeup and styles her tresses in side-parted waves (Credit: BauerGriffin / INSTARimages / Cover Images)
Sporting a black manicure, The 5th Wave actress boosted her petite 5'4" height with silver open-toe sandals.
These sandals, which showcased her foot tattoo, featured delicate ankle straps, open square toes, and about 4-inch stiletto heels.
Chloe Grace Moretz showcases her feet and foot tattoo in metallic silver open-toe heels (Credit: BauerGriffin / INSTARimages / Cover Images)
What Is The Peripheral About?
Created by Scott Smith and executive produced by the Westworld creators, the upcoming eight-episode series is based on the 2014 book of the same name by William Gibson, available on Amazon.
It's set in the future and follows the story of Flynne Fisher (played by Chloe Moretz), a young gamer living in the Blue Ridge Mountains in 2032 with her Marine veteran brother Burton (played by Jack Reynor) and their sick mother.
The siblings are making ends meet by playing simulation video games and beating difficult levels for high-paying customers.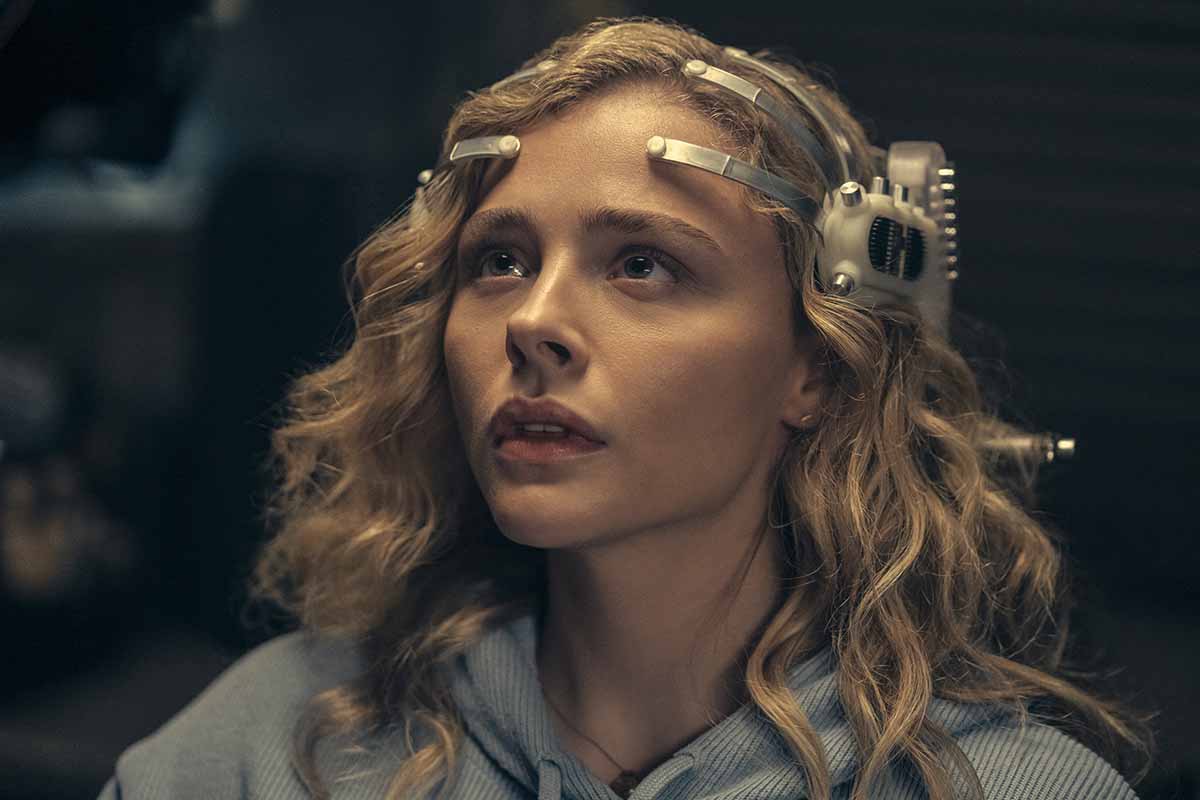 Chloe Grace Moretz stars as gamer Flynne Fisher in The Peripheral (Credit: Amazon Studios)
Things change after Flynne puts on a new headset, supposedly to beta-test a new simulation, initially offered to Burton.
She's instead transported to a future London and gets involved in a mission to steal a valuable secret from the Research Institute. When the assignment goes wrong, she realizes that she has put herself and her family in danger.
The first episode of The Peripheral will be released on October 21, followed by a new episode dropping every Friday through December 9.
What Video Games Does Chloe Grace Moretz Play?
In relation to her upcoming series, Chloe Moretz recently took to Twitter to share some of her favorite video games. A hardcore gamer, she said she has "been playing this MWII open beta non stop lol and I am *obsessed*, who else is loving it"
She also mentioned playing Destiny, Call of Duty, Vanguard, FFXIV, GTA Online, and Cold War.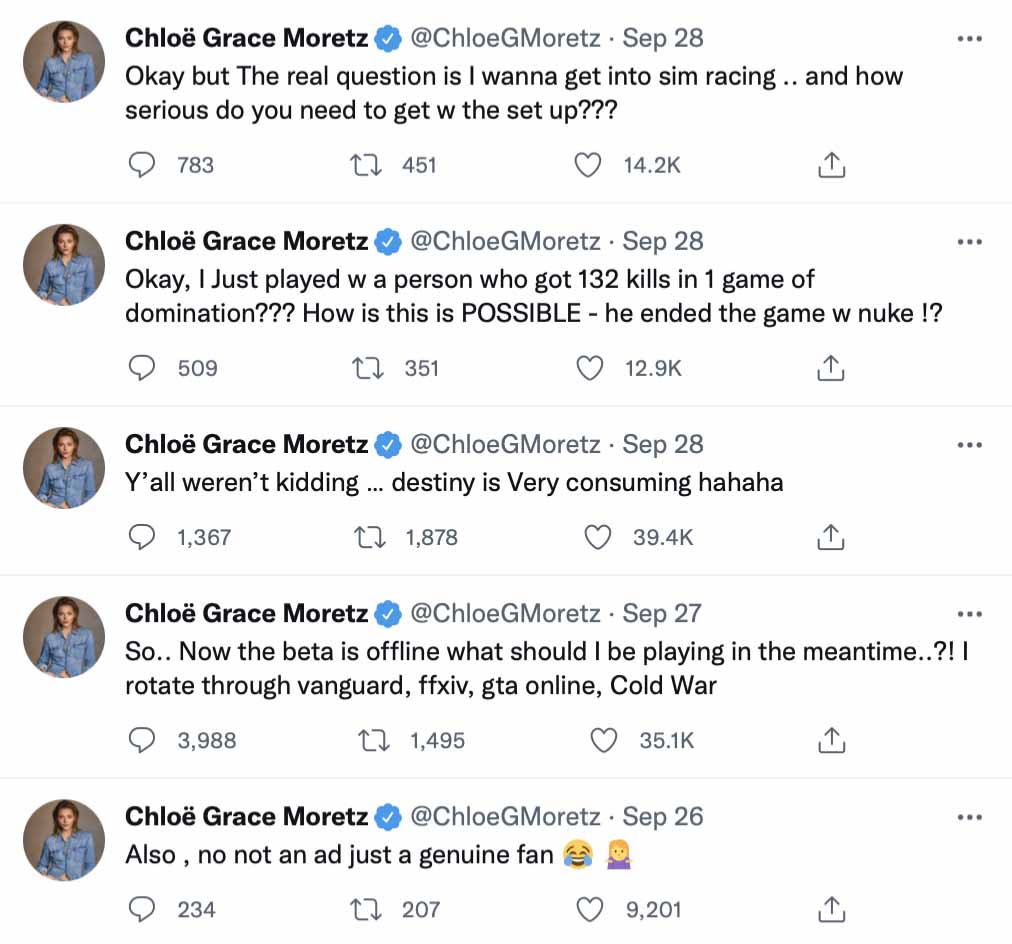 Chloe Grace Moretz shares some of her favorite video games (Credit: @ChloeGMoretz / Twitter)
When asked by ComicBook about the gaming world she'd most like to live in, Chloe cited Final Fantasy and CD Projekt Red's Cyberpunk universe.
"Oh, that's kind of fun, Final Fantasy, that would be crazy. I play a lot of Final Fantasy XIV, so I would love to be my character in there, for sure. I'm one of the bunny ladies. I'm one of the bunny girls, and I live in Ul'dah. So this means nothing to a lot of people, but for people that play the game, yes, I do want to be living in Final Fantasy….Cyberpunk would be kind of cool to live in, too."