She's an internet star with over 80 million followers on the video-sharing app TikTok. But like other celebrities, Addison Rae is not exempt from haters and social media trolls.
In a recent interview with Rollacoaster magazine, the 20-year-old influencer opened up about her experiences with body shaming.
"I do experience a lot of body shaming, and also some say I don't deserve my success. So I have to regularly remind myself to be myself, no matter what, and that I'm unique and healthiest by being me."
"Also I remind myself to be graceful towards people and understand everyone's having their own battles," she added.
Addison Rae leaving The Nice Guy restaurant in West Hollywood on June 2, 2021 (Credit: MEGA / WENN)
The Obsessed singer also mentioned Kourtney Kardashian, who helped her navigate her way through fame.
"Kourtney has become a good friend, she's included me in so much and has given me great support in navigating through some of the new experiences I'm having."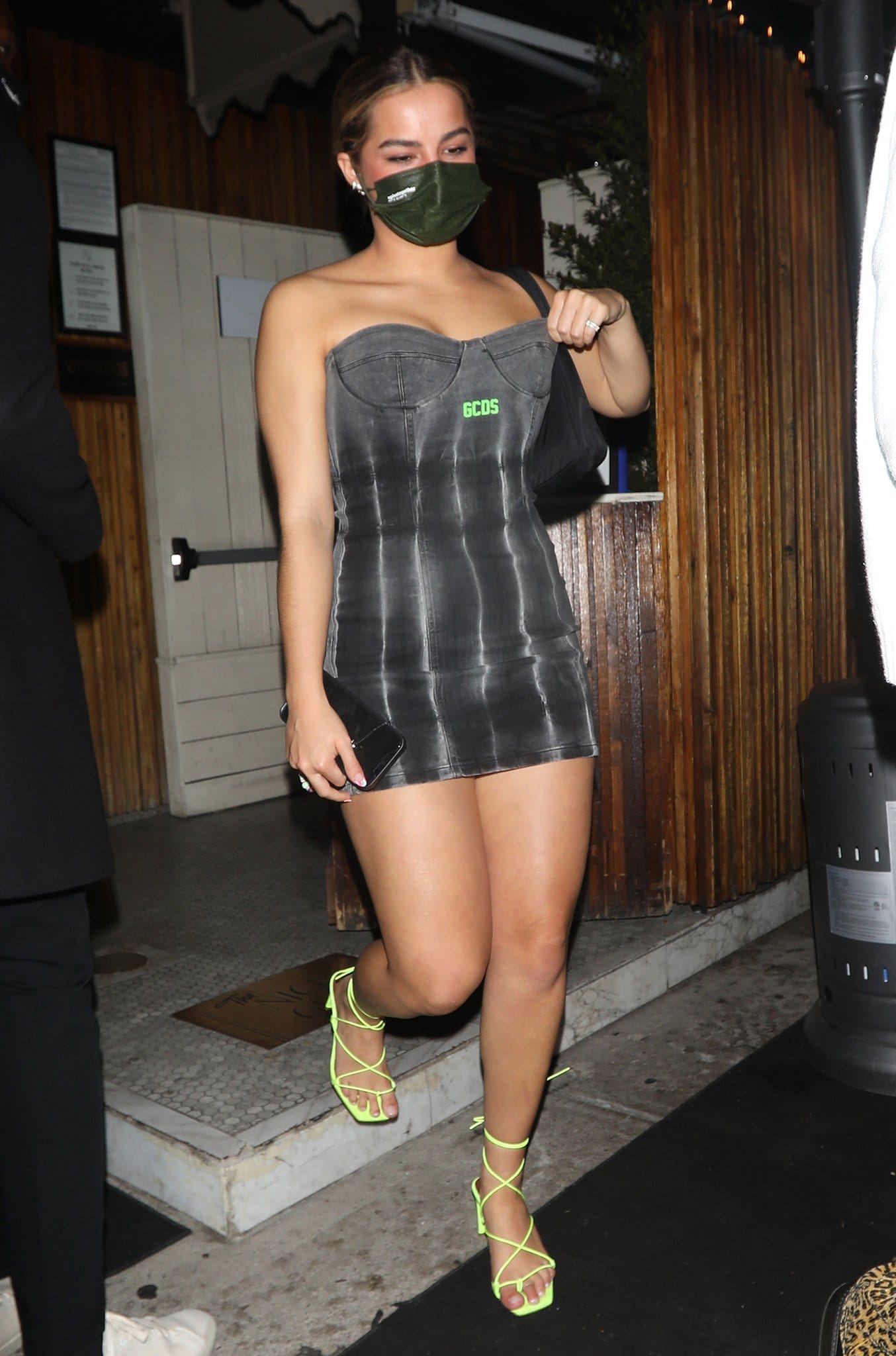 Addison Rae shows off her shapely legs in a GCDS gray mini dress with a bustier top (Credit: MEGA / WENN)
On Wednesday, Addison was spotted partying with a friend at The Nice Guy Restaurant in West Hollywood.
For the night out, the social media influencer showed off her curves and shapely legs in a '90s-style GCDS gray strapless mini dress that features a bustier top and a thigh-grazing hem.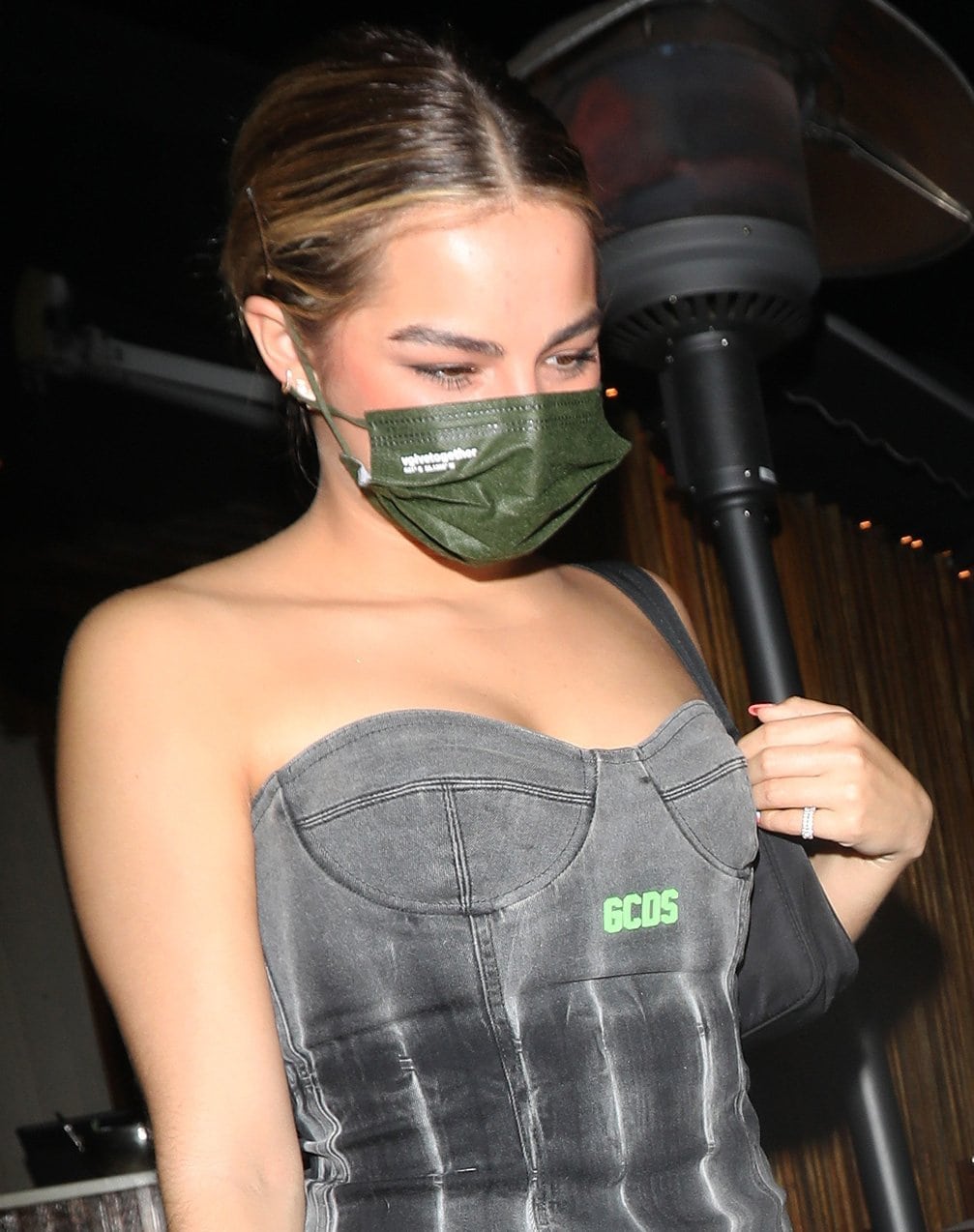 Addison Rae glams up with a neat hair bun with bold brows and peach blush underneath her EvolveTogether face mask (Credit: MEGA / WENN)
She partied safe by wearing an EvolveTogether Amazonia face mask, which partially covered her glammed-up face.
Carrying her Prada Re-Edition 2000 nylon mini bag, Addison added a pop of color to her evening look by showing off her feet in neon green Alohas "Bellini" strappy sandals.
These trendy sandals feature square toes, wraparound ankle ties, and thong toe posts.
Addison Rae gives her night out look a pop of color by showing off her feet in neon green Alohas ankle-tie square-toe sandals (Credit: MEGA / WENN)
Alohas 'Bellini' Neon Green Sandals, $149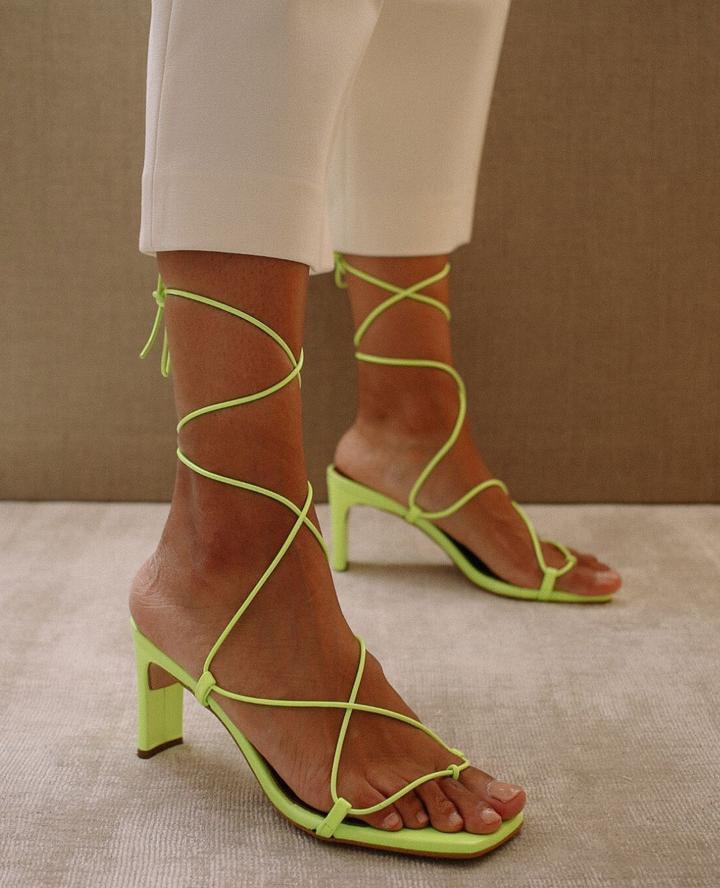 Inspired by a classic feminine silhouette, Alohas' Bellini neon green heels feature a wraparound lace-up style
Making sure she stays fit and healthy, Addison was seen leaving a workout session in Los Angeles on Friday afternoon.
She wore an oversized white tee with rolled sleeves paired with Tavi Noir high-waist tight leggings.
Addison Rae leaves a workout session in Tavi Noir leggings on May 28, 2021 (Credit: Instar / WENN)
The Louisiana-born TikTok star casually pulled her tresses back into a high ponytail, showing her multiple earrings and beautifully made-up face.
She then gave her black-and-white look some color with a purple '90s-inspired Lolita Jade "Sienna" messenger bag.
Addison Rae wears a high ponytail and a face full of makeup during her workout (Credit: Instar / WENN)
A pair of APL Techloom Breeze white sneakers rounded out Addison's sporty look.
This celebrity-favorite sneaker features a stretch rebound Techloom upper with Propelium cushioned insoles designed to maximize energy generation and provide superior comfort.
Ariel Winter and Lea Michele were also pictured wearing the same shoes last year.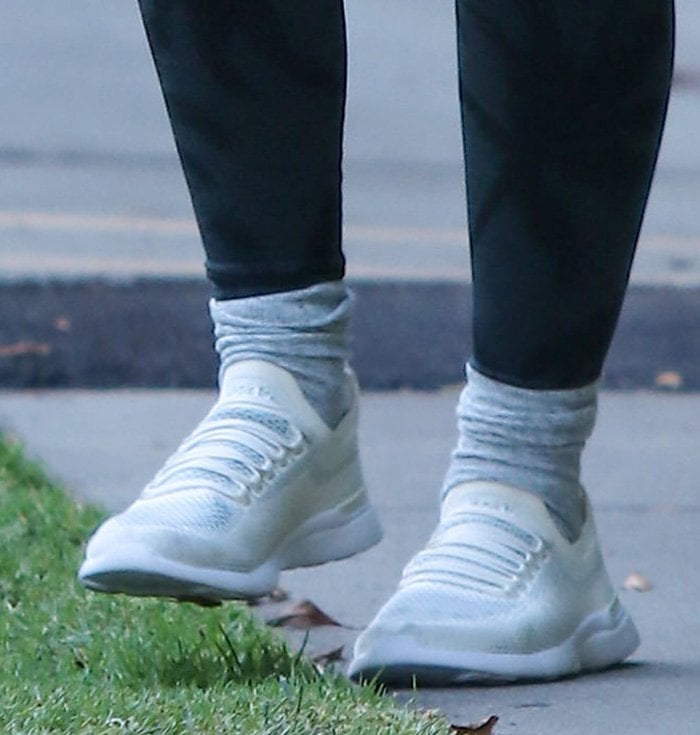 Addison Rae completes her sporty look with gray socks and white APL Techloom Breeze shoes (Credit: Instar / WENN)
APL Techloom Breeze Shoes, $200 at Zappos
The APL Techloom Breeze features a breathable mesh Techloom upper and a comfy Propelium insole