There is something very Barbie-ish about the current collection of Giuseppe Zanotti shoes. It makes me wonder if the famed Italian shoe designer really was inspired by Barbie for this season!
You'll first notice it in the shoes' colors of course — bubblegum pinks, royal purples, stark whites and everything along those lines. It isn't as evident at first because Giuseppe Zanotti also has a lot of the blacks and browns, but the bright colors will reach out and grab you once they start standing out for you.
When you put all those colors together as I have below, you'll also start noticing the Barbie inspiration in the shoes' proportions. How "Barbie" are those super high heels and impossible heel to toe arches? And the low-cut vamp on that pink pointy toe pump? Only ever seen on Barbie!
The final proof is in the shoes' details and embellishments such as the candy-colored studs on the strappy sandals and the big pink plastic buckle on the pink and black suede stiletto booties.
Compare these Giuseppe Zanotti shoes to the actual Barbie shoes below and tell me: don't you think Giuseppe Zanotti's new fall shoes look like they were inspired by Barbie?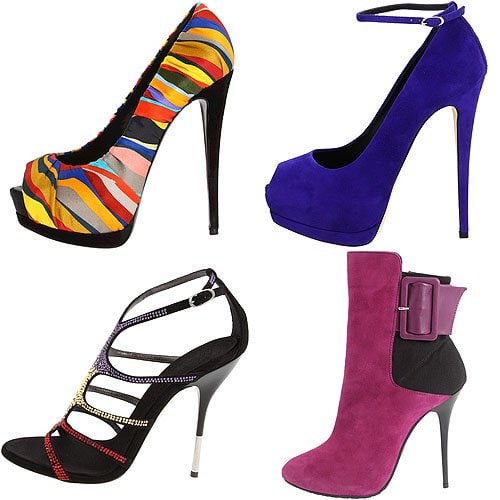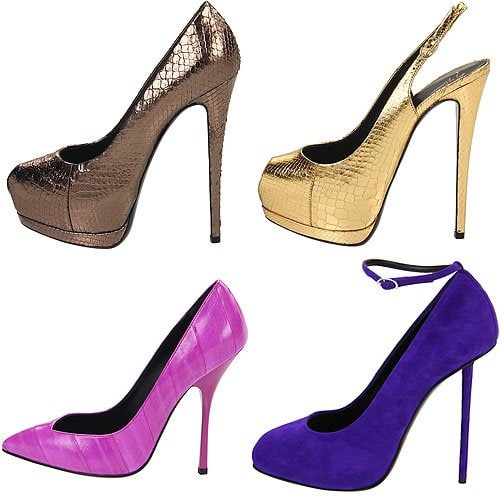 7 Pairs of Shoes Made to Fit The Fashion Doll, $2.50 at Amazon
All the Giuseppe Zanotti shoes featured here can be found at Zappos. You can also find a nice selection of Giuseppe Zanotti shoes at Farfetch and Saks Fifth Avenue.