Lizzo showed off her 24kt gold-plated brass bag from Lynn Ban ($1,726 at Matches Fashion) in a striking geometric dress at the 2020 NAACP Image Awards on Saturday at the Pasadena Civic Auditorium in Pasadena, California.
Lizzo totes Lynn Ban's bullion 24kt gold-plated necklace bag
Designed to resemble a bullion bar, this unique handbag is crafted in Italy with a detachable slinky snake-chain shoulder strap that can be worn around the neck. It opens to reveal a metallic leather lining that can house your nighttime essentials.
Styled by Brett Alan Nelson, the 31-year-old "Truth Hurts" singer completed her look with Onyx shoes from Smash Shoes, a custom Mary Katrantzou dress featuring her name printed across the front, and a David Webb ring.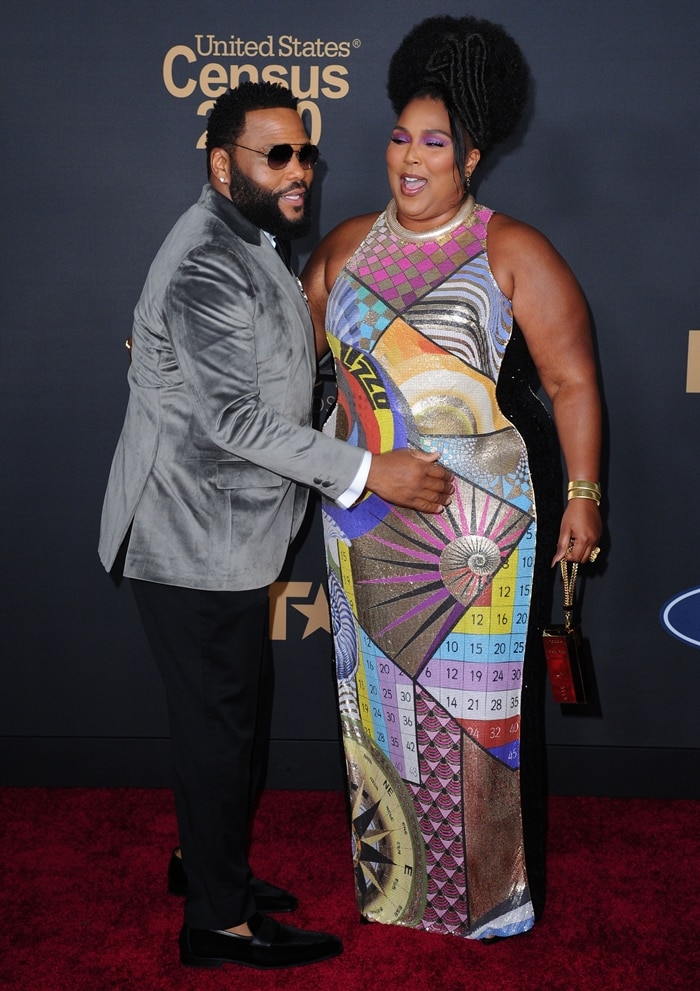 Anthony Anderson and Lizzo attend the 51st NAACP Image Awards, Presented by BET, at Pasadena Civic Auditorium on February 22, 2020, in Pasadena, California
During the show, she hit the stage to accept the award for Entertainer of the Year.
"Hello beautiful black people!" she said during her acceptance speech. "I just want to thank the NAACP for making this one of the most special nights. I got to meet all of my heroes tonight in this room. Miss Angela Bassett — thank you for this award. It says that I'm the entertainer of the year, but you are the entertainer, PERIOD."
"I just want to shout out all the big black girls I bring onstage with me," she continued.
"I do that because I want them to know they are the trophies. Since this is the final award of the night, I don't even want to make it about me. Every last one of you: you are the award. We are so special. We are such beautiful people. This is just a reminder of all the incredible things that we can do. God bless you and keep on being an award. Let's go!"
Bullion 24kt Gold-Plated Necklace Bag, $1,726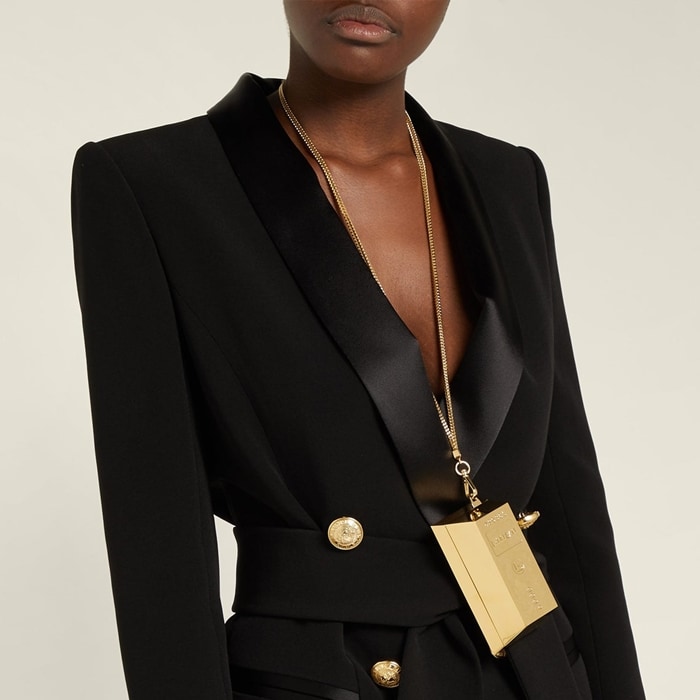 Lizzo really loves unique handbags. Last year, she carried the world's smallest handbag to the 2019 American Music Awards.
Credit: Instar / WENN