A few days before the Oscars, Anne Hathaway bagged another award — the 2013 Lacoste Spotlight Award, which was handed to her during the 15th Annual Costume Designers Guild Awards held at The Beverly Hilton on February 19.
She looked stunning while flaunting her hot legs in a shimmering gold Gucci cocktail dress, which is very unique. It features paillettes all over, with crystal embellishments as well as cutout detailing along the neckline and chest area.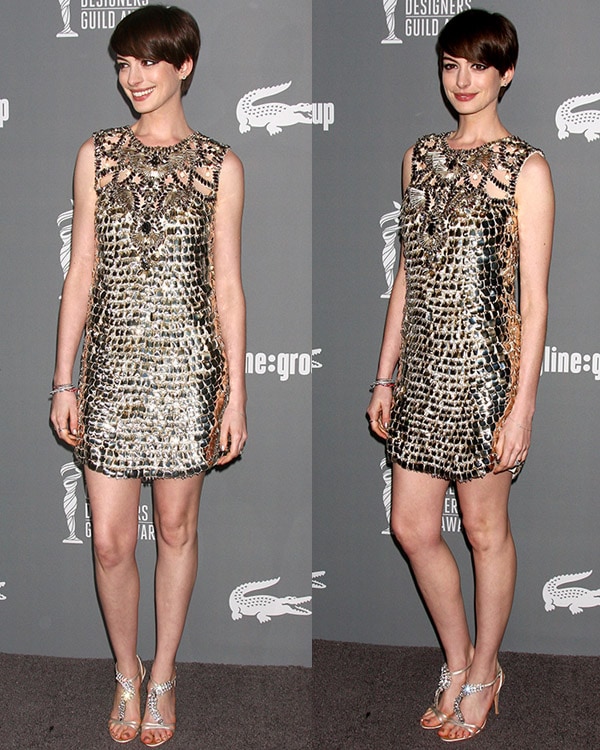 Anne Hathaway's hot legs at the 15th Annual Costume Designers Guild Awards at The Beverly Hilton hotel in Beverly Hills on February 19, 2013
She sparkled from head to toe as she continued her glitzy look down to her feet with a pair of Giuseppe Zanotti heels that were also bedazzled.
Anne Hathaway showed off her pretty toes
It looked like the 30-year-old actress was already feeling the spirit of The Oscars (happening this Sunday) in this sparkling gold ensemble.
Anne Hathaway's sexy feet in Giuseppe Zanotti embellished heels
Her metallic champagne Giuseppe Zanotti sandals feature strappy uppers with edgy asymmetric t-straps embellished with crystals. I guess this is the perfect pair to finish off her unique, glitzy dress. What do you think?
A sloane color version of these sandals is on sale now at Zappos. Here's how it looks:
Giuseppe Zanotti Embellished T-Strap Sandals, $1,195 at Zappos
Credit: Nikki Nelson / WENN