She flew to Brazil to spend the holidays with her family days before Christmas.
And after going off the radar for months following an extended vacation in her hometown, Alessandra Ambrosio is finally back in her second home in Los Angeles.
On Thursday, the 39-year-old supermodel appeared to be in high spirits while on a hike with her dogs and a mystery man in Malibu.
Alessandra Ambrosio goes hiking with a mystery man in Los Angeles on March 4, 2021
She wore a lavender gray sweatshirt with gray sweatpants from apparel label Good American, co-founded by Emma Grede and Khloe Kardashian.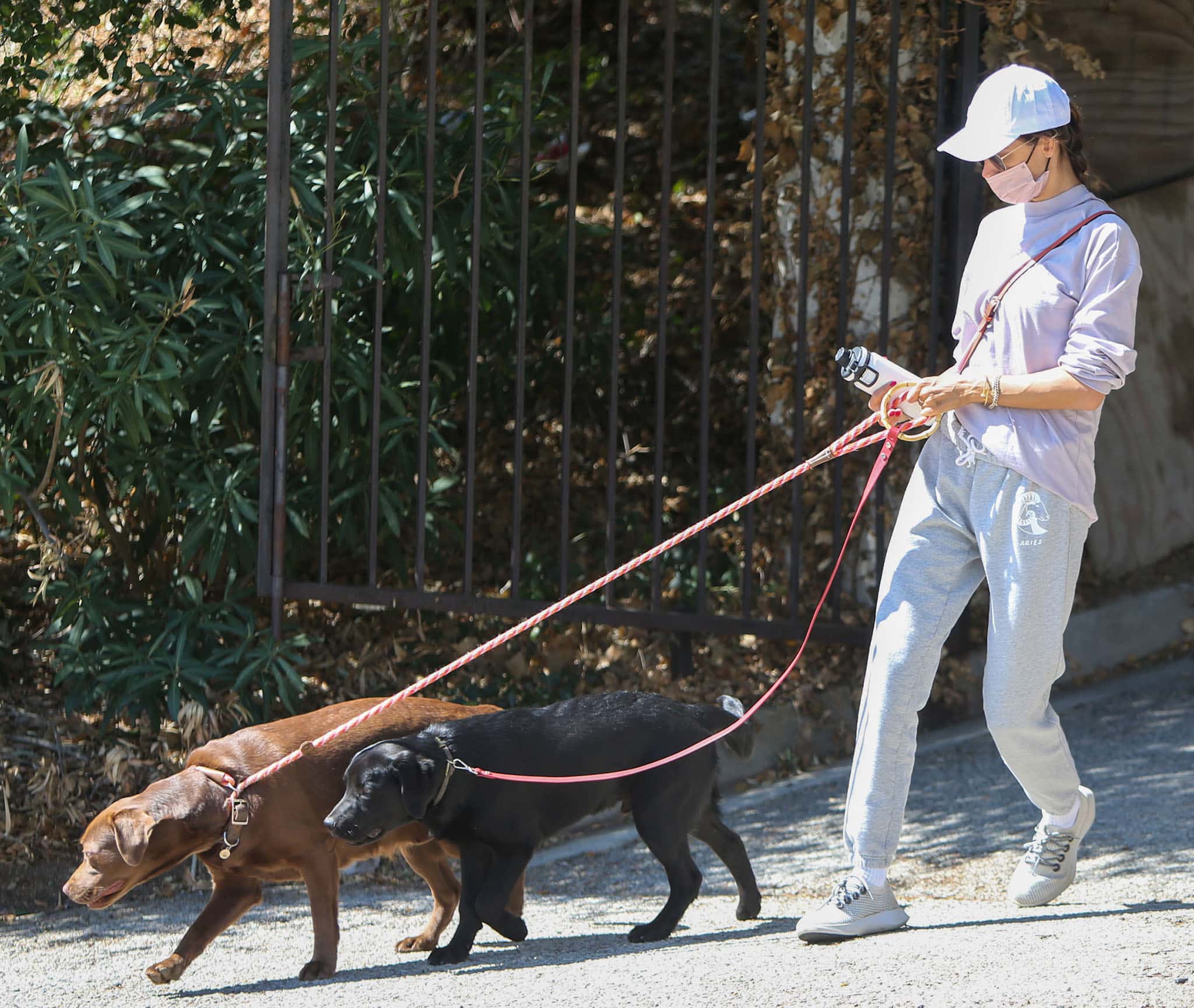 Alessandra steps out with her dogs in a lavender gray sweater and Good American sweatpants
The mom-of-two later stripped down to her ab-baring sports bra and tied her sweatshirt around her waist.
To further cool down, Alessandra scrunched up her sweats, revealing her white Alo Yoga Throwback socks.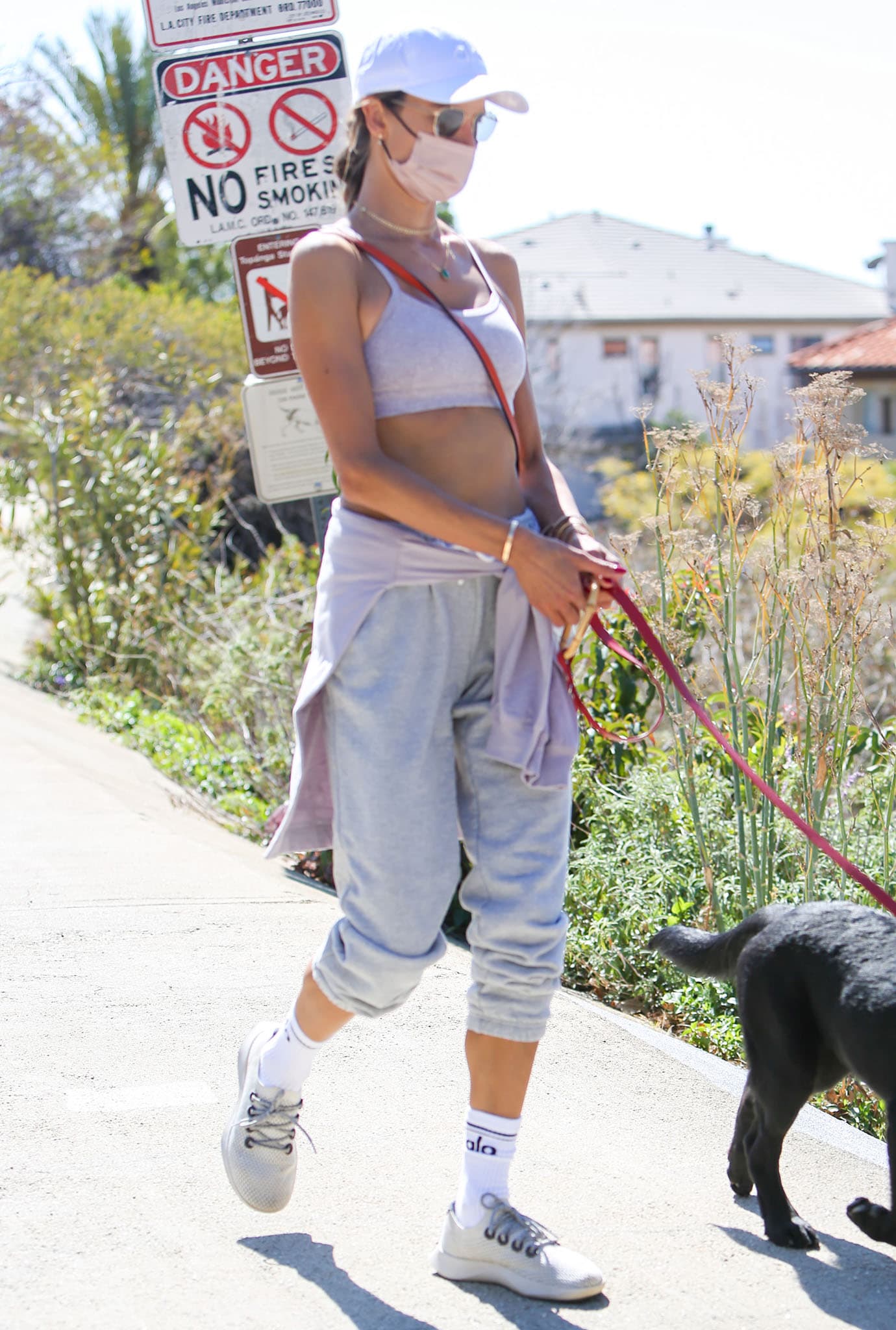 Alessandra Ambrosio strips down to a sports bra, revealing her flat abs
She then slipped into a pair of sustainable Tree Dashers sneakers in quartz colorway, which you can purchase at Allbirds.
Allbirds' most technical shoe yet redefines the classic running shoe with the use of natural renewable materials. The upper is made from eucalyptus tree fiber, while the laces are created from recyclable plastic bottles. They also have the brand's signature Brazilian sugarcane SweetFoam cushioning.
Alessandra Ambrosio wears Alo Yoga Throwback socks with Allbirds Tree Dashers sneakers
Allbirds Tree Dashers Sneakers, $125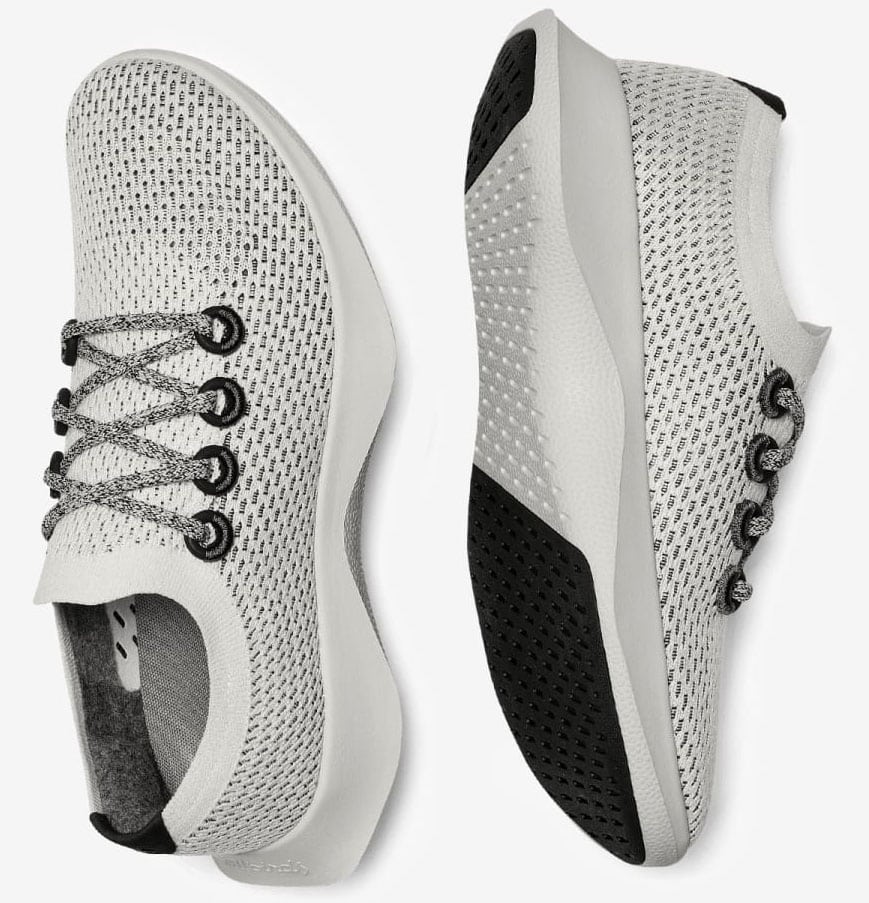 The Tree Dashers redefines classic technical running shoe with renewable materials
The Gal Floripa co-founder accessorized her hiking look with a pendant necklace, a choker necklace, several bracelets, and an orange Bandolier Casey pebble leather phone case.
Keeping things low-key, she wore a white Alo Yoga cap, a pair of aviators, and a light pink face mask.
Meanwhile, her male companion opted for an all-black look, pairing a black tee with basketball shorts, a cap, and trainers.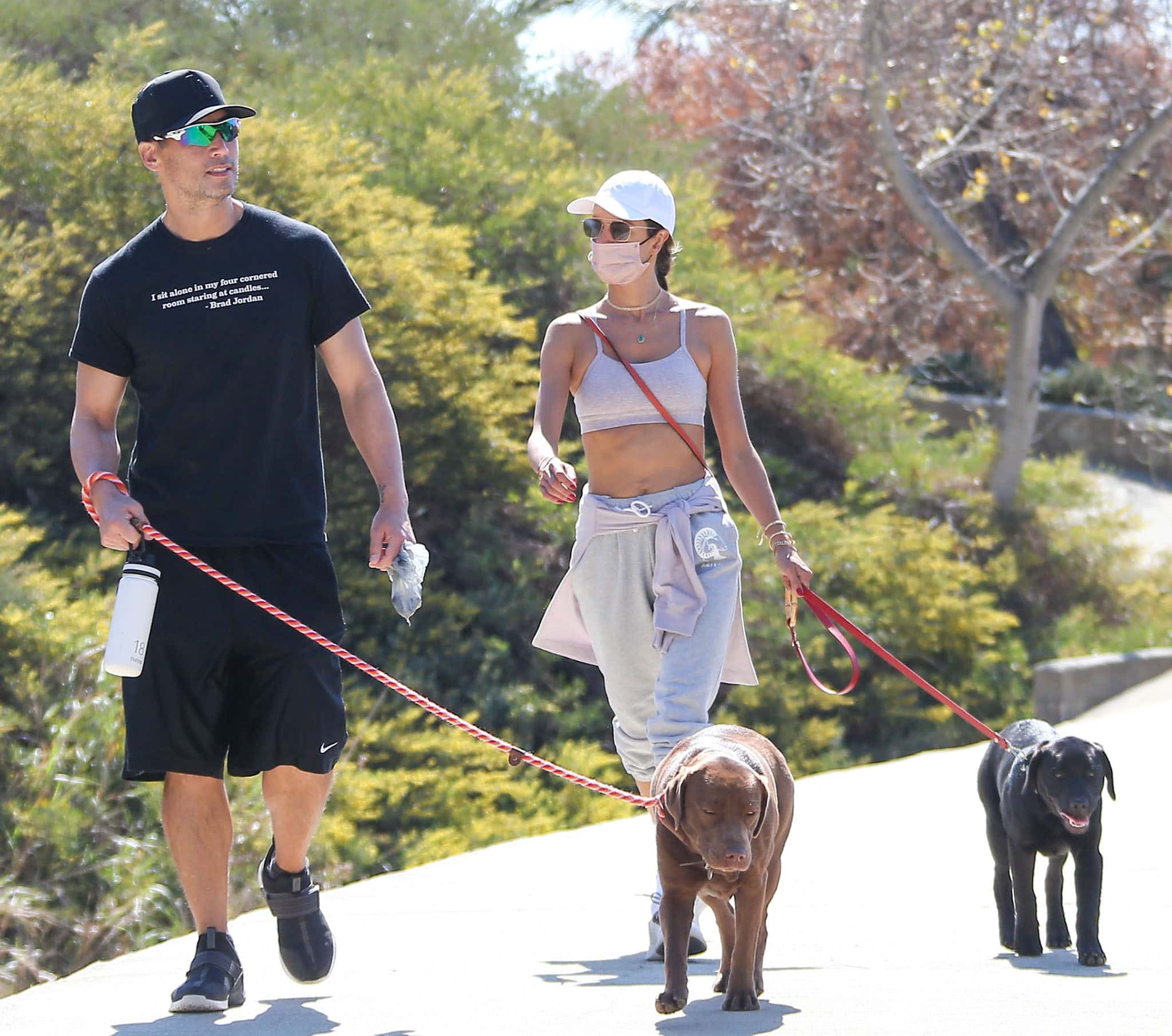 Alessandra Ambrosio's male companion wears a black tee with black basketball shorts, cap, and sneakers
On Wednesday, Alessandra was seen shopping at Soul Cycle without the mystery man.
Going for a casual-chic look, Alessandra donned a Mother Boat Square Alpaca Sweater in beige-and-white stripes, which you can buy for $355 at Shopbop.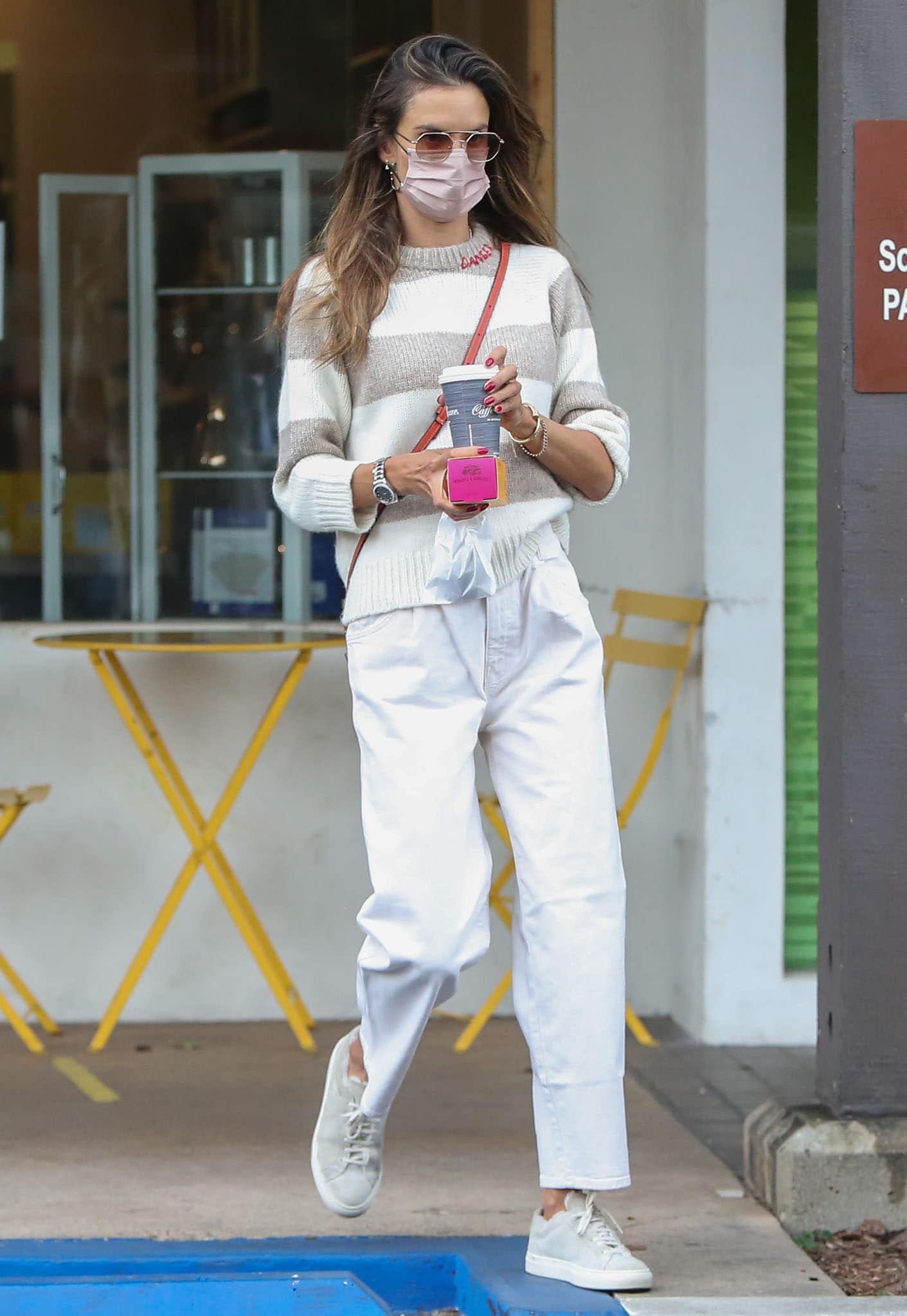 Alessandra Ambrosio goes shopping at Soul Cycle on March 3, 2021
She teamed the cozy sweater with straight-leg white pants and a pair of light gray suede sneakers from Common Projects.
These shearling-lined shoes are stamped with the brand's gold lettering at the heel sides. They also have lightweight rubber soles that are about an inch high.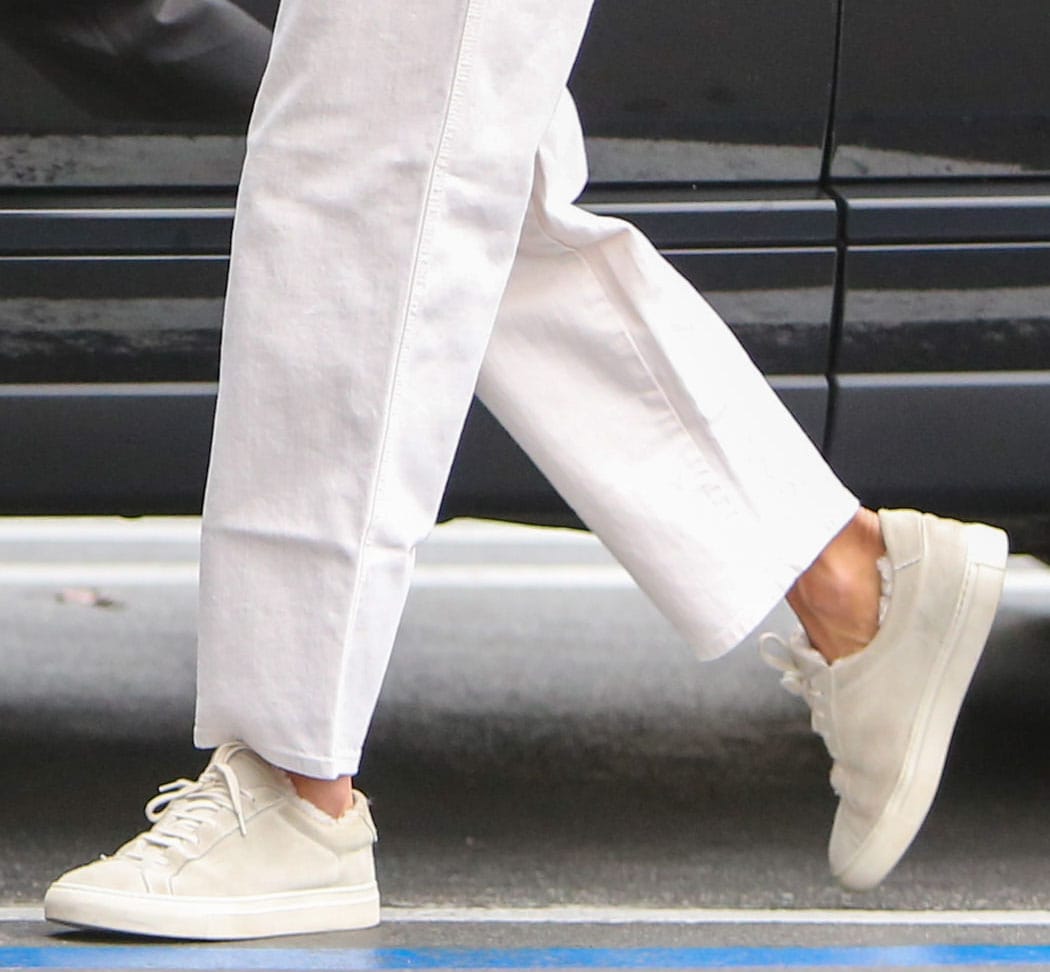 Alessandra Ambrosio teams her Mother striped sweater and straight-leg jeans with Common Projects sneakers
Wearing her long wavy tresses down, Alessandra styled her effortlessly cool look with a pair of gold-rimmed aviators, earrings, and a watch. She also wore a red manicure and carried a crossbody pouch.
Alessandra Ambrosio wears her long wavy tresses down and styles her look with sunglasses, pink face mask, and gold earrings
On Monday, Alessandra was pictured on a solo shopping trip in LA.
Showing off her styling prowess, the supermodel covered up her slender figure in a multicolored floral jumpsuit from the contemporary ready-to-wear label, Chufy.
Made from organic cotton twill, the $575-Yon jumpsuit is modeled after the traditional utilitarian overalls. It has rolled-up sleeves and legs and a buttoned front.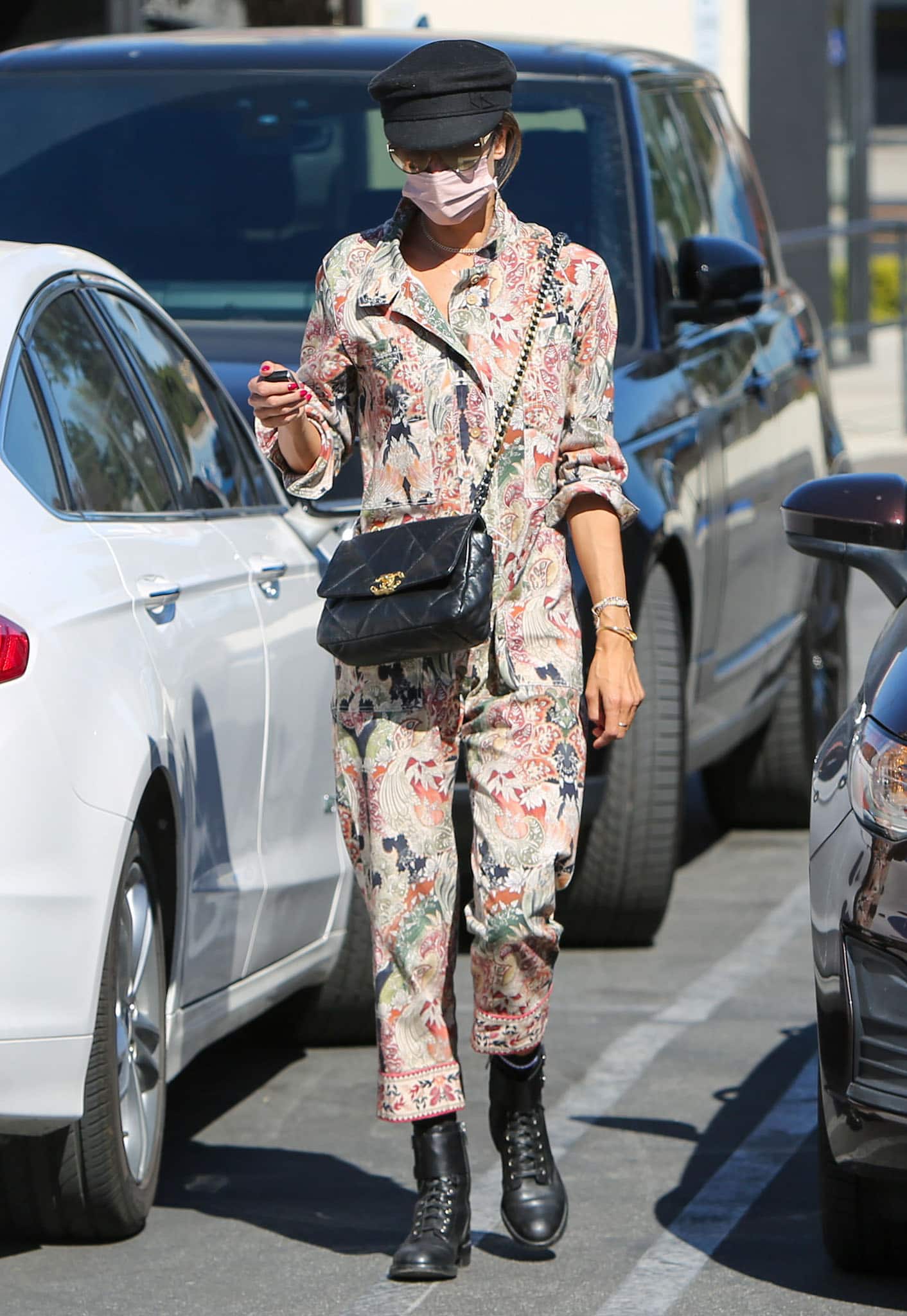 Alessandra Ambrosio in Chufy Yon jumpsuit while shopping in Los Angeles on March 1, 2021
Always one to accessorize, Alessandra styled the look with a pair of earrings, a chain necklace, a pendant necklace, and several bracelets, including a Cartier Juste Un Clou Nail bracelet. She then amped up the glamour with a black Breton cap and a Chanel bag.
In her attempt to keep a low profile, she shielded her eyes behind a pair of sunglasses and wore a protective pink mask.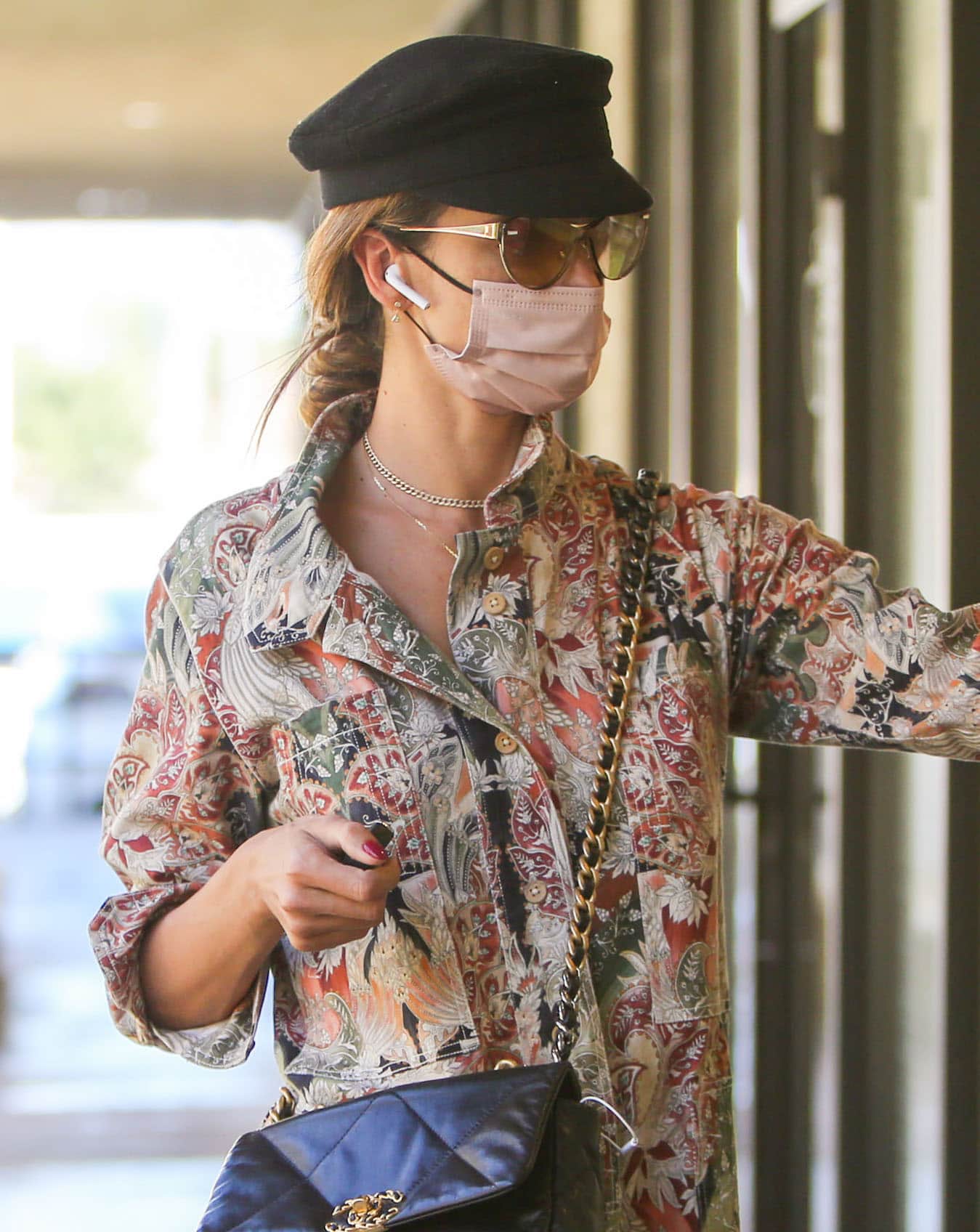 Alessandra Ambrosio looks chic with her braided ponytail under a black Breton cap
For her feet, Alessandra opted for Saint Laurent "Patti" combat boots. Named after punk icon Patti Smith, these leather boots feature lace-up fastenings and wide buckle-fastening ankle straps.
Alessandra Ambrosio completes her look with Saint Laurent "Patti" combat boots
Last week, Alessandra stepped out for an uphill trek in Santa Monica.
She wore a full Alo Yoga look, including a gray cashmere Jet Set hoodie and a pair of low-rise bright orange Accolade sweatpants.
Alessandra Ambrosio steps out for an uphill trek in Santa Monica on February 24, 2021
She later removed her sweatshirt to reveal her enviable abs and cleavage in a ruched white Wild Thing bra top.
Alessandra Ambrosio shows off her abs and cleavage in a white Alo Yoga bra top and orange sweatpants
The fitness enthusiast drew further attention to her bosom with an emerald pendant necklace. She also accessorized with bracelets, a white Tutunj 22Nj cap, and her favorite crossbody pouch.
Wearing her long hair down, Alessandra made sure to stay safe with a star-patterned white face mask amid the coronavirus pandemic.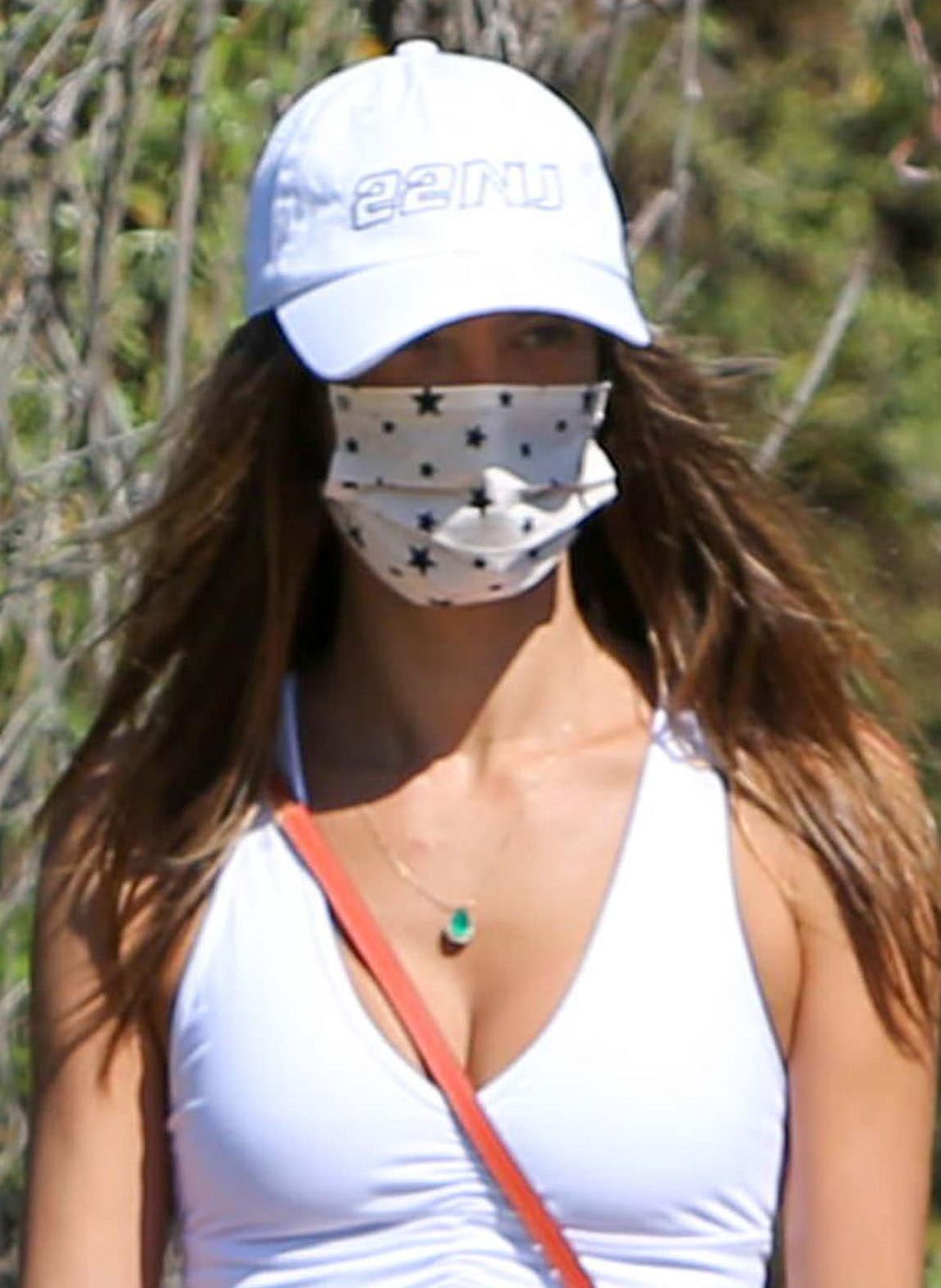 Alessandra Ambrosio keeps things low-key with a white cap and a star-patterned face mask
A pair of Adidas by Stella McCartney Ultraboost Parley sneakers rounded out her look. Designed in collaboration with Parley for the Oceans, these eco-friendly shoes combine high-performance technology with environmental innovation.
The knitted upper features recycled ocean plastics and 100% cotton from sustainable resources. Available at Farfetch, they also have a sock-like fit, lace-up fastenings, and rubber soles.
Alessandra Ambrosio wears the Adidas by Stella McCartney Ultraboost Parley shoes for trekking
Adidas by Stella McCartney Ultraboost Parley Sneakers, $448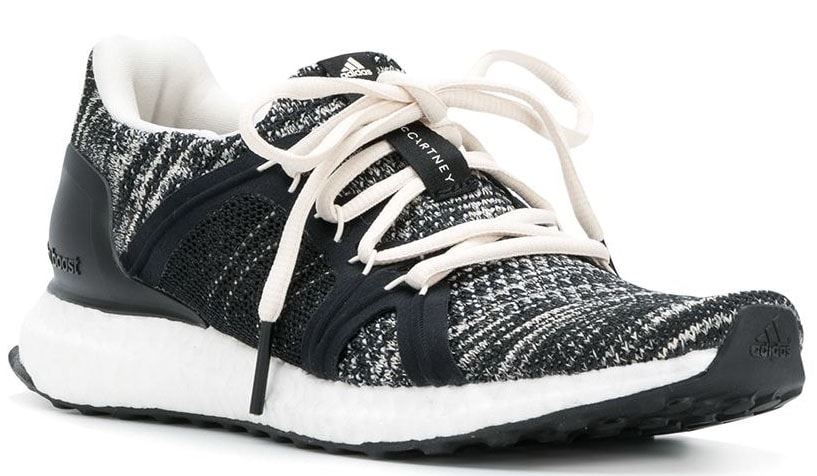 An eco-friendly high-performance shoe made from recycled ocean plastics and sustainable cotton material
Alessandra was also spotted running errands on Tuesday last week in a rainbow tie-dye-print The Strawberry Fields hoodie from La Detresse.
Available for $205 at Shopbop, this fleece hoodie features a drawstring hood, ribbed cuffs and hem, and a kangaroo pocket.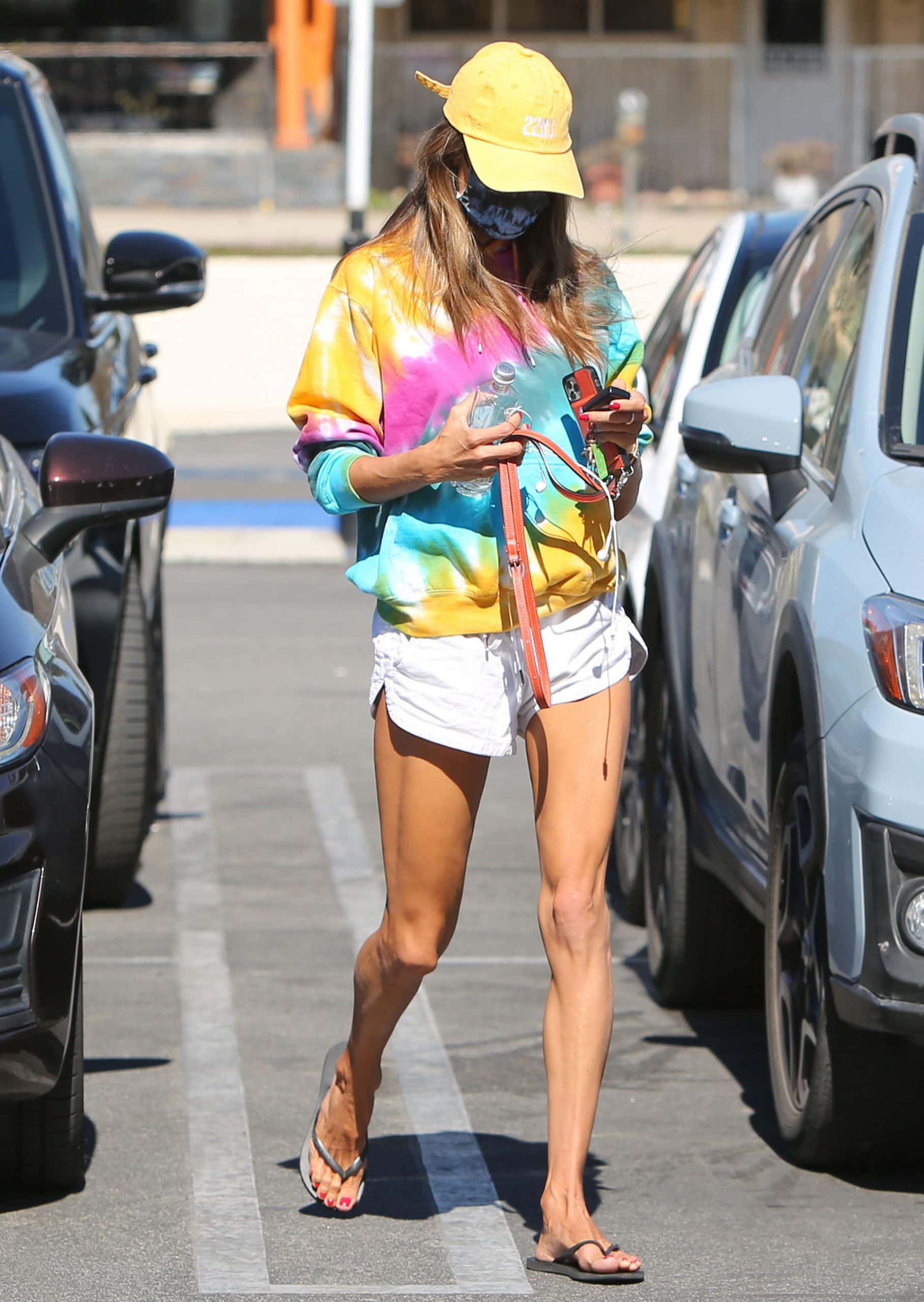 Alessandra Ambrosio runs errands in La Detresse rainbow tie-dye hoodie and dolphin shorts
She paired her summery top with Splendid white dolphin shorts, a yellow Tutunj 22Nj cap, and a matching Maskc tie-dye face mask.
A pair of black Havaianas flip-flops completed her warm-weather look.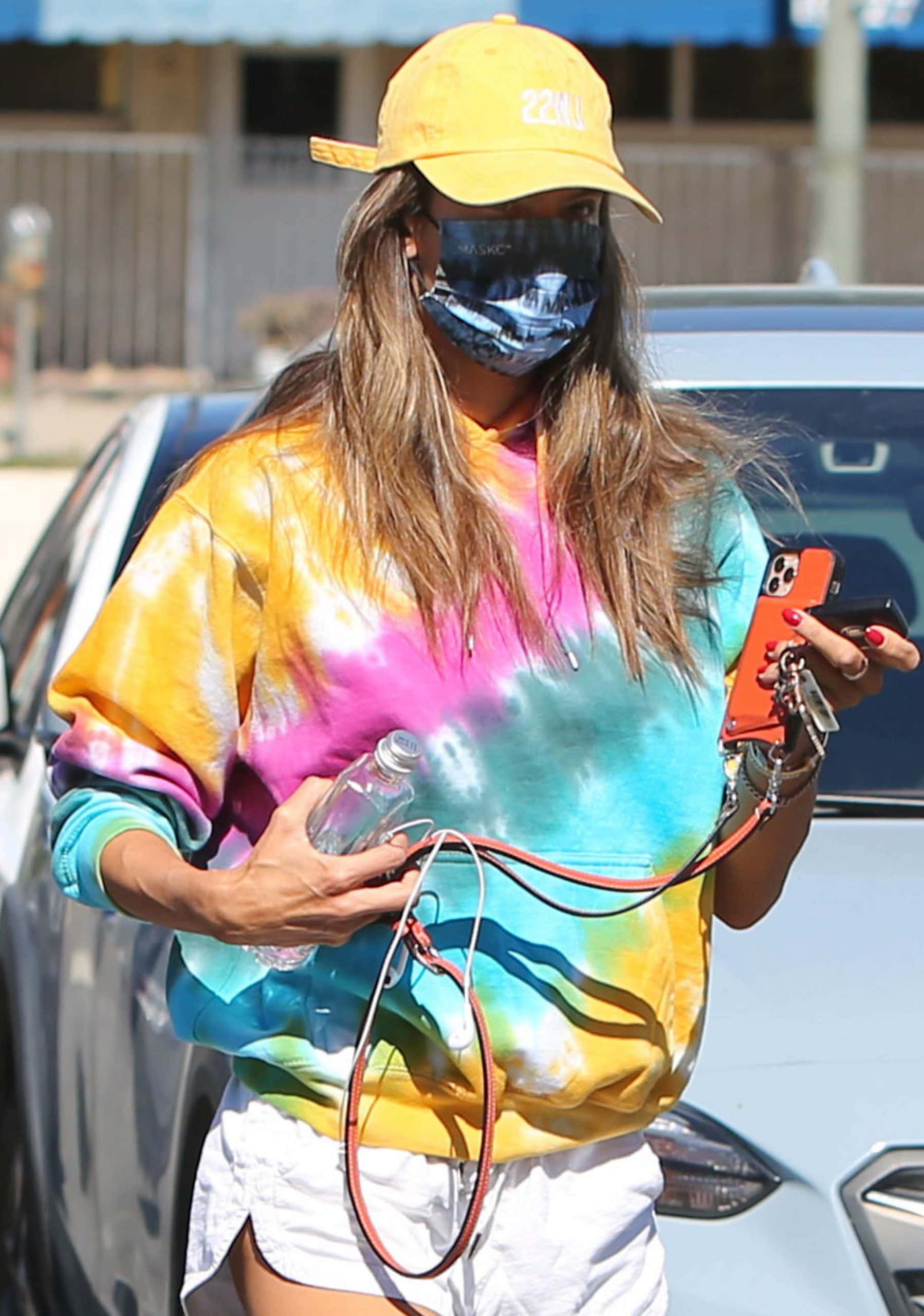 Alessandra Ambrosio styles her summery look with a cap, tie-dye face mask, and flip-flops
Credit: Instar / WENN