Out of all the Scottish celebrities in Hollywood today, there is only one that is known best for his ability to make others cry. That's right, we're talking about Gordon Ramsay.
Even with a fiery temper, 55-year-old Chef Gordon Ramsay is one of the most celebrated chefs in the world and by far the most well-known culinary figure outside of the food world.
In addition to the toque blanche, Ramsay wears many hats: restaurateur, television show host, Michelin star holder, writer, Sir, husband, father, and millionaire.
Gordon Ramsay and Tana Ramsay attend the book launch party for Ramsay's autobiography Humble Pie at Claridge's Ballroom in London on October 3, 2006 (Credit: INFGoff)
Though Gordon Ramsay is a successful (and intimidating) man that commands respect wherever he goes, his life has not always been full of truffles, tasty treats, and television appearances.
In fact, Ramsay's early life was difficult, so much so that it affects him greatly even to this day.
Read along to learn how Chef Gordon Ramsay went from a living hell to Hell's Kitchen.
Gordon Ramsay's Childhood Was Plagued With Violence
Born in the small Scottish town of Johnstone, Gordon Ramsay's family never stayed in one place for long due to his father's alcoholism and explosive, violent temper.
"A home should be a place where you feel safe and loved; when I was a kid, our home was anything but that," Ramsay wrote in a heart-wrenching essay penned for CNN in 2007.
"As kids, my brother, sisters and I moved around to more homes and schools than I can remember. Dad would often have a fallout with someone at work and get fired, and because our home often came with his job, we would become homeless and have to move again."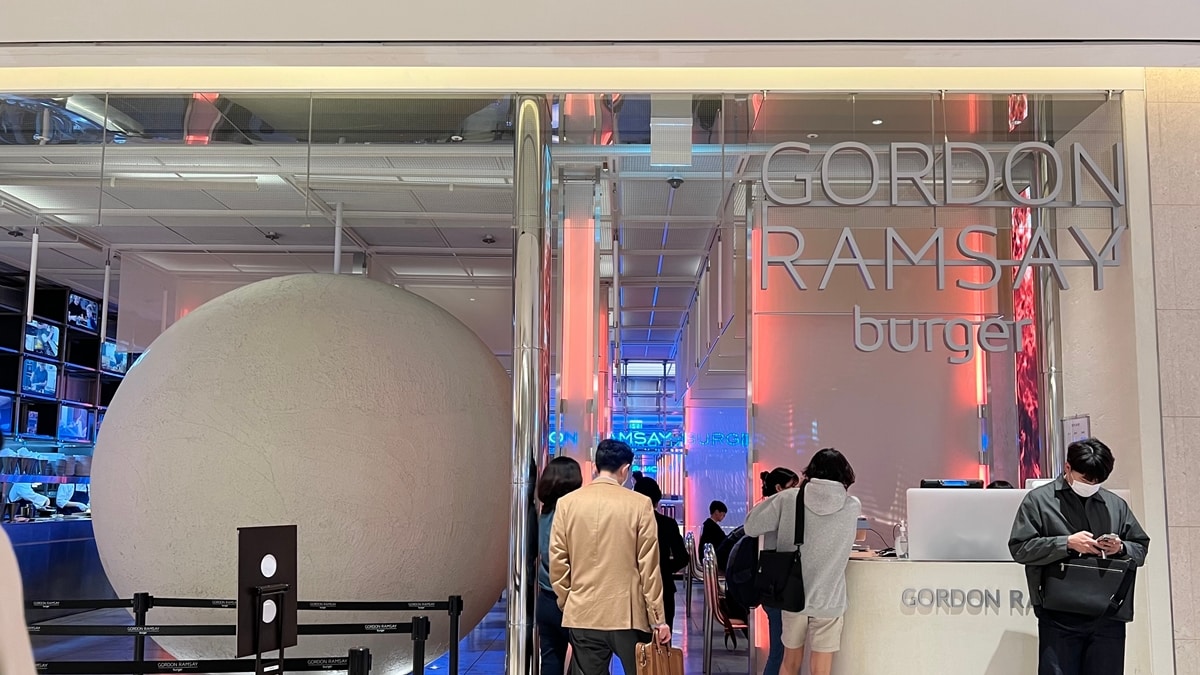 The Gordon Ramsay Burger restaurant in The Lotte World Tower, a 123-story skyscraper located in Sincheon-dong, Songpa District, Seoul, South Korea (Credit: Yllyso / Shutterstock)
He detailed how his father was extremely violent with his mother, to the point that she feared for her own life.
"To this day, I will never understand why mum stayed with him," Ramsay wrote. "She deserved so much better and so much more; it still pains me to remember how badly he treated her. I have four young children of my own, and I could never see myself behaving the way my father did when I was a child. I want to be a role model for my children and have them look up to me."
Gordon Ramsay's early experiences were as heartbreaking as they come, but luckily, they gave him the heart to help others in the same situations.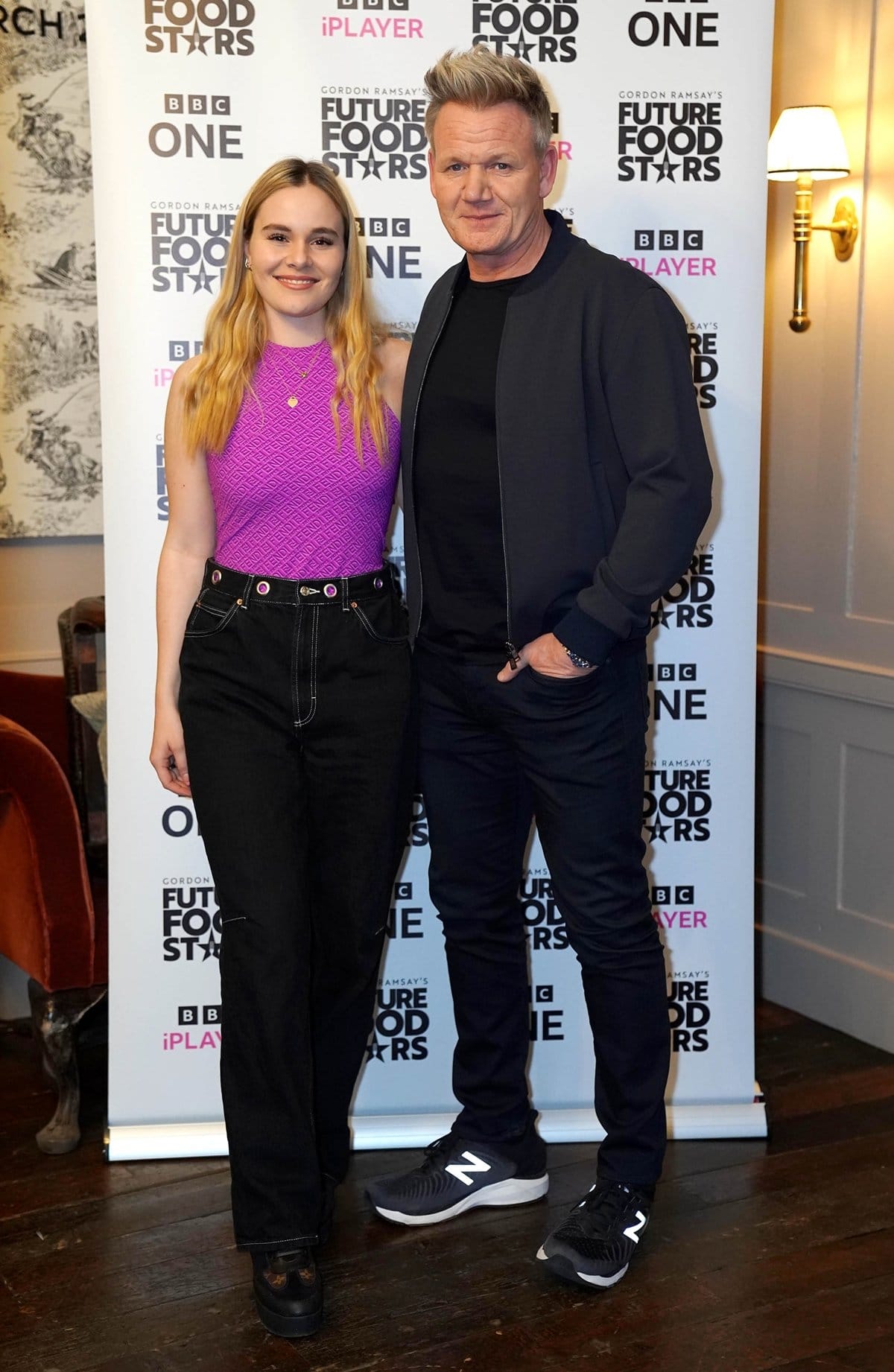 Holly Ramsay in a purple Fendi bodysuit and Topshop mom jeans with her father Gordon Ramsay at the launch of his new TV show Gordon's Future Food Stars on BBC One in Soho, London, on March 10, 2022 (Credit: Kirsty O`Connor / PA Images / INSTARimages)
He and his wife Cayetana Elizabeth Ramsay (née Hutcheson) are involved in charities such as Women's Aid, which supports women who are suffering from domestic abuse.
Gordon Ramsay Never Planned on Becoming a Chef — He Wanted to Play Sports!
It may be hard to imagine now, but for the majority of his early life, Ramsay had planned on being a professional soccer player, also known as a footballer.
His love for the art of kicking a ball began at a young age when his uncle Roland took him to a football game and hoisted the young 7-year-old boy onto his shoulders to see better over the crowd.
"The crowd was just phenomenal," Ramsay remembered to The Guardian. "We were standing by the terraces and I remember getting slightly nervous, and very scared. Because you just swayed then, you just moved in a sway formation. I think it was against Hearts and it was dirty — I mean very dirty — and Rangers won 1-0. Those games are always going to be dirty for the next century, because it's just an all-blood tie. And I loved it."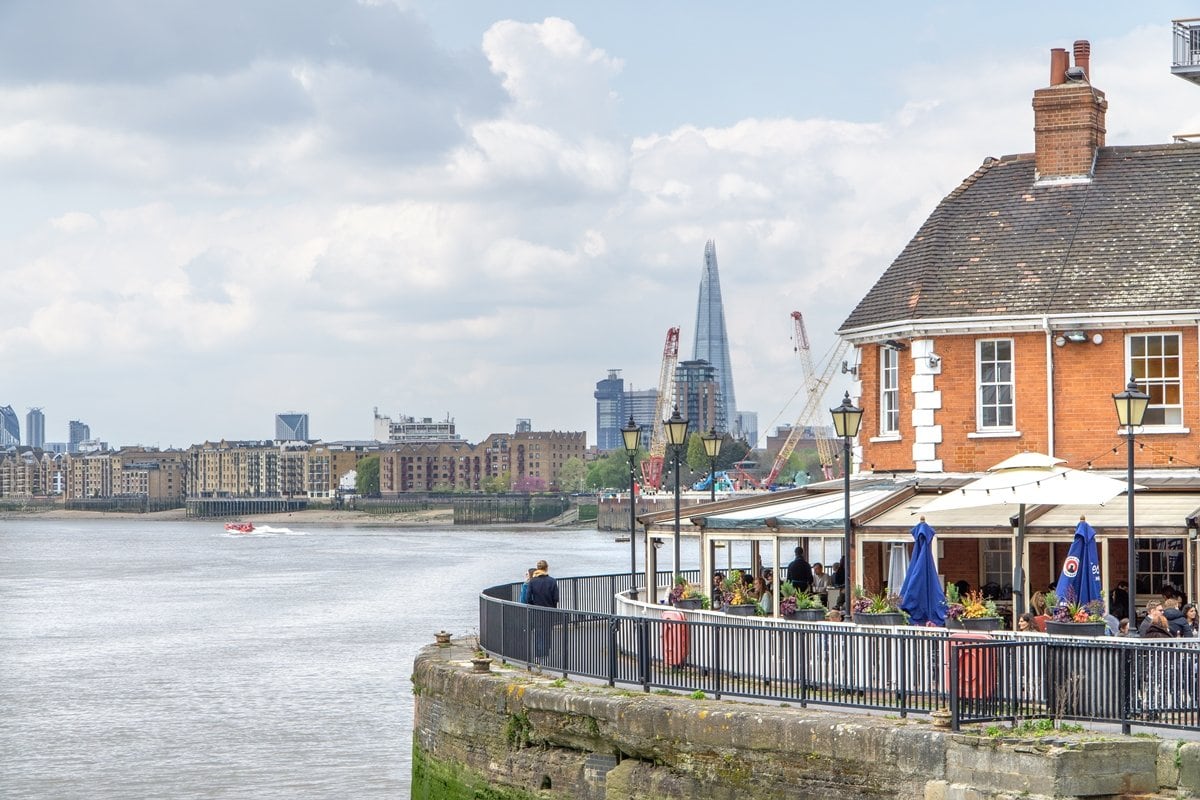 With panoramic views of the Thames, The Narrow by Gordon Ramsay in Limehouse, a district in the London Borough of Tower Hamlets in East London, is perfect for eating out (Credit: CK Travels / Shutterstock)
After that, the one-day chef devoted himself to football, even going so far as to play non-league matches as a trialist. Unfortunately, his short-lived career was cut even shorter after a knee injury, which left him bereft and unsure of what to do next.
Luckily, Gordon Ramsay didn't lose all hope for the future. He decided to lean into his love for cooking, which he also developed as a teenager, enrolling in his first culinary catering course soon after recovering from his knee injury.
Gordon Ramsay's First Chef Was Derailed by an Affair… but It Turned Out Alright!
After graduating from catering college, Ramsay worked at the Wroxton House Hotel in the Wickham Arms during the mid-80s. This was a wonderful accomplishment as he ran the kitchen that boosted more than 60 seats in the dining room.
However, it was marred by some scandal. Ramsay eventually left this job not because he was moving on to bigger and better things, but because he was having an affair with the owner's wife. Allegedly.
After bouncing between a few restaurants, Ramsay began working at Aubergine, which helped him realize his dream of running his own restaurant.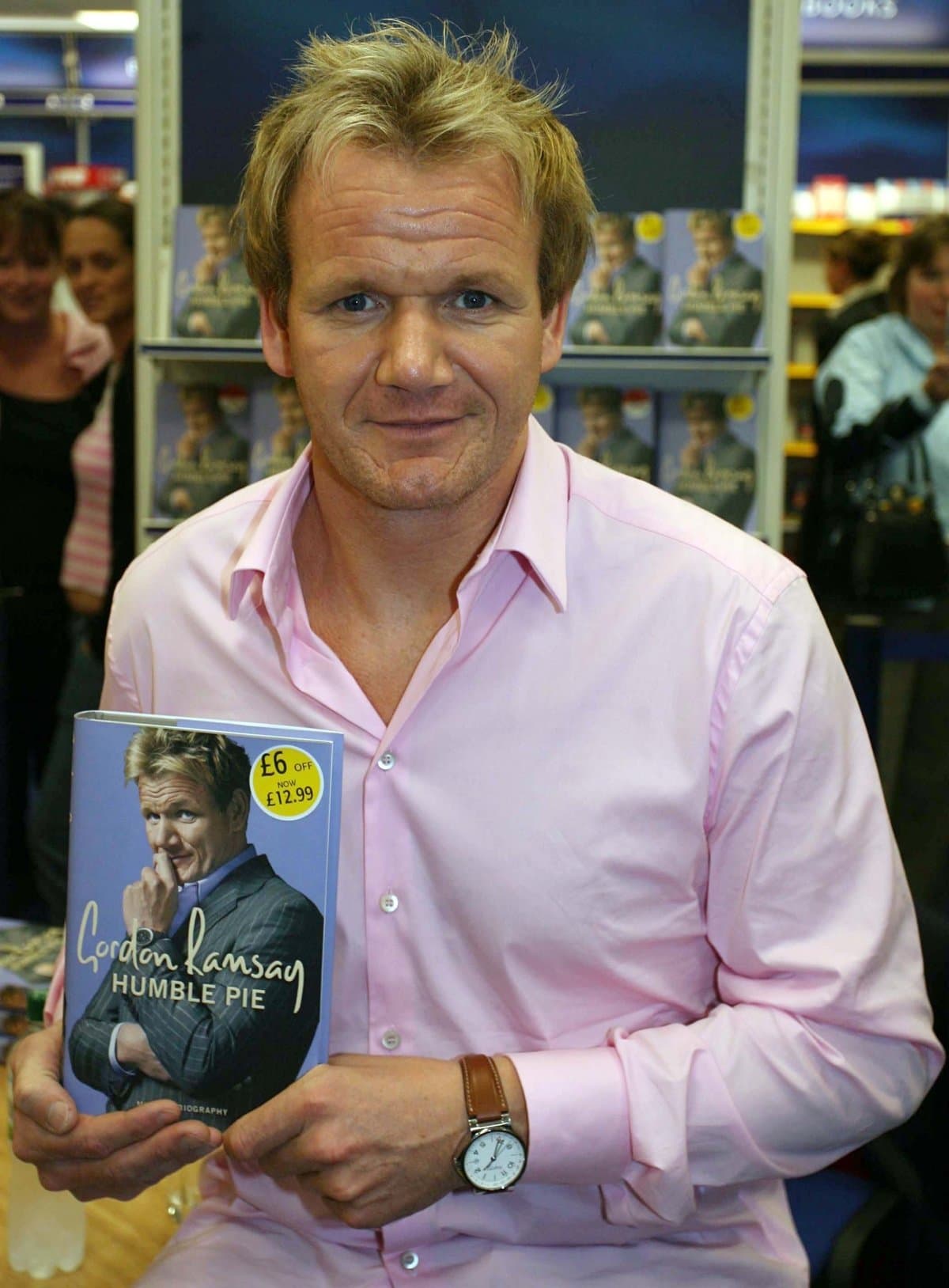 In his bestselling autobiography Humble Pie, Gordon Ramsay reveals details about his tough childhood and his father's alcoholism (Credit: INFGoff)
He left Aubergine in 1998 to open the doors to his own establishment, which, in an episode of Kitchen Nightmares, described as "the most important day of my entire cooking career; the most important decision of my life."
That same year, Ramsay and his father and law, Chris Hutcheson, opened Restaurant Gordon Ramsay. The eatery was wildly successful, winning its third Michelin star just four years after its opening.
Gordon Ramsay's Father-In-Law and Business Partner Defrauded Him
Unfortunately, the celebrated chef not only had a terrible biological father but an awful father-in-law as well!
Chris Hutcheson, who helped Ramsay open his first-ever restaurant, betrayed the reality TV host in an extremely personal way with the help of his sons.
Hutcheson was the CEO of Gordon Ramsay Holdings Ltd., the chef's limited liability company, while Hutcheson's sons (and Ramsay's brothers-in-law), Adam and Chris Jr. also worked at the firm.
Hutcheson left the firm in 2010 under mysterious circumstances. Later that year, Ramsay made a press release saying that his father-in-law was extremely manipulative and secretive.
Gordon Ramsay Burger at Planet Hollywood Resort & Casino in Las Vegas (Credit: LnP images / Shutterstock)
Hutcheson's sons, after it was revealed that Chris Hutcheson had repeatedly accessed the company's system over 600 times in one day — suspicious to say the least.
In fact, the trio had accessed the systems more than 2,000 times since the end of 2010, reportedly to learn whatever details of Ramsay's intellectual property rights.
They allegedly thought that this information could be used to blackmail the chef during a legal suit he had filed against them.
The Hutchesons actually did leak some of this information to the press, like the fact that Gordon Ramsay had undergone a hair transplant procedure, perhaps to earn enough money to cover their legal fees.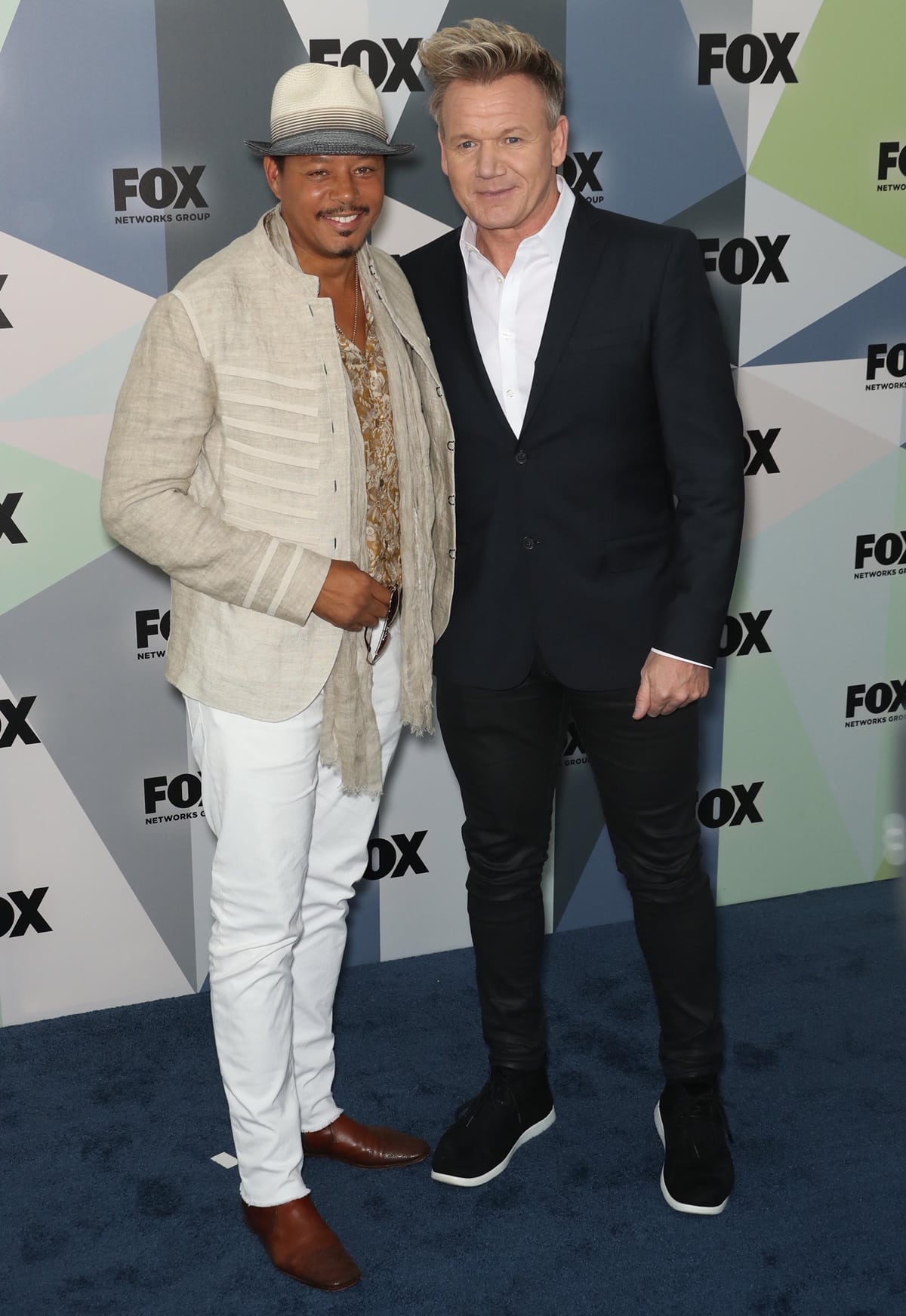 Terrence Howard and Gordon Ramsay promote the American competitive cooking reality TV show MasterChef at 2018 Fox Network Upfront at Wollman Rink, Central Park on May 14, 2018 in New York City (Credit: John Nacion / Startraksphoto)
Chris Hutcheson seemingly had no remorse for his actions. After they had been found out, he sent an email to one of his sons, writing, "Guess we have been rumbled. Bit late though."
Hutcheson was eventually jailed for six months while his sons received four months each for this offense.
However, this isn't all that Hutcheson has done to Ramsay.
In 2015, Ramsay told the courts that his father-in-law had used a machine to forge his signature to appoint him as a guarantor for a rental property, a cost equating roughly £640,000 per year.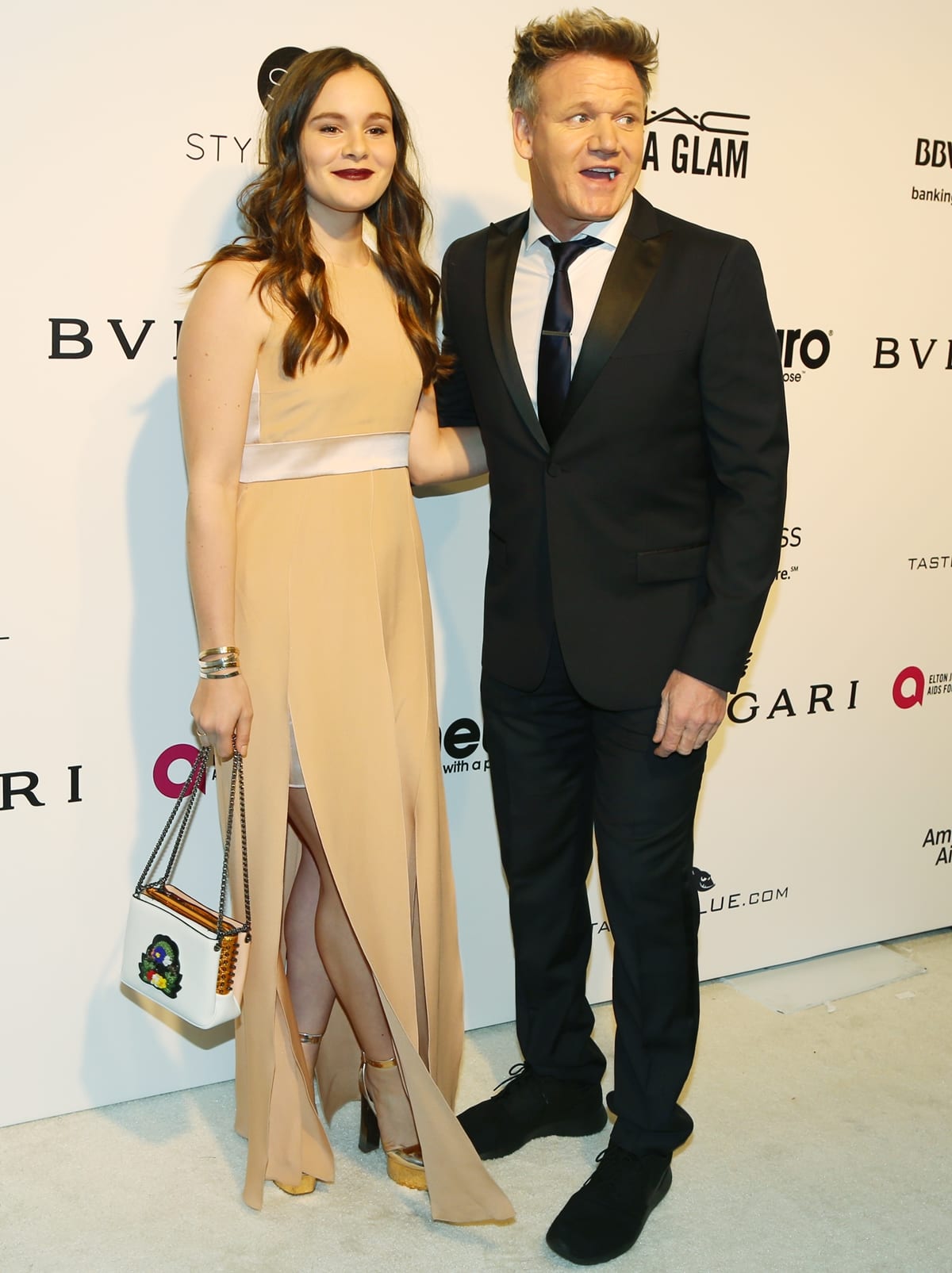 Holly Ramsay and her dad Gordon Ramsay attend the 25th Annual Elton John AIDS Foundation's Academy Awards Viewing Party at The City of West Hollywood Park on February 26, 2017 in West Hollywood, California (Credit: Milla Cochran / Startraksphoto)
"I am appalled," the chef explained to the courts, "at the extent to which Chris used the ghostwriting machine to sign documents ostensibly on my behalf in circumstances where I had no knowledge of the documents that were being 'signed' or the matters to which they referred."
Strangely enough, instead of taking Hutcheson to court again, Ramsay set his sights on the owner of the property. Of course, the judge did not feel like the property owner was at fault (the rent has to be paid, after all) and Ramsay was ordered to pay both his and the landlord's court costs, to the tune of $1 million.
The judge declared: "Mr. Ramsay's own evidence establishes the very extensive, if not total, trust which Mr. Ramsay placed in Mr. Hutcheson to deal with business affairs on behalf of both the companies and Mr. Ramsay himself."
Perhaps that is one of the reasons why the betrayal was so painful.
Nothing Will Stop Gordon Ramsay
Even amidst the violence, injuries, and betrayal, Gordon Ramsay is still finding success. In addition to his numerous eateries around the world, he hosts Hell's Kitchen and MasterChef.
Surprisingly, even the meddling from his father-in-law couldn't stop the chef's bank account from getting bigger, as Ramsay is worth an estimated $220 million as of this year.