Announcing in April that she had filed the necessary paperwork to run for Governor of California, on Sunday Caitlyn Jenner promoted her run for governor with a white 'Caitlyn for California' baseball cap while attending the annual classic car race Father's Day at the 2021 Tour d'Elegance on Rodeo Drive in Beverly Hills.
"California has been my home for nearly 50 years. I came here because I knew that anyone, regardless of their background or station in life, could turn their dreams into reality. But for the past decade, we have seen the glimmer of the Golden State reduced by one-party rule that places politics over progress and special interests over people. Sacramento needs an honest leader with a clear vision," she said in a press release announcing her political ambitions.
Caitlyn Jenner sporting a campaign hat during an annual classic car event on Rodeo Drive in Beverly Hills on June 20, 2021 (Credit: Mega / WENN)
"I have been a compassionate disrupter throughout my life from representing the United States and winning a gold medal at the Olympics to helping advance the movement for equality," she continued.
"As Californians, we face a now-or-never opportunity to fundamentally fix our state before it's too late. Taking on entrenched Sacramento politicians and the special interests that fund them requires a fighter who isn't afraid to do what is right. I am a proven winner and the only outsider who can put an end to Gavin Newsom's disastrous time as governor."
"Small businesses have been devastated because of the over-restrictive lockdown. An entire generation of children have lost a year of education and have been prevented from going back to school, participating in activities, or socializing with their friends. Taxes are too high, killing jobs, hurting families, and putting an especially heavy burden on our most vulnerable people," she said.
Caitlyn Jenner styled her Caitlyn for California baseball cap with blue skinny jeans, sneakers, sunglasses, and a black plunging wrap-around top (Credit: Mega / WENN)
"This isn't the California we know. Gavin Newsom's California, where he orders us to stay home but goes out to dinner with his lobbyist friends."
"In the next few weeks, I will meet with Californians from across the state-from the North Bay to the Central Valley to Orange County and San Diego-to hear their voices and finally get this state moving in the right direction," the 71-year-old Keeping Up With the Kardashians reality TV alum continued.
"The significance of this decision is not lost on me. The sacrifice is significant but responsibility is great, and I can't wait to lead, to help, and most importantly to disrupt the status quo once again."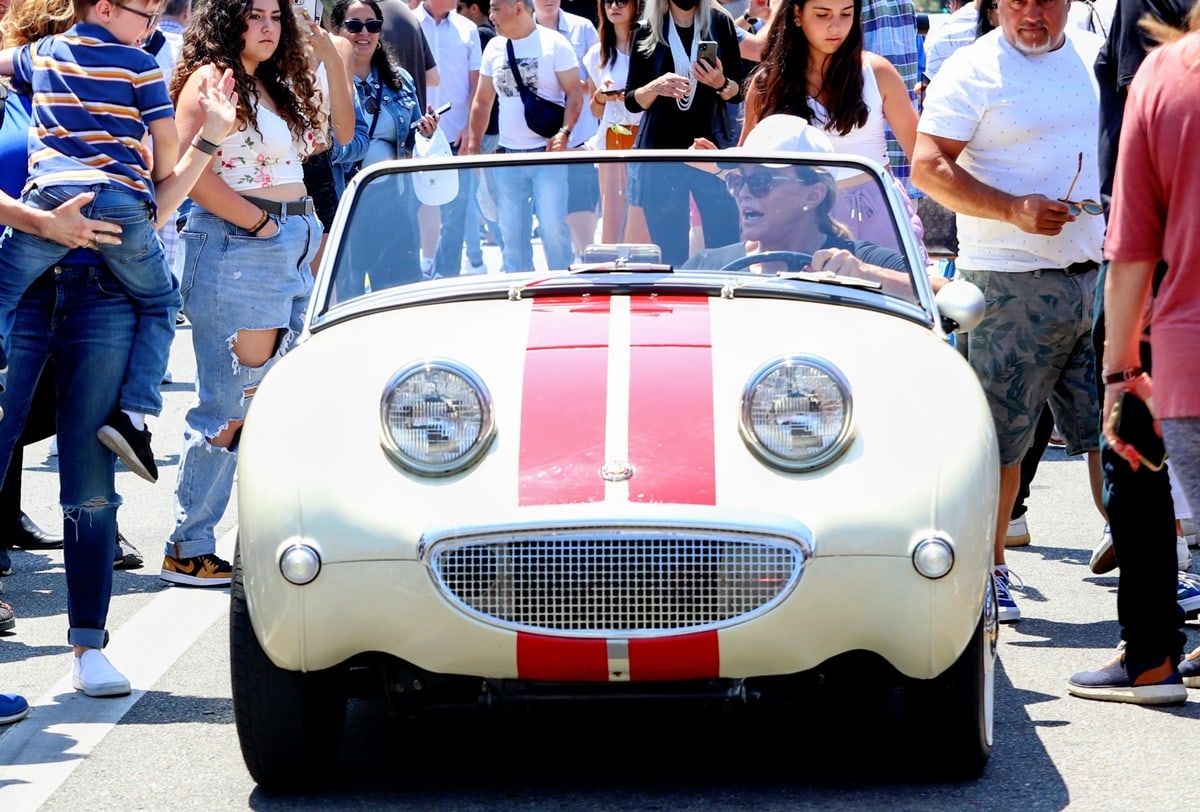 Caitlyn Jenner drives a white and red Austin-Healey Bugeye Sprite small open sports car (Credit: Mega / WENN)
In July 2016, Caitlyn Jenner seemed to take a page out of step-daughter Kim's book, dressing up in a monochromatic all-white look for a night out in London.
Caitlyn Jenner paired a white high collar dress with a long white coat (Credit: Will Alexander / RV / WENN)
According to rumors at the time, the then 66-year-old former decathlete was on a dinner date with a mystery man. Romantic outing or not, Caitlyn certainly dressed to impress in a white high collar dress and long white coat.
Caitlyn Jenner styled her white dress with nude peep-toe heels (Credit: Will Alexander / RV / WENN)
Caitlyn's dress was the perfect combination of flirty and sophisticated with a short, thigh-skimming hemline and a tight-fitting silhouette.
The former Olympic athlete accessorized with a long wrapped gold chain necklace, gold ring, and a big white bag.
Her hair was kept simple and down, and her face was made up flawlessly with a highlighting bronzer and a touch of pink lipstick.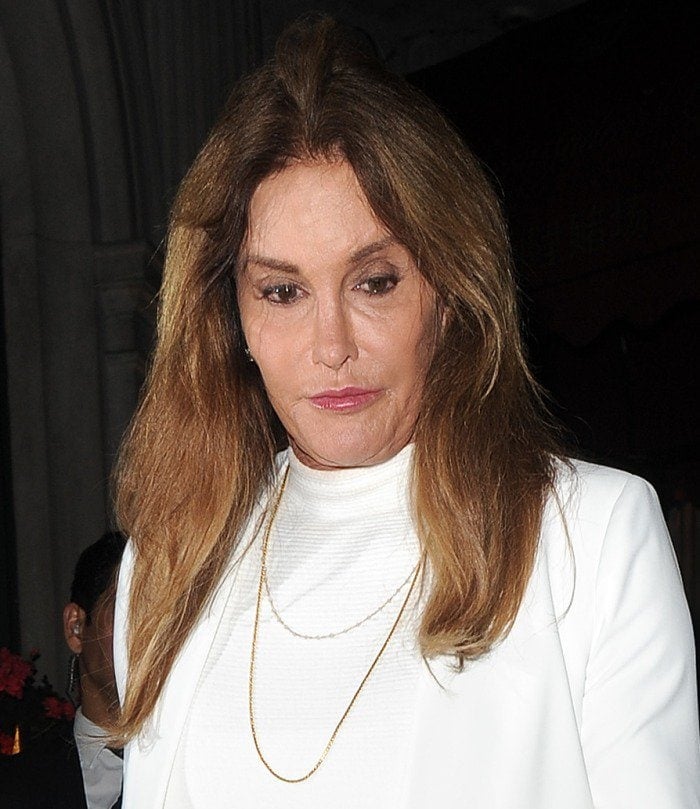 Caitlyn Jenner wears a touch of pink lipstick for a date in London on July 27, 2016 (Credit: Will Alexander / RV / WENN)
For her feet, the "I Am Cait" star chose a pair of nude kitten heels. These shoes complemented the elegance of Caitlyn's ensemble without drawing too much attention.
They are made of leather and feature peep toes, cross straps with an adjustable heel strap buckle, and about two-inch heels.
Caitlyn Jenner shows off her feet in kitten heels (Credit: Will Alexander / RV / WENN)
Unfortunately, we can't ID these shoes, but check out some similar styles if you're interested in adding a new pair of kitten heels to your collection.
Journee Collection "Riva" Pointed Toe Matte Pumps, $42.99
De Siena "Regina" Nude Kitten Heel Pumps, $169.00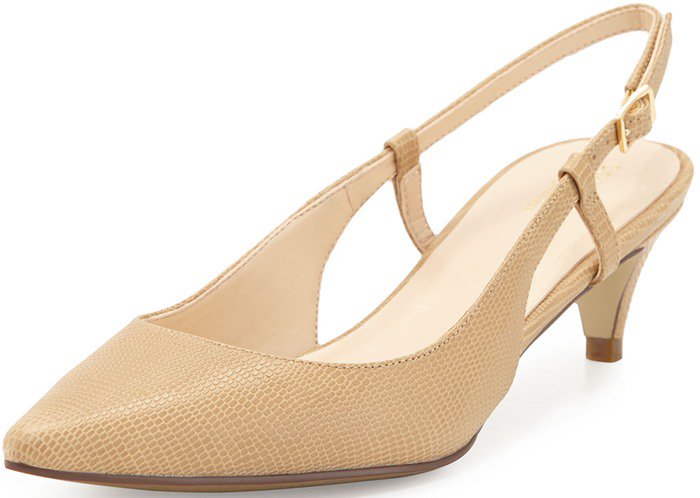 Cole Haan "Juliana" Kitten Heel Slingback Pump in Sandstone, $148.00