Jennifer Lopez and Ben Affleck have rekindled their romance 17 years after ending their engagement in 2004. And over the past weeks, the two have reportedly become almost inseparable.
A source told E! News: "They are inseparable and it's going really well. [Jennifer Lopez] has never been happier and knows it was meant to be."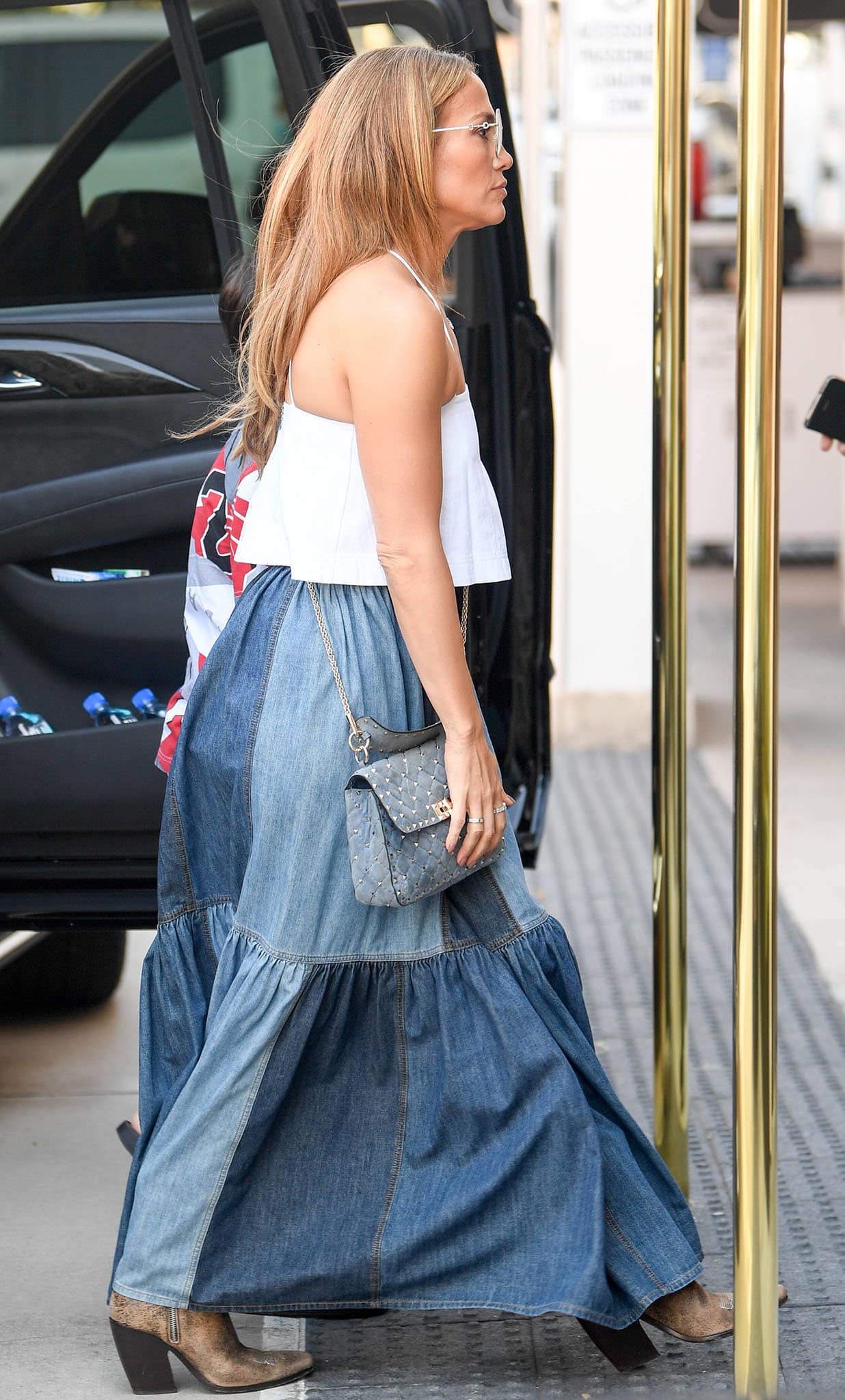 Jennifer Lopez goes shopping with son Max at Ralph Lauren in Beverly Hills on June 19, 2021 (Credit: Mega / WENN)
The insider added that Ben has already met Jennifer's twins, Max and Emme, whom she shares with her ex-husband Marc Anthony.
"Her kids really like Ben and think he's funny and fun to be around. He totally won the family over with his charm," the source added. Ben was also present at her sister Linda's birthday bash, where he was able to bond with her family.
"He was very engaged and seemed to like hanging out with them. They all left together and Ben opened the car door for the kids and made sure they got inside. He was smiling the whole night and seemed very happy with the family."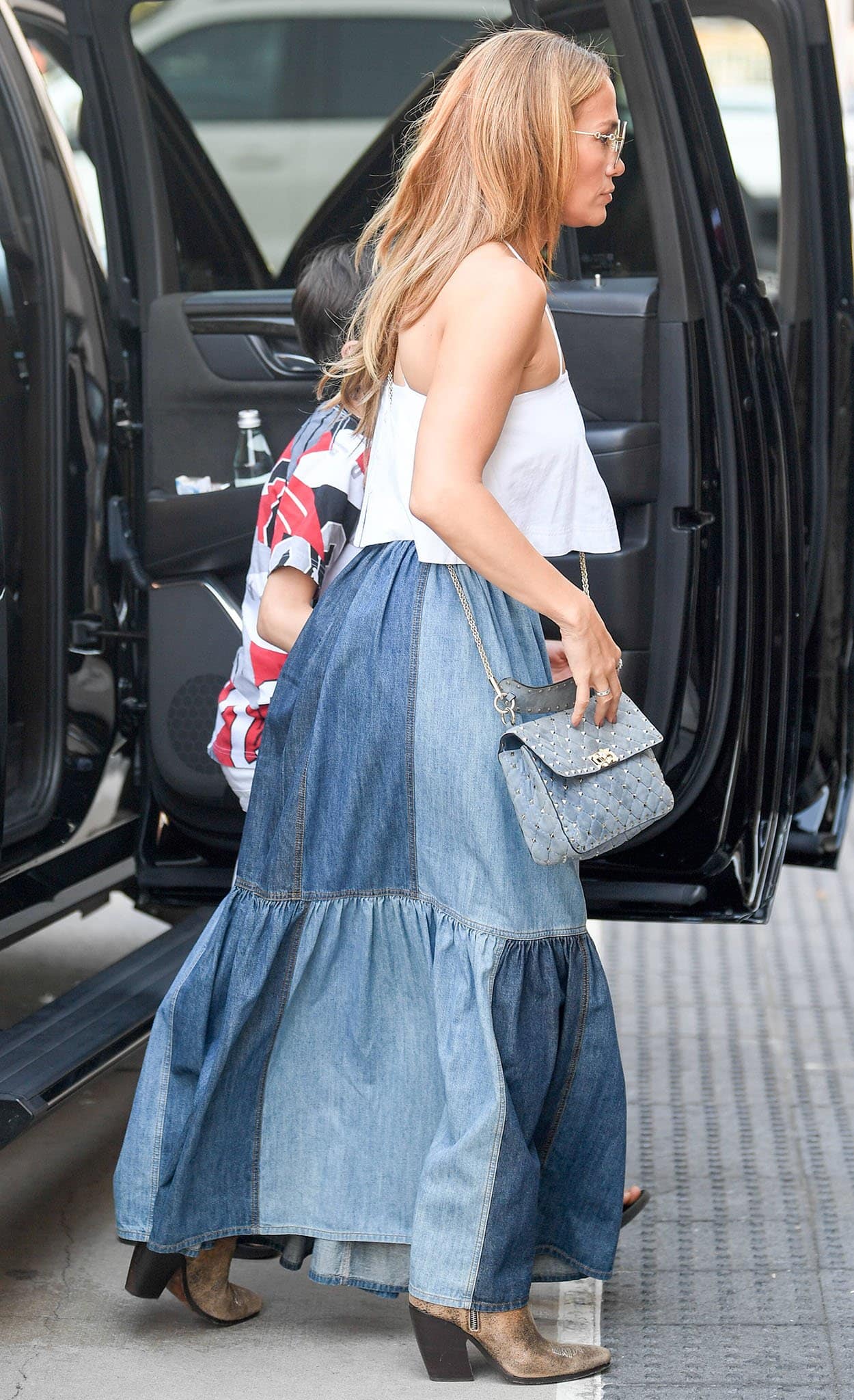 Jennifer Lopez pairs a white cropped top with a Dior denim patchwork maxi skirt (Credit: Mega / WENN)
On Saturday, Jennifer spent some quality time with her son Max as she took him shopping at Ralph Lauren in Beverly Hills.
Going the Western boho route, J.Lo paired a Dior patchwork denim maxi skirt with a white cropped tank top that features a ruffled hem and a crisscrossed back, showing her toned arms.
The Out of Sight actress kept her jewelry simple and complemented her skirt with her quilted blue suede Rockstud bag from Valentino.
Jennifer Lopez styles her caramel hair down in loose waves and wears neutral makeup with Gucci square sunglasses (Credit: Mega / WENN)
With her caramel locks down, the multi-hyphenate icon wore neutral makeup and hid her eyes behind her Gucci Horsebit Square sunglasses, which you can buy for $465 at Matches Fashion.
Giving her look some Western vibe was a pair of Ralph Lauren distressed cowboy boots. Aside from the burnished leather effect, they also have contrasting white stitching on the vamps, side zips, and angled block heels.
Jennifer Lopez teams her denim maxi skirt with Ralph Lauren distressed cowboy boots (Credit: Mega / WENN)
She's turning 52 next month, and Jennifer Lopez is still turning heads with her incredibly toned physique.
Last week, the mom-of-two showcased her curves in a black-and-white athleisure as she went shopping in Beverly Hills.
Jennifer Lopez wears chic athleisure for a solo shopping trip in Beverly Hills on June 13, 2021 (Credit: Mega / WENN)
Flaunting her arms and abs, she wore a ribbed white cropped tank top with black high-waisted leggings from Style Reform.
Jennifer Lopez pairs a white cropped tank top with Style Reform high-waisted black leggings (Credit: Mega / WENN)
J.Lo styled her outfit with a pair of large hoop earrings and a pendant necklace.
Pulling her tresses up into a high ponytail, she further elevated her casual look with Max Mara Editorial angular sunglasses and a Coach Troupe Tote 16 in tan and white colorblock leather.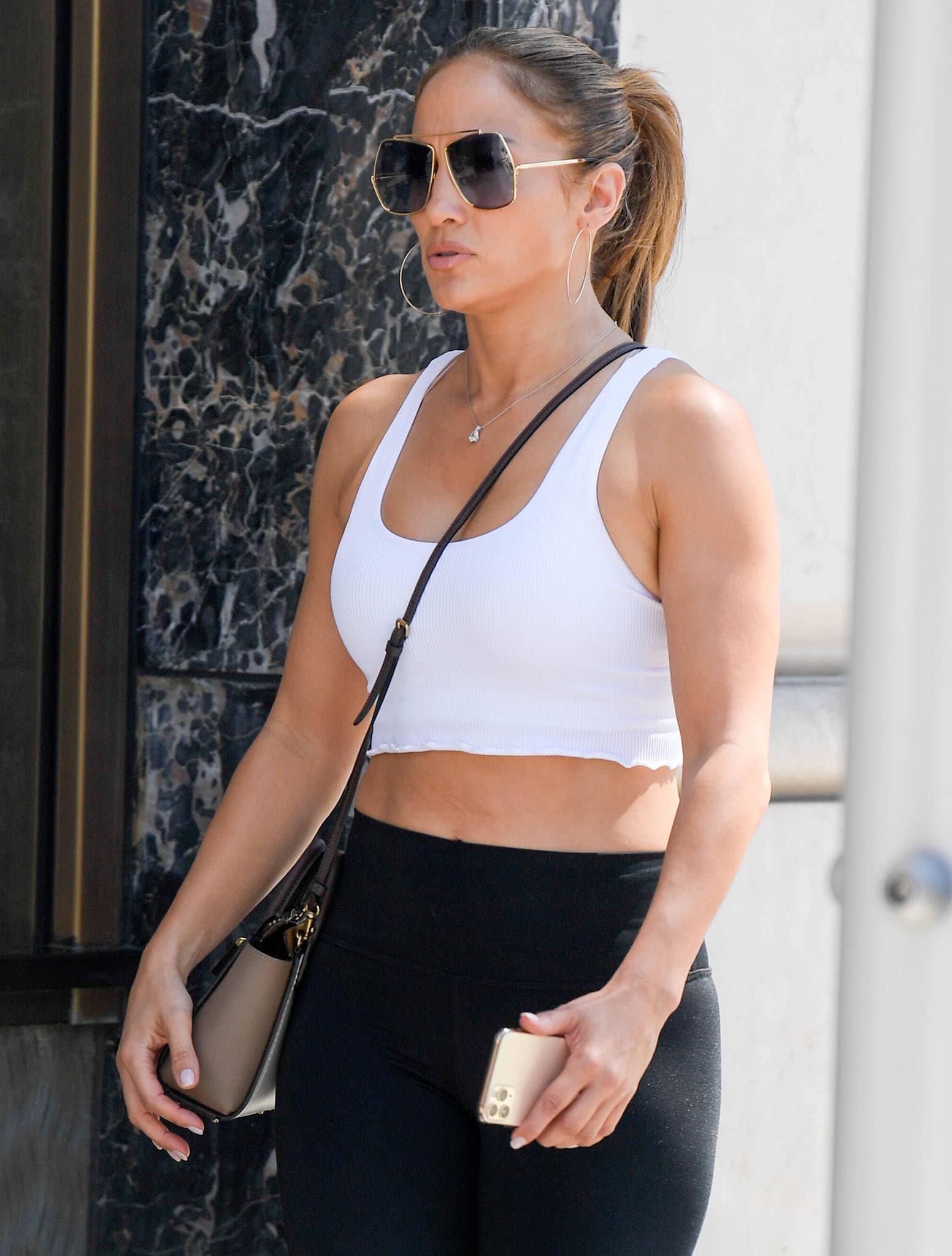 Jennifer Lopez elevates her casual athleisure with Max Mara sunglasses, Coach Troupe tote, and hoop earrings (Credit: Mega / WENN)
For her footwear, Alex Rodriguez's ex-fiancée opted for the "Aztrek" chunky white sneakers from Reebok's It's a Man's World S/S 2020 collection.
These '90s-style low-top shoes feature a synthetic and mesh upper with a strike-through text on the tongue that says "It's a Man's World" as a reminder that women run the world.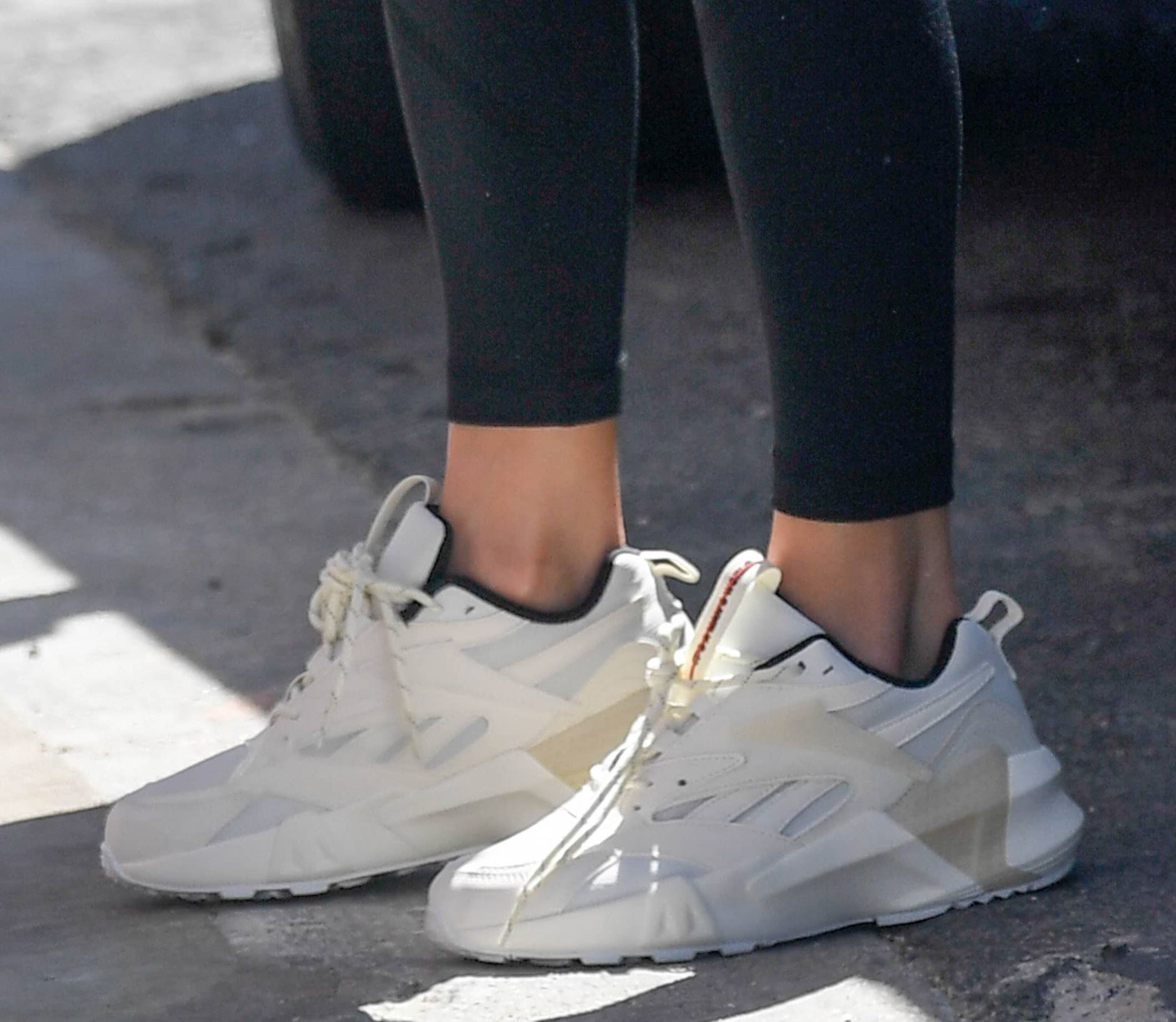 Jennifer Lopez completes her athletic outfit with Reebok Aztrek Man's World chunky white sneakers (Credit: Mega / WENN)
J.Lo wore the same shoes early this month while at a gym in Miami.
Showing her fit figure, the Maid in Manhattan star wore a red "Asana" sports bra and matching red-and-black paisley-printed leggings from eco-friendly fitness and fashion brand Niyama Sol.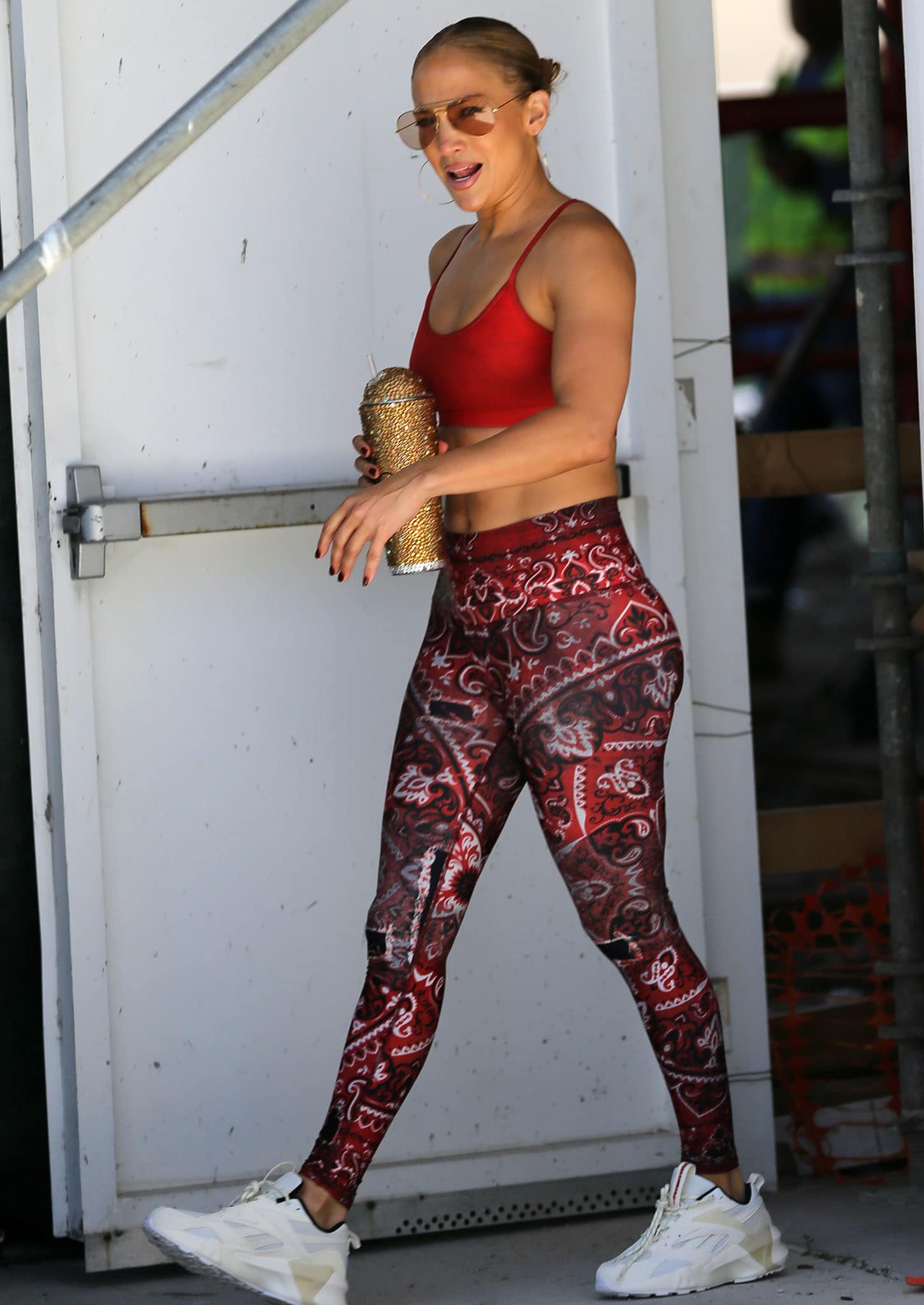 Jennifer Lopez heads to a gym in Miami in Niyama Sol red bra top and matching leggings on June 10, 2021 (Credit: Mega / WENN)
Not related to George and Mario Lopez, she wore her hair back into a casual bun and accessorized with oversized aviators and large hoop earrings.
Jennifer Lopez jazzes up her sporty ensemble with gold hoop earrings and large aviators (Credit: Mega / WENN)