Gossip Girl actress Gwen Stefani turns heads wherever she goes.
The rockstar always manages to wow us with her edgy, fashion-forward outfit choices, and a Sunday in June 2016 was no different when she stepped out to attend a church service with her sons in Los Angeles.
Gwen Stefani wears her hair back in a ponytail while out and about with her children on June 5, 2016, in Los Angeles (Credit: WENN)
Seven years earlier, No Doubt appeared as a band named Snowed Out in a season 2 episode of Gossip Girl. Gwen Stefani appeared in "Valley Girls," the twenty-fourth episode of the second season that aired on May 11, 2009.
In the episode, No Doubt performs a cover version of "Stand and Deliver," a song by British new wave band Adam and the Ants, in a club, which is featured in one of Lily's flashbacks. Later, the prom band in the present plays an acoustic version of the same song.
"Valley Girls" also served as a pilot for a potential spin-off series that would have followed a young Lily, played by Brittany Snow, but the show was not picked up by the network.
Gwen Stefani and her No Doubt bandmates made a cameo during an episode of Gossip Girl (Credit: Warner Bros. Television Distribution)
"It took us, like, five minutes to pick ['Stand and Deliver' by Adam & the Ants] to perform," Stefani told Entertainment Weekly ahead of the 2009 episode. "We normally just e-mail, but we got on the phone for that one."
When the episode aired in May 2009, Gwen Stefani was 39 years old. She celebrated her 40th birthday on October 3, 2009.
Gwen Stefani wears a colorful Bernie Dexter skirt while taking her kids to church (Credit: WENN)
In June 2016, the mom-of-three looked all set for summer in a multicolor-printed pin-up skirt by Bernie Dexter. She teamed the knee-length, high-waisted skirt with a sleeveless white A.L.C. top, which was twisted at the back and featured cutout details.
Gwen Stefani wears a Bernie Dexter skirt with an A.L.C. top while out on a church outing in Los Angeles (Credit: WENN)
Gwen rounded out her look with a pair of pink pumps that matched her hot pink lipstick. She also pulled her dip-dyed tresses back into a high ponytail.
Gwen's bright pink pumps are the "Bond" style by Kurt Geiger.
Gwen Stefani's feet in bright pink Kurt Geiger pumps (Credit: WENN)
These pink suede shoes feature a d'Orsay silhouette with pointed toes and about four-inch gold metal pin heels. You can check them out at Zappos!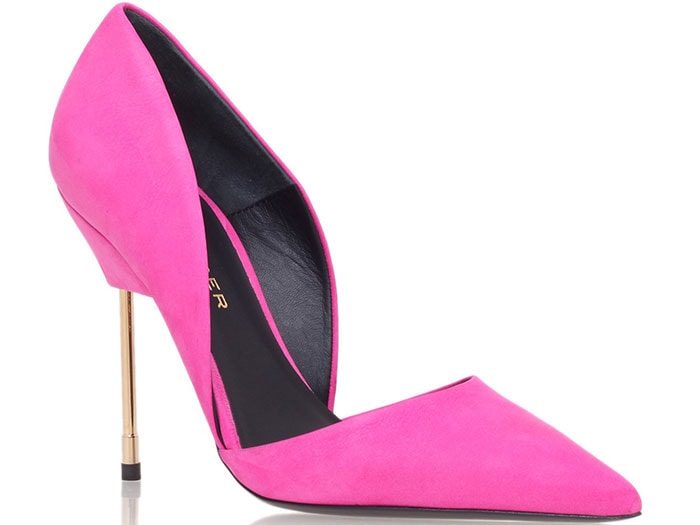 Kurt Geiger Pink Suede Bond Pumps, $400 – $415
Kurt Geiger Multicolored Sequin Bond Pumps, $400 – $415