It's Gwyneth Paltrow for you again today. The actress was spotted looking au naturelle and summer ready early this week while attending Beyonce's private gig in London.
She had no make-up on and sported a casual but cute little blue summer tunic for an outfit with some great looking luggage brown platform sandals.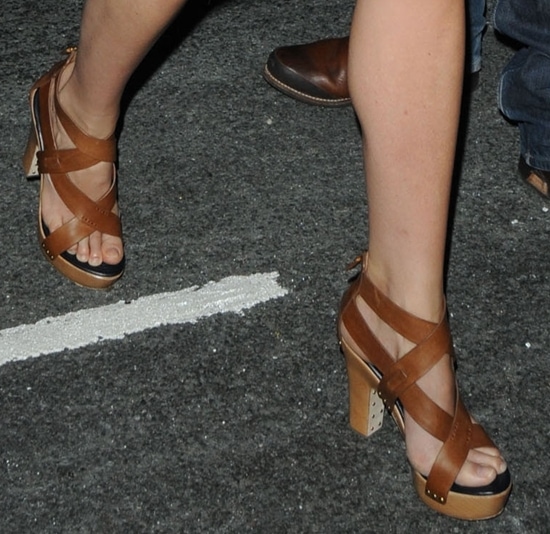 Gwyneth Paltrow arrives at O2 Shepherds Bush Empire ahead of Beyonce's new album launch and performance in London, June 27, 2011

I know, I know, it's hard to appreciate those sandals from that angle so here's a clearer product shot for you. Gwyneth's criss cross babies are these Givenchy cross over leather platform sandals:
Givenchy Cross Over Leather Platform Sandals, $520

They are quite chunky, I agree, but you have to admit, they also look different. There is something about its silhouette that makes it standout, and for that, I give it my vote. Of course, beauty is always subjective and you may have an entirely different opinion of it.
Just to give you a few more tidbits about this shoe, both the 1 inch thick platform and 5 inch heel are wooden with a glossy finish, so yes, expect some weight while walking. And as you can see, the plush leather straps are accented with gold studs to give the sandal that "clog" feel to it. Oh, and before I forget, check out the foot bed, not only is it padded, it's quilted too!
Padded and quilted foot bed
So what do you think so far? If you want the sandals, they are on sale at Net-A-Porter for $249. If that's still too pricey for you, then why not just buy yourself a pair of affordable wooden platforms? Here are a couple of suggestions from Amazon:
1. Frye Tamara Buckle T Sandal, $198 / 2. DV by Dolce Vita Tyla Wedge, $85.50 / 3. Calvin Klein Jeans Sally Sandal, 109 / 4. Not Too Coy Salsa Sandal, $119
Credit: WENN