At the time one of Hollywood's most powerful celebrity couples — Jenna Dewan-Tatum and her hunky husband Channing Tatum — arrived at the premiere of "Hail, Caesar!" in a timeless beige Cadillac.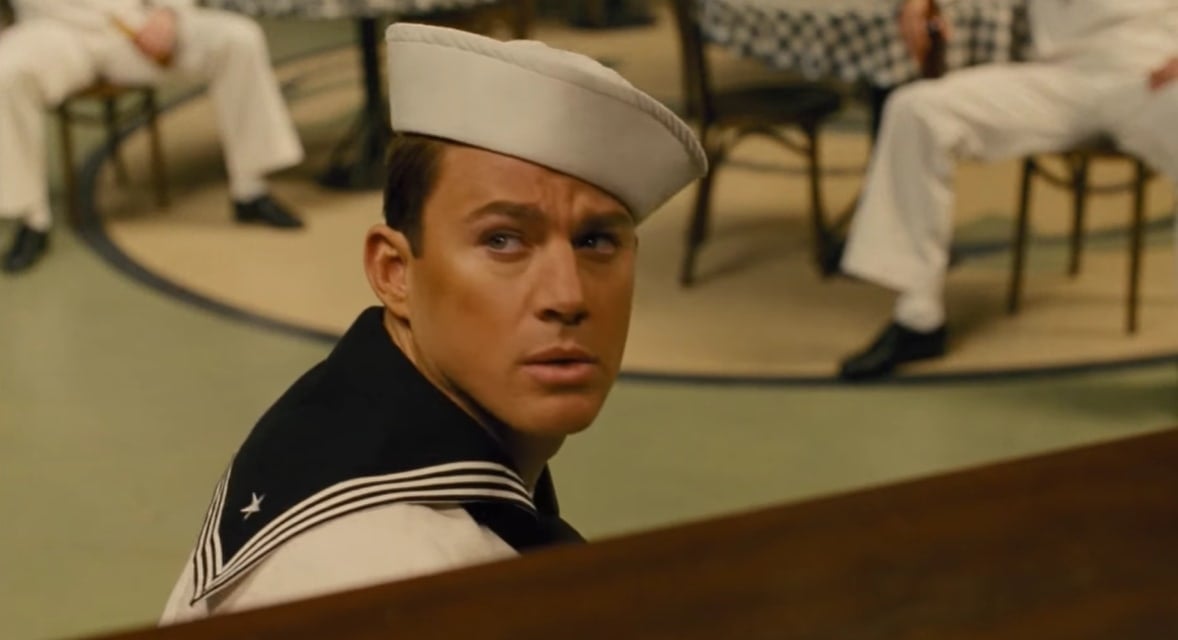 Channing Tatum as Burt Gurney in the 2016 American comedy film Hail, Caesar!
In 2019, Jenna revealed the reason she and Channing Tatum split up.
He stars as Burt Gurney, a mysterious Gene Kelly-type actor/dancer, in the American comedy film written, produced, edited, and directed by Joel and Ethan Coen.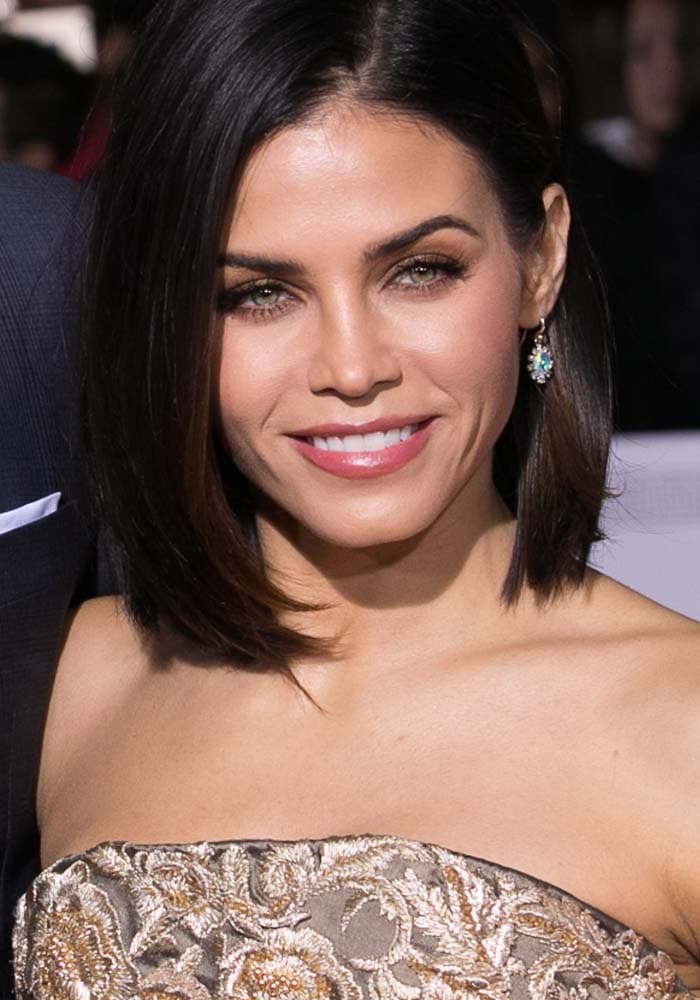 Jenna Dewan-Tatum wears her hair down at the premiere of "Hail, Caesar!" held on February 2, 2016, at the Regency Village Theatre in Los Angeles
Not based on a true story, the Coens first came up with the idea for the movie in 2008 and started working on a script.
Channing Tatum's navy-inspired dance number in the film was inspired by Gene Kelly's performances in On the Town and Anchors Aweigh.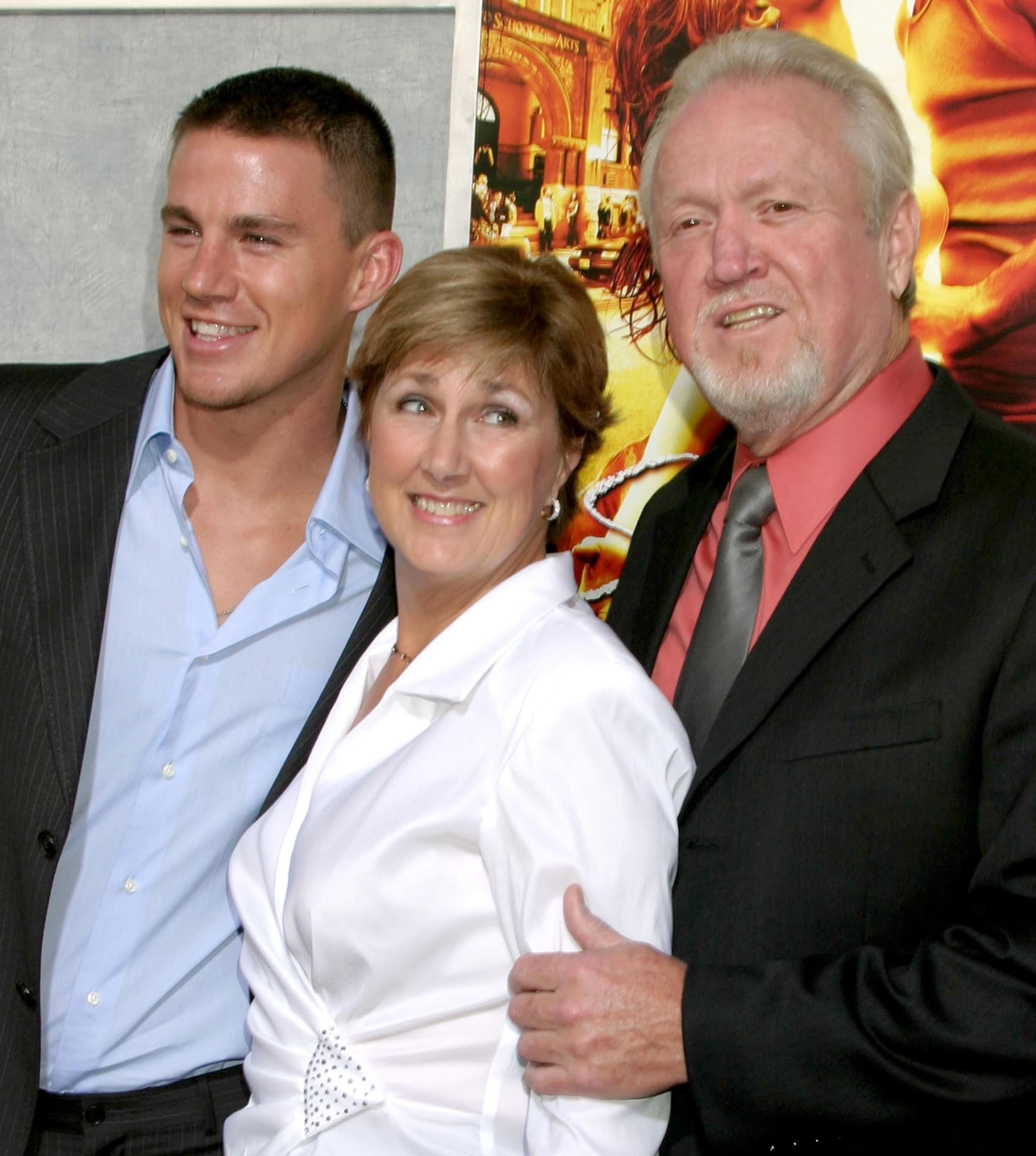 Channing Tatum with his parents Kay Tatum (née Faust) and Glenn Tatum at the premiere of 'Step Up' held at the ArcLight Theater in Hollywood, California, on August 7, 2006
A professional dancer, Tatum's first role was as a dancer in Ricky Martin's "She Bangs" music video. His career breakthrough was his portrayal of Tyler Gage in the 2006 dance film Step Up.
However, he had never tap danced before his portrayal in Hail, Caesar! of an actor who is working on a sailor musical.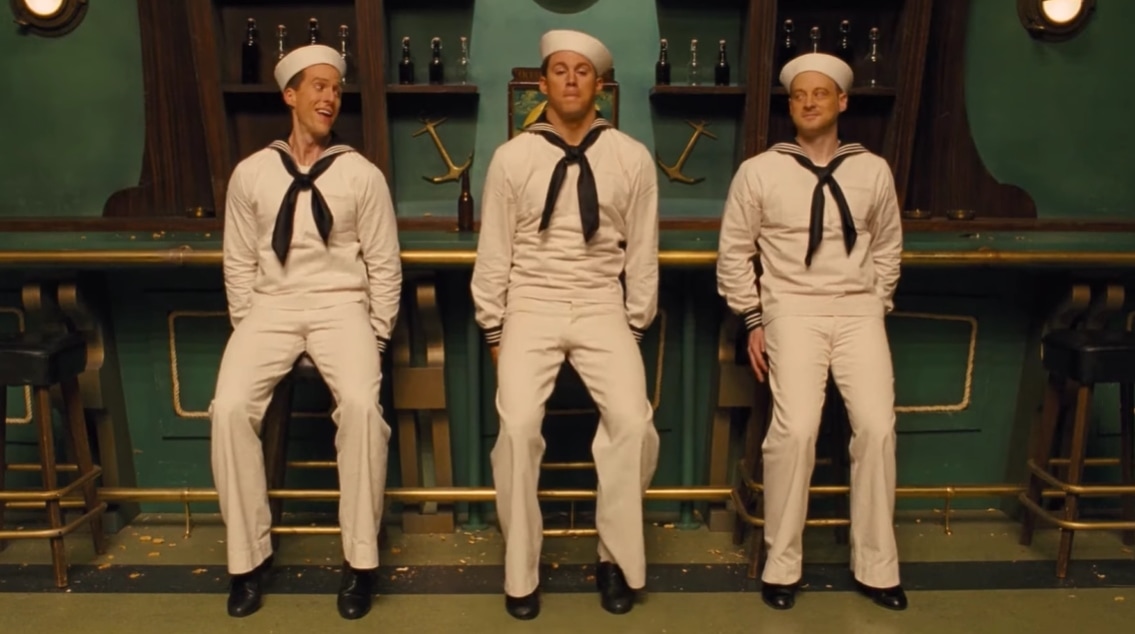 Channing Tatum learned to sing and tap dance for Hail, Caesar!
He told Vulture in January 2016 how he learned to tap dance. Tatum spent three months preparing for the role with his choreographer, Chris Gattelli.
In the script, it was like five sentences long — a dance number on a battleship, just a knee-slide, and then cut. And that became a six-minute song with tap-dancing. Chris Gattelli was my tap teacher and choreographer, and without him I never, ever, ever would've been able to do this, not in a million years. He believed in me until the day I was about to crack.
I didn't think tap-dancing was going to be easy, but I also had no idea how hard it was actually going to be. I just figured that if I did the moves, the sound would come out. But you actually have to be musical.

You're drumming with your feet, and you're a part of the actual song. I'm used to dancing on the beat, or riding the beat, and with this you are the beat. If you miss a step, everyone can hear it — or not hear it. It's nerve-racking. But everybody took care of me to a degree that is not even explainable, so I'm super lucky.
A talented singer, Tatum also belts out the opening musical number, Perfection, in the animated comedy Smallfoot.
"This was the first time I've ever sung in front of anyone. I've sung to my daughter, and she cried every time. No, I've never been a singer," he said about his singing voice in the Vulture interview. "I'm hoping and praying that with all, like, the magical tools that they have [in the recording studio] it's going to sound decent."
He continued, "I probably didn't work as much as I should have on the singing, because if I'd sucked, they could have dubbed someone else's voice in, and I would not have felt bad about it."
Channing Tatum wasn't convinced he'd nail the singing portion of his role in Hail, Caesar!
The lovely Jenna supported her husband's latest tap-dancing flick in a Ralph & Russo embroidered floral dress from the designer's 2015 Couture collection.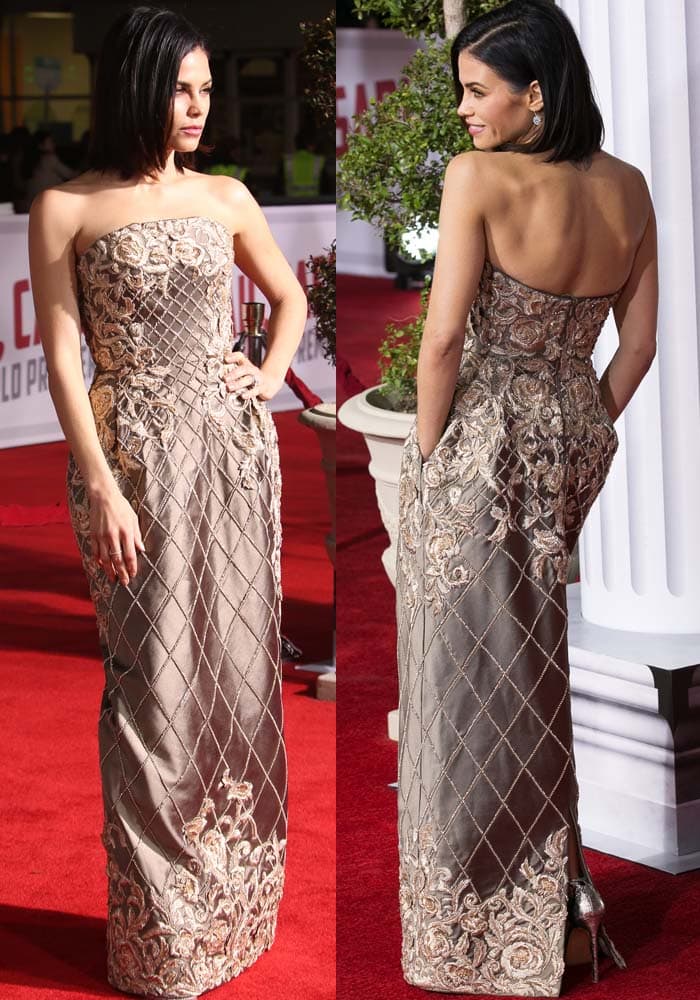 Jenna Dewan-Tatum stuns on the red carpet in an embroidered Ralph & Russo dress
The American Horror Story actress paired her golden look with jewelry from Irene Neuwirth and showed off her feet in metallic "Nudist" sandals from Stuart Weitzman.
Jenna Dewan-Tatum's feet in sparkling Stuart Weitzman heels
Channing uploaded an adorable self-taken video of the couple rolling up in style on the red carpet.
Channing Tatum and Jenna Dewan-Tatum pose for photos at the premiere of "Hail, Caesar!"
The clip shows a very excited Jenna, much to the amusement of her husband.
Get Jenna's Cadillac-worthy golden goddess style by grabbing a pair of Stuart Weitzman "Nudist" sandals in a metallic shade at Nordstrom or Zappos.
Stuart Weitzman 'Nudist' Ankle-Strap Sandal in Platinum, $395 – $415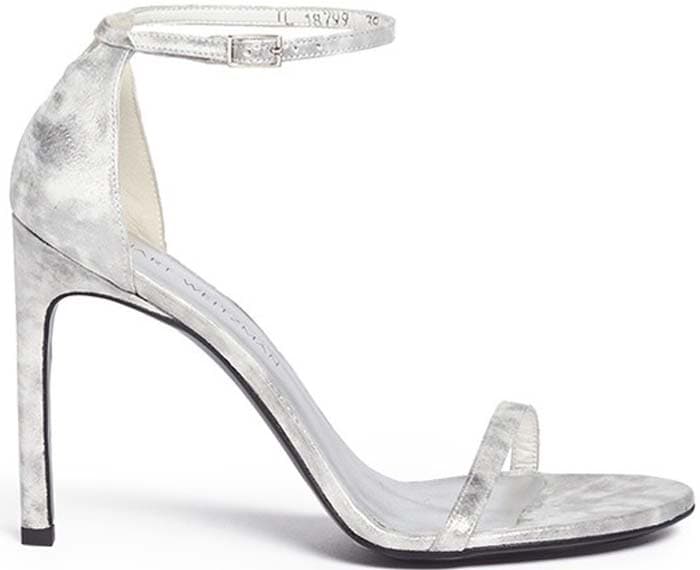 Stuart Weitzman 'Nudist' Clouded Marble Print Leather Sandals, $400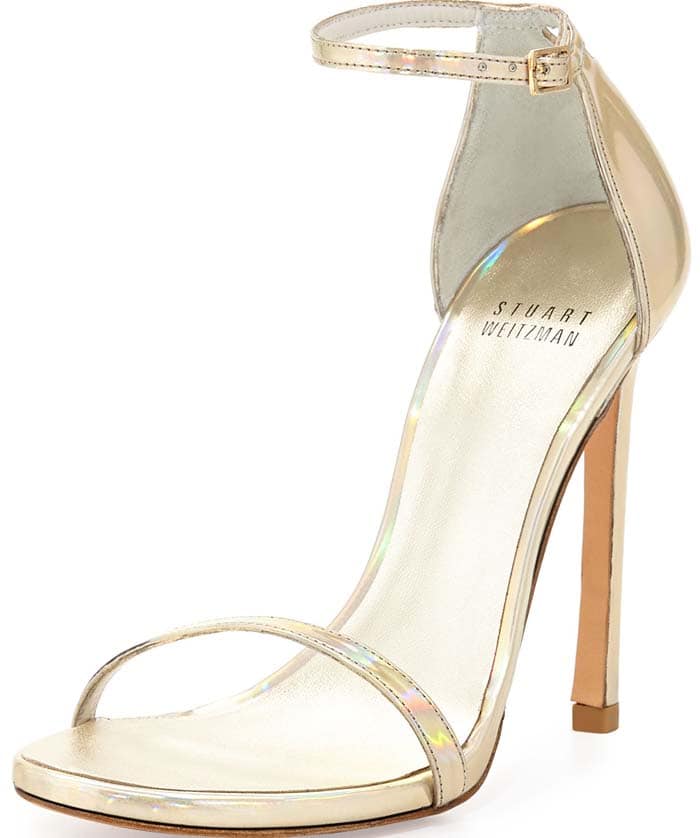 Stuart Weitzman 'Nudist' Metallic Ankle-Strap Sandal in Cava, $398
Credit: Brian To / FayesVision / WENN / Nikki Nelson