Every year brings along a host of new trends, and handbags aren't immune from the hype. From runways to sidewalks, we've compiled a list of the best handbag trends we've seen throughout the year.
1. Art on Birkins
Defacing a Birkin? A lot of us might gasp at the idea, but a lot of famous faces decided to channel their own artistic abilities into their handbags.
While some fashion critics decried the trend — and who can blame them, given the price tags on these luxury bags — many well-off ladies defaced their Birkins in the name of self-expression.
Kim Kardashian headlined the trend, showing off a white Hermes bag hand-painted by her daughter, North.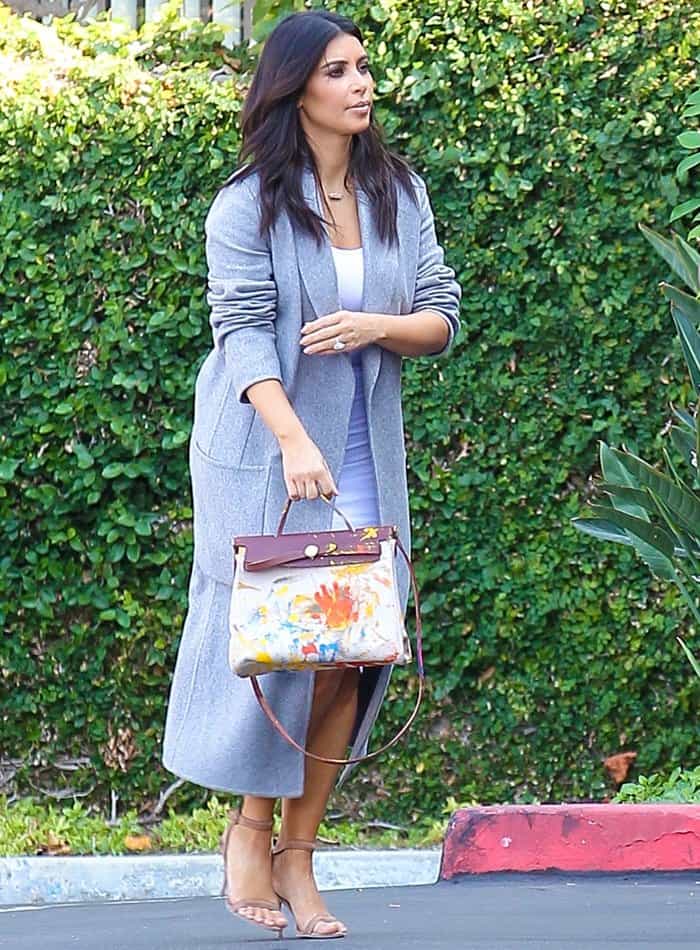 Kim Kardashian totes white Hermes bag hand-painted by her daughter in Los Angeles on November 10, 2014
Rita Ora also decorated her Birkin with graffiti art.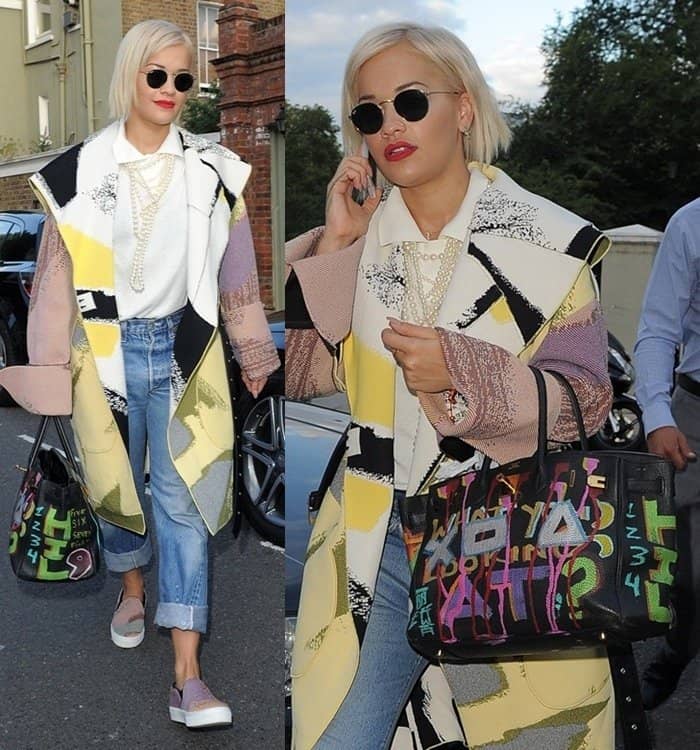 Rita Ora with a decorated Birkin leaving The Grove Music Studios in London, England, on August 13, 2014
2. Louis Vuitton Soft Lockit Bag
Louis Vuitton had seemingly taken the backseat for a long time, but last year, the brand took back the reigns with its "Soft Lockit" bag.
The sophisticated-looking purse was a big hit among many celebrities, including Jessica Alba, Carey Mulligan, and Charlize Theron.
Diana Agron with Carey Mulligan toting designer handbags in West Hollywood on April 26, 2014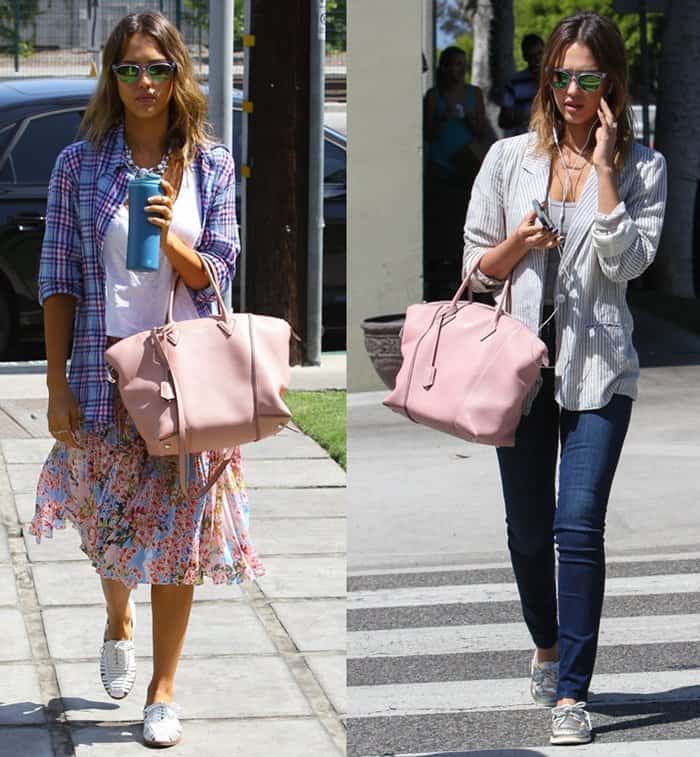 Jessica Alba carrying a Louis Vuitton "Soft Lockit" bag
3. Rihanna's Tiny Chanel
We're big fans of Chanel bags, especially when they're limited edition. When Rihanna was spotted at a popular London club, the stand-out piece of her outfit was the super tiny Chanel purse slung over her shoulder.
Rihanna outside Tramp club in London, England, on March 26, 2014
This very rare Chanel mini-bag carries a price tag of about $2,000. It measures only 3-inches by 2.75-inches by one -inch, making it the smallest version of the classic Chanel flap bag.
Rihanna with a super tiny Chanel purse slung over her shoulder
4. Kim Kardashian's White Croc-Embossed Birkin
By now, we've established that Kim Kardashian doesn't seem to have a Birkin shortage in her bag closet. The reality star showed off her famous curves in an all-white figure-hugging ensemble at the beginning of the year.
Kim Kardashian in an all-white outfit as she visited an office in Century City, California, on January 10, 2014
Another thing she showed off? A drool-worthy mini croc-embossed Birkin, which is incredibly rare.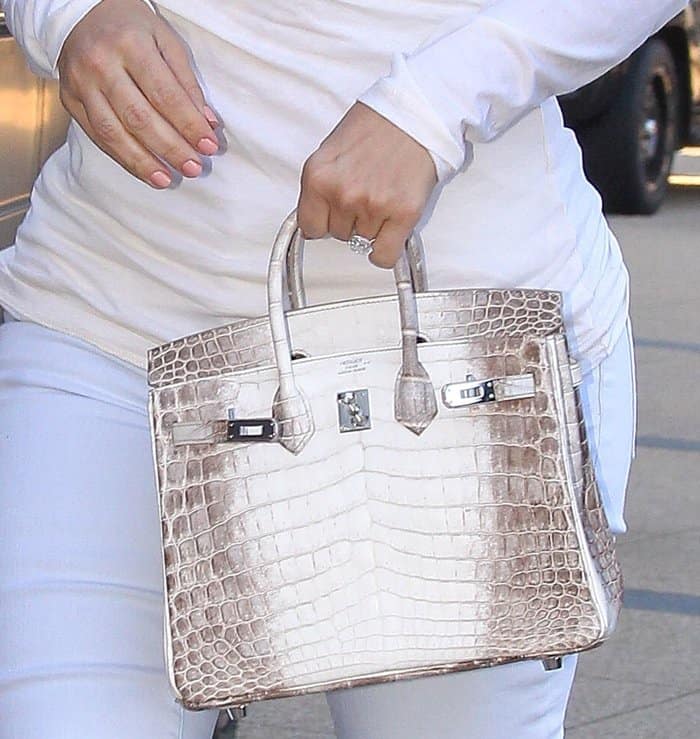 Kim Kardashian's mini croc-embossed Birkin
5. Gucci Diamante Bags
We celebrated last summer with the Gucci "Diamante" bags that came in gorgeous warm weather-appropriate colors. Who can say no to bucket bags decorated with the iconic Gucci diamante pattern?
These pretty pieces gave bagaholics more reasons to splurge on their summer bags.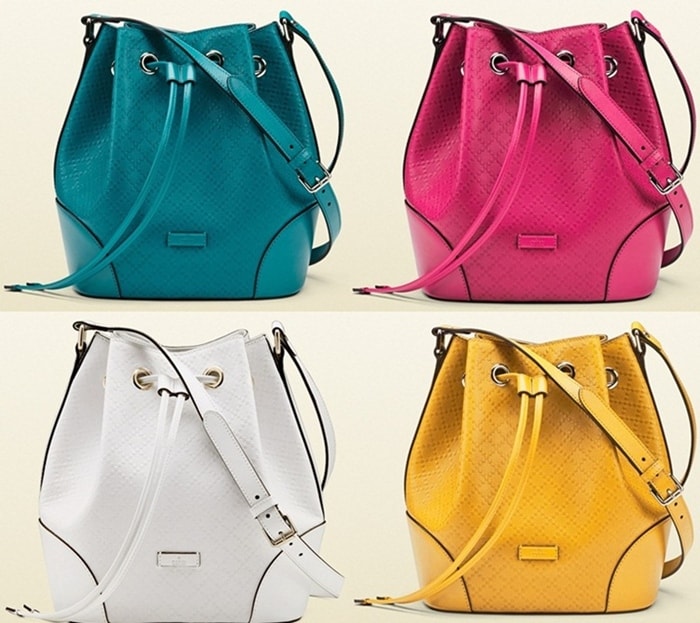 Gucci Diamante bags in warm weather-appropriate colors
6. Beyonce's Topshop Backpack
As it turns out, Queen Bey can definitely relate to us non-celebrities. The singer dressed down for a romantic dinner date with husband Jay-Z at an upscale restaurant in London, opting for a simple Topshop midi dress paired with a distressed denim backpack from the same label.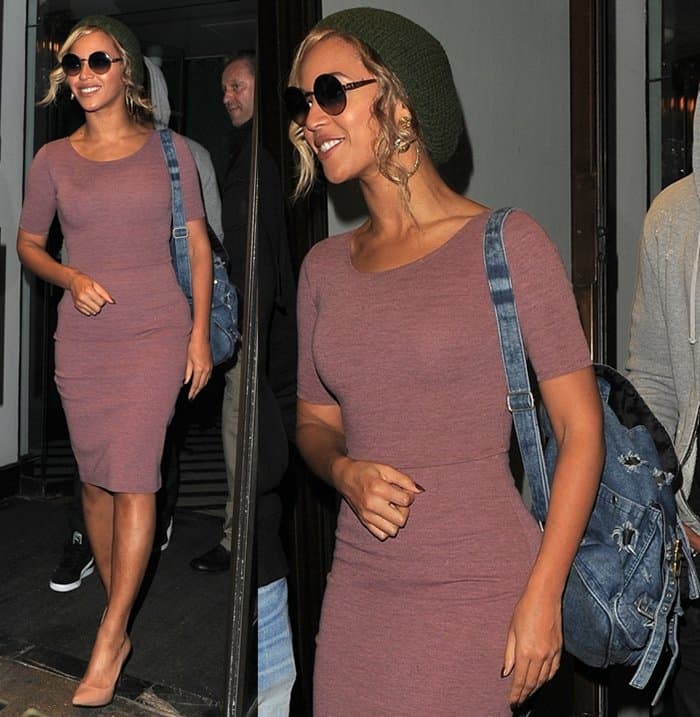 Beyonce dressed down during a date with Jay Z at Cecconi's restaurant in Mayfair in London, England, on March 7, 2014
This backpack retailed for $60, and we imagine that it sold out pretty quickly after Bey sported it.
Beyonce's distressed denim backpack
7. Amal Alamuddin's Stella McCartney Clutch
Amal Alamuddin's star-studded Venetian wedding was definitely memorable in and of itself. As if bagging one of the most eligible bachelors of Hollywood — George Clooney — wasn't enough, the gorgeous lawyer also looked stunning in her white Stella McCartney pantsuit ensemble.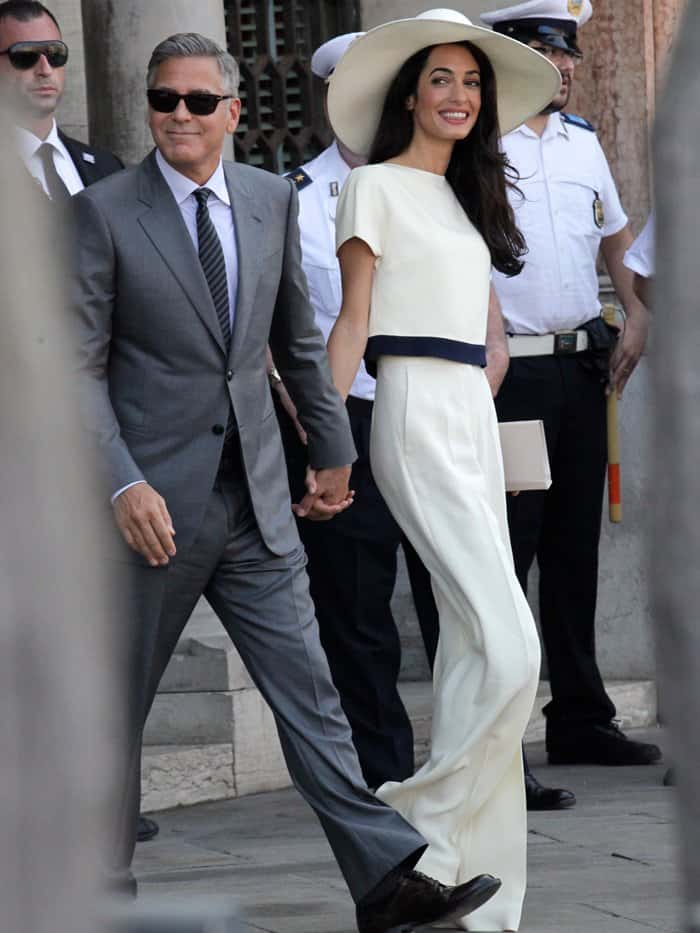 Amal Alamuddin was casually elegant for the official civil union that officially wed her to actor George Clooney in Venice, Italy, on September 29, 2014
She styled her chic jumpsuit with a big floppy sunhat and a lovely Stella McCartney Beckett clutch that matched her cream-colored pantsuit.
Amal Alamuddin's sensational two-piece suit and Stella McCartney clutch
Credit: WENN / KIKA