It's always interesting to trace the journey that actors and actresses go through on their paths to finding success within Hollywood.
Today we'll be analyzing the career of the young and talented Hailee Steinfeld, an actress who has found recent success with her role as Kate Bishop in the new Marvel/Disney+ series Hawkeye.
Hailee Steinfeld arrives in a purple David Koma Resort 2022 outfit for the Hawkeye New York Special Fan Screening at AMC Lincoln Square on November 22, 2021, in New York City (Credit: Roger Wong / Instarimages)
Like many young actresses in Hollywood, Steinfeld worked her way up to achieving the coveted role as the new master of archery, as many young stars pine for a chance to be included in the Marvel cinematic universe, let alone play a potential member of the Avengers.
Let's take a look at how Steinfeld managed to break through to Hollywood, and just how she managed to land the role of Kate Bishop.
Hailee Steinfeld's Start in Acting
Steinfeld was more fortunate than many aspiring actresses because she was born in Los Angeles on December 11, 1996.
Growing up in the Tarzana neighborhood of LA, Steinfeld's family included multiple actors and actresses, including her first cousin True O'Brien (of Days of Our Lives fame).
It was her family members' forays into acting that prompted her to follow in their footsteps. At the age of 13, Hailee would begin her acting career onscreen with the role of Talia Alden in She's a Fox.
She was 12 years old when the semi-autobiographical short film was released on July 26, 2009.
Hailee Steinfeld played the role of Talia Alden in the 2009 semi-autobiographical short film She's a Fox (Credit: Picture Picture Films)
The short film would go on to receive critical acclaim, placing Hailee on the map as a rising young star.
Her performance in She's a Fox would allow her to move on to much bigger roles very quickly, as she was later cast in the role of Mattie Ross in the Coen Brothers' 2010 remake of True Grit, a western classic.
Many Hollywood actors could spend their whole careers clamoring for the chance to act in a Coen Brothers' film, but Hailee managed to do so by the tender age of 13.
While many child star performances can leave much to be desired, Hailee's performance as Mattie Ross garnered critical acclaim, as she stood toe to toe in each scene alongside her True Grit co-stars, which included the likes of Jeff Bridges, Matt Damon, and Josh Brolin.
Barry Pepper as "Lucky" Ned Pepper and Hailee Steinfeld as Mattie Ross in the 2010 American Western film True Grit (Credit: Paramount Pictures)
In a review from THR, film critic Todd McCarthy declared "Hailee Steinfeld's exceedingly accomplished performance dominates [this] surprisingly humorless Western."
Her awe-inspiring performance would even be recognized by the Academy, who granted her a nomination for Best Supporting actress (an award she would unfortunately not win).
Steinfeld would follow up this critically acclaimed performance with performances as Juliet in a 2013 adaptation of Shakespeare's classic Romeo and Juliet, and as Petra Arkanian in the 2013 adaptation of the famous science fiction novel Ender's Game.
Hailee Steinfeld as Juliet Capulet and Douglas Booth as Romeo Montague in the 2013 romantic drama film adaptation of William Shakespeare's romantic tragedy Romeo & Juliet (Credit: Icon Productions)
She would continue her successful career with lead roles in films like The Edge of Seventeen (where she starred opposite Woody Harrelson), and Pitch Perfect 2, where she played the character of Emily Junk.
Hailee Steinfeld's Music Success
Her work in the Pitch Perfect series would cause Steinfeld to also land a record deal with Republic Records, a large record label headquartered in New York City.
In 2015, she would eventually release her first extended play with the label, entitled Haiz (a nickname that many fans of her refer to her as).
Anna Kendrick as Beca Mitchell and Hailee Steinfeld as Emily Junk in the 2015 American musical comedy film Pitch Perfect 2 (Credit: Universal Pictures)
This extended play would feature a handful of successful singles, including songs like "Starving", "Most Girls", and "Let Me Go". What can't this girl do?
Steinfeld's Inclusion in the Transformers Series
Did you know that Steinfeld's work in Hawkeye is not her first foray into a large cinematic franchise?
In 2018, Hailey was cast in the lead role of Charlie Watson in Bumblebee, a standalone film within the Transformers franchise.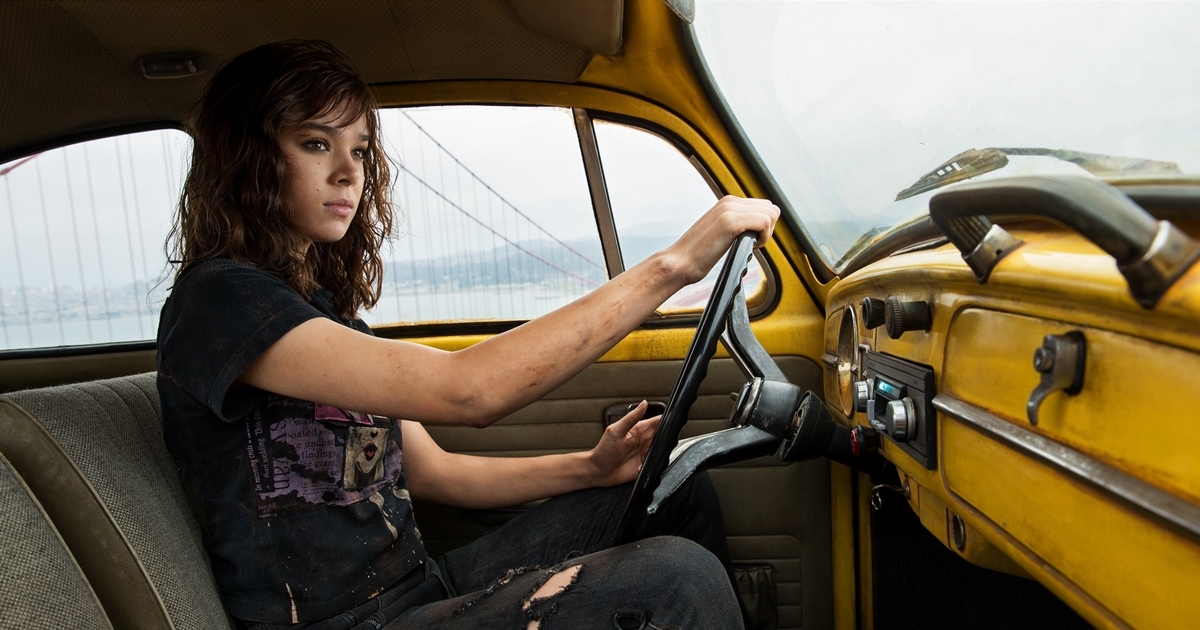 Steinfeld starred as Charlie Watson in the 2018 American science-fiction Transformers spin-off film Bumblebee (Credit: Paramount Pictures)
Intended as a soft reboot of the somewhat stale franchise, Bumblebee received critical praise for its fresh take on the Transformers universe of films, and Steinfeld's performance as Charlie was noted as being one of the highlights of the film as a whole.
While the film was the lowest-grossing film of the Transformers franchise, it is still considered a box office success, grossing $468 million USD against a budget of $135 million USD.
Steinfeld Enters the Marvel Cinematic Universe
It seems as though the producers of Hawkeye had always intended Steinfeld to be in the role of Kate Bishop. When the film was in the early stages of production in 2019, Hailee was offered the role of Kate Bishop, although she initially did not accept.
This was due to a non-compete clause in a contract she signed for Dickinson, an Apple TV+ show that she also stars in.
Jeremy Renner as Clint Barton / Hawkeye and Hailee Steinfeld as Kate Bishop in the American television miniseries Hawkeye (Credit: Marvel Studios)
During these contract disputes, Disney did not offer the role to any other actress, showcasing their strong intentions of having Steinfeld play the role.
Eventually, in December 2020, Steinfeld was confirmed to be playing Kate Bishop, alongside Jeremy Renner, who was reprising his role as the original Hawkeye, Clint Barton.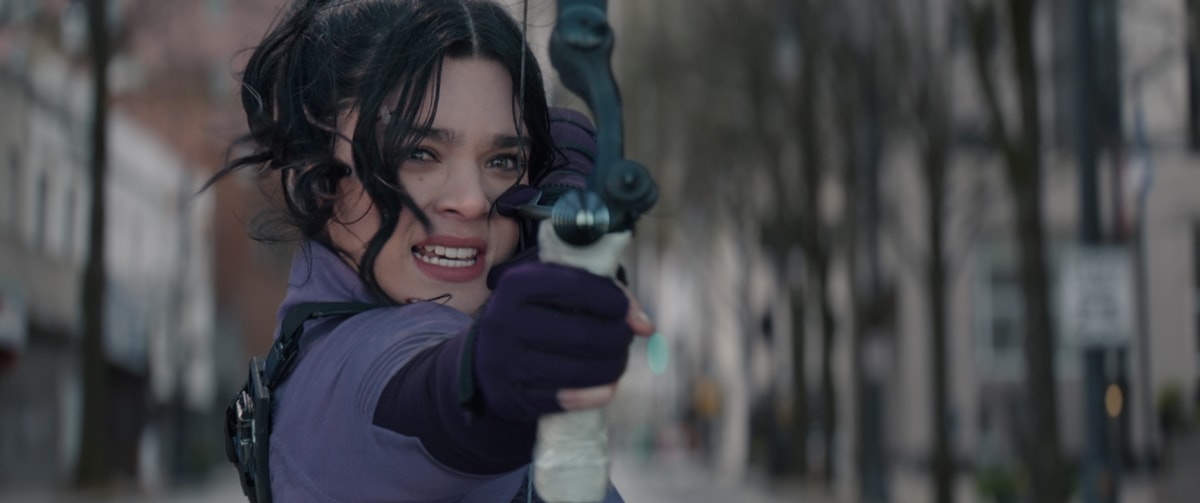 Hailee Steinfeld wore blue contact lenses to look like her Hawkeye character Kate Bishop who's known for her piercing blue eyes (Credit: Marvel Studios)
In the show, Kate Bishop is a 22-year-old fan of Clint Barton's Hawkeye and is eventually placed under his wing to be groomed as his successor to the Hawkeye role.
To portray Kate Bishop accurately, Hailee Steinfeld wore blue-colored contact lenses. In real life, she has beautiful light hazel brown eyes.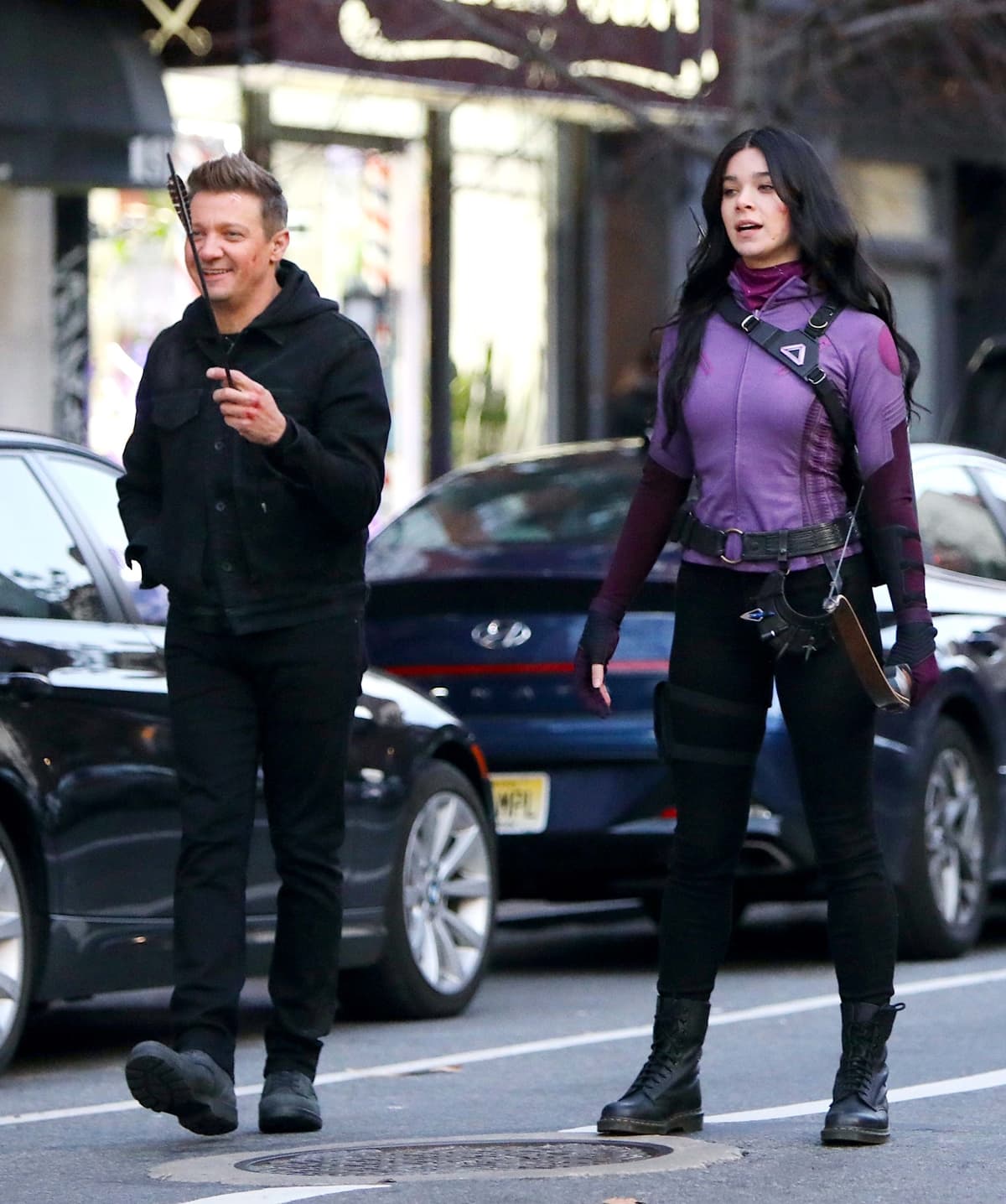 Jeremy Renner and Hailee Steinfeld are seen filming a scene for 'Hawkeye' in Midtown on December 9, 2020, in New York City (Credit: Jose Perez / Instarimages)
Steinfeld described Bishop as a "badass", and in the show she definitely takes on that role, being a worthy and skilled successor to Clint Barton.
Within the show, Bishop helps to confront enemies in Barton's past as the Ronin and helps him to protect his loved ones from his former foes.
The show ran for six episodes and eventually sets up Kate Bishop as a future mainstay of the Marvel Cinematic Universe as the new Hawkeye.
A golden retriever named Jolt plays Kate Bishop's adopted Lucky the Pizza Dog.
Jeremy Renner and Hailee Steinfeld filming a scene with Kate Bishop's adopted golden retriever Pizza Dog for the American television miniseries Hawkeye on December 3, 2020, in New York City (Credit: Jose Perez / Instarimages)
We're certainly excited to see Steinfeld's future in the role, as we believe she did a fantastic job playing Kate Bishop within the show. And we're not the only ones that think that either!
The show has garnered critical acclaim, with plenty of praise directed towards Hailee Steinfeld's acting capabilities (where have we heard that before?).
No matter how you slice it, it seems as though Steinfeld's destiny was to be on the silver screen. She has proven time and time again that she is an extremely talented actress, and we're sure she'll fill the shoes (and quiver) that Jeremy Renner has left behind with the Hawkeye role.
Hailee Steinfeld curls her hair at the 2016 SESAC Pop Music Awards held on April 18, 2016, at Cipriani in New York City (Credit: Jeff Grossman / WENN)
Hailee Steinfeld has never been afraid to experiment and take fashion risks. She's bold and fearless, and it was no different when she stepped out to attend the 2016 SESAC Pop Music Awards held at Cipriani in New York City.
The then 19-year-old actress took things up a notch in a quirky music-themed dress from Vionnet's Fall 2016 collection.
She was hard to ignore in the purple silk crepe de chine shirtdress, which had multicolored prints of musical instruments, a contrasting waist tie, and a draped ruffle skirt.
Hailee Steinfeld wears a quirky purple music-themed dress from Vionnet's Fall 2016 collection (Credit: Jeff Grossman / WENN)
The True Grit star complemented the frock with simple accessories, including only a necklace and a statement ring.
She added a sultry vibe to her look with side-swept wavy tresses and smoky eyeshadow.
Hailee finished everything off with a pair of Casadei "Tibet" sandals from the label's Spring 2016 collection.
Hailee Steinfeld's feet in tri-color Casadei sandals (Credit: Jeff Grossman / WENN)
These equally bold sandals are made of orange suede, metallic silver leather, and black patent leather materials and have adjustable ankle straps, open toes, and about four-inch signature blade heels.
You can check out these Casadei sandals at Amazon and Farfetch.
Orange, Black, and Silver Casadei "Tiffany" Sandals, $485