It's hard to believe it's been more than a decade since at-the-time newcomer Hailee Steinfeld launched her career thanks to her role in "True Grit."
12 years ago, Hailee joined Jeff Bridges, Matt Damon and Josh Brolin in a modernized remake of the 1969 John Wayne classic.
The 2010 version of this classic Western film somehow managed to maintain the lure of the adventurous original while updating the movie with modern moviemaking technology.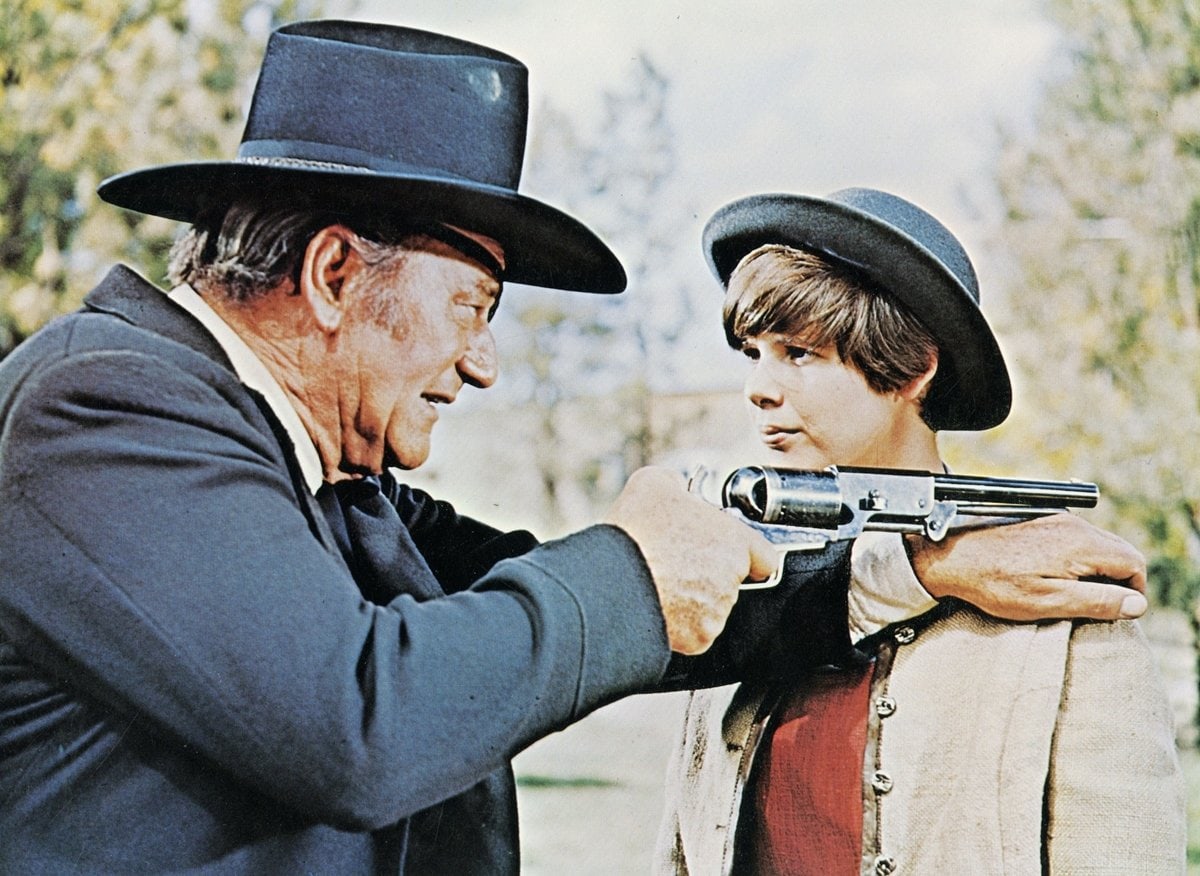 John Wayne stars as Reuben J. "Rooster" Cogburn and Kim Darby portrays Mattie Ross in the 1969 American Western film "True Grit" (Credit: Paramount Pictures)

So, how did Hailee land her role in the modern "True Grit" film? How did it impact her acting career? Let's take a look.
How Did Hailee Steinfeld Get Started in Her Career?
Hailee started commercial acting at the age of 8 and auditioned for "True Grit" when she turned 13.
The casting directors were looking specifically for a young girl who was "sassy, fearless, and sure of herself" and boy did they find her!
Jeff Bridges portrays Deputy U.S. Marshal Rooster Cogburn and Hailee Steinfeld portrays Mattie Ross in the 2010 American Western film "True Grit" (Credit: Paramount Pictures)
"Just the thought was kind of intimidating", Steinfeld said to The Hollywood Reporter. "But the minute I met him [costar Jeff Bridges], I realized that he was just there to do a job and that the I'm here for the same reason and I kinda clicked with him and the Coen Brothers."
Hailee went through three different auditions and was placed on set to start working within a week.
This up-and-coming star beat out 15,000 other girls who auditioned for the same role.
What Did Hailee Steinfeld's Co-Stars Think About Her?
Hailee's co-stars were shocked by her talent from the first scenes that they worked together.
"I saw the notes they were giving her, and they were some pretty complex adjustments," Matt Damon said. "We'd do the scene again, and she'd just nail it. I remember looking at Roger Deakins [a cinematographer] and saying, 'Is she doing this stuff every day? Is she that good?' And he just nodded to me and said, 'She's that good'."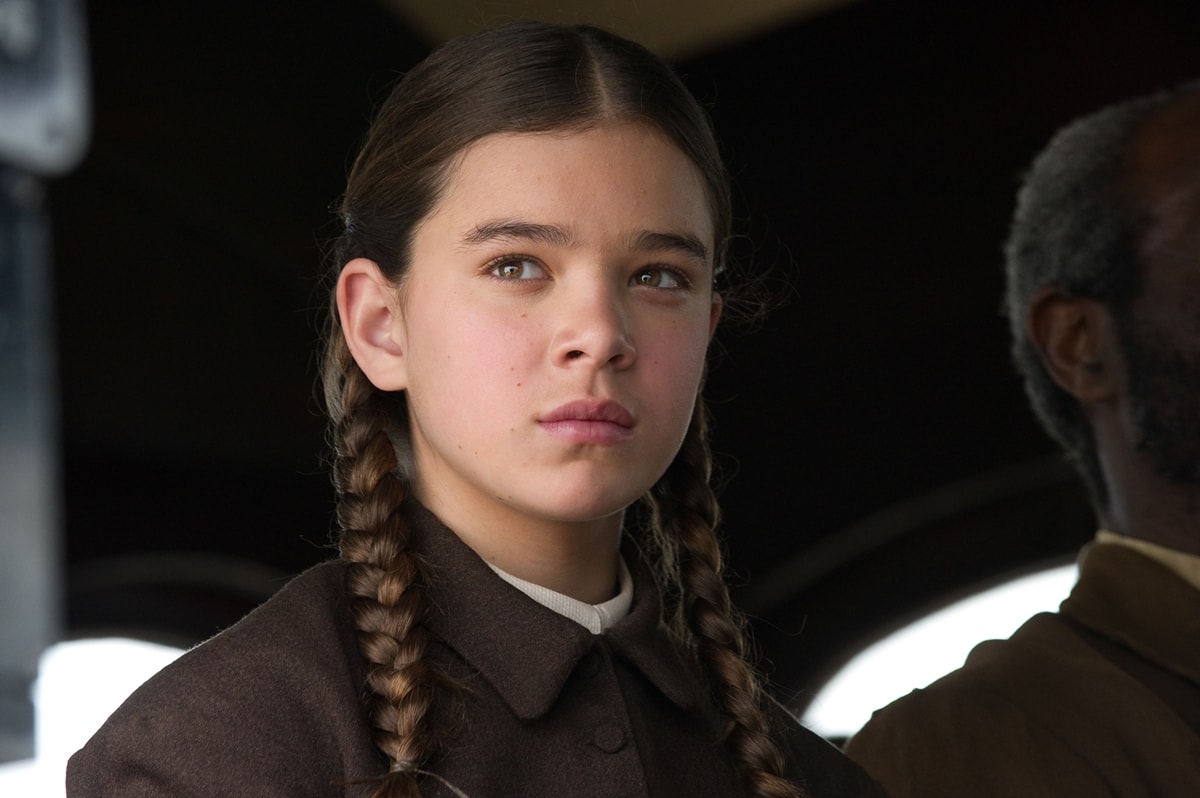 Hailee Steinfeld was chosen for the role of Mattie Ross in "True Grit" when she was 13 (Credit: Paramount Pictures)
Did Hailee Steinfeld Know 'True Grit' Would Launch Her Career?
"I cried my eyes out the last day of shooting the movie because I literally thought that the world was coming to an end," Hailee said. "Jeff Bridges and Matt Damon looked at me and they were totally kind of like, laughing under their breath. They were like, 'Kid, this is just the beginning', meaning, 'We're gonna see so much of you, you're gonna be sick of us,' and I was like, "I'm never gonna see you again, what am I gonna do tomorrow morning when I don't have a call time?"
Hailee Steinfeld was born on December 11, 1996, in Tarzana, a suburban neighborhood in the San Fernando Valley region of Los Angeles (Credit: Featureflash Photo Agency / Shutterstock)
"It was such a wild experience," Hailee later said in an interview. "I do feel like I freaking won the lottery with that whole thing. I mean, that role was incredible, the writing was amazing, the filmmakers obviously. Everything about the whole tings was perfect."
Following the release of "True Grit," Hailee went on to win 13 awards. Her performance in "True Grit" netted her 12 nominations.
All at the age of 14.
What Projects Was Hailee Steinfeld in After 'True Grit'?
After "True Grit" premiered, Hailee hit the ground running in Hollywood. She starred in "Begin Again" alongside Keira Knightley, Adam Levine and Mark Ruffalo before landing the coveted role of Juliet in "Romeo and Juliet."
After both of those projects, she landed a role alongside the critically acclaimed Harrison Ford in "Enders Game."
All three of those roles further demonstrated Hailee's range and talent.
Hailee Steinfeld wears a leather patchwork dress from the Valentino Fall 2014 collection at the premiere of "Begin Again," held on April 26 during the 2014 Tribeca Film Festival at BMCC Tribeca PAC in New York City (Credit: Sam Aronov / Shutterstock)
In more recent years, Hailee has taken on roles that have given her the chance to act alongside big Hollywood names like Tommy Lee Jones, Kevin Costner and Woody Harrelson.
Did Hailee Steinfeld Just Act in Movies?
Hailee's movies have skyrocketed her into fame, but the actress has also made it a point to have fun with her career.
Hailee's had a part in music videos from big-name artists like Machine Gun Kelly, Shawn Mendes and Taylor Swift!
Hailee was just one of many famous faces to make an appearance in Taylor Swift's "Bad Blood" music video.
Is Hailee Steinfeld in the Music Industry?
Unsurprisingly, Hailee hasn't just appeared in music videos for other vocalists. The actress also has one heck of a voice, which has allowed her to expand her career from movies to musicals and into standalone albums.
Hailee's role in "Pitch Perfect 2″ gave her a chance to show off her musical skills, thanks mostly in part to her performance of "Flashlight."
Anna Kendrick stars as Beca Mitchell and Hailee Steinfeld portrays Emily Junk in the 2015 American teen musical comedy film "Pitch Perfect 2" (Credit: Universal Pictures)
Hailee's segue into music has been, unsurprisingly, successful. Her hits "Love Myself," "Starving" and "Capital Letters" quickly became radio hits, and her five-song EP, "HAIZ," was an immediate fan favorite.
Is Hailee Steinfeld Only Focusing on Music Now?
Luckily, no! Hailee's still doing a little bit of everything. She hasn't ditched acting or singing to focus on one or the other, which is great news for fans who want more movies and more music from the brunette phenom.
What is Hailee Steinfeld Doing Now?
Hailee's currently keeping busy in the leading role of "Dickinson," a TV show that focuses on the creative depiction of poet Emily Dickinson's life.
Season 3 of "Dickinson" just finished airing right before Christmas.
Hailee Steinfeld stars as Emily Dickinson and Adrian Blake Enscoe portrays Austin Dickinson in the American TV series "Dickinson" (Credit: Apple TV+)
In addition to her work on "Dickinson," Hailee also co-stars along with Jeremy Renner in "Hawkeye". This TV mini-series follows the Marvel hero, Hawkeye, on his return back to life after the Avengers defeat Thanos.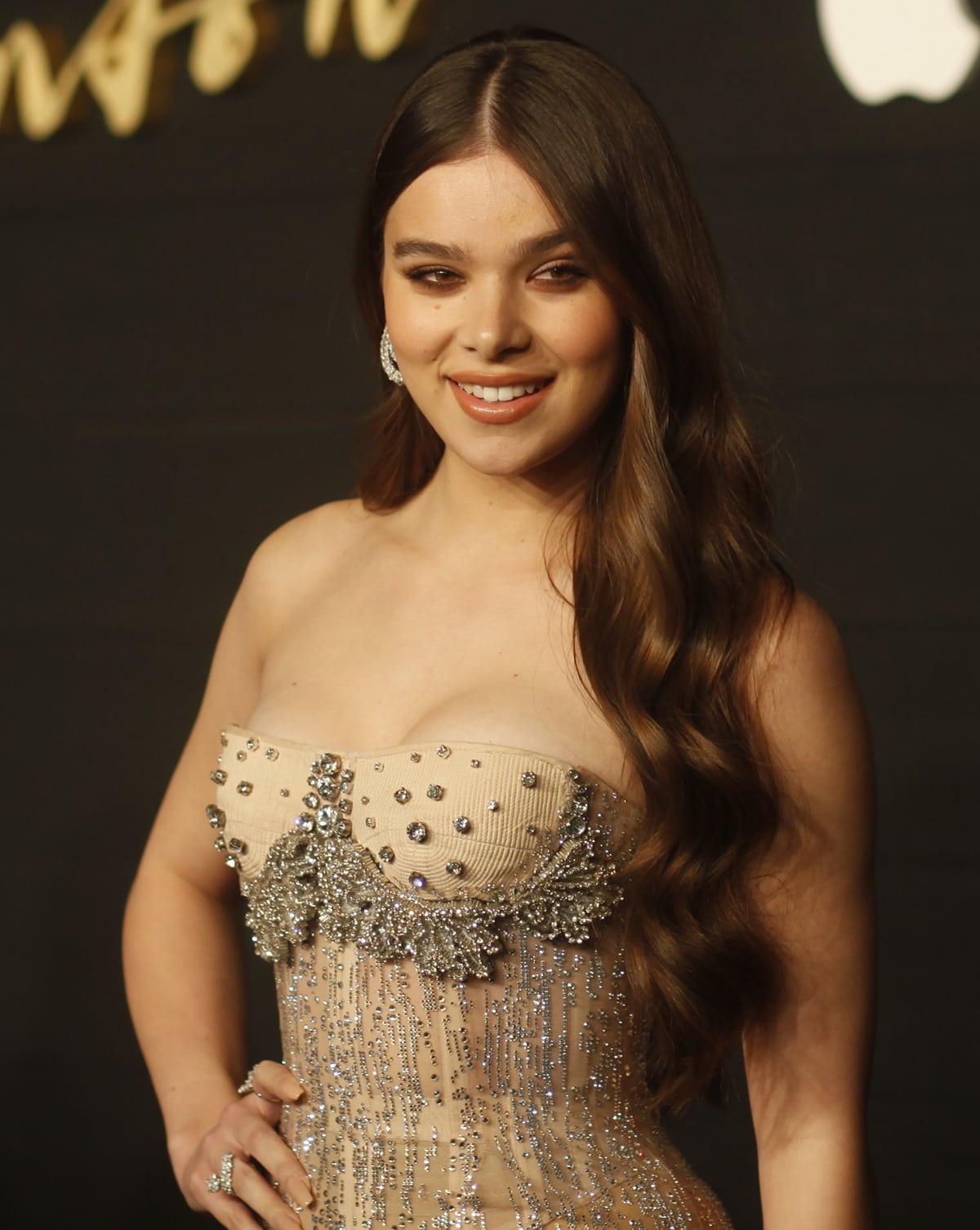 Hailee Steinfeld flaunts her cleavage at the New York premiere of "Dickinson" held on October 17, 2019, at St. Ann's Warehouse in New York City (Credit: Udo Salters Photography / Shutterstock)
We're excited to see what else Hailee has in store for us.
What is Hailee Steinfeld's Style Like?
In April 2016, Hailee attended CinemaCon to promote her movie "The Edge of Seventeen" at The Colosseum of Caesars Palace in Las Vegas.
Hailee Steinfeld wears her hair up at CinemaCon held on April 12, 2016, at Caesar's Palace Resort and Casino in Las Vegas (Credit: Judy Eddy / WENN)
She was joined at the entertainment industry event by Mila Kunis, Matthew McConaughey, Sylvester Stallone, Kristen Bell, Christina Applegate, Jada Pinkett Smith, Kyra Sedgwick, and Gugu Mbatha-Raw.
Hailee Steinfeld shows off the back of her black leather Rodarte top (Credit: Judy Eddy / WENN)

The then 19-year-old American actress, model, and singer wore a highly unflattering outfit from the Rodarte Fall 2016 Collection.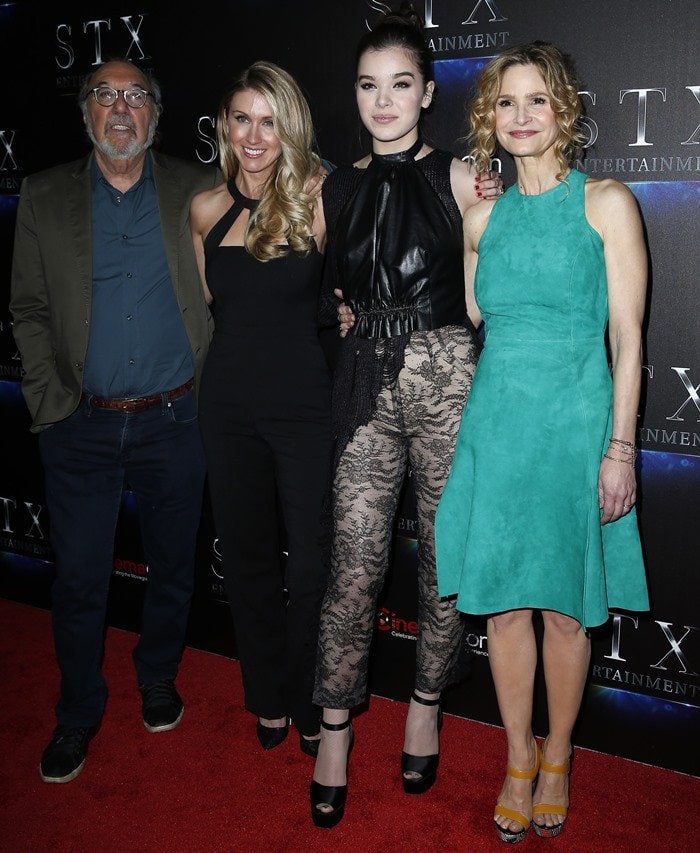 Hailee Steinfeld, James L Brooks, Kelly Fremon Craig, and Kyra Sedgwick pose for photos on the red carpet (Credit: Judy Eddy / WENN)
The revealing ensemble was composed of a black leather halter top, a matching single sleeve distressed silk pullover, and black sheer lace ruffled pants.
Hailee Steinfeld wears sheer lace Rodarte pants on the red carpet (Credit: Judy Eddy / WENN)

She completed her atrocious ensemble with a pair of sky-high black platform heels from Giuseppe Zanotti.
Hailee Steinfeld's feet in black platform Giuseppe Zanotti sandals (Credit: Judy Eddy / WENN)

We really hope Hailee fires her stylist, then burns this criminally ugly outfit. Do you like it more than we do?
New customers at Kim Kardashian's shoe club can buy similar heels starting from just $10. If you like these chunky 'Zuly' heels, you can buy them at ShoeDazzle for $10.
Black Zuly Chunky Platform Heels, $10