Since she first rose to fame, Rita Ora has created several top 10 songs, including her breakout collaboration with DJ Fresh on Hot Right Now in 2011.
Not only is she a talented songstress, but she is also a savvy businesswoman. As her fame has grown, so has her wealth. She has a net worth of $30 million.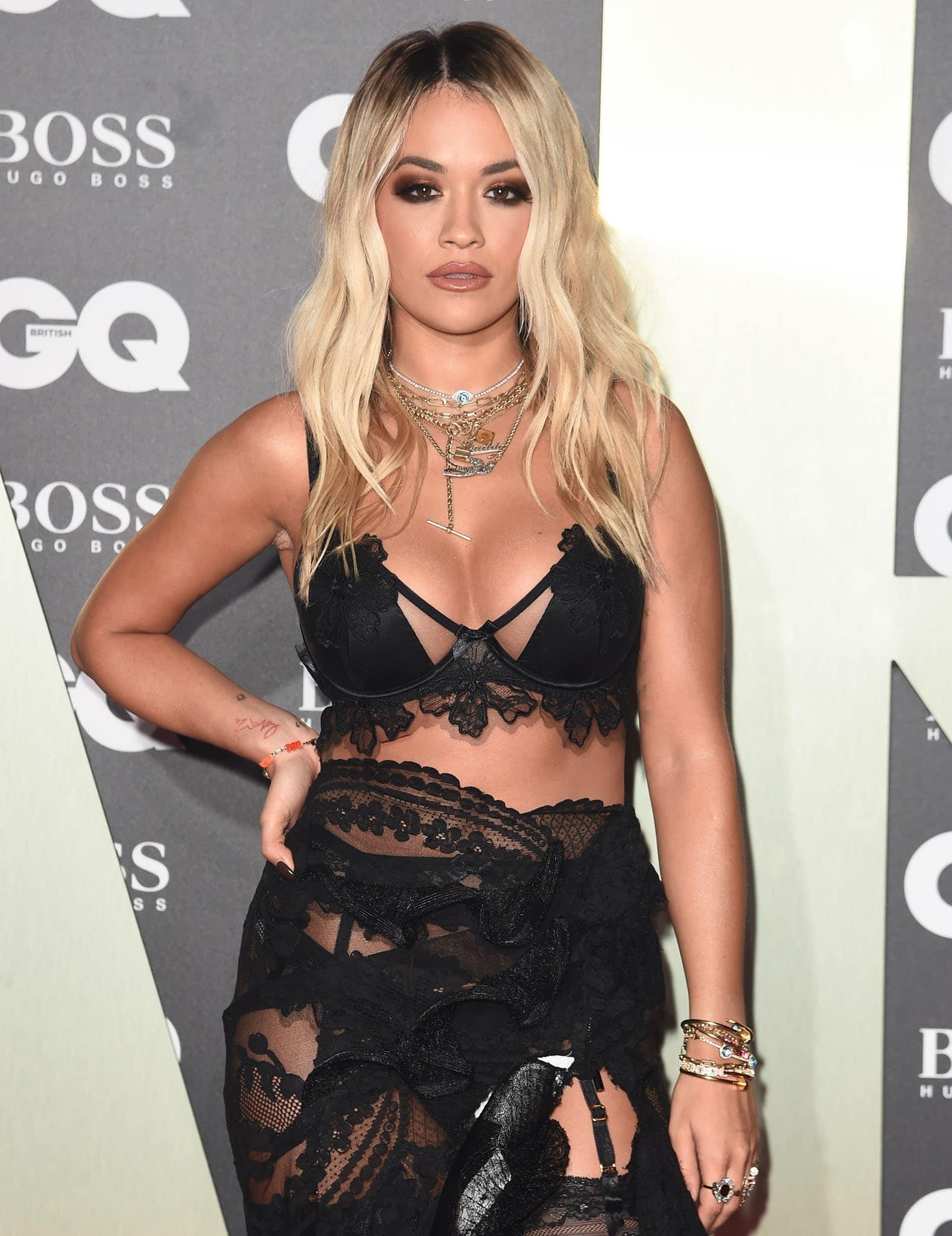 Singer, actress, and businesswoman Rita Ora has a net worth of $30 million (Credit: Featureflash Photo Agency / Shutterstock)
Recently, rumors circulated the internet that she has a net worth of $145 million from a restaurant chain called "Fat Ora Burger," a sports franchise "Pristina Angels," as well as a vodka brand.
The rumors all turned out to be false after Rita squashed them on The Breakfast Show. So how did Rita Ora become rich?
How Did Rita Ora Become Famous?
Rita Ora grew up in London after moving from Pristina, Yugoslavia, with her family in 1991. Born on November 26, 1990, she was a lover of the performance arts from an early age and attended a performing arts school in London.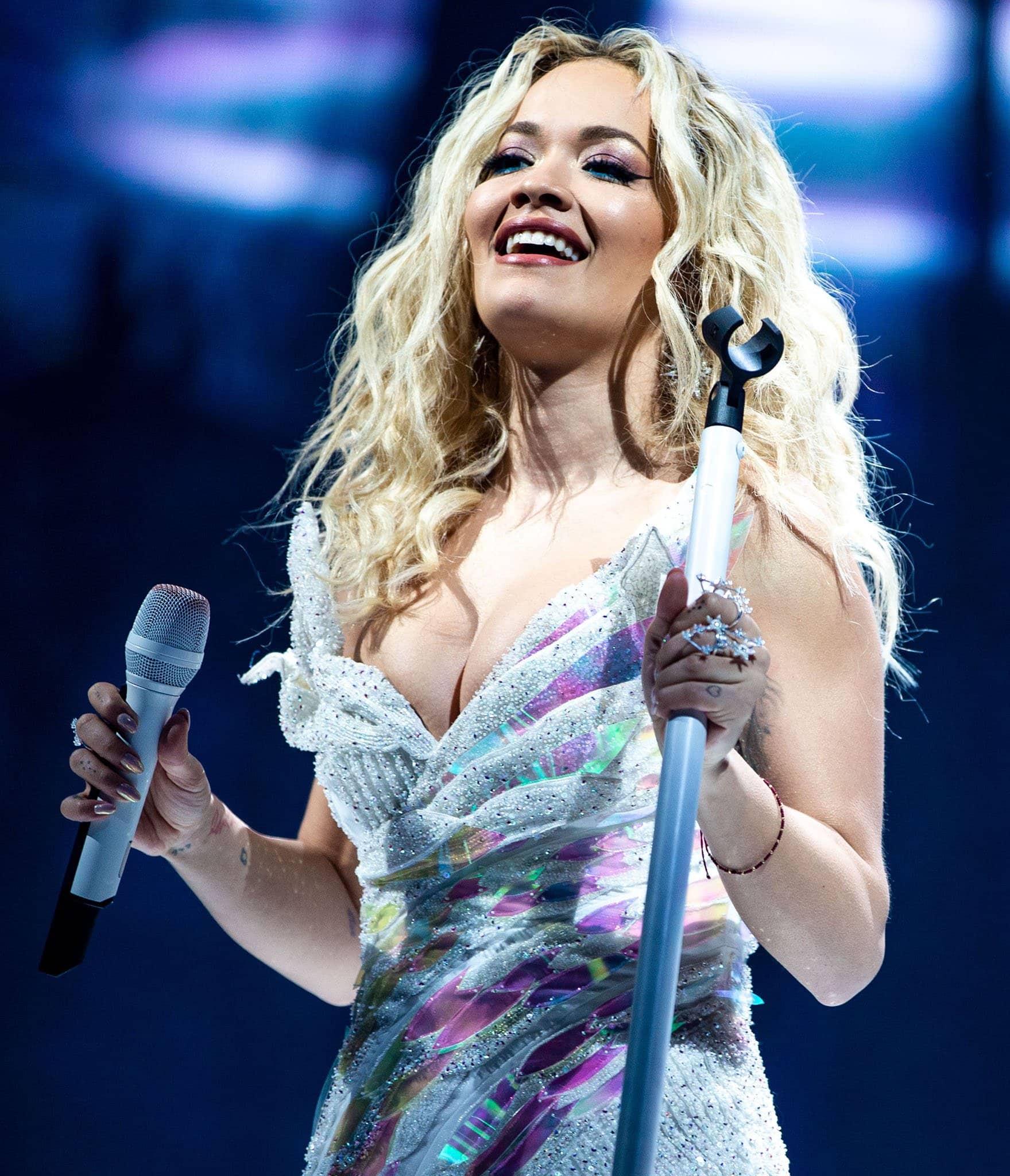 Rita Ora attended performing arts school in London and later signed with Jay-Z's Roc Nation record label (Credit: Tom Rose / Shutterstock)
Her dad owned a bar, and she would occasionally sing there before she made a name for herself in the music industry. She also liked to perform at open mic nights.
In 2009, she was signed by Jay-Z's record label, Roc Nation, after pulling out of the Eurovision Song Contest.
Career breakthrough
Every music artist needs a breakthrough into the industry, and Rita got that when she was featured on DJ Fresh's Hot Right Now.
The single quickly reached number 1 in the U.K. She released her first album, Ora, in 2012, which was mostly filled with dance-pop sounds.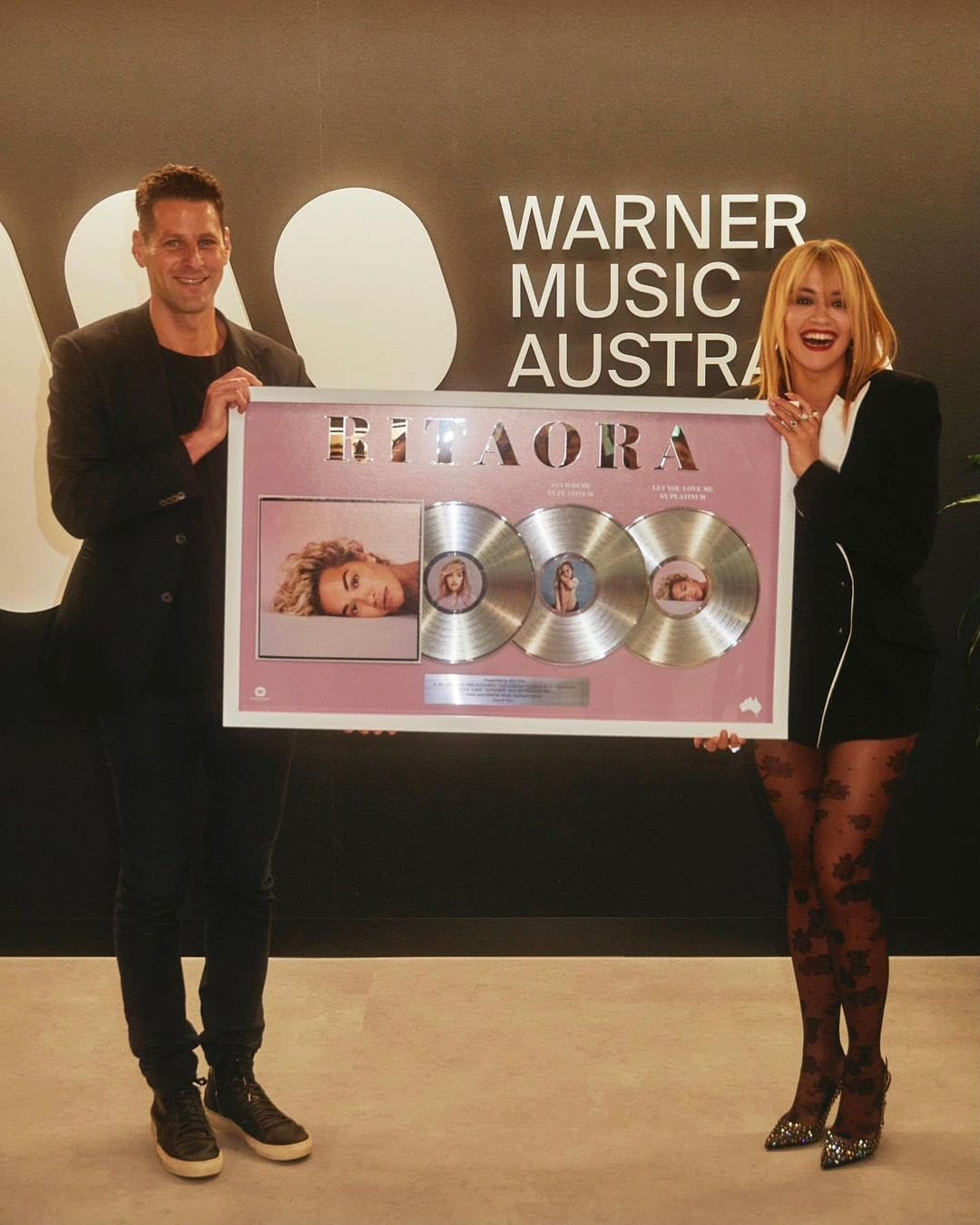 Rita Ora receives a special plaque after her 2018 album Phoenix received a multi-Platinum certification in Australia in 2021 (Credit: Rita Ora / Instagram)
That album produced two singles that landed number 1 spots: R.I.P. and How We Do(Party). Not a two-songs-wonder, her songs have repeatedly flooded the world's top music charts and have made her one of the U.K.'s top artists.
Since her career breakout, she has grown into an artist that the entire world knows.
Impressive Collaborations
Not only have her singles reached number 1 spots repeatedly, but she has also worked with other prominent artists in the industry that have increased her notoriety. She collaborated with Iggy Azalea on Black Widow and Charlie X.C.X. on Doing It.
She has done many other collaborations with other artists in the industry, which has only added to her repertoire of catchy tunes and simultaneously skyrocketed her renown.
Reality T.V. and Acting
Not only is Rita Ora an impressive singer and musician, but she has also dabbled in acting and has hosted several reality T.V. shows. She played the role of Mia Grey in the Fifty Shades of Grey trilogy and other acting roles.
The Pokémon Detective Pikachu actress initially approached the movie's producers to contribute to the soundtrack, but they asked her to audition for the role.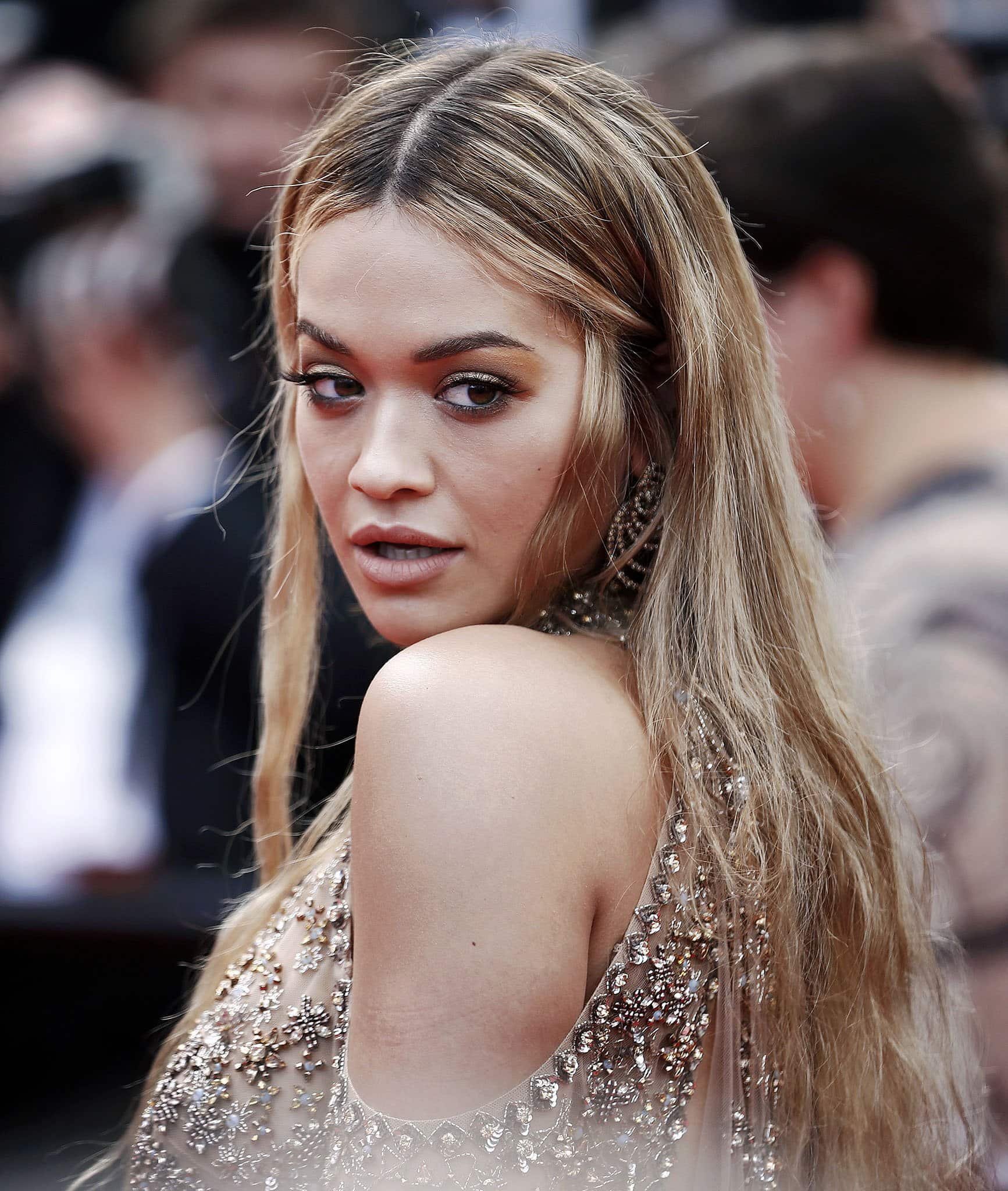 Aside from singing, Rita Ora has also delved into acting, starring in the Fifty Shades of Grey trilogy (Credit: Andrea Raffin / Shutterstock)
In 2015, she replaced Kylie Minogue as an acting coach on The Voice U.K. She also replaced Tyra Banks as the host of the revamped America's Next Top Model in 2016 and has had numerous other hosting positions.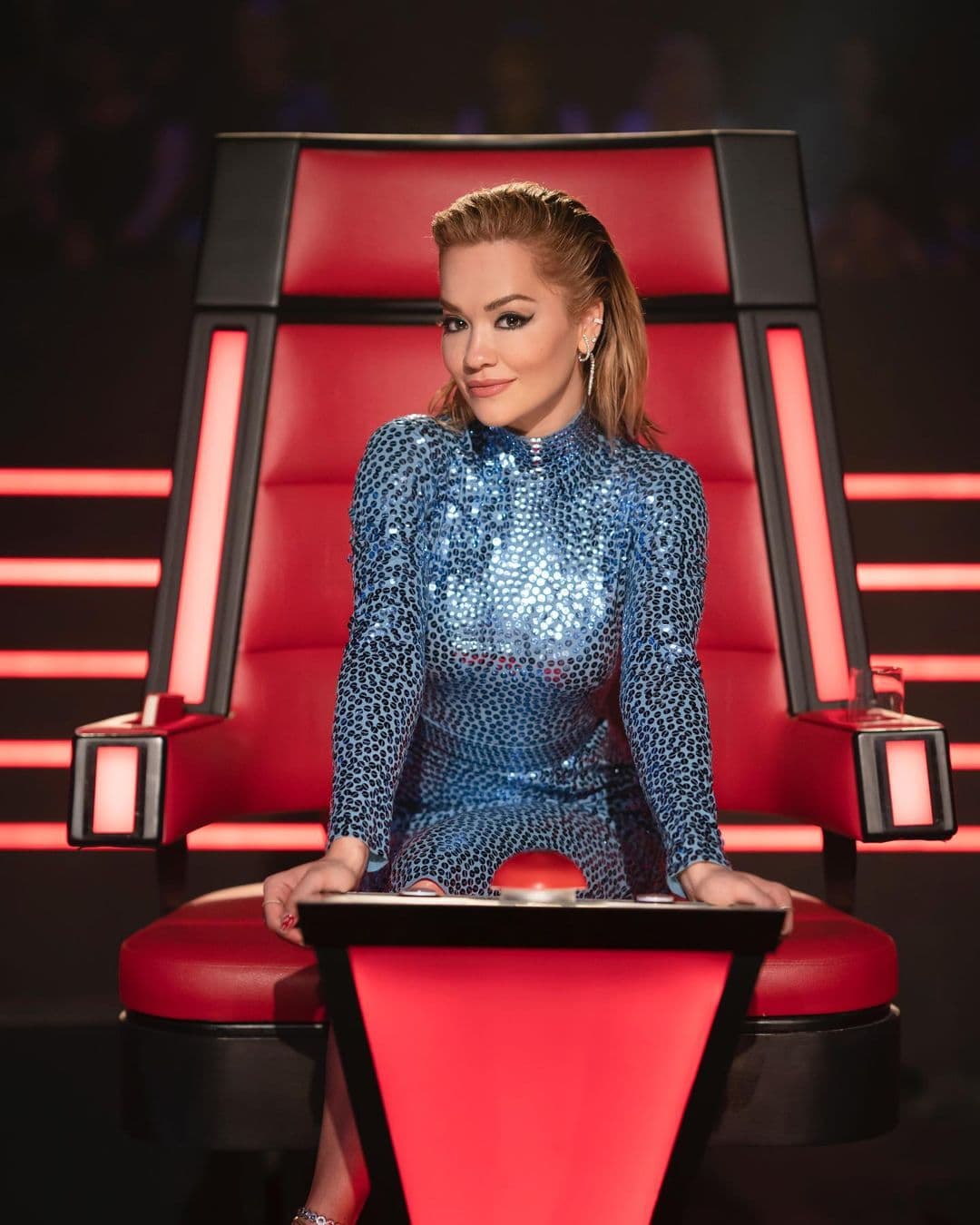 Rita Ora serves as one of the coaches in The Voice Australia (Credit: Rita Ora / Instagram)
How did Rita Ora Become Rich?
Rita Ora is a great businesswoman. Like many artists in the music industry, she has leveraged her fame to work with major brands in collaborations and endorsements and started her own companies.
While music stars may make vast amounts of money by creating and selling their music, their real wealth lies in endorsement deals they can work on. Stars like Rihanna have successfully leveraged their fame to generate wealth.
Rita Ora Endorsements and Collaborations
Rita Ora had this to say about her entrepreneurial talents: "I always go with my gut instinct." And her gut instinct has proven to be right when it comes to her collaborations and endorsements.
In 2010 she was featured in an endorsement deal for Skullcandy Headphones, and the following year she was a part of a marketing campaign for Calvin Klein's C.K. One line.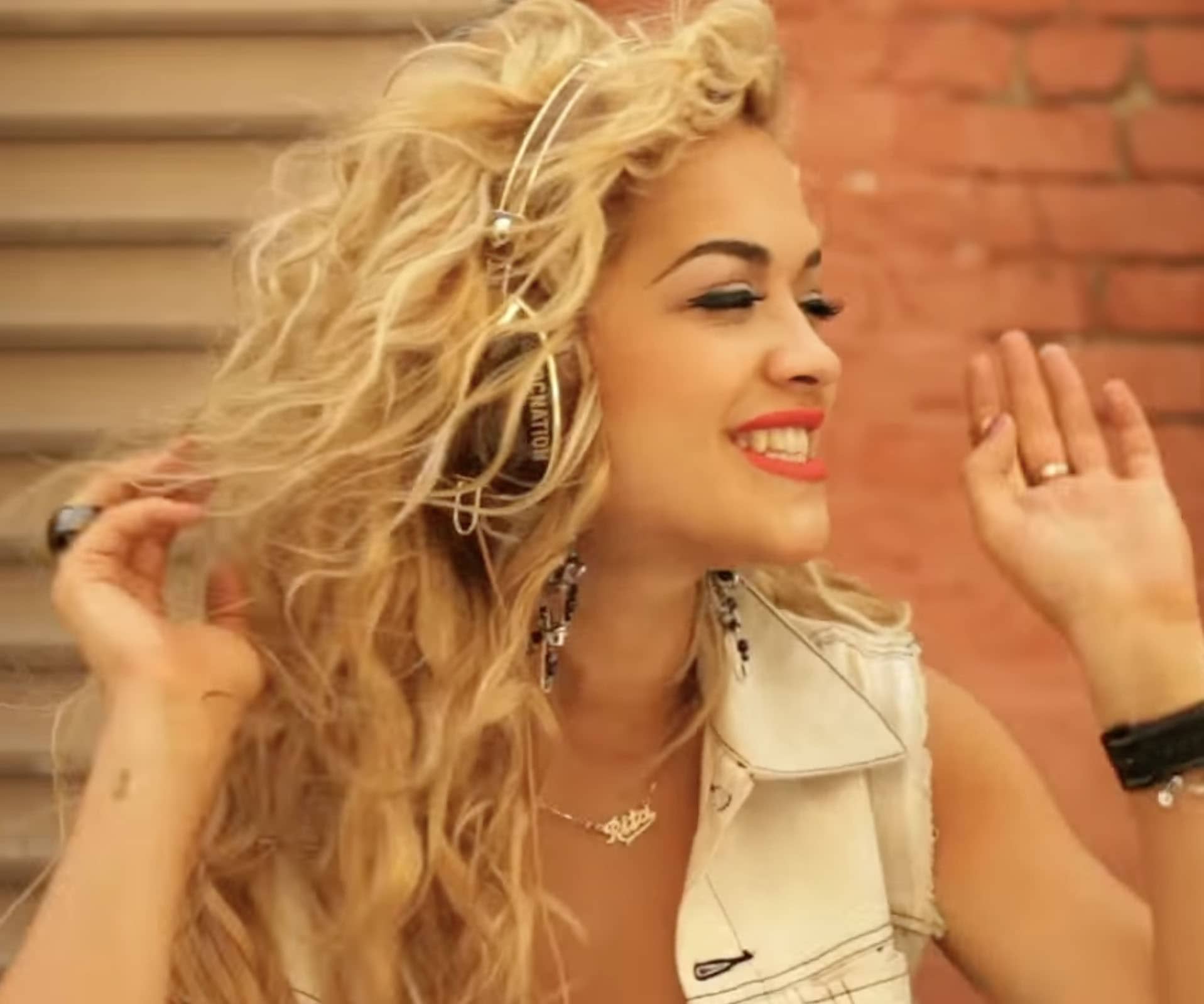 Rita Ora was featured in Skullcandy x Roc Nation Aviator headphones ad in 2010 (Credit: RitaOraMusic / YouTube)
In 2013, she partnered with Superga, became the new face for Madonna's clothing line, Material Girl, and worked with Rimmel to promote a make-up range.
In 2014, she worked with the fashion house Donna Karan to promote two clothing lines and endorsed their DKNY perfume, My NY.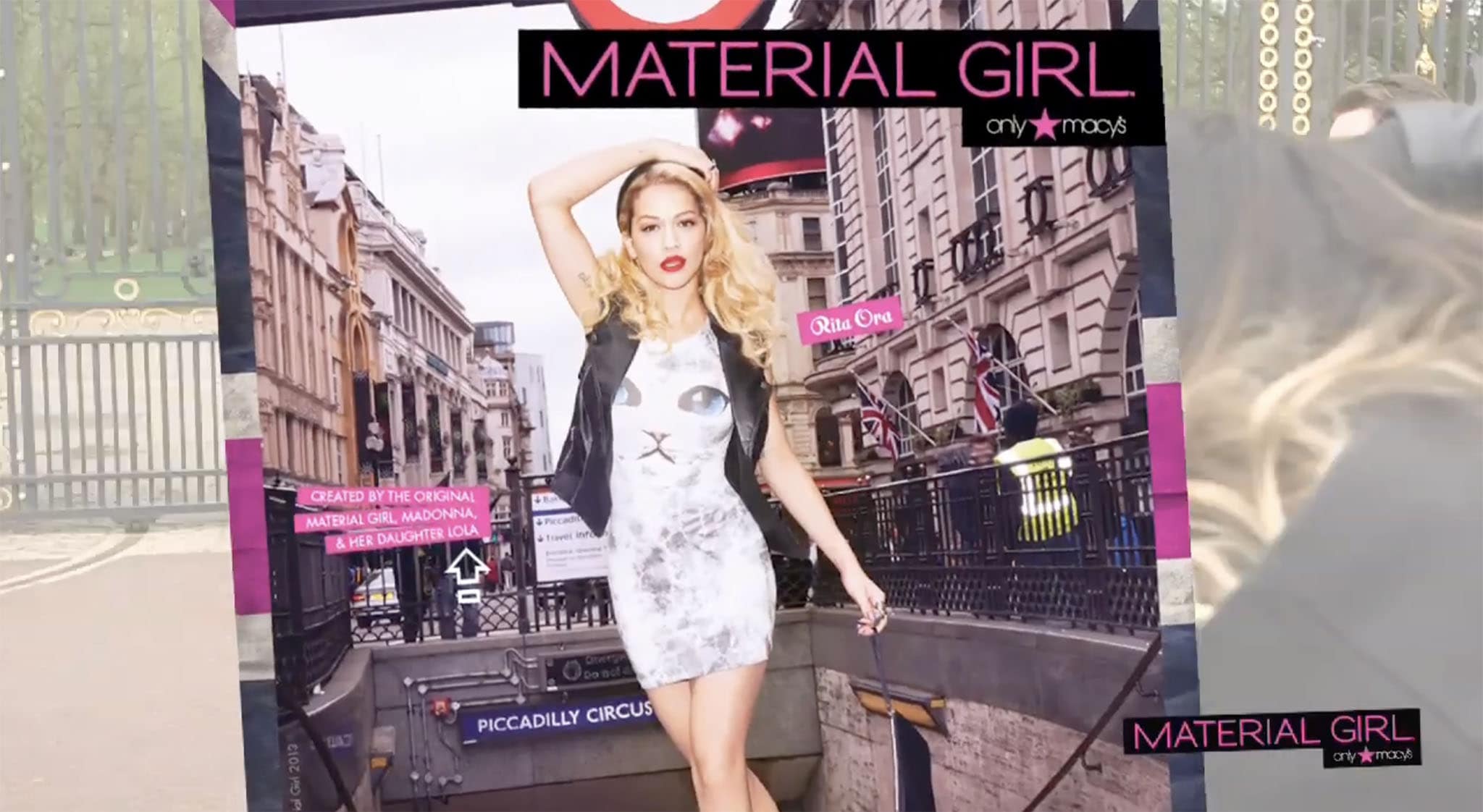 Rita Ora became the face of Madonna's Material Girl clothing line in 2013 (Credit: Material Girl / YouTube)
The brands she has worked with have only gotten bigger and better, from Marks and Spencer to Coco-Cola and Samsung.
She has also done several fashion collaborations and designed several pieces for the Adidas Originals line, a lingerie line for Tezenis, and footwear collections for Giuseppe Zanotti, Escada, and ShoeDazzle.
Rita has worked with many incredible brands and will likely work with many more. She also owns a number of her own business that handles her music career.
Rita Ora has launched a footwear collection with Shoe Dazzle, inspired by the women in the '90s music scene (Credit: Rita Ora / Instagram)
Rita Ora has had an impressive music career over the years and will likely continue to do so. Not only will her music career go from win to win, so will her fame and fortune increase as she continues working with massive brands on exciting projects.
Few things go together like Rita Ora and Adidas. The pop star has spent the past several years developing collaborative lines with the footwear manufacturer.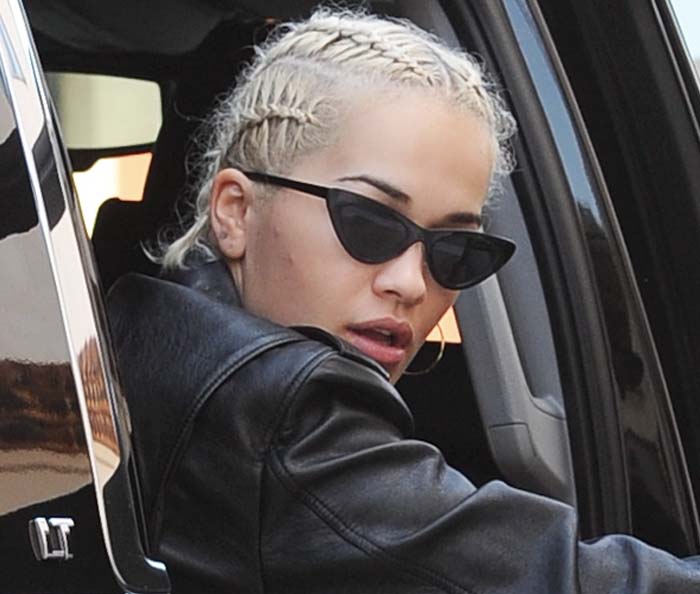 Rita Ora wears her hair in cornrows as she leaves her dermatologist at Lancer Dermatology on March 30, 2016, in Beverly Hills (Credit: Cousart / JFXimages / WENN)
A collection launched in early 2016, named "Artistic Lights," features neon-tainted graphics on classic Adidas silhouettes. In March 2016, Rita showed off her brand loyalty as she paid a visit to her dermatologist in Adidas sneakers.
Rita showed off her toned body in an Adidas sports bra and leggings, which she paired with the limited edition "Samba" sneakers.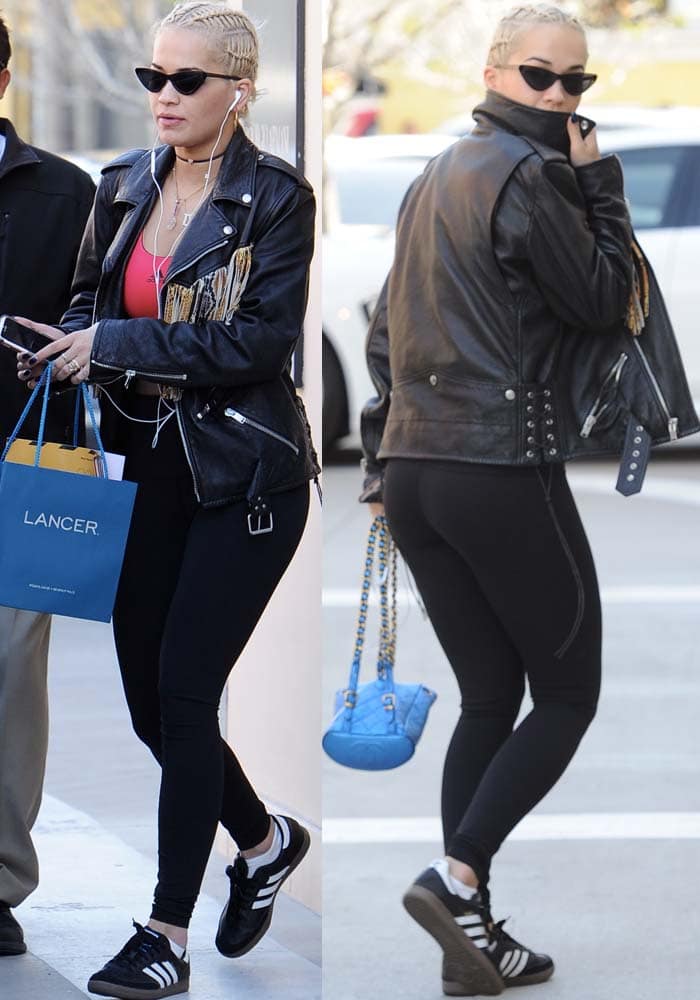 Rita Ora wears a Saint Laurent biker jacket with an Adidas sports bra and leggings (Credit: Cousart / JFXimages / WENN)
The then 25-year-old wore her sporty outfit underneath a Saint Laurent fringed biker jacket.
Rita Ora sports the Adidas "Samba" sneakers (Credit: Cousart / JFXimages / WENN)
The pop star sported her signature braids and ditched the makeup for her dermatologist visit.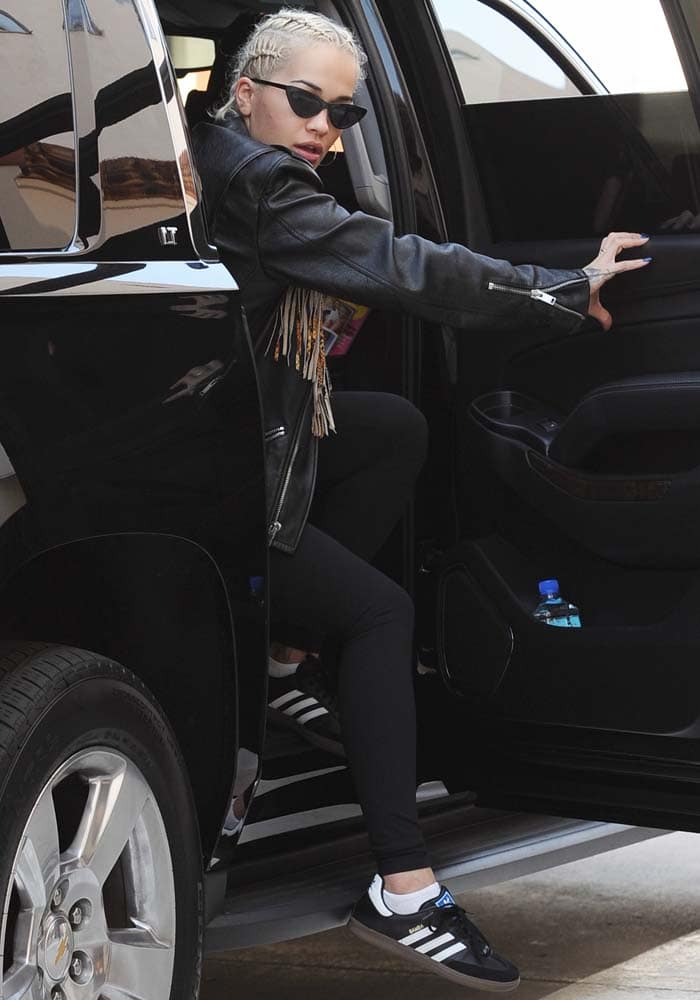 Rita Ora spots the cameras as she steps out of her car for a dermatologist visit (Credit: Cousart / JFXimages / WENN)
The Adidas "Samba" sneakers are casual enough to wear out to your next dermatologist appointment… or for any casual errands, actually.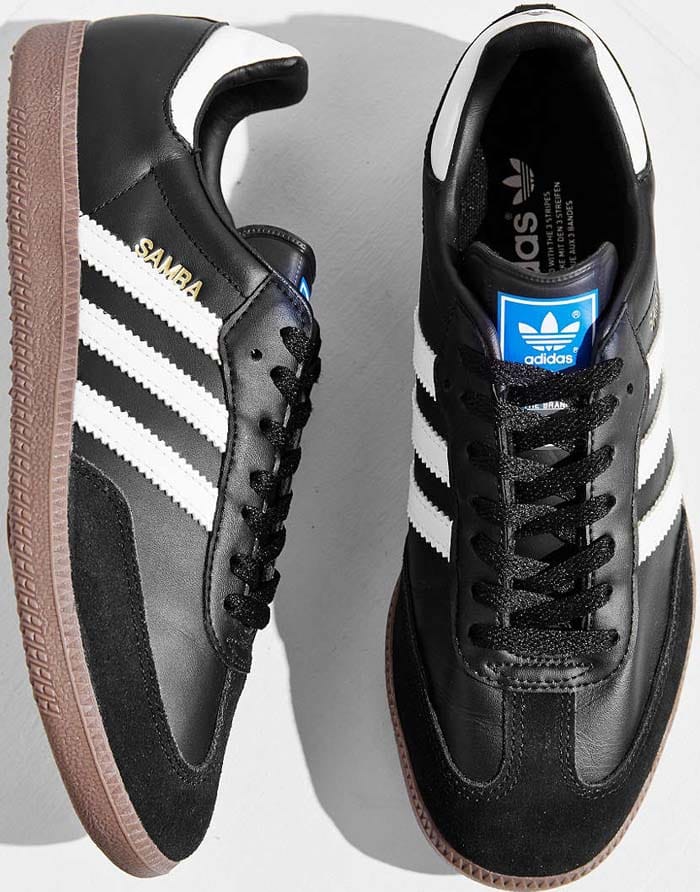 Adidas Originals "Samba" Sneakers, $27.93 – $126.10