In February 2018, it was announced that Rita Ora would join the cast of Pokémon Detective Pikachu, a 2019 mystery film based on the Pokémon franchise. Principal photography concluded on May 1, 2018, when Rita was 27-years-old.
She stars as Dr. Ann Laurent, a neurologist for Clifford Enterprises who performs experiments on a genetically engineered Pokémon called Mewtwo.
Rita Ora stars as Dr. Ann Laurent in Detective Pikachu
Joined by Norwegian DJ Kygo, the R.I.P. singer also released a standalone single for the film, titled "Carry On". The song was made before the movie, but Rita figured it would fit in nicely.
"I realized every film needs an amazing song, and I kinda did the same thing when I did Fifty Shades of Grey: I just kinda sent the song over and I was like, 'This would be really cool for the film,' 'cause the lyrics really made sense," she explained in an interview with ABC Radio.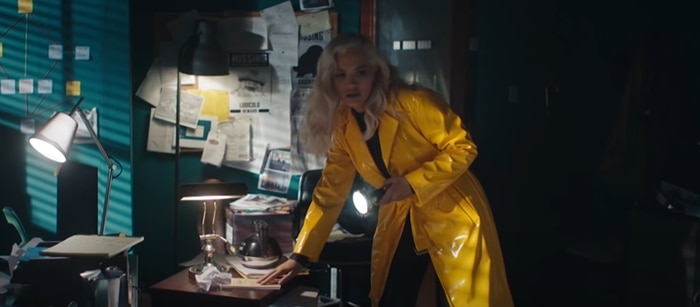 Kygo and Rita Ora released a standalone single for Detective Pikachu titled Carry On
"And then Kygo just killed it and [the studio] just loved it and everyone was on board," Rita added.
Does Rita Ora like Pokemon?
"I love Pokémon, I love Pikachu. I've always loved it since I was a kid," Rita told ABC Radio.
"I never really could afford the computer stuff, so I only got the cards but I remember just being in school and collecting the cards, and people in my school used to sell cards to each other."
"I just remember the journey behind being proud of like collecting things," Rita added. "So that just really sold me, and obviously Ryan is fantastic. It was a no-brainer for me," she said about agreeing to do the movie.
Rita Ora has been a fan of Pikachu and Pokemon since she was a child
In December 2013, Rita Ora brought Hollywood glamour to the 2013 British Fashion Awards held at the London Coliseum in London.
Rita Ora wears her blonde hair in soft curls at the British Fashion Awards 2013 at London Coliseum on December 2, 2013, in London, England
The then 23-year-old singer was simply exquisite in a long sequin-covered gown from Vivienne Westwood styled with a pair of crystal-embellished pumps from Christian Louboutin. She perfected her glam style with soft bleach blonde hair.
Rita Ora stuns in a sequined gown from Vivienne Westwood
At the event, Rita was seen having some laughs and posing for pictures with Kate Moss, who had recently featured on the cover of Playboy magazine's 60th-anniversary issue.
Rita Ora and Kate Moss pose for photos in matching red lipstick
Rita's Christian Louboutin Artifice Strass pumps were a perfect match to her beautiful gown.
Rita Ora, Brandon Green, and Kate Moss pose for photos on the red carpet of the British Fashion Awards
We think it's safe to assume that the British performer is a fan of Christian Louboutin. A few days before this event, she was spotted rocking the popular brand's "Farfamesh" sandals.
Rita Ora's feet in embellished Christian Louboutin pumps
You can find the "Artifice Strass" d'Orsay pumps in black and green at Nordstrom and Mytheresa. They feature vibrant colors and extraordinary embellishments that you simply must see to believe.
Christian Louboutin Artifice Strass Pumps, $2,795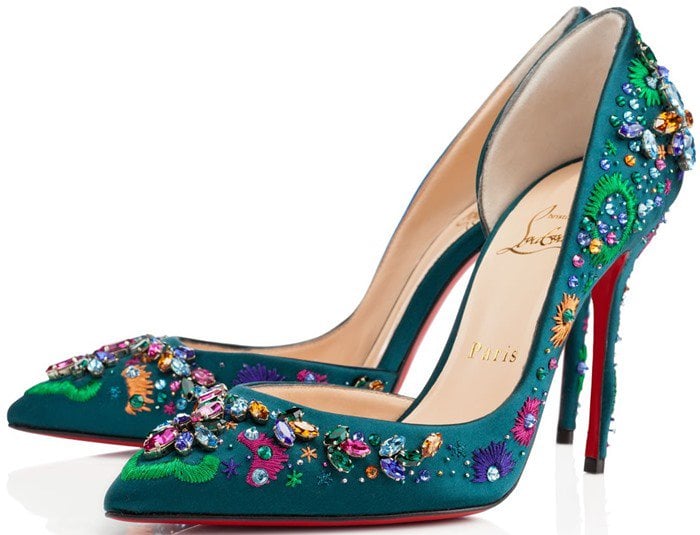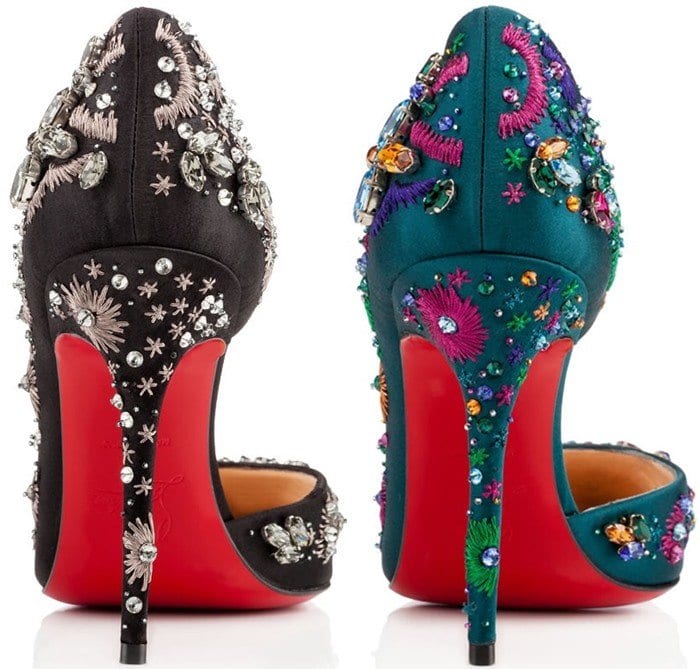 Rita capped off the evening by attending Playboy's 60th-anniversary party hosted by Marc Jacobs and Kate Moss at the Playboy Club.
Rita Ora wears a headpiece from Philip Treacy
Gone was her striking gown from earlier in the evening, and in its place was a dress with a much shorter hem.
Rita Ora's furry Tom Ford Fall 2013 coat
The ShoeDazzle shoe designer covered herself with a furry coat from Tom Ford and switched to a zebra-printed pair of sandals from the same designer.
Singer Rita Ora attends Playboy's 60th-anniversary issue party hosted by Marc Jacobs and Kate Moss at The Playboy Club on December 2, 2013, in London, England
Rita's voguish sandals feature black and white zebra-print dyed haircalf (New Zealand) upper and 4″ covered conical heels.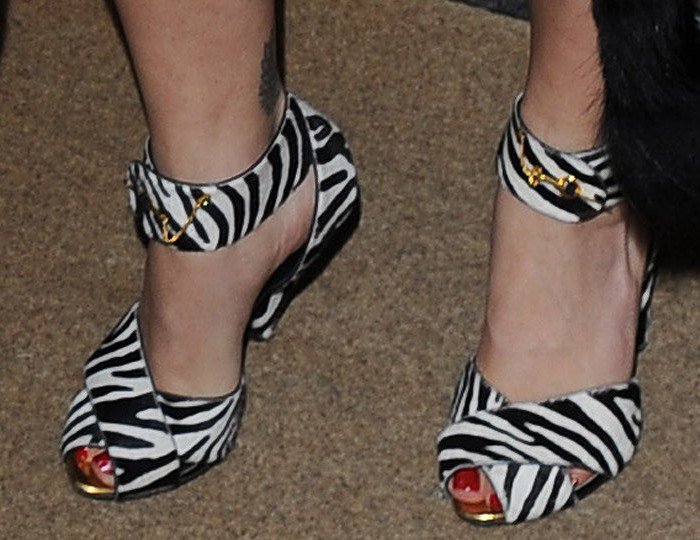 Rita Ora shows off her sexy toes in Tom Ford zebra print sandals
You can find them at Farfetch and Bergdorf Goodman.
Tom Ford Zebra-Print Pin-Detail Ankle-Strap Sandals, $1,250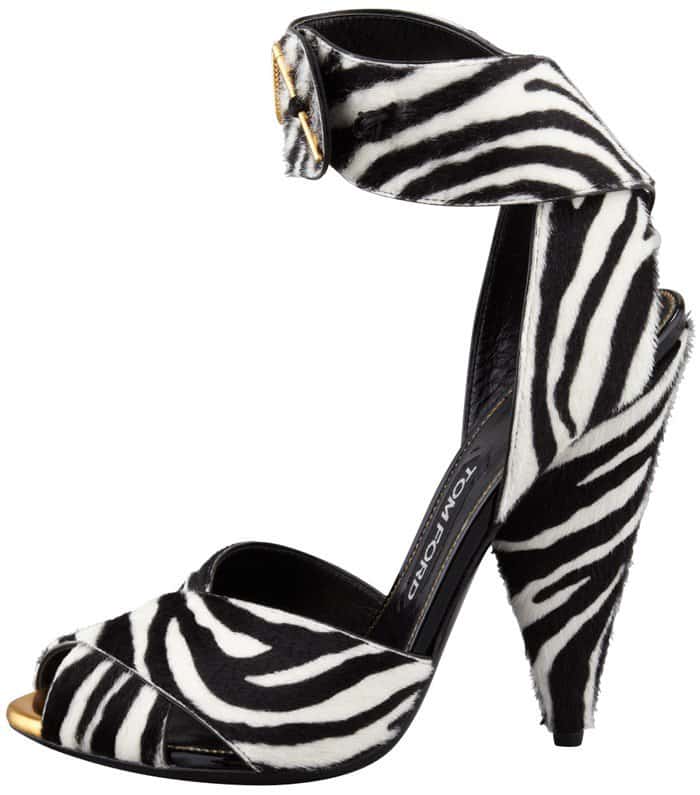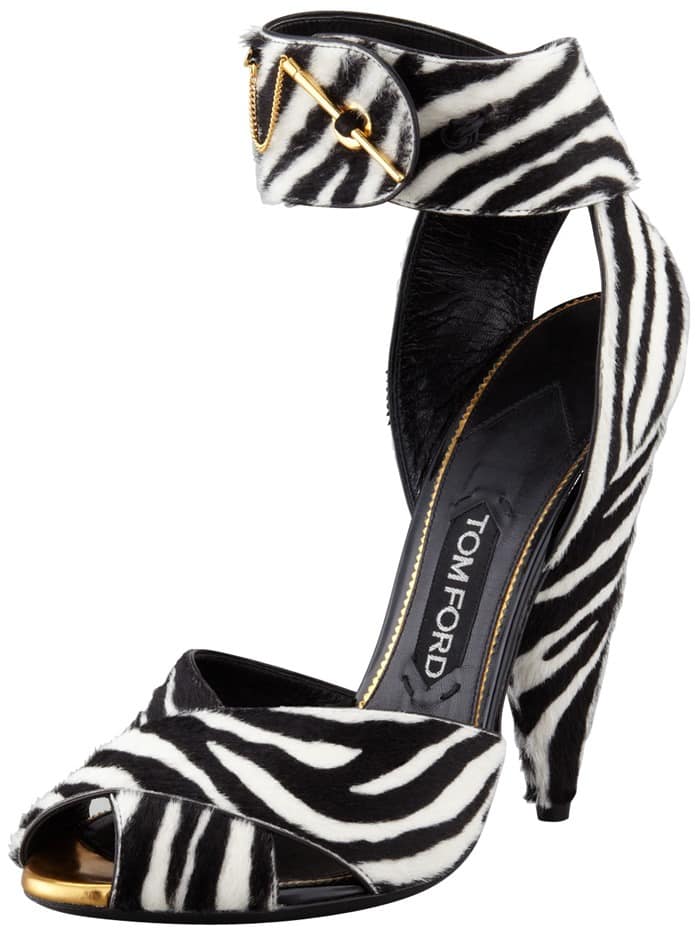 Credit: Daniel Dame / Lia Toby / Daniel Deme / WENN / Ivan Nikolov